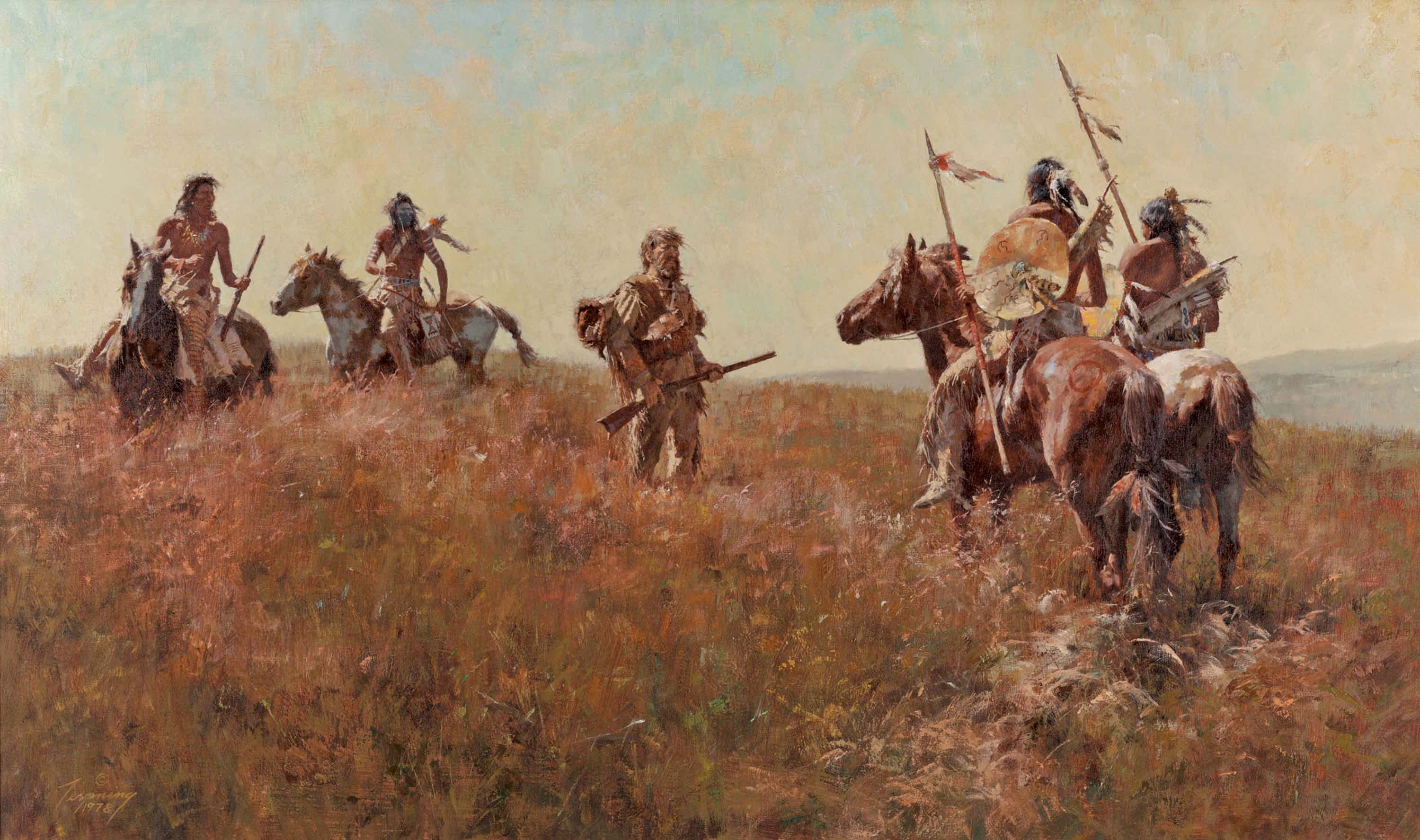 Howard A Terpning, "Slim Chance" | Oil on Canvas | 24 x 40 inches | 1978 | Est. $400,000-$600,000 Sold: $395,000
01 Feb

Auction Block: Modern Appeal
---
Select Western and American art auctions in the final weeks of 2014 delivered a welcome message to auction houses, collectors and consigners: The market has shrugged off the residual sluggishness tied to the economic downturn that began in 2008.
Sales and shows in November and early December where Western, Native American and so-called American art were showcased saw, in many cases, upwards of 80 percent of lots sold, more than 10 percent higher than the 70 percent considered good, and highs were set for the works of more than a dozen artists.
The growing appeal of American Modernism and first-time offerings of ornamented apparel, personal items and pottery fashioned by American Indian craftsmen and artists made for strengthening — and, in some cases, skyrocketing — prices for works created in the West and sold in the New York auction rooms of Sotheby's, Christie's and Heritage Auctions.
Not for the first time, Georgia O'Keeffe proved to be in a class of her own. Jimson Weed/White Flower No. 1, a signature, outsized blossom painting by the pioneer of Modernism in the United States, fetched $44.4 million at Sotheby's auction of American Art on November 20 in a sum that represented three times the amount of the previous world record set by a female artist.
An O'Keeffe had likewise defied high expectations just the day before at Christie's American Art Sale, where one of the artist's few sculptures in a limited edition of four fetched nearly $1.1 million compared to the top estimate of $800,000.
The predilection among buyers for 20th-century American Modernist art drove up the price at the Santa Fe Art Auction on December 6 for an oil depicting the striking colors and hulking shapes of north central New Mexico's high desert by landscape and abstract painter Willard Nash. The work, Santa Fe Landscape, brought $120,000, twice the low estimate and a record for the artist.
The close of 2014 saw new heights for other, lesser-known artists who considered themselves at the vanguard of the Modernist movement. An oil by little-known painter Thomas Duncan Benrimo — first of San Francisco and later in Taos — brought an artist record of $32,500 on November 17 at Heritage Auctions' American Signature Art Auction for a colorful work entitled Running Man that combines Cubism and futuristic fantasy. The auction by the Texas-based firm saw one-of-a-kind offerings from the art holdings of a Texas couple, Maria and Barry King, whose collection traced the arc of American Modernism.
While that movement left an indelible imprint on sales at key auctions, California painters of the late 19th and early 20th centuries, as well as Native American artists, carved new niches in the market at a time when a modestly sized international contingent is being added to the ranks of majority American buyers.
The California and Western Paintings and Sculpture sale by Bonhams on November 24 in Los Angeles broke several world auction records for painters of the coastal landscape of Southern California, including a 19th-century rendition of a river canyon washed in moonlight, Moonlit River Gorge, by Fortunato Arriola, an oil which sold for $27,500.
In advance of the auction, Bonhams had marked the consignment of a single-owner collection that included 57 lots of Southern California and Western paintings hand-picked by the California couple, Gordon and Constance Fish, who had displayed the works in their home in Pasadena.
Unique offerings like the King Collection featured by Heritage and the paintings gathered by the Fishes foster a sense of anticipation and more than a little excitement in art circles, experts say.
Aviva Lehmann, director of American Art for Heritage, said private collections that demonstrate a period or style in art and whose caliber and provenance are well established represent once-in-a-lifetime opportunities for auction houses and collectors alike.
Important collections of American art coming to market have boosted awareness — and sometimes scholarship — of the works in a fashion that shapes a contingent of admirers and possibly purchasers, said Lehmann. More private collectors are being drawn to such auctions, where fewer members of the trade — or dealers — are now represented compared to two decades ago, she said.
And both Bonhams and Heritage saw handcrafted objects by American Indians galvanize bidders on December 8 and November 14 respectively in sales where final bids soared high above estimates for certain items. A pair of raven rattles sold separately by Bonhams at the auction in San Francisco brought $62,500 and $50,000 compared to estimates that ranged from $20,000 to $40,000. And a Sioux beaded hide dress crafted in 1900 was purchased for $15,000, nearly twice the high estimate, at Heritage Auctions' sale in Dallas.
Collectors who flocked to the late season auctions or attended them by phone or Internet showed reassuring interest in traditional Western art fare. The Santa Fe Art Auction realized $150,000 for an oil by Taos Society of Artists co-founder Eanger Irving Couse in a transaction that auction Director Peter Riess said showed easing of the challenges that had beset that market since the start of the recession six years ago. The sum for the painting compares to an estimate of $150,000 to $200,000 and does not include the buyer's premium.
The painting, Spearing the Fish, shows a Native American crouched on a river rock and aiming a spear at his prey in a canyon colored by the muted greens and grays of the Desert Southwest.
"The Taos market had really inflated with most of the market in 2005," said Riess. "The prices came down quite a bit during the recession and they weren't recovering until this last year." He added that the final bid for the Couse at the December auction suggested the upswing for such works will hold.
---
Bonhams Native American Art Sale December 8, 2014
Two raven rattles attributed to the native peoples of the Northwest Coast sold for $62,500 and $50,000 at Bonhams Native American Art auction, which realized a total of $1.4 million. Pottery was a top seller at the event, with a Santa Clara carved, blackware jar produced in 2006 by Tammy Garcia bringing $47,500. A rare polychrome turtle by the late Pueblo ceramicist Tony Da fetched $27,500 and a redware jar by Da brought $22,500.
Top textile sales included a ceremonial blanket produced by Chilkat weaving, a tradition of the indigenous dwellers of the Northwest Coast, that sold for $35,000. An outsized Apache basket brought $40,000, splitting the difference between a low estimate of $30,000 and a high of $50,000.
A spare rendering in bronze of a Native woman and child, entitled Mother's Blessing, by the late Apache sculptor and Modernist Allan Houser, fetched $35,000, while a ceramic sculpture by contemporary Pueblo artist Roxanne Swentzell achieved $25,000.
Bonhams' Vice President Jim Haas said the sale provided proof of continuing interest in antiques mixed with more modern fare. "Contemporary works of art are finding their way more and more to the auction block, and the work of famous artists is certain to attract attention," he said.
---
Santa Fe Art Auction December 6, 2014
The 20th annual Santa Fe Art Auction took in nearly $2.3 million tied to the sale of notable works by deceased masters, including Frederic Remington, a stellar sampling of oils by Taos Society of Artists painters and present-day giants of wildlife art, such as sculptor Kent Ullberg.
In yet another sign that the market for Taos Society works has been restored, a landscape, Summer Cloud, Taos Valley by founding member Joseph Henry Sharp, sold for $16,000 compared to its estimate of $10,000 to $15,000.
A Remington bronze of a Cheyenne warrior on horse-back, entitled The Cheyenne, fetched $170,000, significantly above its low estimate, providing further proof that the appeal of the iconic artist does not fade.
The tabletop bronze by Ullberg of a mountain lion on a rocky outcropping, Cougar by Stream, sold at its top estimate of $3,000, and a figurative painting entitled Pack Horses on a Trail by deceased wildlife artist Carl Rungius surpassed a low estimate of $300,000 with the addition of buyer's premium.
Auction Director Peter Riess said the sale contained a mix of desirable elements: accurate estimates, material that was affordable and a diverse array. And the more abstract style and bold colors of the Willard Nash landscape attracted buyers with a penchant for Modernism, said Riess.
"This sets the bill for a group of collectors interested in more Modernist work," he said.
---
Bonhams California and Western Paintings and Sculpture November 24, 2014
Bonhams' publicly offered for the first time pieces from the lifetime collection of Gordon and Constance Fish. The auction in Los Angeles brought in more than $2.9 million and marked the sale of nearly all of the collection's works on offer. That included Arizona Canyon by Edgar Payne, which realized $50,000, and an oil by Granville Redmond, entitled Fishermen and Fishing Boats on the Shore, sold for $75,000. The price for Redmond's portrait of Golden State flora, California Wildflowers, a painting from a separate private collection, soared to $200,000.
Under the Western Paintings and Sculpture component, The Call of Spring by Bert Geer Phillips, a painting of a Native American in outdoor repose, brought $125,000, more than twice its low estimate.
Bonhams' Fine Arts Director, Scot Levitt, said the sale's success hinged on quality works from the Fish Collection as well as reasonable and competitive estimates. "If we can get top-quality works, then the market will thrive," he said.
---
Sotheby's American Art November 20, 2014
A bidding war set the tone and drove up the price for the record-breaking O'Keeffe at Sotheby's American Art sale in New York. The $44.4 million for Jimson Weed/White Flower No. 1 is seven times greater than the previous auction record for the artist at $6.2 million, and far exceeds the previous record set for any female artist — specifically, the sale by Christie's in May of Joan Mitchell's Untitled for $11.9 million.
Two additional works by O'Keeffe, on offer from the Georgia O'Keeffe Museum to benefit its acquisitions fund, leaped high over estimates. Those included On the Old Santa Fe Road, which represented the second-highest price of the day at more than $5 million (compared to an estimated $2 to $3 million) and Untitled (Skunk Cabbage), which sold for $941,000 against an estimate between $500,000 and $750,000.
Elizabeth Goldberg, head of Sotheby's American Art Department, said the $44.4 million sale "places Georgia O'Keeffe's work in the top tier of 20th-century artists on the market internationally, where it has always belonged. … To have achieved this result just one year after Norman Rockwell's Saying Grace set a new benchmark for this cat- egory at $46 million [and] shows that there is an amazing appetite in today's market for gems of American Art."
Auction sales totaled $75.4 million, easily outdistancing the pre-sale high-estimate of $46 million, with 10 works achieving prices of over $1 million.
---
Christie's American Art Sale November 19, 2014
Christie's American Art auction November 19 in New York brought more than $46.5 million for artworks that ranged from illustration to American Modernism. Georgia O'Keeffe was well represented with a painting from her iconic Calla Lily series. Calla Lilies realized $3.3 million while her work Hills and Mesas to the West brought more than $3.7 million.
Frederic Remington's oil-on-board entitled In a Canyon of the Coeur d'Alene sold for a solid $245,000, with the pre-sale estimate ranging from $200,000 to $300,000.
Norman Rockwell works continued to gain traction, with Willy Gillis: Hometown News fetching nearly $4.2 million.
---
Heritage Auctions American Art Signature Auction November 17, 2014
Heritage Auctions' $7.3 million sale of American art was led by a sum of $575,000 for William Robinson Leigh's 1948 painting Land of Navajo (Young Indian Goat Herder) and was bolstered by Modernist masterpieces from the King Collection. A work from that collection representing early American Modernism was O'Keeffe's Alligator Pears, painted in the 1920s as part of a series and sold in New York by Heritage for $461,000.
In California and Western art, Howard Terpning's Slim Chance, an oil of Plains American Indians at a time of tensions with whites, brought $395,000, while a trophy bull elk, Olympic Elk by wildlife art impresario Carl Rungius, was purchased for $115,000.
---
Heritage Auctions American Indian Art November 14, 2014
Mostly antique works by Native American artists outperformed expectations during the November 14 sale by Heritage Auctions in Dallas.
A Hopi polychrome canteen, possibly by celebrated artist Nampeyo, considered the matriarch of Hopi potters, sold for $5,000 compared to pre-sale predictions of between $2,000 and $3,000. And a Blackfeet beaded hide bag dating to 1890 brought $5,000, nearly twice the expected high.
Delia Sullivan, director of Heritage Auctions' American Indian Art Department, said elements that make for boosts in bidding include rarity, condition, provenance and, perhaps most importantly, an object whose beauty is refined with age. Her review of buyers' at sales of Native American objects suggests the ranks are being swelled with new bidders.
"Generally, this market came of age in the 1960s and 1970s, boomed in the 1980s and 1990s, and then experienced a downturn at the start of the 2000s. Now we're seeing its return," said Sullivan.
---
The West Select Sale & Exhibition Phoenix Art Museum November 14, 2014
The West Select, the annual Western art exhibition at the Phoenix Art Museum, united 37 of today's leading artists in an expansive look at the American West. Organized by the museum and presented by the institution's Men's Arts Council, the sale brought $425,000, a portion of which will benefit the museum.
Seven awards were given for exemplary work. The Western Art Associates' Kieckhefer Award for Best in Show went to Scott Baxter for his photograph, Isaak, Marr Flat Cattle Co, Oregon.
In the painting category, gold recognition was bestowed on Arturo Chavez for the oil Majestic Moran Sunrise, and silver for Merrill Mahaffey's Delamination, an acrylic on board.
Walter Matia was given the highest recognition for his bronze, Midnight Ramblers, while Steve Kestrel was granted silver status for Vanishing/Gila, a sculpture in granophyric obsidian and sandstone.
For work on paper, Baxter gained the gold for Isaak, and Tony Foster silver for Seven Days Rafting to Colorado – No one steps into the same river twice – Heraclitus 500BC, a pencil and watercolor on paper that featured maps, Colorado water, bottles and tags.
Kestrel's sculpture was purchased for the museum's permanent collection by Western Art Associates, a museum support organization.