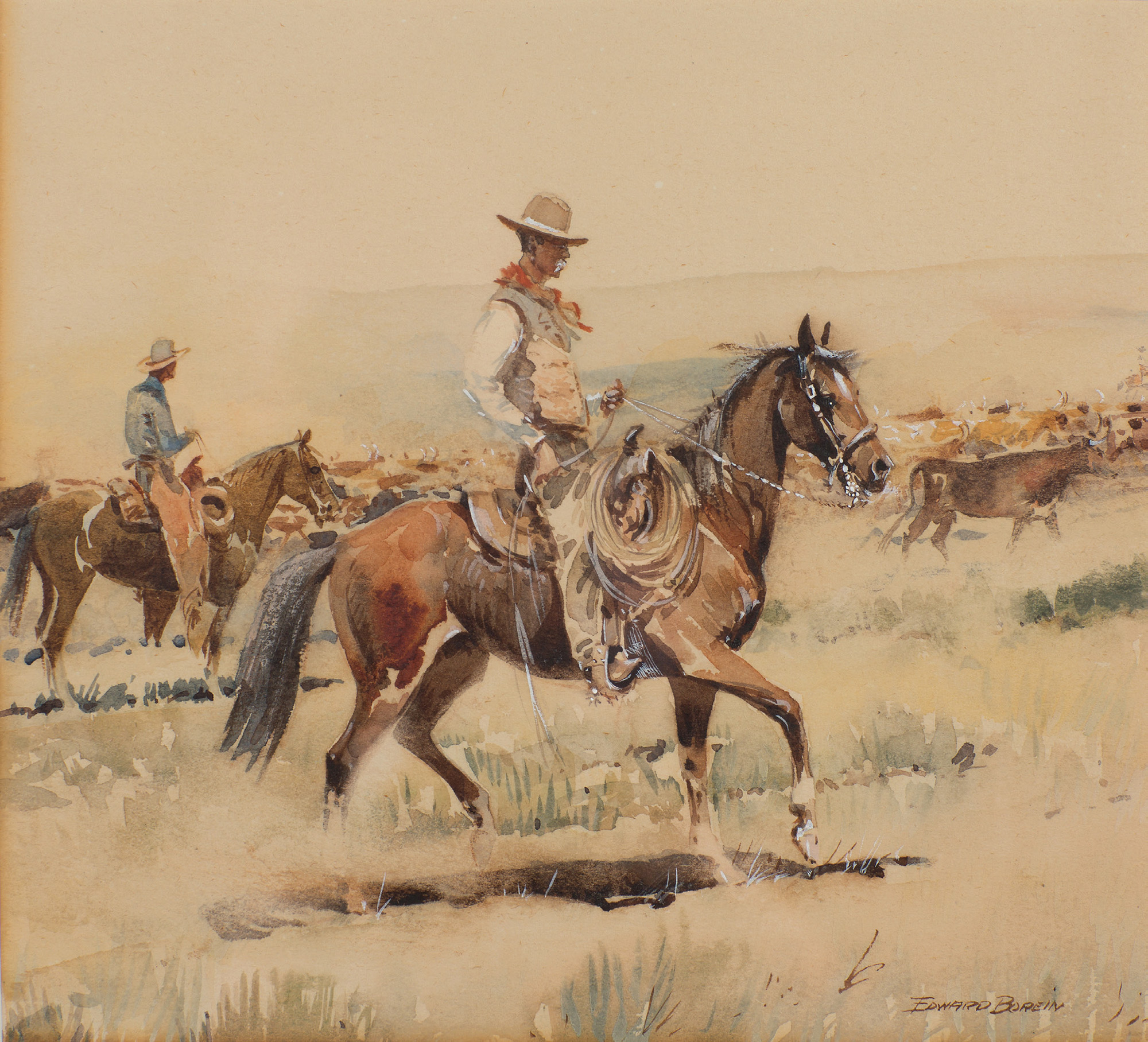 Edward Borein [1872–1945], "Trail Drive" | Watercolor | 8.5 x 9.5 inches | Est. $30,000 - $35,000 | Sold: $51,750
11 Mar

Auction Block: Of Wild Spaces and Untamed Places
---
A resurgent interest in the American West may be bolstered by such popular culture fare as the film "The Revenant," showcasing Western wildness, and the stunning pictorial promotions of famed U.S. landmarks due to the upcoming centennial of the National Park Service in August.
Auction houses and show organizers say collectors in the first quarter of 2016 have reported growing enthusiasm for contemporary Western art by the hands of such painters as Logan Maxwell Hagege and Kyle Sims, as well as increased appreciation for the historic artifacts of the West's indigenous tribes. In a sign of that sector's growth, Brian Lebel's High Noon Auction in late January saw a beaded hide shirt once worn by a Blackfoot Indian fetch a tidy sum at more than $109,000.
The Masters of the American West Fine Art Exhibition and Sale at the Autry Museum of the American West saw the end of an era with the death of museum trustee and show special advisor John Geraghty in May 2015. This year's Masters showcased Geraghty's life and legacy, and several contemporary Western artists he encouraged and cultivated garnered the event's key awards.
---
Coors Western Art Exhibit & Sale, January 5-24
Teresa Elliott once again gained top honors at the 23rd annual Coors Western Art Exhibit and Sale in Denver. Elliott's masterful portrait of a bovine, Brahman Cow, earned best in show at the event, which hosted its storied red carpet reception on January 5 at the National Western Stock Show.
Elliott is an artist who sees the noble in the everyday, including and perhaps particularly livestock, and whose paintings boldly splash color where no cow has gone before. Krista Hanley, show coordinator, says buyers remark on Elliott's attention to detail and heroic posing of domestic animals.
Over 1,000 people — mostly Americans and many of those Coloradans — attended the sold-out reception, which supports the National Western Scholarship Trust. Proceeds topped $1 million for a show and sale that can claim home- state favorites among artists like Duke Beardsley.
---
Brian Lebel's High Noon Auction, January 23
More than 400 lots crossed the auction block, realizing $1.4 million in sales at this year's High Noon event at the Phoenix Marriott Mesa in Mesa, Arizona, where nearly 500 gathered and hundreds more used phones or the Internet to purchase a piece of the American West. The leading annual sale of authentic cowboy, Indian and Western art and artifacts this year achieved a sell-through rate of nearly 94 percent for items led by an elaborately beaded Blackfoot man's hide shirt, the top seller at $109,250.
Among sale highlights was an exquisitely rendered watercolor by Edward Borein. Trail Drive, a small study of wranglers on the range, brought in $51,750, soaring high above its low estimate of $30,000. Melissa McCracken, the event's co-owner, says the Borein piece was among his best. The miniature may also have benefited from its dimensions, she adds. "It is really a fabulous example of Borein's work in an approachable size and with a museum exhibition history," she says.
Native American items are garnering strong interest, as are cowboy trappings like saddles and spurs, says McCracken. The 26th annual auction is also gaining a following among international buyers, where the sun will never set on a romance with the American West.
---
Masters of the American West Fine Art Exhibition and Sale, February 6-March 20
The signature show and sale at the Autry Museum of the American West celebrated the enduring spirit and abiding passion for Western works exhibited by the event's founding champion and years-long special advisor, the late John Geraghty. As a towering source of support and encouragement for acknowledged Western art giants like Howard Terpning, rising stars like Logan Maxwell Hagege and emerging artists, Geraghty died last spring after building a legacy at the Autry and the Masters that will live on.
The top works of 75 contemporary Western artists were front and center at this year's fine art auction on February 6, with opening night sales at more than $2.3 million, according to Autry officials. Amy Scott, the Autry's chief curator, says the 2016 Masters was designed to match Geraghty's original vision for it and that, going forward, "we intend to honor John's emphasis on quality and diversity of subjects."
She describes Geraghty as a man who did not separate art and life; a man who loved and lived with the paintings and sculptures of artists he admired as well as those he cultivated and promoted. The Masters influenced every aspect of his life and directed his activities for much of the year, Scott says. "He spent much of his time visiting artists' studios, looking in on new artists, advising others; it was all one life for him."
Geraghty fashioned the show so that it resembled a reunion of friends and relatives, says Scott, adding, "We can't replace John in that sense, but we will try to carry on that tradition, to the degree it's possible, without him."
The 2016 Gene Autry Memorial Award, sponsored by Jay Grodin, went to George Carlson in recognition of the most outstanding presentation of three or more works. Carlson's lyrical work, Northern Light, a large oil on linen depicting the quietude and subtle colors of a northern Idaho marsh by evening light in summertime, sold for $70,000, while Rising Mist, a larger work with the same mastery of color, brought in $75,000.
Scott lauds Carlson as an artist who "consistently does something amazing" by pushing himself to successfully explore different styles and subjects. "He's not formulaic; although they are landscapes for the most part, his compositions and colors differ, as can his forms. His technique of building up paint on the surface is the same but it can look different, painting by painting," she says. "You can fill your house with Carlson paintings and never see the same thing twice; it's quite exciting."
The 2016 Don B. Huntley Spirit of the West Award went to Logan Maxwell Hagege for Riding on Luck, a 30-by-30-inch oil of a cowboy astride a bronco against a signature Hagege cloud that doubles as a vast horizon. Scott says the piece, which sold for $16,000, depicts a theme explored before by Western artists but adds, "The way Logan did it, it jumps off the canvas. His clouds are graphic frames to his compositions and his art is a combination of round, three-dimensional forms and flatness."
Scott says the genius of Hagege is that he refers to those schools of Western art that he has studied and which he admires — the Taos Society of Artists, for instance — but is never derivative. She points to Hagege and Kyle Sims, winner of the 2016 Masters' Bob Kuhn Wildlife Award sponsored by Jodie and James Rea, as Geraghty protégés whose careers have skyrocketed in recent years. Sims' award-winning work Vertigo is an oil depicting mountain goats perched on rocky ledges overlooking dizzying drops to canyons below. The sheer force of the scene is matched by its size at 70 by 70 inches.
---
American Miniatures Show and Sale at Settlers West, February 13
Talented Western painter Howard Terpning can't help exceeding expectations, so perhaps it was a surprise only to the uninitiated few when his work Cheyenne Red Shield brought in more than $100,000 at the 34th annual American Miniatures Show & Sale at Settlers West Gallery in Tucson, Arizona. The minimum bid for the 10-by-13-inch painting, a stirring depiction of a Native American on horseback with red shield at the ready, was $38,000. The Terpning wasn't the only work by well known Western artists to realize hefty sums for modestly sized works, with sales — done by draw — at the show's main event the night before Valentine's Day running at $450,000. The total caps two years at that level, more than had been fetched annually for the three preceding years.
Stuart Johnson, who shares ownership of Settlers West with wife Melody, said the crowd was bolstered by absentee buyers who likewise had placed bids in the days leading up to the Saturday evening draw. Roughly half of the more than 300 paintings, representing the work of nearly 200 artists, sold that night and through mid-February in a showing that Johnson said demonstrated the appeal of an event that features paintings by major artists like Martin Grelle and Mian Situ at reasonable prices.
Many of the works offered for sale were 9 by 12 inches, with none exceeding 18 inches at their greatest width or height. Johnson was inspired to create the signature show and sale based on a conversation he had with a gallerist friend in Montana more than three decades ago. The gallery owner, since retired, featured a holiday show of miniature paintings by top artists. "I thought that sounded like a pretty good idea," says Johnson.
He persuaded an exclusive group of artists to contribute to the show and sale — ultimately established at Settlers West — then successfully invited dozens of additional painters to participate. "We had about 80 paintings in that show," Johnson says of the first such event.
The show can be seen as a starting point for beginner buyers seeking to build a Western art collection. It also appeals to established collectors whose wall space may be limited due to the many pieces purchased over the course of decades.
Johnson says the Western art market finds its strength in quality works which will attract buyers even when other factors, like the overall economy, are in flux. "People enjoy learning about the history of the West, and they enjoy the art of the West. Put the two together, and they buy paintings," he says.
Johnson believes that the strong turnout and critical acclaim has something to do with the 2015 Oscar-nominated film "The Revenant," an epic story that tracks the travails and triumphs of an explorer whose odyssey in the American wilderness begins after he is left for dead from a bear attack. Johnson says the subject matter and the landscapes depicted may draw a new generation to revere the American West in the fashion that John Wayne movies introduced audiences to the figure of the self-reliant cowboy whose confidence is never dwarfed by the wide open West and whose individualism is sharpened amid rugged landscapes.
---
Los Angeles Modern Auctions, February 21
Los Angeles Modern Auctions (LAMA) marked a new high during its Modern Art and Design Auction by fetching $1.58 million for Bedtime Story, a painting by Richard Prince from his Monochromatic Jokes series. This sale represented the highest price garnered for a single work in the boutique auction house's 24-year history. The acrylic and silkscreen work was produced by Prince in 1988, just one year after he launched the collection of paintings consisting of vintage gags printed on uniformly colored backgrounds, says Peter Loughrey, LAMA's director of Modern Design and Fine Art.
The Modern Art and Design Auction, which realized $5.1 million and saw the sale of 116 percent of the 419 lots by value, could boast a rare piece in Bedtime Story, which had not before been submitted for sale by bid. The sale of the major work by Prince, a piece which alludes to art movements such as Pop and Minimalism that came to the fore in the 1950s and 1960s, underscored LAMA's growing strength in the field of contemporary art and demonstrated its ability to expand options for West Coast collectors to buy and sell, Loughrey says. "Record-setting prices have convinced some important collectors to act locally instead of sending works to New York, which used to be the norm," he explains.
The same sale saw a rare 1962 painting by Alex Katz titled Here's to You bring in $162,000, far above its high estimate of $120,000. The work depicts a man in suit and tie holding a drink, the forest green of the figure's tie and his yellow hair in stark contrast to the rose-red backdrop. The second-highest top seller of the day was part of the art and design collection from a charitable foundation established by the late actor and playwright Jack Larson and the late director James Bridges. The collection of fine art and design from their personal collection brought nearly $619,000 during bidding, comparing to a pre-sale estimate of $507,000.
The auction saw world records set for Southern California Modernists Mary Corse, John Lautner and James Gill. Corse's Copper-Four Crosses, a massive 1979 work in fired and glazed clay, fetched $100,000, or more than twice the pre-sale low estimate; Lautner's 1939 floor lamp realized $43,700, above its top estimate of $35,000; and Gill's painting of a pregnant woman, Infinite Regress, brought $22,500, more than 10 times its high estimate.