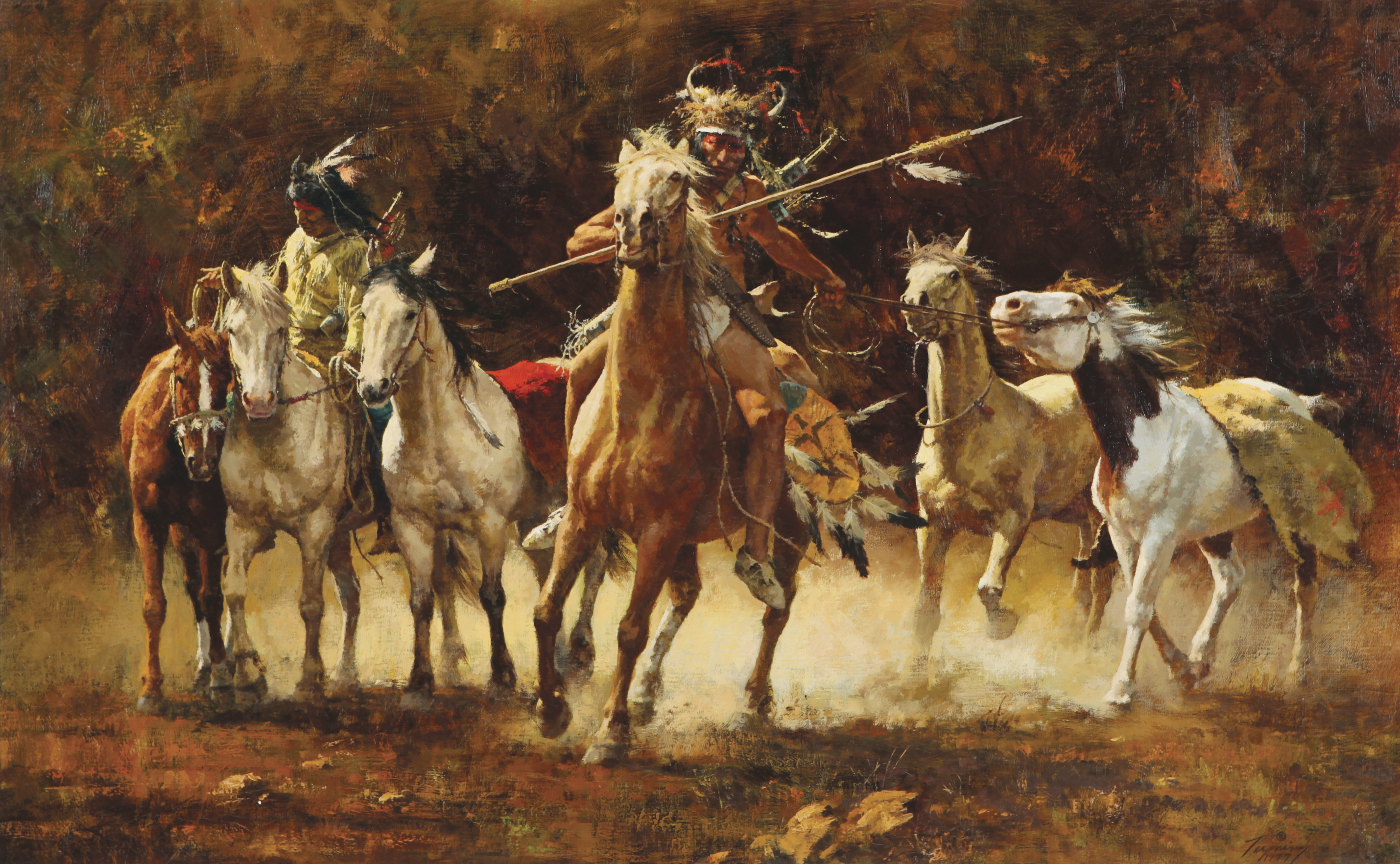 Scottsdale Art Auction, Lot 346 | Howard Terpning, "Captured Ponies" | Oil | 30 x 48 inches | Estimate: $400,000-$600,000 | Sold For $1,934,000
09 Jun

Auction Block: Spring Highlights
---
With major auction houses, Sotheby's and Christie's, launching an impressive spring auction season in May, niche auctions throughout the West follow suit with strong sales. While historic Modern masters ranging from Picasso, Cezanne, Munch and Matisse through to Rothko, Warhol and Koons were top sellers on the big blocks, Western art anchors such as Russell, Remington and Sharp drew attention at events in California, Montana, Arizona, Washington and New York. Each event reported healthy sales, enthusiastic collectors and an optimistic outlook for the art market in general.
---
Los Angeles Modern Auctions (LAMA) Modern Art & Design Auction: May 6, 2012
Setting new world records for art and design for American and international artists, the latest LAMA sale realized $2.97 million, a new company sales record. With an 81 percent sell-through of the 502 lots, Peter Loughrey, Director of Modern & Contemporary Fine Art commented, "Sunday's auction demonstrated our capacity to obtain world record prices for international and East Coast artists as well. Once again, you don't have to send your art to New York, Paris, or London to get the best price."
The Le Corbusier tapestry, Bogota, 1950, (est. $40,000-60,000), set a new world auction record for the highest amount ever paid for a tapestry by the designer at $131,250. Also, a rich selection of nine paintings from the Hard Edge School brought a total of $361,875. Frederick Hammersley's Figure of Speech, 1974-75, (Lot 139 est. $30,000-50,000), nearly doubled the previous auction record bringing $87,500. Karl Benjamin's, Yellow Landscape 1953, exceeded the pre-sale estimate, realizing $46,875. Design highlights included a strong grouping of George Nakashima furniture, totaling $95,000. The standout of the group was a Nakashima couch (est. $6,000-9,000), going five times over the low estimate at $35,000.
---
American Masters Salmagundi Club: May 5, 2012
The 5th annual show and sale to benefit the historic Salmagundi Club in New York City drew loyal patrons on opening night. The exhibition included 135 fine art works from 40 of the nation's top artists who showcased sculpture, paintings, drawings and woodblocks. From the representational mastery in wildlife of Daniel Smith to the Impressionist landscapes of Clyde Aspevig or the classical sculpture of Marc Mellon, the diversity of American artists was on display. Total sales for the gala event were not available at press time but will fund the planned Gallery Renovation project.
---
Heritage Auctions: Signature Art of the American West: May 5, 2012
Dominated by a private collection from a prominent Texas family, Heritage's American West auction was a great success. Featuring significant works by historic artists such as Joseph Henry Sharp, E. I. Couse and Fremont Ellis, final sales results were $673,617.50, with an 82 percent sell-through on 120 lots. The highest lot, Children of the Sun, 1989, oil on board, 36 x 66 inches, by R. Brownell Mcgrew, realized $74,500. Other highlights included a bronze, entitled Buffalo, by William Robinson Leigh which sold for $32,500 and a Thomas Moran, Westmoreland, that realized $25,000.
---
Bonhams California and Western Paintings & Sculpture: May 1, 2012
The Los Angeles auction of California and Western Paintings & Sculpture offered a wide array of important Western scenes, plein air, Society of Six and land and cityscapes. Simulcast to San Francisco, the highly anticipated auction featured Southern Plains Indian Warrior by Henry F. Farny, which was discovered at an estate sale. The work sold for more than three times the pre-sale estimate at $362,500 (est. $100,000-150,000).
Scot Levitt, Vice President and Head of Fine Arts Department at Bonhams, said of the discovery, "The consignor walked into our monthly 'Appraisal Day' in early 2012 at our Los Angeles office with what they thought was a print of a great painting. I had the pleasure of sharing the news with them that their newly discovered item was not a print at all but a painting worth six-figures. They were shocked to find out that their item turned out to be a great work of art."
Total sales for the evening were $3.33 million. In addition to the discovery, artists such as Franz Arthur Bischoff, Alson Skinner Clark, John Frost, John Marshall Gamble, Frank Tenney Johnson, Hanson Puthuff, Granville Redmond, William Frederick Ritschel and William Wendt were prominently featured within the May auction. Highlights included three paintings by noted plein air artist Granville Redmond titled Coastal Storm (est. $100,000-200,000, sold for $134,500), California Poppy Field (est. $40,000-60,000, sold for $98,500) and California Wildflowers on Rolling Hills (est. $25,000-35,000, sold for $56,250). Bonhams currently holds the world auction record for a painting by Redmond, which was set in April 2009 for $542,000.
A strong selection of Western paintings was also featured, including an Alaskan scene titled Mount McKinley by Eustace Paul Ziegler (est. $50,000-70,000, sold for $84,100) and Valley of the Rio Grande by Russell Cowles (est. $3,000-5,000, sold for $52,500). Both of the works sold above estimate and established new world auction records for the artists.
---
Sotheby's Important American Drawings, Paintings and Sculpture: April 5, 2012
With a sale total just over $2.9 million for this small auction of 171 lots there was a wide selection of works from the late 19th through the 20th century. The top-seller of the night was Street Market by Robert Frederick Blum, which went for well above the $30,000-50,000 estimate at $158,500. In the Western and sporting art categories, Frank Tenney Johnson's oil, Pursuit of a Cattle Thief, sold well above its estimated value at $80,500, while Hunter's in a Canoe by Philip R. Goodwin hammered at a healthy $68,500.
Other highlights included a small group of watercolors by early Modernists Arthur Dove, Burgoyne Diller and Oscar Bluemner. American Impressionist highlights are three lovely works by William James Glackens — Central Park Idyll, Still Life with Japan Box and Terraces, South of France — and Theodore Earl Butler's, Flowers in a Garden. A stunning portrait by Robert Henri, Segovia Girl, should also be noted. Finally, a remarkable tour de force in egg tempera by illustrator Ayers Houghtelling presents the entire story of Alice in Wonderland. Smaller works from Milton Avery, Albert Bierstadt and George Inness were also featured.
---
Scottsdale Art Auction: March 31, 2012
Fast and furious action branded the Scottsdale Art Auction this year with record-breaking sales of $16.4 million. Nearly 600 bidders gathered, as well as a host of phone and absentee bidders, as the Southwest's largest auction house unveiled one of the season's strongest roster of fine art lots.
Two works by modern master Howard Terpning were the top lots in the sale. Captured Ponies set a new record for the artist at $1.9 million, while Mystic Power of the War Shield followed closely at $1.7 million. Among other contemporary Western artists, G. Harvey's Men With A Dream sold for $172,500, Ron Riddick's Blessing Dance attained a record $109,250 against an estimate of $30-40,000 and Clyde Aspevig's Canadian Rockies sold for $109,250.
Works by masters of the American West sold extremely well. The Great Spirit, a monumental canvas by William Robinson Leigh, hammered down at $862,500, while a Charles M. Russell oil, Indian Scout on Horseback, sold for $690,000. Frank Tenney Johnson's nocturne, When All's Quiet, achieved $575,000 and the hammer fell after spirited bidding on Herman Herzog's In the Yosemite Valley at $207,000. Tom Lovell's evocative masterpiece, Marking the Crossing, topped $400,000 and, among New Mexico painters, Leon Gaspard's Russia, 1919 sold for $230,000 against an estimate of $100-150,000.
With 90 percent of the 392 lots sold, Scottsdale Art Auction set the pace for the Western art market in 2012.
---
Cowgirl Up! Art from the Other Half of the West Exhibition and Sale: March 23, 2012
Continuing a fine tradition, the best women artists of the West united en force for the 7th annual Cowgirl Up! Exhibition and Sale in Wickenburg, Arizona, at the Desert Caballeros Western Museum. Nearly 200 pieces of art by more than 50 of the West's top women artists attracted dedicated collectors from across the region for a successful event. Sculptor Martha Pettigrew was awarded "Best of Show" and "Purchase Award" for her bronze sculpture, Song of the Drum. Rox Corbett was honored with a first place award for two-dimensional art on paper along with many other artists.
---
25th Annual March in Montana: March 16-17, 2012
Honoring the tradition of Western Art Week, the two-day March in Montana auction presented an impressive array of lots from the fine art, antiques and Western collectibles markets. With a total of 667 lots offered, ranging from historic cowboy master, Charlie Russell and classic Western painter Burt Proctor to top-selling contemporary artists Andy Thomas, Dave McGary and Gary Carter, 91 percent of the lots sold. The auction totals were $1.8 million.
The top-selling lot was a rare oil on canvas by John Clymer [1907-1989]: Application of Pigments in Early Hopi Pottery Making sold for $63,250 (realized price), purchased by the Clymer Museum for its permanent collection in Ellensburg, Washington. Several other Clymer originals were offered and successfully sold at or above their estimates. Other highlights included the sale of huge handspun Navajo Ganado weaving, 208 x 125 inches, circa 1940s-1950s, for $40,250, well above the $20,000-30,000 estimate; Birger Sandzén's [1871-1954] Smoky Hill River, 16 x 20 inches, oil on board, sold at $24,150, while a second piece of similar quality was passed at the sale.
"It seems that the public is becoming increasingly aware of the investment potential in this material. We are pleased to offer them alternatives that they can enjoy, as well as invest in," stated Bob Nelson, who has been in the art and collectibles business for over 50 years.
---
The Russell: The Sale to Benefit the C.M. Russell Museum: March 17, 2012
The tradition of Western Art Week continues in Great Falls, Montana. Every seat at the Heritage Inn was filled as the C.M. Russell Museum held its final auction on the third day of annual fundraising activities collectively known as The Russell: The Sale to Benefit the C.M. Russell Museum. Three auctions containing 284 lots cumulatively sold for a sum over $3.5 million, including buyer's premium. Primarily a sale of contemporary Western art, the works were submitted by participating artists or consigned by dealers and private collectors.
The weekend events kicked off with a sold-out Thursday evening silent auction and preview event attended by more than 700 patrons. Top selling pieces in the silent auction included Andy Thomas's Kit Carson and the Fremont Expedition at Bent's Fort that went for $85,000 and Greg Kelsey's Walkara—Hawk of the Mountains, that brought in $35,000. The event also featured a new addition of select objects and travel experiences including a commemorative Russell rifle and vintage jewelry. The evening concluded with nearly 70 percent of lots sold for total sales of $300,000.
As anticipated, more than 20 works by Charles M. Russell made the biggest splash of the weekend at the Saturday live auction with estimated total sales of over $2 million, including buyer's premium. Russell's watercolors were the most coveted medium of the night with Waiting for Her Brave's Return and Roping a Steer each going for $375,000 and Indian on Horseback fetching $300,000.
Additionally, Friday's Art in Action®, the museum's signature quick-finish event held at the Meadow Lark Country Club, boasted the largest attendance of all of the sold-out events with nearly 800 people. The event grossed over $105,000 in art sales and $26,000 in additional sponsorships.
"Several factors can be attributed to the success of this year's sale," said the Russell Museum's Chief Curator Sarah Burt, who directed this year's art selection for The Russell. "[We] strove to find a balance of artwork that would appeal to a wide range of collectors. The Russell success was a combination of the right buyers and the right material."
---
Western Masters Art Show and Sale: March 15, 16, 2012
Launching with a new award, this artist-fueled event in Great Falls, Montana, continues with great momentum. This year Western Masters Art Show and Sale honored legendary oil painter Oleg Stavrowsky with the first annual North Star Award for his guiding influence on Western art. Mr. Stavrowsky was unable to attend for health reasons, so Craig Barrett, one of his main collectors, accepted the award on his behalf.
The show attracted 144 artists and included a total of $345,000 in sales from a traditional quick finish, "off the wall" auction and another quick finish to benefit the Michael J. Fox Foundation for Parkinson's Research. More than $75,000 was raised for Parkinson's research during the Quick Finish, raised by artists like Charles Fritz (whose Quick Finish piece went for $16,000, not including a matching gift of another $8,000 to Parkinson's research), Tom Gilleon, Gary Lynn Roberts, Nancy Dunlop Cawdrey and Carol Hagan. Several young emerging Montana artists exhibited for the first time, including Ken Yarus, Kelsey Schmid-Sommer and Whitney Hall. The Off the Wall Auction remains the only auction in the art world in which 100 percent of the winning bid goes directly to the artist. "We sold 90 percent of the lots up for auction. Customers and collectors really appreciated Western Masters' collaborative effort with the C.M. Russell Museum, they want to see more collaboration. They like that it's a one-stop venue where they can see the art, meet the artists and attend auctions," said show director Steve Cawdrey.
---
Marin Art Show: Art of the Americas: February 26-28, 2012
Celebrating its 28th year in San Rafael, California, the Marin Art Show: Art of the Americas rolled out an extensive ongoing showcase of antique American Indian, Pre-Columbian, Spanish Colonial and contemporary American Indian art. Bringing together passionate dealers, collectors, and artists from across the world, the annual event was defined by increased sales and attendance.
On opening night, the event raised $5,000 for Homeward Bound of Marin. During the weekend significant sales provided benchmarks for the event's overall success. Arader Galleries sold George Catlin's Archery of the Mandans for $9,500 and a Plains Indian portrait by Karl Bodmer for $7,000; John Malloy Gallery sold an 1870 antique buffalo hide saddle bag for $12,500; and the Old Territorial Shop sold a pair of black and sienna pottery jars by Tony Da for $50,000. Other exhibitors realized successful sales and reached a quality mix of first time and experienced buyers.
Los Angeles Modern Auctions (LAMA) Modern Art & Design Auction | "Bogota" | Le Corbusier Tapestry |Estimate: $40,000-60,000 | Sold: $131,250
Bonhams Lot 174 | Henry F. Farny [1847-1916], "Southern Plains Indian Warrior" | Gouache on paper | 1894 |
 22 x 17 inches | Estimate: $100,000-150,000 | Sold: $362,500