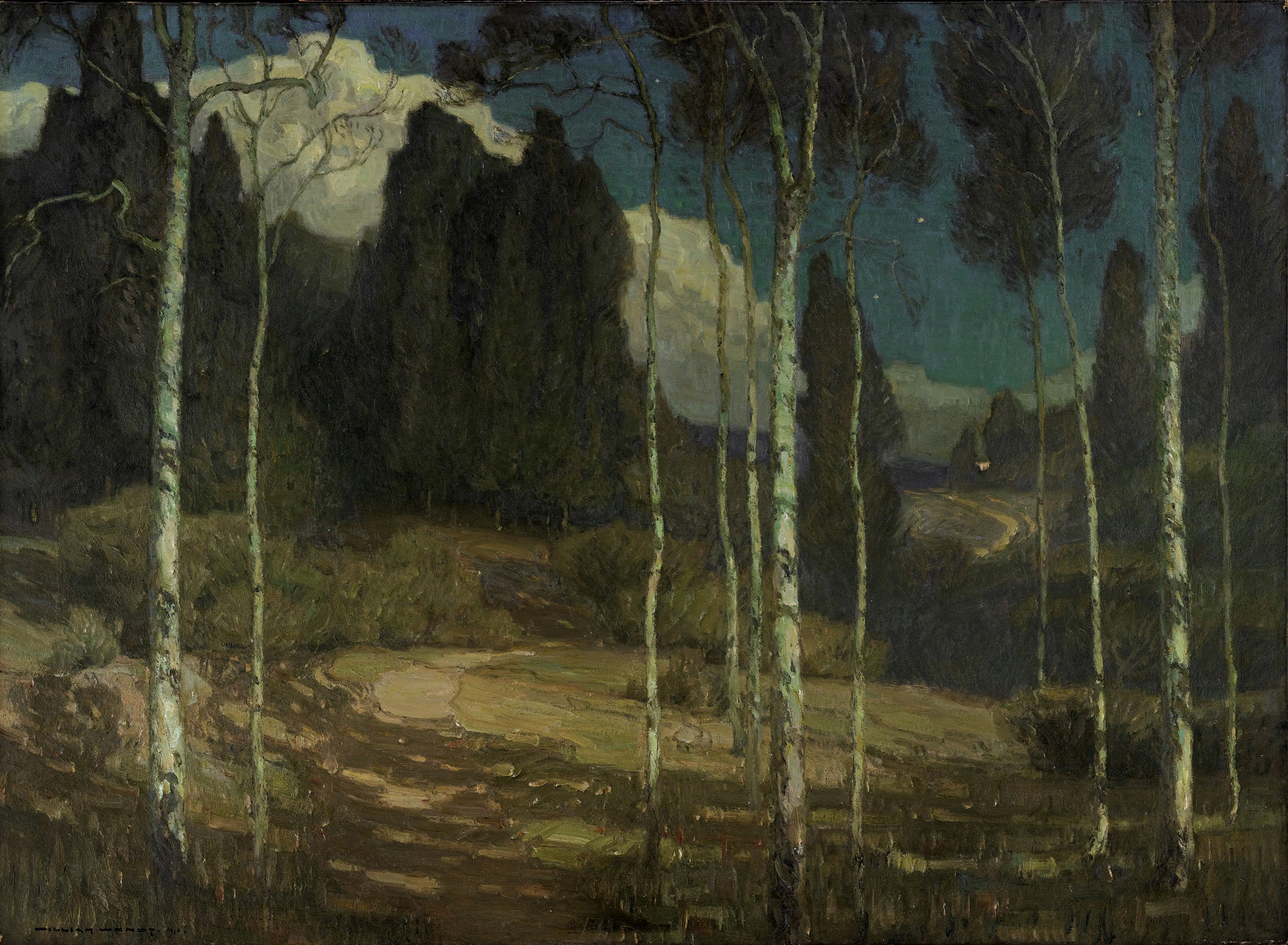 William Wendt, "The Silence of Night" | Oil on Canvas | 40.25 x 55.25 inches | Estimate: $70,000 – $100,000, Sold: $286,000 | Sotheby's American Paintings, Drawings and Sculpture
04 Aug

Auction Block: Taking Flight
---
In an ideal world, politics and art shouldn't mix. But in reality they do, sometimes in a cacophony of controversy or commentary about subject matter, and occasionally because the affairs of public life so obscure economic forecasts that luxury purchases are put off.
U.S. presidential election years periodically bring a degree of uncertainty to markets, including those tied to art, and 2016 is no exception. The coming change in the White House, along with continued fits and starts in the oil industry, may constitute factors influencing some moderating of prices.
Yet, fine work by gifted Western and Native American artists and artisans continued in May and June to evoke excitement among knowledgeable collectors and elicited bids that, for the most part, indicated the market sought to maintain a steady course.
---
Brian Lebel's Old West Auction | June 11, 2016
Annie, get your gun…
The top seller at Brian Lebel's Old West Auction in Fort Worth, Texas, was legendary markswoman Annie Oakley's 20-gauge Parker Brothers shotgun, which sold to a phone bidder for $195,500, far higher than the low end of its presale estimate at $150,000. The same buyer snapped up Oakley's hotel travel trunk, which fetched $19,550.
But it wasn't all Annie all the time at the signature sale of Western art and memorabilia and Native American artifacts. The latter was led by a decorative Sioux scout jacket, which realized $69,000, nearly twice the high estimate.
A parade saddle by Edward Bohlin, laden with silverwork in a Texas star theme, sold for more than twice its low estimate, fetching $21,850, while a copy of a book by Charlie Russell, Trails Plowed Under, inscribed by American cowboy and humorist Will Rogers, soared above its top estimate of $2,000 to realize $11,500.
Total sales for the live auction at the Will Rogers Memorial Center exceeded $1 million, with buyer's premium, and featured a robust 90-percent sell-through rate.
---
44th Annual Prix de West Invitational Art Exhibit and Sale | June 10 – 11, 2016
More than 700 guests attended the opening weekend in June for the National Cowboy & Western Heritage Museum's 44th annual Prix de West in Oklahoma City, where art sales topped $2.6 million. A percentage of sales from the exhibition, which featured 306 sculptures and paintings by nearly 100 contemporary Western artists, is earmarked for the museum's programs and activities.
David A. Leffel's painting, Jonathan Warm Day Coming, won the Prix de West Purchase Award. The oil-on-canvas portrait of a Native American from the Taos Pueblo in New Mexico was purchased for the museum's permanent collection. Leffel described the subject of the work as a friend who is both a storyteller and artist and whose mien is dignified and proud. The New Mexico artist said the Native American blanket draped across the man's chest has spanned generations and is otherwise rarely seen.
The highest-selling work was In Quest of the Cree, a 42-by-60-inch painting by Z.S. Liang of Agoura Hills, California. The painting sold during the Saturday evening fixed-price sale for $78,000. Other noted award winners, receiving $3,000 each, included T. Allen Lawson, Terri Kelly Moyers, Bill Anton, Bill Nebeker, Susan Lyon, Greg Beecham and Doug Hyde.
---
Sotheby's American Paintings, Drawings and Sculpture | June 9, 2016
An oil in sedate colors portraying a nighttime coastal scene by the late California artist William Wendt [1865–1946] soared far above its estimate of $100,000 to realize $268,000 at Sotheby's auction of American works in New York. The large painting led a sale that offered more than 250 lots and which ultimately achieved a total of roughly $4 million. The price achieved by the Wendt, dated 1910, is yet another sign that California artists associated with a plein air penchant — or the so-called California Impressionists — have gained an ardent following nearly a century after the movement reached its zenith.
Many of the Western art pieces featured in the sale brought respectable sums, including two watercolors by Frederic Remington [1861–1909], Heading the Drove and Cold Day on Picket, that rose above their high presale estimates to fetch $27,500 and $23,750 respectively. A third 19th-century watercolor executed by the Western artist credited with cementing the genre in the American consciousness ranged higher than its presale estimate of $20,000 to hammer at $27,500.
A heroic image of a bighorn sheep painted by Albert Bierstadt between 1876 and 1879 brought $37,500, with the small-size piece realizing the mid to high range of its estimate.
Yet, a muscular oil featuring one of the wonders of the Yosemite Valley in California, Vernal Falls, Yosemite, produced in the late 19th century by Thomas Hill, fell short of its low range estimate to garner $18,750.
---
Bonhams' Native American Art Auction | June 6 – 7, 2016
A gold Hopi bracelet with a sleek design anchored by intricately pieced lapis, coral, turquoise and shell ignited avid bidding that easily pushed the price for the piece to $40,000 and ranked it third in the top 10 best-selling lots featured at Bonhams' spring sale of Native American art, taking place June 6 through 7 in San Francisco, California.
The bracelet, crafted by master jeweler Charles Loloma [1921–1991], perfectly represents the directional shift in Native American design that the late artist advocated in his work and his life, said Ingmars Lindbergs, director of Bonhams' Native American Art Department.
"He moved beyond traditional Southwestern themes to produce very modern, very cutting-edge work that still was reflective of his own personal experience as a Hopi artist," Lindbergs said.
In June, Bonhams saw its second-best sale of Native American art in an 800-lot auction that brought more than $2.5 million and which celebrated notable items from the late philanthropist George Gund, owner of the sports team the San Jose Sharks. Gund collected contemporary art by Native American artists based primarily in the coastal Northwest, including exquisite wood carvings by Tlingit artist Dempsey Bob. The story is told that a representative for Gund purchased an entire gallery of Bob's art before the planned exhibit could open.
A mask by Bob of a man's face, in which the forehead is decorated with the features of a bird, sold for more than twice its estimate, achieving $9,375 at the sale by Bonhams. Additional items of note include a Sikyatki Polychrome Jar which sold for $56,250, with premium.
Lindbergs said he is marking strength in markets that deal almost exclusively in the works of contemporary or recently deceased Native American artists, a trend shaped by buyers who share a kinship with collectors of Western works, but also maintain a separate sense of identity in the overall art market.
The sale provided further proof of the growing appeal of works designed by artists who are tied to Zuni, Hopi and other tribes of the American Southwest.
---
Phippen Museum's 42nd Annual Western Art Show & Sale | May 28 – 30, 2016
Organizers of the Phippen Museum's yearly show and sale said clear skies and moderate temperatures brought thousands of locals, collectors, tourists and art enthusiasts to visit art displays in downtown Prescott, Arizona, over Memorial Day weekend. The three-day extravaganza was topped with the museum's Denim to Diamonds Gala, a dinner and live art auction.
The event, this year staged at Hassayampa Inn and featuring entertainment by Conner Danks, saw the sale of artworks by Steve Atkinson, Bill Cramer, Tim Harmon, Steven Lang, Cynthia Rigden and Joseph Robertson gain thousands of dollars to benefit the Phippen during the museum's chief fundraiser.
Quick draw challenges took place over the weekend and involved 20 artists tasked with creating and completing a painting in just one hour. Those pieces were then auctioned on the spot, many with the paint still wet, according to museum spokesman Edd Kellerman.
Bill Cramer, a local artist, gained the 2016 Best in Show award for his painting Canyon Fortress, a 36-by-36-inch oil in which desert light glints off towering, flat-top canyon walls that so dwarf outlying trees that they appear the size of shrubs.
Phippen Executive Director Kim Villalpando said reasonable temperatures combined with abundant sunshine added to the success of the 2016 event.
"Preparation is extensive but even the most detailed planning and execution is compromised by inclement weather," she said in a statement.
---
Los Angeles Modern Auctions Modern Art & Design Auction | May 22, 2016
Los Angeles Modern Auctions (LAMA) set world record prices for a 1975 fiber construction by Sheila Hicks and a post-1970 massive acrylic on paper by Jules Olitski [1922–2007] at the auction house's modern art and design sale in Los Angeles in May. The sale realized $2 million, including the highlighted works by Hicks and Olitski.
Hicks' untitled woven hanging was commissioned by a bank in North Carolina, with the cotton-and-wrapped-cordage piece spanning more than 21 feet. The piece echoes monumental hangings that Hicks produced for public spaces in the 1960s, according to LAMA Director Peter Loughrey. And it fetched more than twice the high amount expected, hammering at $125,000.
Olitski's painting from 1989, Love of Ariel, a huge abstract piece, brought $102,500, more than four times its top presale estimate, representing a new high for any work created by the artist after 1970, according to LAMA.
The auction also set a world record for the sum paid for a work on paper by artist Ken Price [1935–2012], with the acrylic L.A. Riot fetching $58,750 compared to presale estimates ranging from $20,000 to $30,000.
---
Christie's American Art Sale | May 19, 2016
Works by Georgia O'Keeffe made a solid showing at Christie's spring sale of American art in Rockefeller Plaza in New York. The 19th-century artist, who produced paintings of the American West and its people, was among unsung talents who posthumously have gained greater stature and, subsequently, can see higher-than-expected sums for their lyrical offerings.
Such was the case for an oil by Alfred Jacob Miller [1810–1874], Pawnee Running a Buffalo. The painting aptly describes a scene stretched across an oval-shape canvas: set against a moody sky and roughened rocky landscape, the threat in the glittering eye of the brave's white steed is answered by the gleaming orb of a massive, hump-shouldered bison in a match of will and strength whose outcome will forever be untold. The painting climbed above its presale low-end estimate of $1 million to fetch $1,565,000. The intensity of the artist's image, which Christie's notes was commissioned by William C. Wilson of Baltimore in 1854 and which came by descent to the owner who brought it to market, is made more remarkable by its relatively small size, at only 20-by-24-inches. It also gives the sense that the human and animal figures will at any moment spring from the canvas and thunder by in a cloud of dust.
Georgia O'Keeffe [1887–1986] is the acknowledged belle of female American artists, and four of her paintings — one a Southwestern landscape, two tied to the storied Lake George in the Adirondack Mountains and Blue 1, a watercolor with an eponymous title that bolsters what Christie's calls an exercise in pure abstraction — brought solid, if not top, amounts and were among the 11 pieces hailed as highlights during the May 19 sale.
Through the Starlit Hours, a nocturne by cowboy artist Frank Tenney Johnson [1874–1939], realized $185,000 at the event, which compares to a presale estimate of $150,000 to $250,000. Tenney's nocturnes are hard to resist and this oil, painted in 1935, is an alluring rendering. The moonlit scene portrays a wrangler on horseback surrounded by cows that lie peacefully near a rocky outcropping or stand in the same relaxed posture as the cowboy's mount. All is harmony amid the predawn hours and in the early 20th-century American West that Tenney admired in his mind and channeled with his brush.
Christie's sale of works tied to noteworthy American artists of past decades fetched a total of $42,737,500 with buyer's premium, and items ranged in price from $5,250 to $12,933,000, according to the auction house.