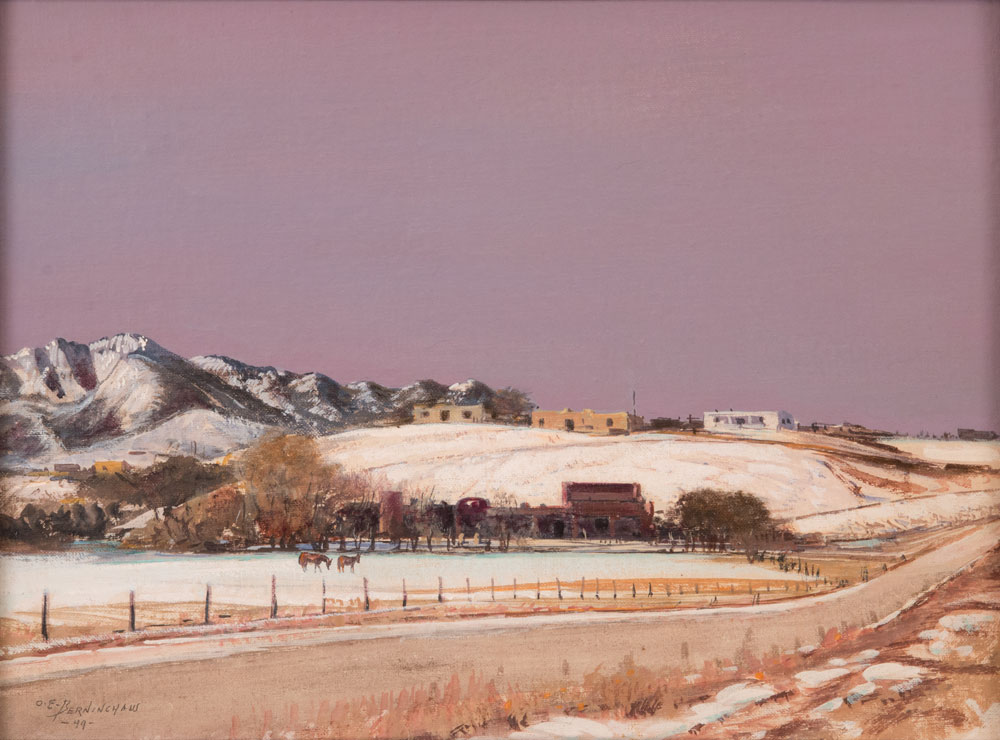 Oscar Berninghaus, "Ranch in Winter" | Oil on Canvas Board | 12 x 16 inches | Estimate: $25,000 – $35,000 | Sold: $27,500
11 Nov

Auction Block: Western Wonders
---
Sales of Western paintings and sculptures and Native American handiwork in the last quarter of 2015 continued to show strength and the kind of stability absent amid the peaks that gave way to the valley that was the 2008 recession.
What is best in the U.S. West — the awe-inspiring vistas, the storied figures of a region not yet tamed by practice or domesticated by habit, intricate tribal craftsmanship — stood out at sales like the Coeur d'Alene Art Auction where headliners included masters of the genre such as Charles Russell.
Works by American Indian artisans triggered robust bidding at the Auction in Santa Fe, where the sum for a fully beaded cradle soared to more than $32,000.
And in a sign that California painters and scenes are attracting a wider audience, a haunting portrait of the Yosemite Valley by Thomas Hill fetched nearly twice its high estimate at Bonhams California and Western Paintings and Sculpture Sale.
---
Auction in Santa Fe, August 16-17, 2015
---
The 12th annual Auction in Santa Fe conducted by Manitou Galleries brought 500 registered bidders in person, by telephone and online to the Mesa Ballroom in the historic Hilton of Santa Fe on August 16 and 17.
The offering of 700 lots included everything from fine art to sculpture and Indian artifacts and textiles from collections across the United States.
A spare wintry scene executed in 1949 by painter Oscar Berninghaus — Ranch in Winter — brought more than $33,000 including buyer's premium, several thousand more than its low estimate, while an evocative painting by Henry Raschen of a Native American on horseback gazing across a landscape of many canyons, View of the Valley, fetched $10,620.
The auction saw a fully beaded Cheyenne cradle with its original boards, a stunning piece of American Indian craftsmanship, sell for $32,200 and beaded leggings by an artisan from one of the Southern Plains tribes realized $12,650.
A bronze by leading wildlife sculpture Ken Bunn, Vantage Point, Black Bear, brought applause when it hammered for $8,000, said Manitou Galleries co-owner Charla Nelson.
The two-day event was an overall success, with a 12 percent no-sale rate that she described as consistent with the current economy. Co-owner Bob Nelson said the couple has seen "nearly everything" in 30 years of conducting auctions through three recessions.
"We're getting more on board with the social media bandwagon and are always striving to reach the new, young buyers as well as satisfy the needs of our investment-level collectors. We had a wide variety of offerings this year and it paid off," he said.
---
Bonhams California and Western Paintings & Sculpture Sale, August 4, 2015
---
The unerring eye of the late Mark Zaplin, founder of Zaplin Lampert Gallery in New Mexico, and his love of the Western works he bought, sold and sometimes kept for his own pleasure were on full display at Bonhams California and Western Paintings & Sculpture Sale, August 4 in Los Angeles.
The 22 consigned lots celebrated Zaplin's lifelong education and appreciation of a genre that has only in recent decades gained the kind of accolades it always deserved.
Scot Levitt, vice president and director of fine arts at Bonhams, said the auction house was fortunate to be able to sell a portion of Zaplin's personal estate, pieces that brought higher prices than anticipated, largely because of their relationship to the highly respected art dealer. The art, mostly paintings, represented his personal taste and mostly hung in his home, said Levitt.
"They did extremely well and perhaps better than they would have done if they had not been connected to Mark's estate," he said.
An outsized and colorful depiction of Taos, New Mexico, by Richard Manning Crisler, for example, brought $47,500 instead of the $5,000 to $7,000 estimated. A winning bid for Portrait of an Old Man (Candido Rodriguez, Santa Fe) by Randall Davey also amounted to $47,500, compared to estimates ranging from $4,000 to $6,000.
A total of 128 works were offered at the sale, which realized $2.8 million including buyer's premium. Levitt said the market responded to the auction's string of good quality works as well as more modestly priced items designed to appeal to initiates.
"The general trend has been everyone wants the A-plus examples by any of these artists, top examples at top prices," he said. "But we want people at all levels."
The grandeur of the forested peaks, rough-hewn canyons and river valleys that intersect the lands west of the Mississippi also found favor at the Bonhams event, which was simulcast in San Francisco. A moody rendering of the Yosemite Valley measuring roughly 23 by 19 inches fetched $50,000, nearly double its top estimate. The oil and gouache on canvas by painter Thomas Hill represented the property of a Canadian collector and, like John Fery's Glacier scene at the Coeur d'Alene Art Auction, preserves for posterity a Western landscape that may not exist in exactly the same fashion today and continues to change.
Levitt said the painting of cliffs, trees and water showed a delicacy and sharpness of brushwork that drew collectors' interest as well as their admiration.
On a quieter, more reflective note was Joseph Kleitsch's Enchantment, a painterly oil depicting the artist's wife seated at the edge of tidal pool in a cove near Laguna Beach, her feet in water whose greens suggest it to be teeming with marine life. The figure's jaunty red jacket belies her attitude of repose yet it is one color among many that make up the mosaic of rock, sand and sky of coastal California. The piece went for $161,000, more than twice its high estimate.
Bonhams sales of California and Western works invariably draws a regional crowd but also can see a smattering of collectors from the East and Midwest, Levitt said. "We like to see as many people as possible, which requires continual education and an understanding there are still plenty of buys to be had," he said.
---
Coeur d'Alene Art Auction, July 25, 2015
---
A standing-room-only crowd of hundreds gathered July 25 in Reno at the latest Coeur d'Alene Art Auction to mark the supremacy of Charles Russell. Four of the top five sellers at a sale that fetched more than $23 million including buyer's premium were by that master of Western art, with the highest priced piece a medium-sized watercolor — As Cochrane and Pard Leaped into Their Saddles, Cochrane Shot the Indian — that came to the market from a private collection at the last minute and for the first time in 30 years, said auction partner Mike Overby.
The high-action painting depicts a seething mass of Indians and several cowboys on horseback in the act of wheeling their mounts through brush against a mountainous backdrop. The work fetched roughly $1.1 million.
"It came in after the catalogue was printed so we made a special addenda sheet for it," Overby said.
Proving the truth of the proverb "better late than never," the painting's delayed addition did not dampen enthusiasm among bidders, who added to the overall sense at the auction that Russells of a certain style and from a certain period — in this case, 1910 — will always cast a spell on knowledgeable collectors.
Admirers of Russell, a cowboy-turned-artist who saw the 19th-century opening of the West to settlers of European descent, did not stay silent during the sale at the Peppermill Resort. The artist's A Bronc Twister, an 18-inch sculpture whose title perfectly describes its bronzed rendering, arced above $1 million to become the second of three top sellers. The price represented more than double the tabletop's high estimate of $500,000.
Finishing out the selling streak were Buffalo Hunt (or Buffalo Runner) a smaller-sized bronze that sold for $865,000 compared to an estimate ranging between $150,000 and $250,000, and Meat for the Tribe, a larger oil of a Native American bringing down a bison, which brought $753,000.
Bidders narrowed to two for each of the prized pieces, with the bronzes attracting special interest in part because Russell did so few castings during his lifetime, said Overby. The rarity of such works and the infrequency with which they come up for sale combine to let the market do the talking — and, in the Coeur d'Alene sale, it did so, loud and clear.
"When one comes up, we put them out there and the market tells us what it's worth," Overby said.
The market marked up Russell's austere bronze of a mountain sheep far beyond expectations. The 4.5-inch piece brought $351,000 compared to a top estimate of $30,000.
Works by founders of the Taos Society of Artists brought handsome sums at the premier auction, yet another sign that prices for paintings by those maestros who orchestrated in their works the light, colors and peoples of the American Southwest are rising at a respectable rate after rollercoastering several years ago.
The Watcher, a signed oil on canvas by the society's Walter Ufer, fetched $468,000 with buyer's premium, comparing to estimates from $250,000 to $350,000; and a 1935 painting by E.I. Couse, The Turquoise Bead Driller, sold for $380,250, well above its low estimate of $250,000.
The sale of a sweeping painting by John Fery of a mountain lake at Glacier National Park shattered the artist's world record at $117,000. Fery had gained fame in the late 19th and early decades of the 20th century for his renderings of the park, an assignment from the Great Northern Railroad, one of Glacier's developers, said Overby.
Fery's large-format paintings were sent back East to adorn stations and urge onlookers to go west to view the "Swiss Alps" of Montana. But Fery did not need to embellish for promotional reasons. He captured the grandeur of the park before the onset of melting affected its namesake glaciers. Fery's work still fires the imagination — which is needed where parts of the park have seen dramatic alteration — but also serves as a form of documentation for scientists seeking to compare what was with what is, said Overby.
The paintings are scenes of a West that has changed and an artistic repository of the region's rich natural legacy