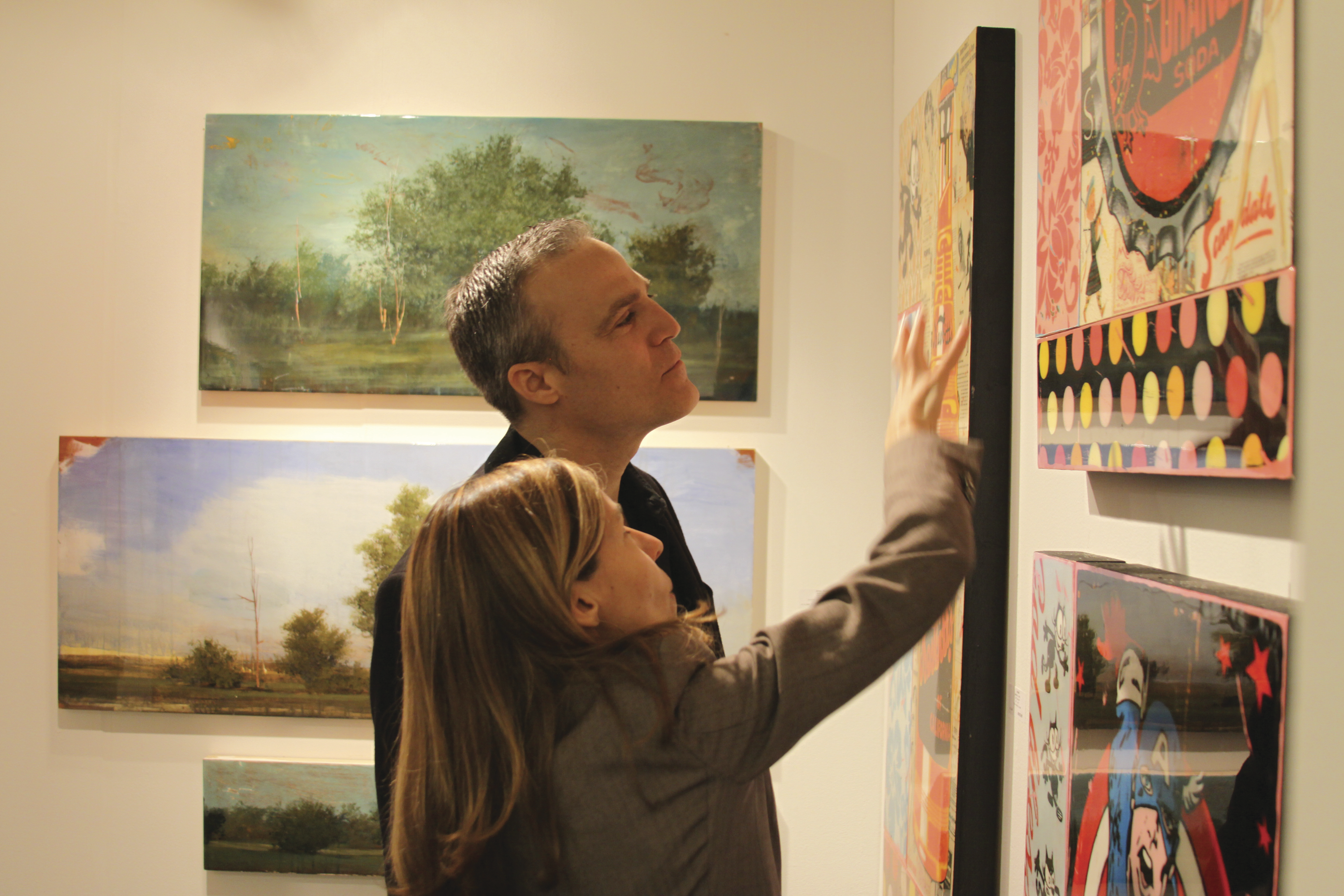 Collectors, experienced and novice alike, attend Affordable Art Fairs in great numbers. In addition to fairs in New York, Seattle and Los Angeles, AAF hosts events around the world in more than 10 countries including England, Mexico, Australia and Singapore. Photos: Ylinka Barotto
09 Jun

Collector's Notebook: Beginning a Collection

It's one thing to love art, another to own it. Where does someone without endless resources even begin to think about an art collection? Is it even possible in today's recession, with the art market still breaking records on astronomical sales?

Think of legendary art collectors Herb and Dorothy Vogel, a mail worker and a librarian who lived in a small rent-controlled apartment in New York. The couple spent more than 30 years amassing a collection of nearly 5,000 works from some of the most prominent artists of the second half of the 20th century, most bought long before the artists became household names. They managed this by living on Dorothy's salary and spending Herb's on art, cultivating lifelong relationships with the artists they collected. On the flip side is a world-famous collector like Los Angeles philanthropist Eli Broad, who can afford just about anything, from nosebleed-expensive artists such as Damien Hirst or Jeff Koons to rescuing the nearly bankrupt MOCA.

Most of us, truth be told, just want a few nice pieces of art for our homes. We don't want to be world-famous collectors. But even the Vogels didn't expect to become celebrities when, soon after their marriage in 1962, they bought one of John Chamberlain's now-landmark sculptures composed of crushed car parts.

A good example that the Vogels' spirit is still alive and well is the Affordable Art Fair franchise, started in the United Kingdom 12 years ago by Will Ramsay. Now a worldwide phenomenon, the next U.S. fair is scheduled for October 4 – 7 in New York. Prices range from $100 to $10,000, with most below $5,000. The fair does brisk sales around the $500 mark.

Last April at the opening night party for the first AAF in Los Angeles, the crowd was young, bohemian, covered the whole panoply of ethnic backgrounds and — if clothes are any indication — represented every economic level. Gallery representatives showed up from all over the world, including a couple of dour Muscovites.

"Our mission," says Judith Pinero, director of the New York and L.A. fairs, "is that everyone should be able to buy an original piece of art."

She feels collectors used to seek out important investment pieces, but that the whole paradigm has begun to shift. "People are collecting from the heart more," she says. Her advice to the beginner? "You should be buying what you're going to want to live with."

"I advise people to collect what they're drawn to," agrees Tim McNab, Director of Period Art & Design for Bonham's auction house in Los Angeles. "Some of the greatest collections in the world started from the collector's personal vision."

Naturally, he sees auctions as a great resource for beginning art collectors, since they offer such a broad range of pieces and gavel prices. "I always recommend that nervous first-time bidders first attend a preview and an auction [before they start bidding] to get a sense of the pace and feel of a whole experience."

On a practical level, there are many strategies for starting an art collection. First and foremost is this: Educate yourself. If you live in or near a big city, haunt museums and art galleries. Museums often sponsor seminars and lectures on starting an art collection. But no matter where you are, you can subscribe to art magazines and buy books. The more you know about art, the more likely you are to know in your heart what you want. And even if you're nowhere near an auction house, auction catalogs are a way to become educated on price ranges.

Visit art fairs in your area, or check for them wherever you're traveling. There are the jet-set fairs like Art Basel Miami Beach and the Armory Show in New York, where art galleries from around the globe set up booths. And on a more practical level, every city and town has a fair. Think of the Santa Fe Indian Market (this year from August 18 – 19), where more than 1,100 Native artists from across North America come to show and sell their work. That event alone has been attracting artists and collectors for more than 90 years and is considered the largest and most prestigious Native arts market in the world and the largest cultural event in the Southwest.

Second, follow the Vogels' lead. Look for emerging artists. If you find an artist you like, try to make an appointment to visit his or her studio. It's always less expensive to buy directly from an artist who's not yet represented by a gallery. Also, a growing trend among emerging artists is to belong to cooperative galleries, still more affordable than commercial galleries.

If you find an artist whose work you like but can't quite afford, Judith Pinero suggests asking if they also make prints or lithographs, which can be a great way to begin. But be sure to buy only limited editions — any edition over a couple of hundred is too many.

Some other options: Think small. Miniatures are having a revival of interest, and some well-known artists are participating in juried miniature art shows. Tucson's Settlers West Galleries hosts a celebrated show, American Miniatures, each winter. The National Museum of Wildlife Art in Jackson Hole, Wyoming, stages the Western Visions Miniatures and More Show and Sale each year in conjunction with the town's Fall Arts Festival.

Consider purchasing photographs. Once taken lightly, photography has become highly valued. An early collector was the late Sam Wagstaff, who sold his storied collection to the Getty in the '80s for the then-record price of $5 million.

Another option: Bartering. Are you an accountant, a dentist, a hairdresser or a mechanic? Artists need help with their taxes, they get cavities and their cars break down. Many an art collection has been born trading professional services for art.

But no matter what you do, remember what the experts say: Don't think of art as an investment. Buy what you love. That way, you can never go wrong.