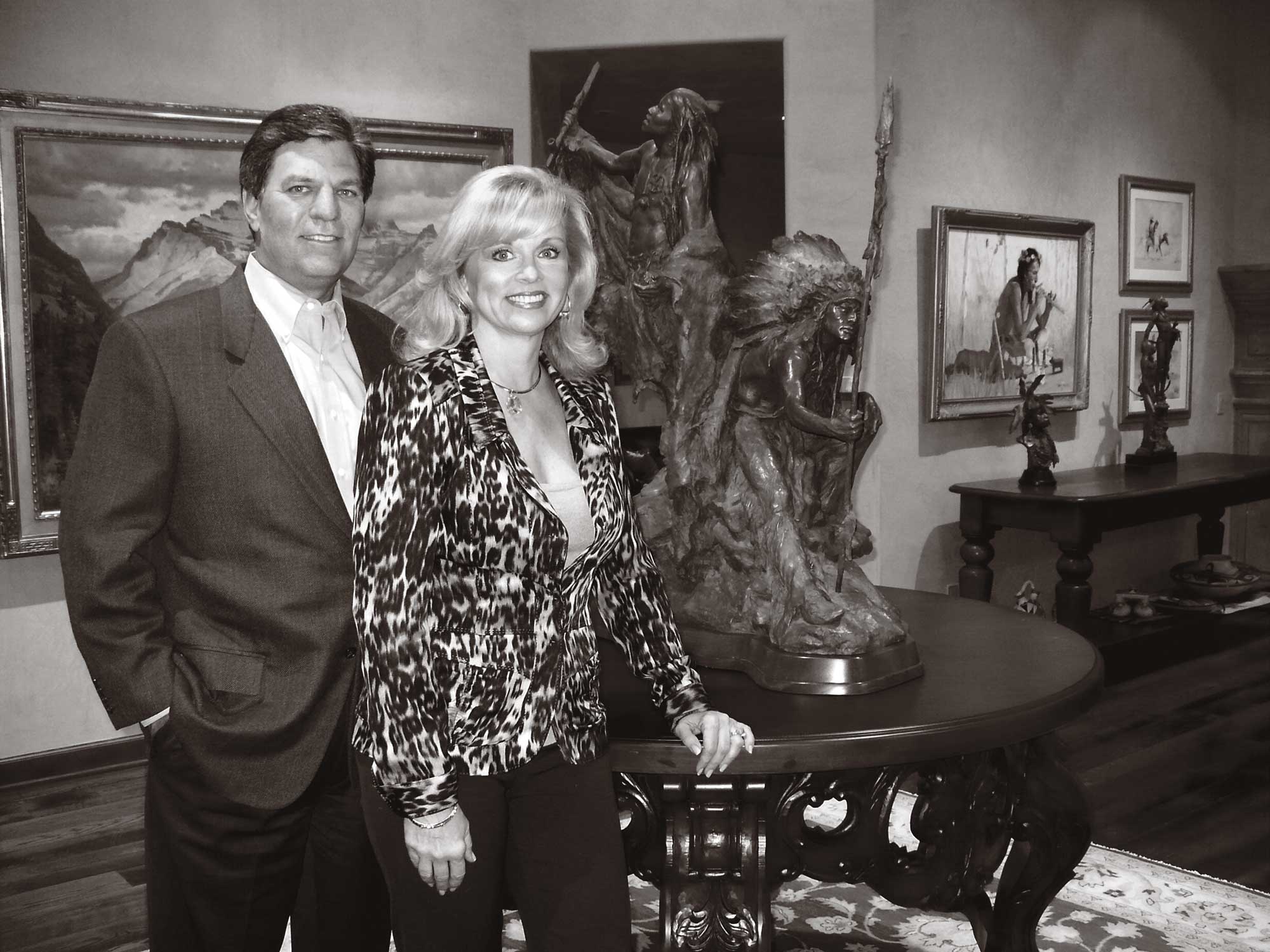 Brad and Jinger Richardson enjoy collecting a variety of art including a John Coleman sculpture, a landscape by Clyde Aspevig and a Native American image by John Moyers.
30 May

Collector's Eye: Brad and Jinger Richardson
---
Brad and Jinger Richardson opened Legacy Gallery in Scottsdale in 1988 and in Jackson Hole in 1991. In addition to the galleries, they host the Scottsdale Art Auction, held on April 10, 2010, at their gallery location.
It's not a surprise that Jinger would enter into the gallery business — she grew up around artists. Her parents started the first gallery on Main Street in Scottsdale — Troy's Western Art Gallery. The artists they represented were frequent guests in their home and vice versa. "As a little girl, we used to go to Olaf Weighorst's all the time," Jinger says. "And Gary Niblett (Cowboy Artists of America) stayed at our house when he came to town." George Phippen, Joe Beeler, Fred Fellows and a young artist named Howard Terpning were artists that Troy represented and that Jinger grew up knowing.
After marriage and the start of Legacy Gallery, Brad recalls that his father-in-law made running a gallery sound like so much fun that Brad left his career in insurance and investments to join Jinger full time. They are not only gallery owners but passionate art collectors as well.
WA&A: What inspires you to collect art?
Brad: Experiencing what a piece does to us when we see it each day.
WA&A: What was the first work that you purchased and what made you choose it?
Jinger: The painting we have that's been with us longest is a pen-and-ink by Charlie Russell that I had when we got married.
Brad: On our first anniversary I bought a piece that I considered to be a very thoughtful gift — a painting of his-and-her quails by Gene Dodge, a brother-in-law of Gary Swanson who doesn't even paint anymore.
Jinger: I was so nervous, it was $750 and we made payments on that painting until it was paid off.
WA&A: What is your most beloved piece, and why?
Jinger: I'm really loving my Dan Gerhartz; it's hard to say which one I love more — I like the romantic feel of his work.
Brad: It has to be a painting that we have in our Jackson Hole home — bighorn sheep by Carl Rungius. I love it because I love to hunt and be out there where Rungius did his work.
WA&A: At what point did you realize you were a collector?
Brad: In the gallery business there are owners who don't own any art; they view it as a commodity. Others are more collectors than gallery owners — you have to try hard to talk them out of a good painting. We think we are somewhere in between. We are definitely collectors. We bought our Clyde Aspevig at the Prix de West, and our Bill Acheff at the Autry Museum.
WA&A: With which artist, living or deceased, would you most like to have dinner?
Brad: It would have to be Charlie Russell. Simply because he was a character and was himself entertaining. Can you imagine a dinner party with Charlie Russell as your guest? He'd be so interesting because he was one of the last artists who actually saw what he painted. Others have to create scenes from history by doing research.
WA&A: What was the one that got away?
Brad: A Gerard Curtis Delano at the Coeur d'Alene Auction. It wasn't a piece that was significant but it was for me. It went over my limit. It was a painting with a clump of yellow aspens and (pointing to a Delano painting) that's the closest I've come to that painting.
WA&A: If you could be any artist in history, who would you be?
Brad: Rungius, without a doubt. He did everything that I enjoy doing — being out in nature, seeing big game. I bagged a bighorn sheep this year in Alaska.
WA&A: Where do you imagine your collection will be in 100 years?
Brad & Jinger: Definitely it will be different than it is today; we are still building our collection. Part of it will be in museums — we've already donated some works.