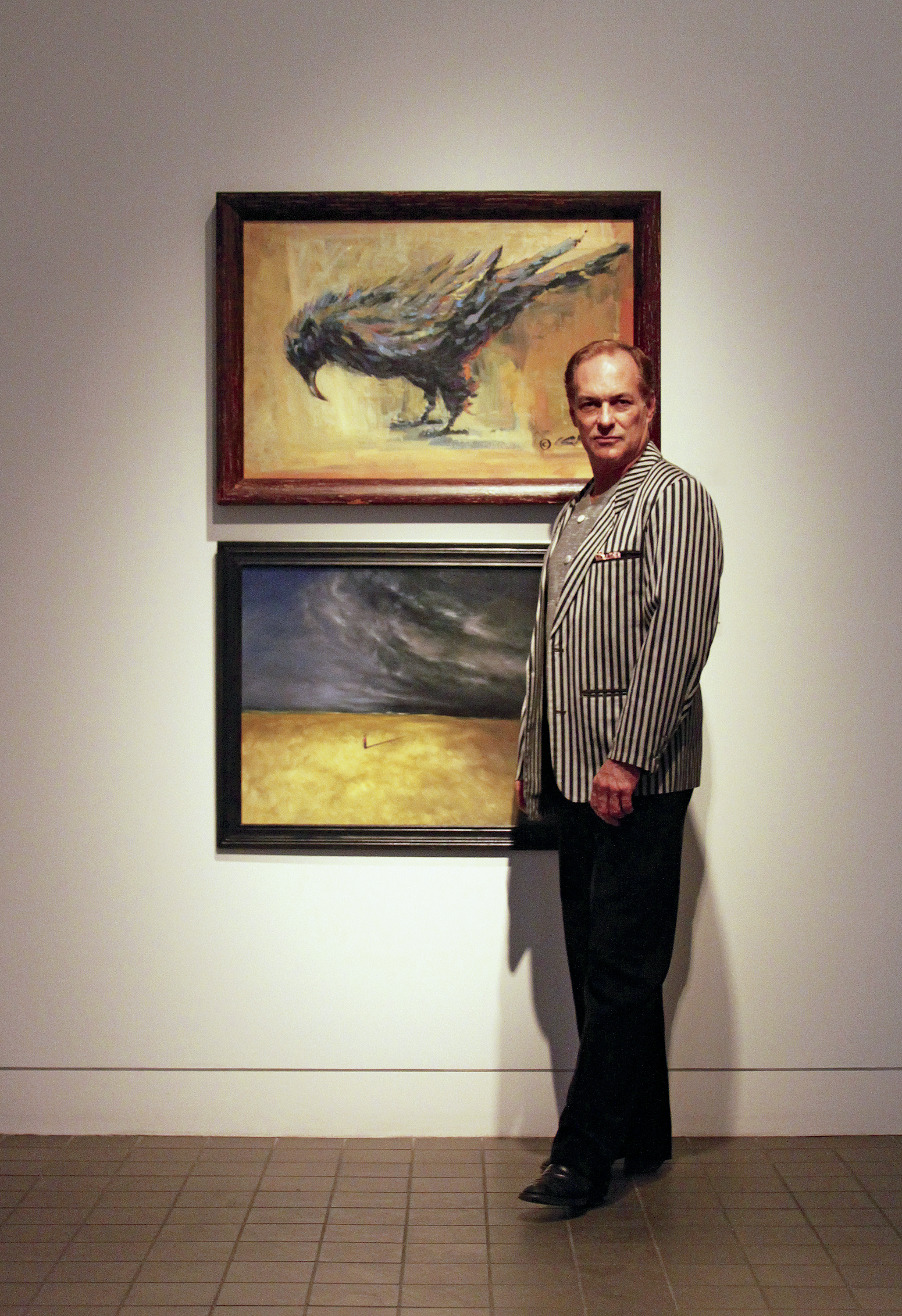 24 Jul

Collector's Eye: Corby Skinner

It comes as no surprise that a man equally comfortable in cowboy boots or a dinner jacket should live in a home both cutting edge and of a bygone era. This home for all seasons — with its intriguing mix of paintings — belongs to artist and arts advocate Corby Skinner.

The cliché would have us believe that a man's home is his castle. In Skinner's case, a man's castle is indeed his home. The well-known public relations consultant, art programmer and collector lives in a three-story, 1902 brick home with an imposing turret and a king's ransom of artwork. The handsome vine-covered building is known in Billings, Montana, by its nickname, "The Castle."

As lord of his manor, Skinner uses a sharp eye and travel to collect pieces that please him. His sense of flair — a penchant for silk scarves, vests and shoes — is echoed in the Castle's décor. Skinner's artful mélange blends the contemporary and classic in a pleasing, eclectic fashion. The one-time gallery retains a "showplace" feeling with its comfortable period furniture, Oriental carpets, vintage photography, bric-a-brac and sculpture. Upwards of 60 paintings form the focal point of the collection which evolved from art auctions, antique shops, art walks, one-man shows and junk shop prowls.

"Whenever I'm in a new town, I head for the second-hand store," confesses Skinner. He adores a small clay horse — reminiscent of a Taos museum relic. "It cost me a dollar. One of the legs was slightly broken. I had to glue it — but it's wonderful."

He treasures that bargain equally alongside his Crow ceremonial drum or Theodore Waddell painting, a gift from the acclaimed artist who taught Skinner sculpture at the University of Montana some 30-odd years ago.

Some of the pieces in Skinner's collection were purchased before their creators were well known. "The starving artist syndrome," Skinner says with a smile. While he was never flat broke, he couldn't always afford to indulge his aesthetic senses.

After obtaining his bachelor's degree in Missoula, Skinner, a painter, earned his master's in art at Claremont School in California. He helped run a restaurant and worked for an advertising firm before he found his niche in arts promotion and public relations. Although his career path didn't circle back to the studio, Skinner works with artists and writers every day as director of the YMCA's Writer's Voice.

Skinner is known throughout Montana for sharing his home — with lavish dinner parties, political fundraisers, artist receptions, working luncheons and impromptu late-night parties. Guests enjoy wine and Broadway tunes around his 1902 piano. Many of the parties are post-performance soirees after events at the Alberta Bair Theater. As a partner at Skinner/Beloit Public Relations, Skinner maintains an interest in the historic ABT where he was marketing and program director for many years.

Having the luxury of 17 rooms gives Skinner the advantage of abundant wall space, but not enough to display his entire collection at once. So he rotates. Hanging now are Liza Dada monoprints, an evocative work by Blackfoot artist Neil Parsons, vivid Sheila Miles' dream-sequence pieces, a playful cowboy by Larry Pirnie, large expressionistic works by Mary Jo Maute, a Freeman Butts nude and works by Maggie Carlson, Susan Stewart, Sheila Rausch, Ed Delegato and many lesser-known artists.

Although Skinner paid a pretty penny for many of the works, "I'm not at all name- or price-conscious," he admits. "The piece has to speak to me. I have to have a feeling about it, whether it's from a gallery or a little back-roads shop."

Among his most sentimental favorites is a somewhat obscure oil by Bozeman poet Greg Keeler, not normally thought of as a painter. It features Missoula writers (and couple) William Kittredge and Annick Smith, intent at a reading. "I love it because of its literary connections," says Skinner. Indeed the painting reflects his own melding of art and a literary life, "so it's perfect for me," he says.
---
WA&A: What inspires you to collect art?
Skinner: I had a huge empty house that was once a gallery so I had lots of wall space. At the same time, the Yellowstone Art Museum was a client. I was a volunteer at the YAM's annual art auction, which I chaired for years. It all tied together.
---
WA&A: What was the first work you purchased and what made you choose it?
Skinner: A Larry Pirnie piece — a colorful cowboy — fun, eye-catching. It was first on the block at a Yellowstone Art Museum auction. I bid quick and fast and got it for a good price. My mother said I should have bought a washer/dryer instead.
---
WA&A: What is your most beloved piece and why?
Skinner: I have no favorites really, but I am fond of Mary Jo Maute's work. I bought 10 of her canvases when she was moving and couldn't take the largest paintings along. I kept some and gave several to friends.
---
WA&A: With which living artist would you most like to have dinner?
Skinner: Andy Goldsworthy. He's the British environmental artist who creates land art in nature from rocks and sticks — natural elements from the earth. I share a similar aesthetic sensibility.
---
WA&A: If you could be any artist in history, who would you be?
Skinner: Someone passionate, colorful — maybe Caravaggio or Bellini. Love the Italians. Also I'd love to have traveled the Missouri with George Catlin.
---
WA&A: Where do you imagine your collection will be in 100 years?
Skinner: I would hope in someone's home. As much as I love and appreciate museums, I like artwork to be a part of one's life.