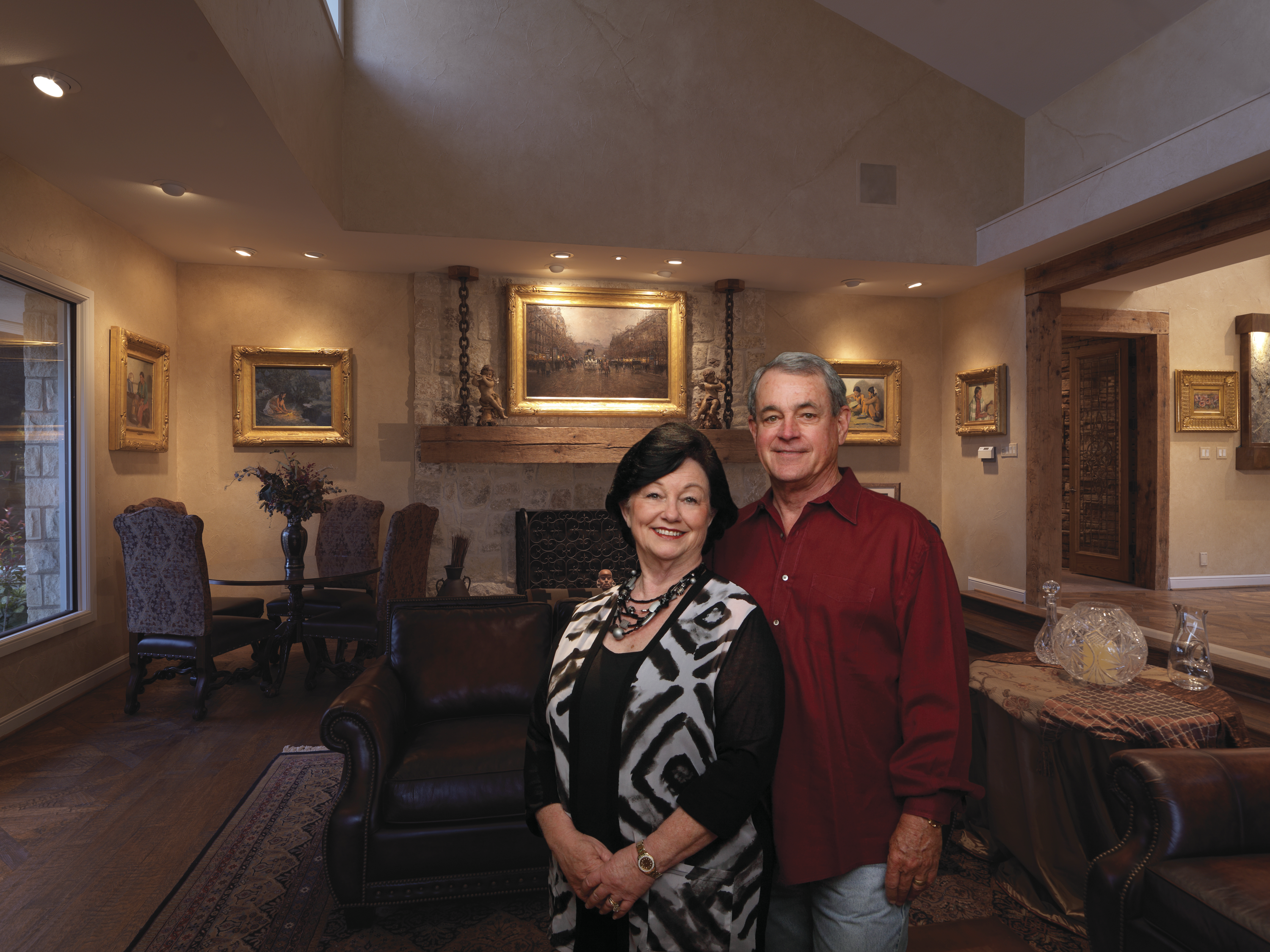 Duffy and Tina Oyster. Photo: Phil Bailiff
09 Jun

Collector's Eye: Duffy & Tina Oyster

Duffy and Tina Oyster come to collecting art in a different manner than some. Their ranch-style manor in Dallas is filled with more than 220 paintings, from the French Impressionists to Western and American Art. The art is hung museum-style with the Western and American art at one end of the house and the French Impressionist work in another.

Acquiring their collection has been a 10-year hobby for the Oysters. Once bitten by the bug, Duffy got out of the stock market and began investing in art. For their Western and American collection, the Western art auctions and dealers have played a major role. "I go to every auction I can," he says. "I concentrate on deceased artists' work such as the Taos School. I only collect four living artists: G. Harvey, Morgan Weistling, Bill Acheff and Martin Grelle."
---
WA&A: What inspires you to collect art?
Duffy Oyster: I always approach art as an investment. Any time I buy something I want to make sure it's a good value in case I ever have to sell it. I am passionate about art and the good thing is, you can buy something you love and also have a good investment.
---
WA&A: What was the first work that you purchased and what made you choose it?
D.O.: The first painting, an A.D. Greer landscape, I bought from a bank — I paid something like $800 for it and then six months later I sold it for twice that amount. I was off to the races!
---
WA&A: What is your most beloved piece, and why?
D.O.: That's a tough question. I don't mean to give you a politician's answer, but I have several favorites. My favorite French Impressionist painting is a small Renoir floral. My favorite of the Taos School is a large E.I. Couse fireside scene; and my favorite Edouard Cortes is a large 32- by 51-inch [work], done in 1905 when he won a gold medal at the Paris Salon. My favorite American painting is one by Frederick Carl Frieske, called Afternoon Tea, and Tina's favorite of all is a Morgan Weistling painting called The Flour Girl.
---
WA&A: With which living artists would you most like to have dinner?
D.O.: I've enjoyed having dinner with G. Harvey; he's been to my house and I to his. I consider him a close friend and would have dinner with him every day if I could. He and his wife, Patty, are very special people. I have Morgan Weistling, Bill Acheff and Martin Grelle on my bucket list for dinner.
---
WA&A: What was the one that got away?
D.O.: Here's my theory on the one that got away — there's always another painting. Sometimes I have non-buyer's remorse, I'll drop out of bidding at an auction and then say, "Why didn't I go one more bid?" There's never been any one painting I could not live without. I've had more buyer's remorse than non-buyer's remorse. I've made my share of mistakes and paid a hefty tuition for being overzealous at auctions.
---
WA&A: Where do you imagine your collection will be in 100 years?
D.O.: We plan on starting a museum of art in Dallas at some point in our lives or donating the paintings to museums. It would be nice to keep the collection intact and have other collectors contribute their collections. It is hard to believe, but Dallas does not have a Western Art Museum and I believe there are many collectors who would support such an effort.