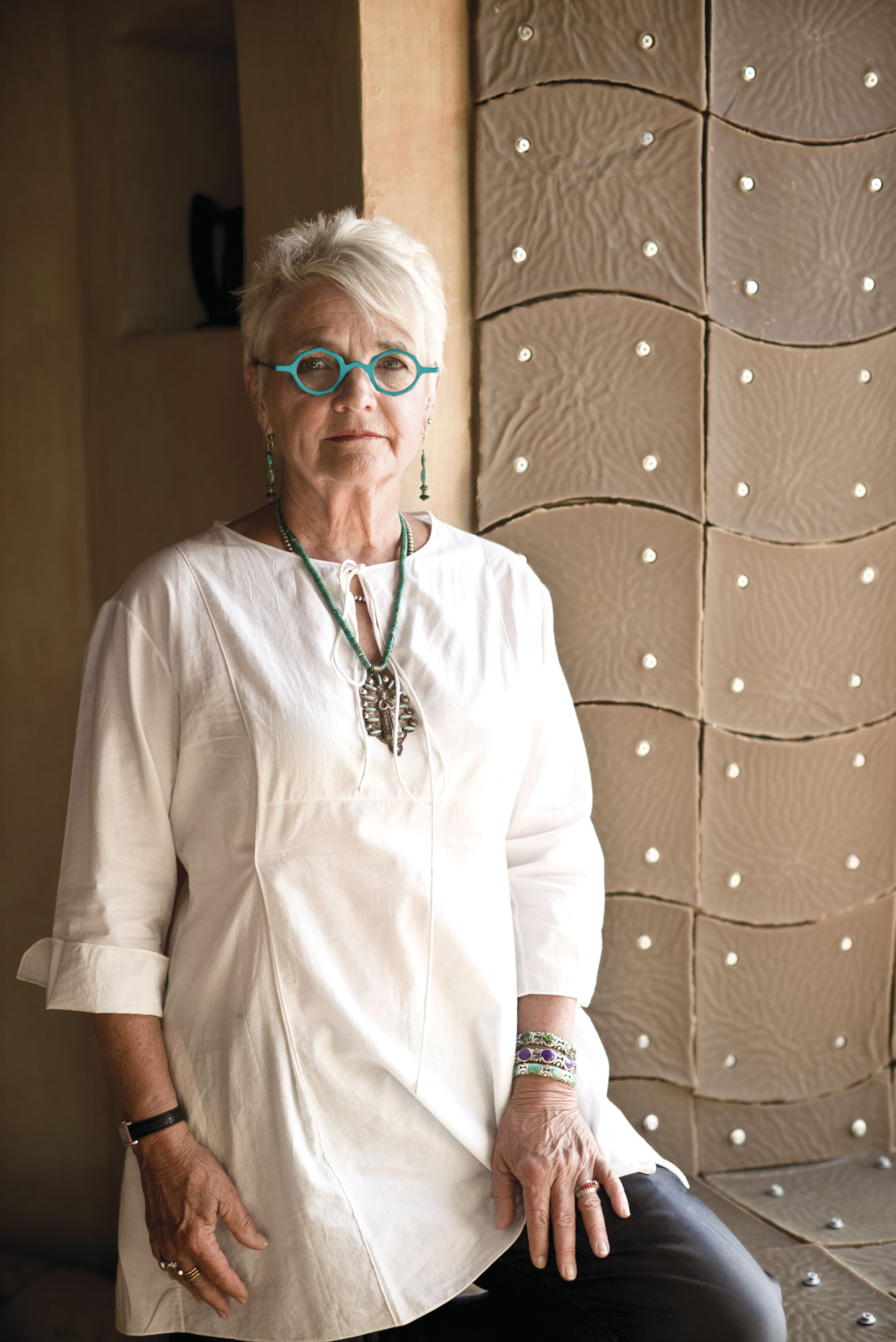 01 Sep

Collector's Eye: Eugenie Johnson
---
A noted expert on Outsider art and board member of INTUIT—The Center for Intuitive and Outsider Art, on Milwaukee Avenue in Chicago, Eugenie Johnson laughs when asked how long she's been a collector. "I started collecting when I was a kid," she says. "It's in the genes. My mother collected everything."
Now Eugenie and husband, Lael, enjoy hunting together for pieces they can't resist. Dividing time between their loft in Chicago and their adobe home in Santa Fe, the Johnsons' art collection — pieces of which are often on loan to various museums — reflects their love of the two cities.
Southwest Indian pottery fills a wall in their Santa Fe living room. For a time, in Chicago the couple had an extensive collection of Navajo blankets, purchased during trips to the Southwest over the past 25 years.
Now their collection of Outsider art fills both homes alongside contemporary works of Chicago artists. As a painter and a photographer, Eugenie understands the creative process and underscores her appreciation for the artists who created the sculptures, paintings, drawings, photography and furniture in her home. She is eager to talk about the works that delight and inspire her.
WA&A: What inspires you to collect art?
Eugenie Johnson: Once I see something that I love, it stays in my mind. The thing that attracts me to Outsider art is its freshness, directness and lack of filters. These artists are not self-judgmental; they don't worry if someone else likes their art. They are free to go off in any direction. Unlike other areas of art, Outsider art has many styles — you can't pigeonhole it like other genres of art.
WA&A: What was the first work that you purchased and what made you choose it?
E.J.: A Simon Sparrow [West Africa, 1925–2000] at Art Chicago many years ago. He was a street preacher in Madison, Wisconsin, and did assemblages. This one was a car frame with glitter all over it. He has other more refined pieces but this one certainly stood out at Art Chicago … it's very contemporary. The Smithsonian has his work, too.
WA&A: What is your most beloved piece, and why?
E.J.: Usually the last thing I bought is my favorite. There are some that don't last as long as my favorite, some I bought 10 years ago still are my favorite and some have been recycled.
WA&A: At what point did you realize you were a collector?
E.J.: I never thought of it that way. A woman who taught at the Art Institute of Chicago wanted to show our collection. I said we don't have a collection — just things we love. It's more than just collecting art; our friends are collectors, so it is a social thing, too.
WA&A: What was the one that got away?
E.J.: More than one. One that sticks in my mind was a William Traylor [1854–1949], whose work has shown at the Corcoran Gallery in Washington, D.C. It was really nice and I thought it too much for the budget. Lots of them get away. You regret more the things you didn't buy than what you do buy, although you make mistakes both ways. Also a James Castle [1899–1977], an artist from rural Idaho who was deaf and communicated through soot and spit drawings. INTUIT did his first show and I really wanted to buy one of his books, but the woman who had the estate didn't want to sell it. Just recently I missed out on a Karl Wirsum, a Chicago contemporary artist — that one is still haunting me.
WA&A: If you could be any artist in history, who would you be?
E.J.: Most of them I wouldn't choose because of the life they lived. If I would be any painter I'd like to be Richard Diebenkorn and if I were a photographer, Paul Strand. He was my first inspiration when I was doing only black-and-white dark-room images.
WA&A: Where do you imagine your collection will be in 100 years?
E.J.: I would like to think my kids and grandkids would want some of it and some might be in a dump. I have such an involvement at INTUIT and I hope they can grow their collection. At one time other museums were not interested in Outsider art, but that is starting to change for the best artists now. However, it is becoming harder for artists to be isolated enough and uninfluenced enough to be called an Outsider artist. My Outsider art will hopefully be at INTUIT in Chicago