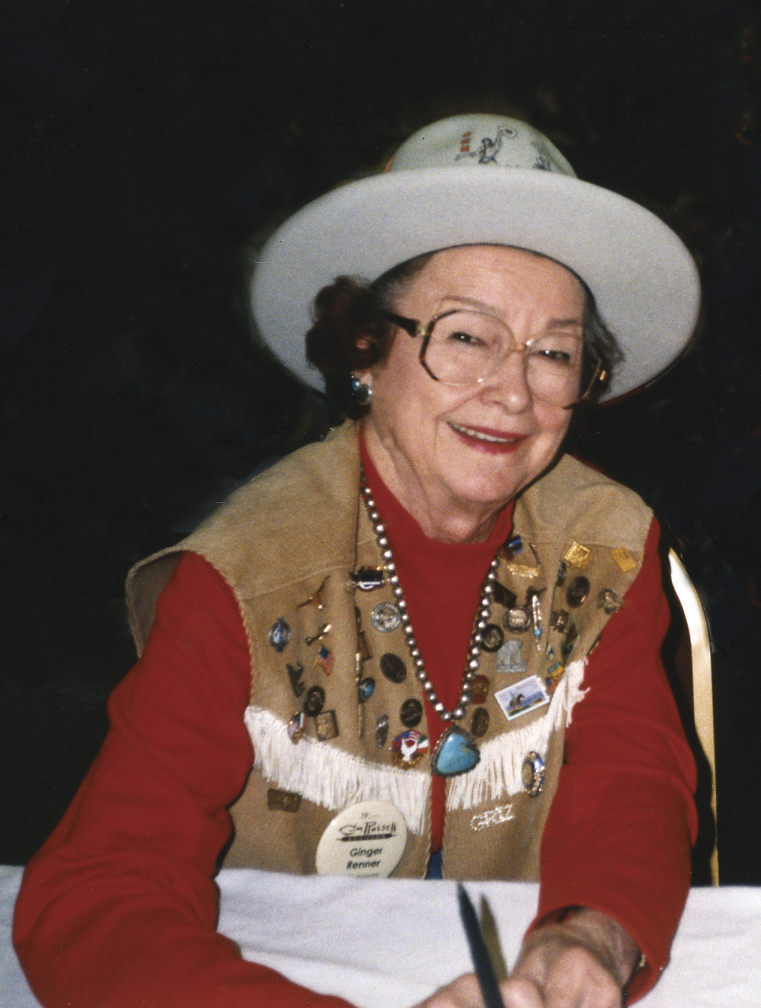 29 Dec

Collector's Eye: Ginger Renner
---
Even though she didn't realize it, when her mother bought the entire set of the Book of Knowledge for the then-5-year-old, Ginger Renner's future was set. The former owner of Trailside Galleries in Jackson Hole, Wyoming, and Scottsdale, Arizona, and a leading scholar of Charles M. Russell, says that for Christmas that year, more than anything, she wanted a beautiful doll in the "Monkey Wards" (Montgomery Ward) catalog. She kept the catalog open and moved it all over the house so her mother would notice.
When she opened her gift and found a set of books, Renner realized her mother had sacrificed a lot. She thanked her mother. Then, that night in her room, she cried. Little did she know that those books would become her babysitter, since her mom, a school teacher, arrived two hours after she got home from school. The books would also give her knowledge that would place her on the cutting edge of art.
The half-tones of art in the Book of Knowledge captured her attention. She studied each one, memorizing every piece. By the time she was 9, she knew all the major artists of the world, their paintings and the museums that exhibited them.
"In eighth grade, Miss Helen Caulkins, the assistant principal of Silver City [New Mexico] schools, the quintessential maiden lady, decided we needed to be socialized," Renner says. "She instituted an intensive program whereby we studied music for a third of the school year, literature and poetry for another third and art for the remaining third. When the art program came around, I was in my element. I knew more about art than Miss Helen Caulkins. I was a pain in the ass in her class, always raising my hand and waving it. It's a wonder she didn't throw me out. This was when I realized I was in the cat-bird seat."
That was only the beginning. Now, Renner is not only renowned for her expertise in Charlie Russell matters; she holds an extensive collection of his work. At 89 years of age, she delights in speaking about her profound ongoing love of art.
---
WA&A: What inspires you to collect art?
Renner: I can't live without art. My children wish I would move into an assisted care facility but I couldn't live without my art and my books;these things keep me going.
---
WA&A: What was the first work that you purchased and what made you choose it?
Renner: I was working in Palm Springs as a young woman helping to develop citrus acres for Sunkist. I was supporting my children and I knew it was up to me and I knew I could do it.
The first piece of art I bought was a Goya etching. I was living in a miserable house in Indio. It was pathetic; the simplest of little homes but it did have a fireplace and a mantel. I bought that Goya for $25 down and $25 a week and hung it on that mantel. To me it made that house livable. When people would visit me, they would see the Goya and it picked me up in their eyes. It's always been comforting to me to have quality art around me.
---
WA&A: What is your most beloved piece, and why?
Renner: I bought a Gustave Baumann over 40 years ago in Santa Fe. It was when I had quit being afraid to buy art and began to add to my collection. Sometimes it seemed foolish since I was trying to support my kids by myself. Now my children each love that piece. They will share it after I am gone; one gets it for six months, then ships it to the other one, who gets it for six months.
---
WA&A: At what point did you realize you were a collector?
Renner: I am just like my boss I worked for in Palm Springs. He had bought two paintings from Archie Teeter, a painter, who lived off summer visitors to Jackson Hole. He'd paid $5,000 for one painting and $6,500 for the other one and I thought they were both atrocious. We were renting a building in Palm Desert that had bits and pieces of art in it. One day I saw a Burt Proctor and said to my boss, "Come look at this, this is what you should be buying." He bought it that afternoon.
You can't buy just one, like you can't eat just one peanut. Soon he bought another painting. I was the same way. Once you buy something, you want another and another.
---
WA&A: What was the one that got away?
Renner: Oh, so many! While we managed to eat and pay the rent, I could have had many great things. I've hated myself many times for not taking more chances. I've never been sorry one bit for what I bought, but I've been truly sorry for what I didn't buy. That's the absolute truth!
---
WA&A: Where do you imagine your collection will be in 100 years?
Renner: Much of my collection is headed for the Charlie Russell Museum. One of my Charlie Russell paintings was on exhibit for years and it just came back to me. I can't tell you how much I missed that painting. Not only will the museum inherit paintings and sculpture, I have hundreds of archives they will inherit.