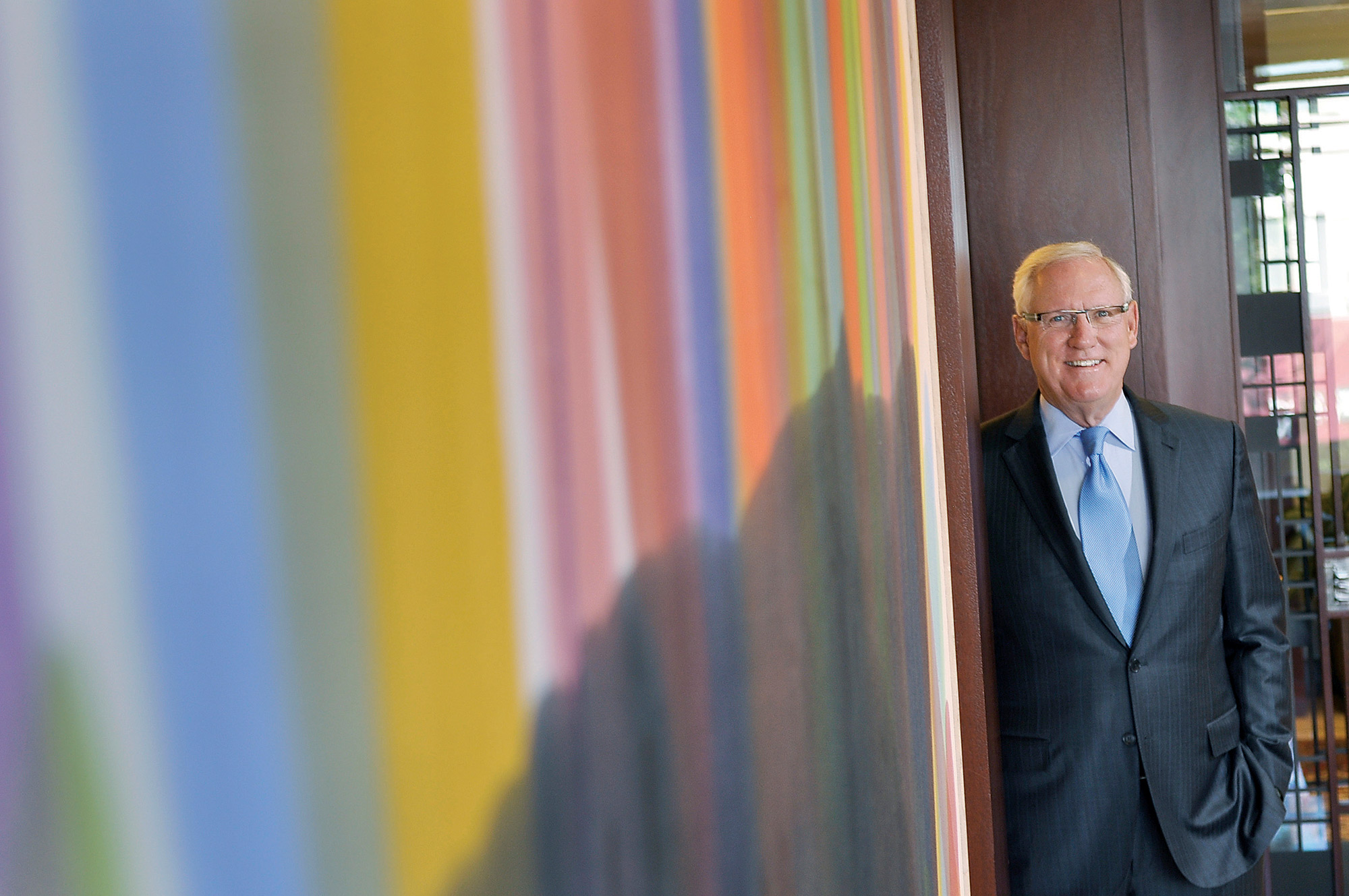 16 May

Collector's Eye: J. Landis Martin
---
It would be difficult to find anyone who's more devoted to the arts than J. Landis "Lanny" Martin and his wife, Sharon. Martin serves as chairman of the board for the Denver Art Museum (DAM) and also for the Bonfils-Stanton Foundation, which provides grants and fellowships to advance the arts and inspire creative leadership in Denver, Colorado. To date, a plaza at DAM and a wing of the Clyfford Still Museum both bear his name.
He has supported DAM specifically for more than 20 years with his time and philanthropy. In 2016, he and Sharon donated a record-breaking $25 million to help finance the remodel of the museum's North Building.
The iconic Denver landmark is the only structure in the United States designed by renowned architect Giovanni "Gio" Ponti [1891–1979], an Italian Modernist. Designed in collaboration with Denver-based James Sudler Associates in 1971, its seven stories were radical for a museum at the time, as it was one of the first ever highrise art museums. Now, says Martin, it's time the building was equipped for the future.
The North Building Project, estimated at $150 million, will for the first time unify the museum's campus and include expanded resources for youth and school groups, additional gallery space for the design and Western American art catalogues, visitor access to seventh-floor views and improved technology and visitor circulation, according to DAM.
Martin's enthusiasm might be attributed, in part, to working with brilliant architects. He enjoyed spending time with architect Daniel Libeskind, who designed the Frederic C. Hamilton Building at DAM, describing him as "a terrific person." Now, Martin proudly praises the architects selected for the North Building remodel. "We have the architectural firms of Curtis Fentress, who designed the now-famous Denver International Airport, and Jorge Silvetti, out of Boston, on the team," he says.
"We are excited to complete this project," Martin continues. "We have a major educational outreach — over 60,000 school children come to us each year. That's over several hundred a day and on some days it's been a thousand. Currently, we have to welcome them in our basement, but soon we will welcome them and the public in a real showcase on the first floor."
The remodel is set to be completed by 2021, just in time for the building's 50th anniversary. When finished, the North Building will be appropriately renamed the Martin Building.
WA&A: What inspires you to collect art?
J. Landis Martin: I've had a keen interest in observing art since attending college at Northwestern University. I believe that once you have acquired knowledge and a taste for art, everyone becomes a collector and wants to see nice pieces in their home.
WA&A: What was the first work that you purchased and what made you choose it?
J.L.M.: My first significant piece of art in the contemporary style is a Fish Lamp by Frank Gehry. I was inspired by visits to the Art Institute in Chicago, where many famous architects — including Frank Lloyd Wright — have pieces. I hadn't appreciated that most architects design furniture and other objects, not just buildings. I considered that if I collected items by contemporary living architects, that perhaps it would be valuable. The Fish Lamp I purchased is from his original series done from 1984 to 1986. While some of them are desk lamps, the one I purchased is a floor lamp; its base is a tree trunk. I also purchased one of Gehry's cardboard chaise lounges.
WA&A: What was the one that got away?
J.L.M.: Once, I was bidding on a Clyfford Still painting, a large and quite beautiful one. I wish I hadn't given up when I did.
WA&A: What is your most beloved piece and why?
J.L.M.: We own a 1946 Clyfford Still breakthrough piece where he went completely abstract. It is black and blue with pink stripes and coloring. It's one of our real favorites that we'll keep.
WA&A: At what point did you realize you were a collector?
J.L.M.: I think about the time I purchased the Frank Gehry Fish Lamp was when I thought about collecting. It was around the time we were contemplating a Libeskind building for the Denver Art Museum. My wife and I bought an apartment across the street from where the building would be so we would be overlooking it. We knew we wanted to put all post-World War II art in our new apartment. That's when we began to collect. Previous to that, we had purchased art but not under the idea of "collecting" art.
WA&A: Which living artists would you like most to have dinner with?
J.L.M.: My wish for that has already been fulfilled. We dined with artist Ed Ruscha and his wife, Danna. He is a terrific human being and his wife had a lot of interesting things to talk about. It was fun to be with them.
WA&A: If you could chat with any artist in history, who would it be?
J.L.M.: I'd surely like to chat with someone like Michelangelo — he was such a genius in so many areas. If I could have an interpreter, it would be him. Also, I'd love to talk with Clyfford Still since I have collected his works. He was a loner, an interesting man who felt estranged from most of the art world. It would have been nice to know him.
WA&A: Where will your collection be in 100 years?
J.L.M.: If it goes any place, it will go to the Denver Art Museum.