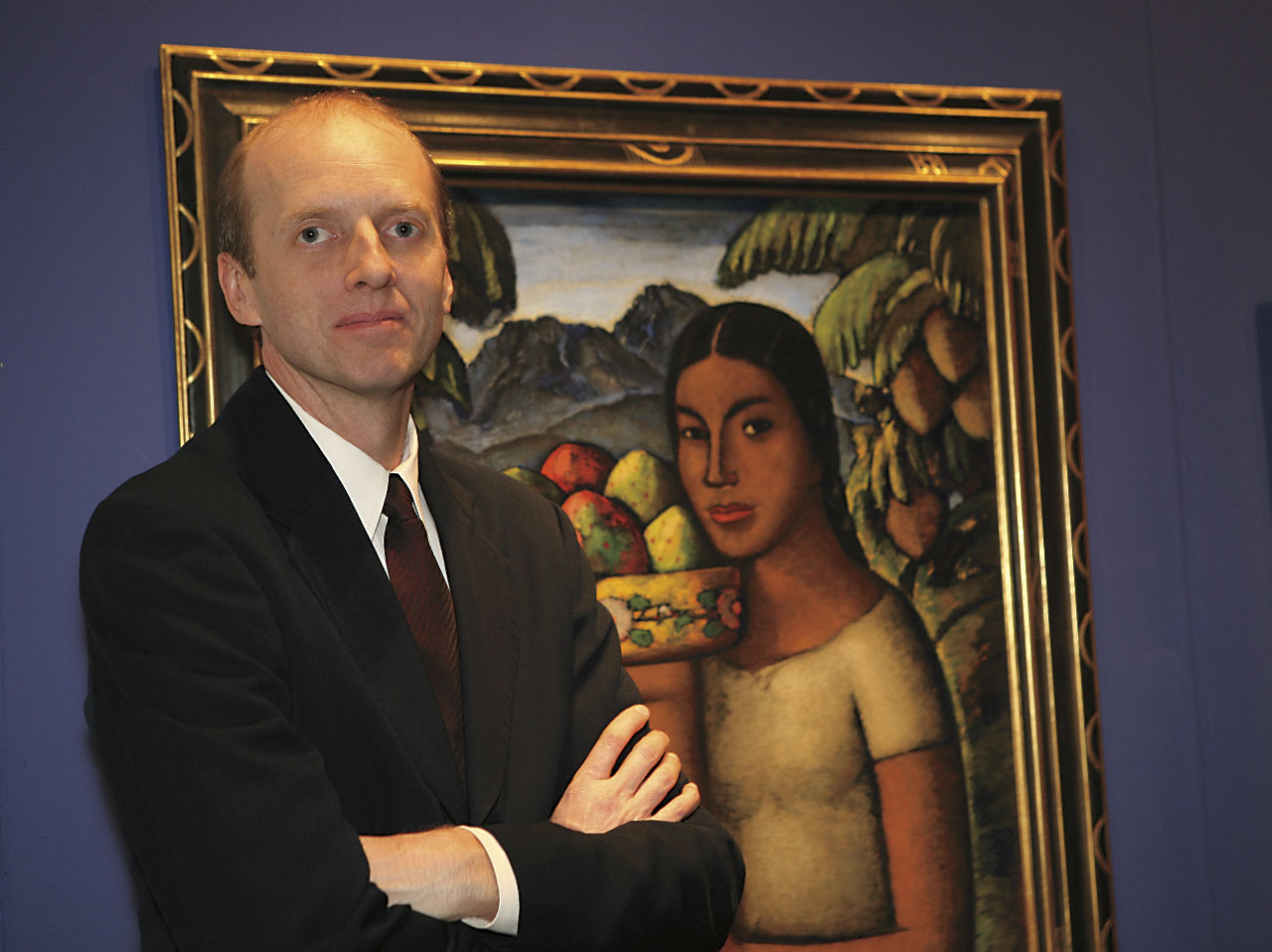 30 May

Collector's Eye: Kim Martindale
---
Kim Martindale discovered his passion for art while still a toddler in a stroller. He has parlayed that passion into a fascinating career spanning three decades and several continents. At 16 he started working with and learning from antiques dealers in southern California and was involved in coordinating the Santa Fe Antique American Indian Art Show. Since then, he has been involved with many antiques, Native American, tribal and Western Americana shows, including the Ethnographic Art Show, the Tribal Art Show, the Old West Show, the L.A. Art Show and the Art of the Americas Show.
Held annually in Marin County, California, the Art of the Americas Show brings together dealers, artists, academics, authors and collectors, and showcases pottery, textiles, sculpture, jewelry, beadwork, baskets, painting and photography. The show, produced by Martindale since its inception and one of the largest of its kind, recently celebrated its 25th anniversary.
Martindale's personal collection spans Native American, Latin and Asian art. "These worlds are huge, and I'm really not an expert," he says. "I love them all; I have passion and study them. But these are huge worlds, and that's what makes collecting so exciting. You can always go deeper, and meet fascinating people. It's endless. And it's something you never have to retire from. Collecting keeps your mind going and your spirit young."
WA&A: What inspires you to collect art?
Martindale: It's what feeds me; it's what gives me energy. If I were on a desert island and had to choose between the last piece of food or a beautiful piece of art, I'd choose the art. When I went to Japan as an exchange student, I was overwhelmed by the beauty of the art. I would go a day without eating so that I had the bus fare to go to a museum to sit in front of those beautiful pieces. Art is what gives me energy to pursue my career; it's what gives me the energy to live.
WA&A: What was the first work that you purchased, and what made you choose it?
Martindale: When I was 13 I started helping dealers; they brought me in and taught me a lot. They gave me books and said, 'Go home and study.' When I was 14 I went to the Rose Bowl Swap Meet for the first time. I found a guy who had two Navajo textiles, one with the Spiderwoman cross. I thought it was a transitional blanket. He wanted $125. I had $110; I had worked all year for this money. I needed to help out with gas so I offered $100 and he said okay. I met up with my friends and there was another dealer with them. He asked to buy it. I wanted to keep it so I said $450, which was a huge amount. He said, "I'll take it." I thought it was a transitional and it was. It was woven between 1870 and 1900.
WA&A: What is your most beloved piece and why?
Martindale: I have many beloved pieces, but if I had to choose one it would be a Chilkat blanket, a Native American blanket from the West Coast. I really enjoy Northwest Coast material. I was doing an appraisal for the Donald Judd estate and I found this piece rolled up in a chest. I told them I'd be interested in buying it if they ever decided to sell it. Two years later my mother had just passed away and I'd received $10,000. She didn't have a lot to give but wanted me to do something special with it. Two months later, they called. Not only was it owned by an artist I admired, and I'd found it in a chest, but the amount I had was exactly the amount they wanted for it.
WA&A: At what point did you realize you were a collector?
Martindale: From the very beginning I've been interested in collecting and art. As a little kid living in Saskatchewan I would collect stones I thought were arrowheads. When I was 8 my dad helped me make shelves. I covered them with felt and arranged my rocks on them. I put a sign on the door to my room that said the Kimrarian Museum.
WA&A: Which living artist would you most like to have to dinner?
Martindale: I have dinner with many living artists and it's great. But there's one deceased artist I'd love to have dinner with and that's Henry Moore. I just really love his work.
WA&A: What was the one that got away?
Martindale: It was a Native American tomahawk with a blade etched on each side like a ledger drawing. I'd never seen another one and loved it. It's utilitarian, but it has an aesthetic quality. The ledger art was really well done. The first time I was selling it for a friend and I didn't have enough money to buy it. I was 21 at the time and there was no way I could purchase that piece. It came up for sale about five months ago. I was out of the country and didn't see the sale catalog until it was over. I'd been waiting 26 years for it to come back into the marketplace, and I was too late. If you see something you really want and there's any way you can buy it, you should buy it.
WA&A: If you could be any artist in history, who would you be?
Martindale: I would be the artist who made one of my Kachina dolls. I am intrigued by the idea of living and being Hopi in the 19th century. It was a very difficult time for them. There's a lot I'd have liked to know about that world.
WA&A: Where do you imagine your collection will be in 100 years?
Martindale: I don't know where it will end up. Things come in and out, but there are some things that will never leave but will go to a museum or my family. My advice to collectors is to get the best that you can.