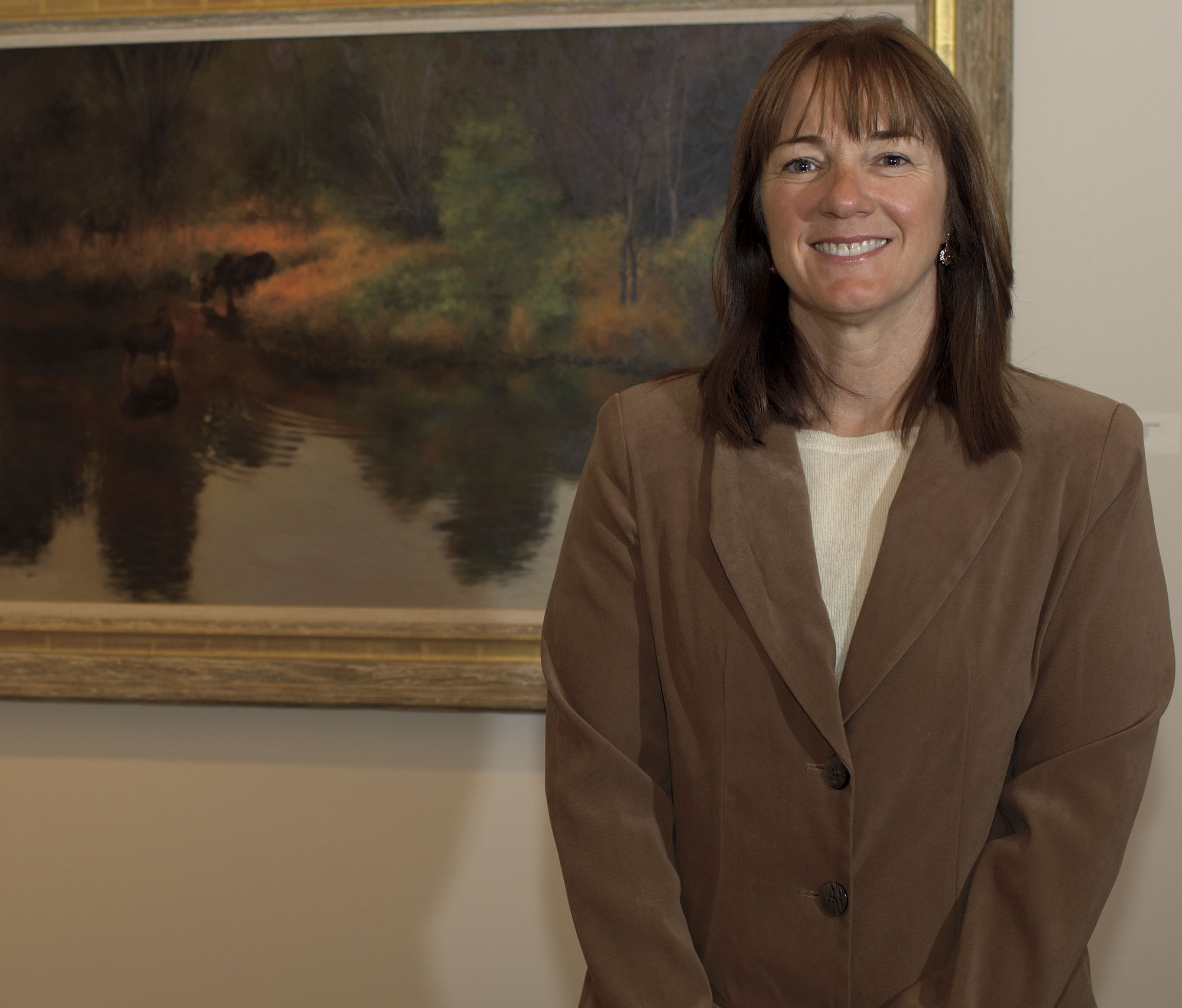 24 Jul

Collector's Eye: Maria Hajic
---
Art is for the living.
Maria Hajic doesn't just embrace the aphorism as a mere slogan, she brings it to work with her every day at the Gerald Peters Gallery in Santa Fe. The philosophy accompanies her home every night, where her own collection reflects a personal attitude about the joys of visual stimulation.
Hajic, who is director of the Peters Gallery's Department of Naturalism, grew up along the California coast near Santa Cruz where the legacy of Western plein air painting looms large. She set off for Lewis & Clark College in Portland, Oregon, majoring in art history, and then spent the next decade as a field archeologist, even earning a master's degree in anthropology. Thus, her reverence for the connection between humans and artistic expression is ancient.
By fate or blind luck, she was in Jackson Hole with her geologist husband amid the search for a new curator at the National Museum of Wildlife Art. Not only was she hired, but she played an important role in the multi-million-dollar capital campaign to build the current world-renown museum edifice modeled after an ancient cliff dwelling.
"It was like another graduate school education," she says. "The museum moved to a new level and, as I look back upon those years now, it was the best time to be there."
That eight-year adventure also lead Hajic to a professional friendship with Gerald Peters, who helped the museum land several prominent paintings and sculptures in its permanent collection.
Peters hired Hajic away from the museum at a time when his namesake gallery, which also has spaces in New York and Dallas, was designing a new facility along Paseo de Peralta in Santa Fe. Quickly, Hajic founded the Department of Naturalism that has hosted several prominent exhibitions featuring works by major contemporary landscape painters, wildlife artists and sculptors.
"I truly believe that art is for the living," Hajic says. "You can't take it with you when you pass on, but you and your loved ones can derive incredible enjoyment with it together. That, to me, is the best kind of value a piece of contemporary art has."
WA&A: What inspires you to collect art?
Hajic: Beauty, mystery, craftsmanship. I believe you should buy a work of art because you love it. Of course, it also helps if you can afford it!
WA&A: What was the first work that you purchased and what made you choose it?
Hajic: Our first serious art acquisition was a painting by Conrad Schwiering which we purchased from the artist's estate when we lived in Jackson Hole. The painting is of a little ranch outside Laramie that Schwiering painted in 1947. There are large golden cottonwood trees surrounding a modest ranch house and a solitary horse in the foreground hitched to a post awaiting its rider. Although Schwiering is known for his majestic Tetons, I loved the intimacy of this scene. We were lucky enough to obtain his pencil sketch of the composition as well as a photo of Schwiering working on the actual painting.
WA&A: What is your most beloved piece, and why?
Hajic: Oh dear, that would be like choosing your favorite child. Our home is full of paintings, sculpture and works on paper by artists I have worked with over the years. For example, we own several sculptures by Steve Kestrel and I admit my favorite is a very elegant bronze, with subtle Art Nouveau lines, titled Circle of Cranes. When we built our house we designed an alcove in the library hallway specifically for this piece.
WA&A: At what point did you realize you were a collector?
Hajic: When I mentioned this question to our 15-year-old daughter, and she said, "We have an art collection?" Upon reflection, I realized her response wasn't so surprising as our collections are very integrated into our home. We began with collecting antique Arts and Crafts furniture and expanded into ceramics of the Prairie School, although my husband took an unfortunate detour into enormous stoneware crocks. There isn't a room in our house that doesn't contain paintings or sculpture. Most recently, it is our ever-expanding library, particularly books on architecture and design, that threatens to overtake our living space. If you removed all of these now-familiar objects our daughter would realize our home is our art collection.
WA&A: With which living artist would you most like to have dinner?
Hajic: I have trouble selecting my dinner entrée when I go out, let alone choosing just one artistic dinner companion! A perfect day for me would be breakfast with Harper Lee, lunch with James McMurtry and dinner with the Coen brothers.
WA&A: What was the one that got away?
Hajic: An L. & J.G. Stickley grandfather clock. It sold for a song just one hour before we saw it in a small Illinois town.
WA&A: If you could be any artist in history, who would you be?
Hajic: This is another impossible question. For me, ideas are the essence of art. I have always had tremendous admiration for William Morris, a man of incredible ideas and influence. He was a craftsman, accomplished writer, publisher and principle founder of the British Arts and Crafts Movement. And his designs weren't bad either! His philosophy about simplicity in life and in art still resonates in our modern world. "Have nothing in your houses that you do not know to be useful or believe to be beautiful."
WA&A: Where do you imagine your collection will be in 100 years?
Hajic: The art we have collected has such personal significance that I would hope most would remain in our family. Although our daughter does not think of our artwork as a collection per se, she has quite a discerning eye, and we suspect she will add to the collection down the road. It isn't an accident that one of our favorite pieces, a Bob Kuhn drawing, lives in her room. Of course, my husband's stoneware collection could go to auction tomorrow!