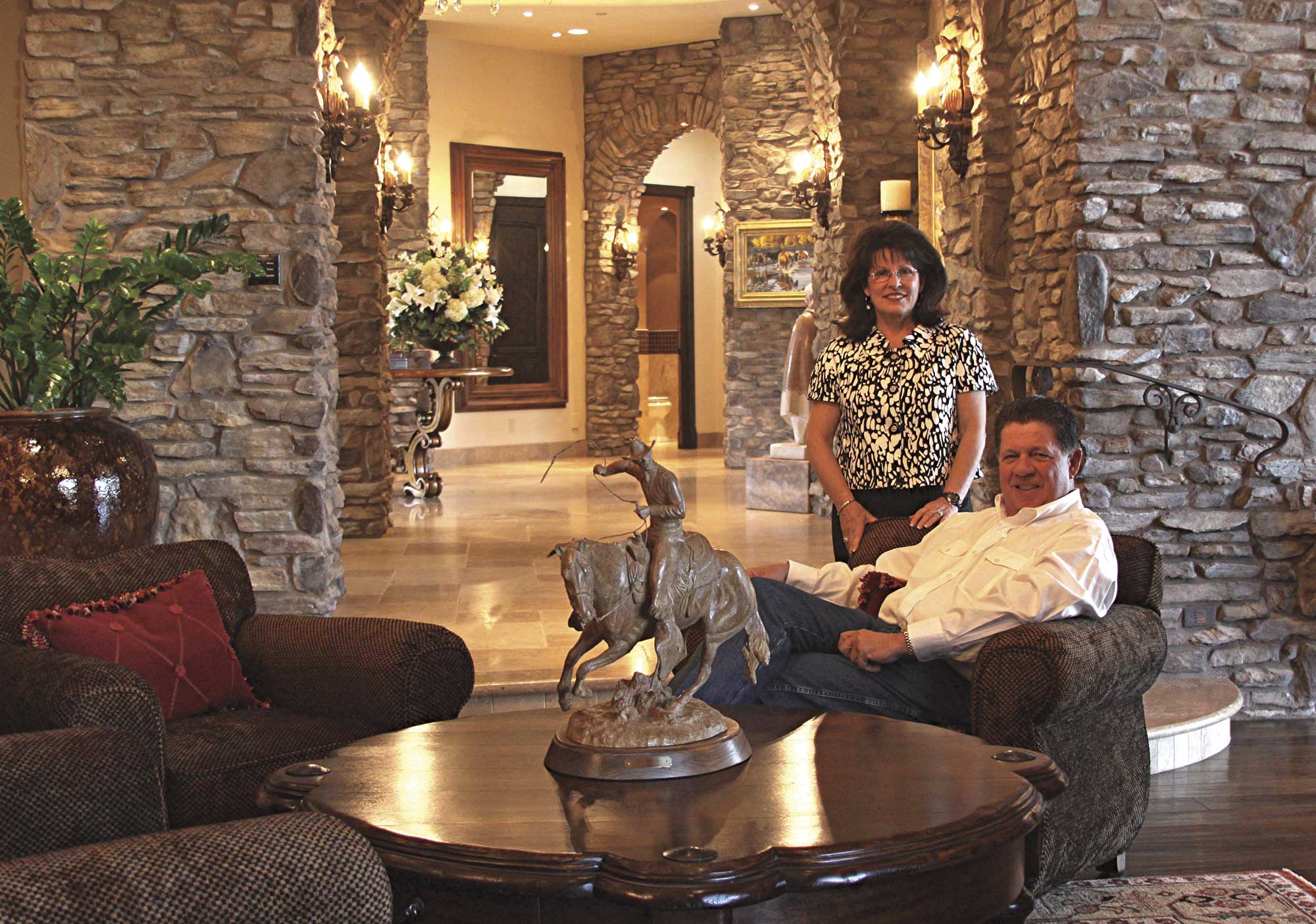 01 Sep

Collector's Eye: Mike and Sheila Ingram
---
Sure-footed in the business world and unflinching in the cowboy/outdoor sportsman world, Mike Ingram is an avid art collector. Teamed up for life with Sheila Ingram, a collector with her own preferences, they have amassed an impressive and diverse collection.
Mike Ingram is a real estate developer in Phoenix, Arizona. The couple spend about seven months a year in Phoenix and five at their ranch near Bozeman, Montana. Ingram says the real estate development business allows them to be in the ranching business and to collect art.
The Ingrams' lives are a reflection of their passions. Industrious, ambitious, entrepreneurial and visionary, they achieve what they set out to do. They work hard, play hard and are highly organized. Mike likes to cowboy. This spring he flew to the JA Ranch south of Amarillo to cowboy for a week, working 1,500 head of cattle with Red Steagall, Texas's cowboy-poet laureate. He and Sheila are avid hunters and travel the world, from Botswana to Wyoming. Mike's hunting gear is shelved in clear tubs according to the big game, climate and region where he hunts. His office is a grand trophy room that conjures up his adventures.
Passionate about sports, Ingram is an owner of the Arizona Diamondbacks baseball team. Do they attend the games? You bet they do!
The Ingrams have six children, 20 grandchildren and two greats. Sheila has created a special playroom for her grandchildren and an elaborate ice-cream bar. Toppings include Mike's favorite, strawberry jalapeño sauce.
Warm and gracious, they like to entertain — love people, events and art shows. Mike says, "We never miss the [C.M.] Russell. It's the greatest social event." The couple attends art shows all across the West.
The Ingrams are serious art collectors, having amassed 400 major paintings and sculptures thus far. Sheila has a database of every piece of art they own and can effortlessly ramble off each title. Mike collects art from the Cowboy Artists of America and other Western artists. "I get my favorites and I stick to 'em," he says: Martin Grelle, G. Harvey, Bill Owen, Bill Nebeker, Oreland Joe, Tim Cox, Shawn Cameron, Loren Entz and Harley Brown, to name a few.
Sheila is adventuresome in collecting and adds a dash of Pinot D'angelico. She likes American Indians; Mike likes cowboys. They laugh at the dichotomy that Mike is adventuresome in eating and she in collecting. Sheila eats the same thing — vanilla ice cream and filet mignon.
The economic downturn has affected the real estate business in Phoenix, one of the hardest hit regions in the nation. When the dust settles, Mike and Sheila Ingram will stand shoulder to shoulder, elevated by passion and surrounded by art, family and friends. With their generous, gregarious nature they'll continue to support and advance the artists they have come to admire.
WA&A: What inspires you to collect art?
Mike Ingram: Western art tells the story of the development of the West. It depicts history and the modern-day Western lifestyle. I love the history, the lifestyle and the heritage. Sheila and I are on several Western museum boards.
WA&A: What was the first work that you purchased and what made you choose it?
Mike: We started collecting in 1972 — a Tim Cox calendar. We framed the pages. Our early art had holes in the top of the pictures. Then we graduated to prints, then signed prints, then giclées.
Sheila: Our first original was a Brad Smith from a quick draw. Then an Oreland Joe. After Oreland, collecting art became a disease.
WA&A: What is your most beloved piece and why?
Mike: My very favorite is a Tim Cox, Cow Horse Country, painted on the Wagon Hound Ranch, owned by Art Nicholas of Casper, Wyoming. We also raise horses — both cutting and working cow horses.
Sheila: I don't have just one beloved piece of art, I get attached to all the pieces we collect.
WA&A: At what point did you realize you were a collector?
Mike: When we went to the Autry show we walked out with 15 to 20 paintings and I thought, "What just happened?"
Sheila: Then at the C.M. Russell we bought 19 pieces and we knew.
WA&A: With which living artist would you most like to have to dinner?
Mike: Bill Owens and Bill Nebeker. They live it — they're both cowboys. And Martin Grelle, and … G. Harvey are favorites. Harvey is an example to all of us, the way he lives his life.
Sheila: All of the CA artists. I would invite them all — and we have, twice. They are all so gracious and touched when you have their art on the wall. They're very humble.
WA&A: What was the one that got away?
Mike: More art than bullets.
Sheila: A really good friend of ours was bidding on a piece that we wanted so we didn't bid. I won't say what it was.
WA&A: If you could be any artist in history, who would you be?
Mike: Charlie Russell. He lived the cowboy life. He was a student of Western lifestyle and captured the West.
WA&A: Where do you imagine your collection will be in 100 years?
Sheila: In a family trust.