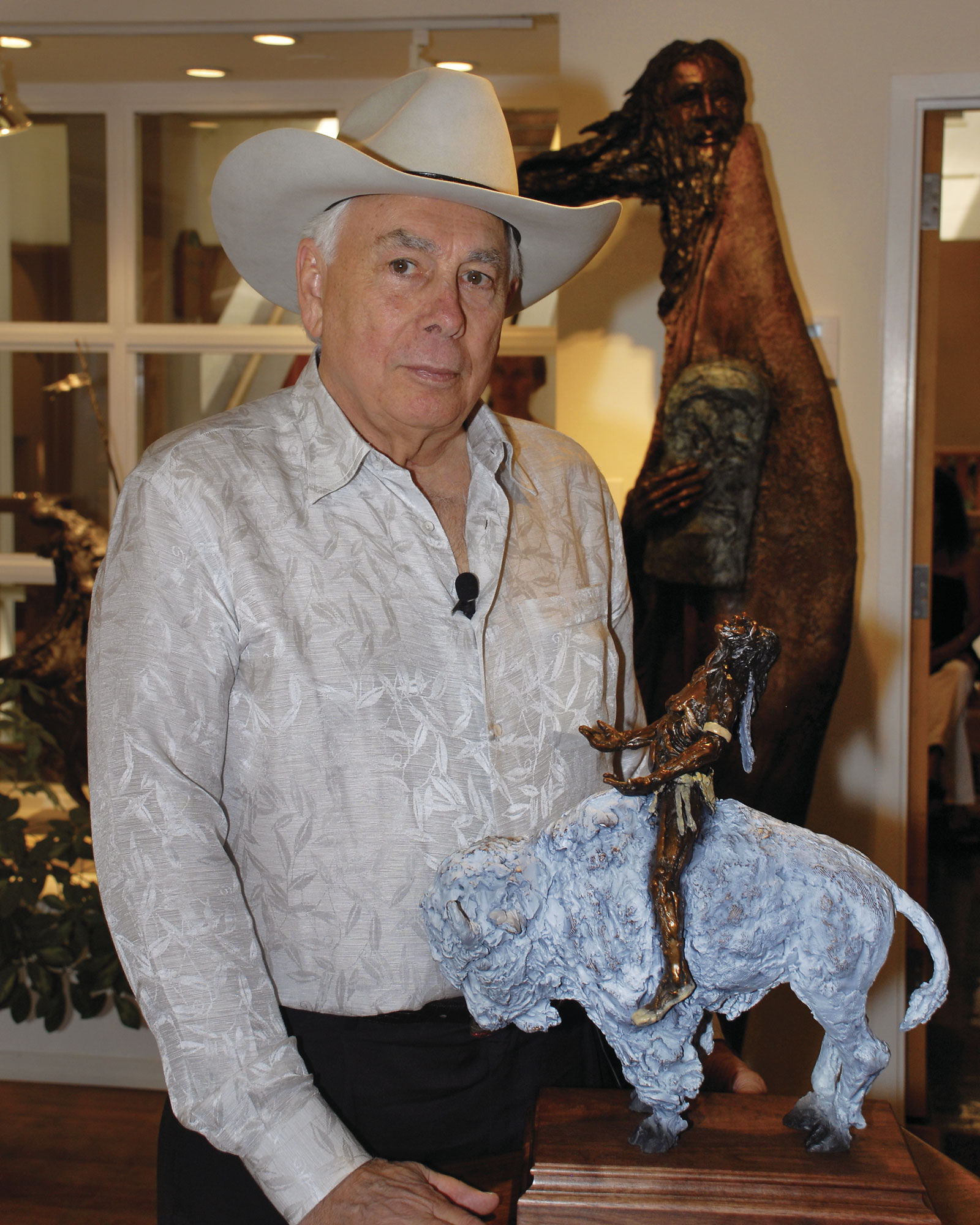 01 Sep

Collector's Eye: Paul Zueger
---
Sitting amongst Gib Singleton's haunting bronzes and the dark paintings of the late Earl Biss at the new Singleton-Biss Museum of Art in Santa Fe, Paul Zueger talks about his life as a collector. A 40-year veteran of the fickle business of fine art, he is the first to admit that people may judge his galleries plainly as commercial endeavors. "Everything is commercial when you put a price tag on it," he states in his matter-of-fact manner. As president of American Design Ltd., Zueger has been an art dealer since 1967. Specializing in fine-art prints, limited-edition lithographs and original works by artists from Rembrandt to Red Star, American Design Ltd. has an inventory of 40,000 pieces, including artwork exhibited in seven galleries throughout the western United States.
In contrast to the consensus about Zueger's focus, he has established the Singleton-Biss Museum as a nonprofit entity in honor of these two artists.
"This museum is part of our legacy," he explained emphatically. "It's about the art, the artists and their history; it's not about me." A small entrance fee will be charged at the museum, but 50 percent of the fee and of poster sales will go to the Institute of American Indian Arts; none of the original works are for sale in the Singleton-Biss Museum.
With abundant firsthand knowledge of the fluctuating art market — his many galleries have weathered the burgeoning modern art movement of the 1970s; the economic boom of the 1980s; the bust of the early 90s; and the skyrocket highs of the 21st-century art world — Zueger is frank about his standpoint that art is a business. Yet, he's developed it as such because of his passion for fine art paintings and sculpture.
"I've had a lifetime of collecting," he muses.
Raised on a ranch in North Dakota, Zueger's grandparents were Swedish immigrants. His grandmother was an accomplished artist and he admits that his appreciation for fine art may have started with her influence. But before he built a life centered on art, Zueger, now 71, was a rodeo cowboy, nightclub owner, professional poker player and music school patron, though not necessarily in that order.
A self-described obsessive-compulsive about buying art, Zueger has compiled an eclectic collection ranging from contemporary American bronze sculpture to the works of European masters. The collection in his Colorado home includes works by Dali, Picasso, Chagall and Frederick Hart, along with favored Western artists Earl Biss and longtime friend Gib Singleton, among many others.
On the day of this interview, Zueger stopped gallery workers as they hauled a massive Singleton bronze, Moses, for the opening of the Singleton-Biss Museum of Art. Standing in front of the towering figure, Zueger beams with pride, looking at the sculpture the way a father does a son. "This one is coming home with me," he says with a smile.
WA&A: What inspires you to collect art?
Zueger: It's what I love. It's my passion.
WA&A: What is your most beloved piece, and why?
Zueger: That's like asking which one is your favorite child (laughs). Every piece I collect is beloved. The art my wife and I put in our house has become like kids — they are never going to leave.
WA&A: At what point did you realize you were a collector?
Zueger: I have always known it.
WA&A: With which living artist would you most like to have dinner?
Zueger: I met my favorite artist of all time, Salvador Dali. He was one of the brilliant minds of the art world; he was the first living artist in history to sell a painting for $1 million. He told me: "The only difference between me and a madman is that I'm Salvador Dali." He was just so brilliant.
WA&A: What was the one that got away?
Zueger: In 1990, when the Gulf War was announced, the cash flow in my 12 galleries stopped for six months. I don't remember exactly how many employees I had working for me at the time, but when Christmas comes around I give all the employees who don't receive commission a bonus. That year I didn't have enough money for bonuses. A close friend had coveted this Frank Howell painting I'd had hanging in my house for a long time; he offered to buy it from me. At first I told him "never," but later I sold it to him so that I could pay those Christmas bonuses. That's the only time I've ever sold a piece of art (from my personal collection) for the money. Since then I've offered to buy it back from him for twice what it's worth, but he won't sell it to me; we're best friends so at least I get to visit it often!
WA&A: Where do you imagine your collection will be in 100 years?
Zueger: It's quite obvious that I don't own any of this art. I'm only a custodian for these works; I can enjoy our collection in my lifetime, but none of it is truly mine. Most of the artwork I own will go to my children and grandchildren, then on to their grandchildren, but in the end it will all end up in a museum, the way all great works of art do eventually.