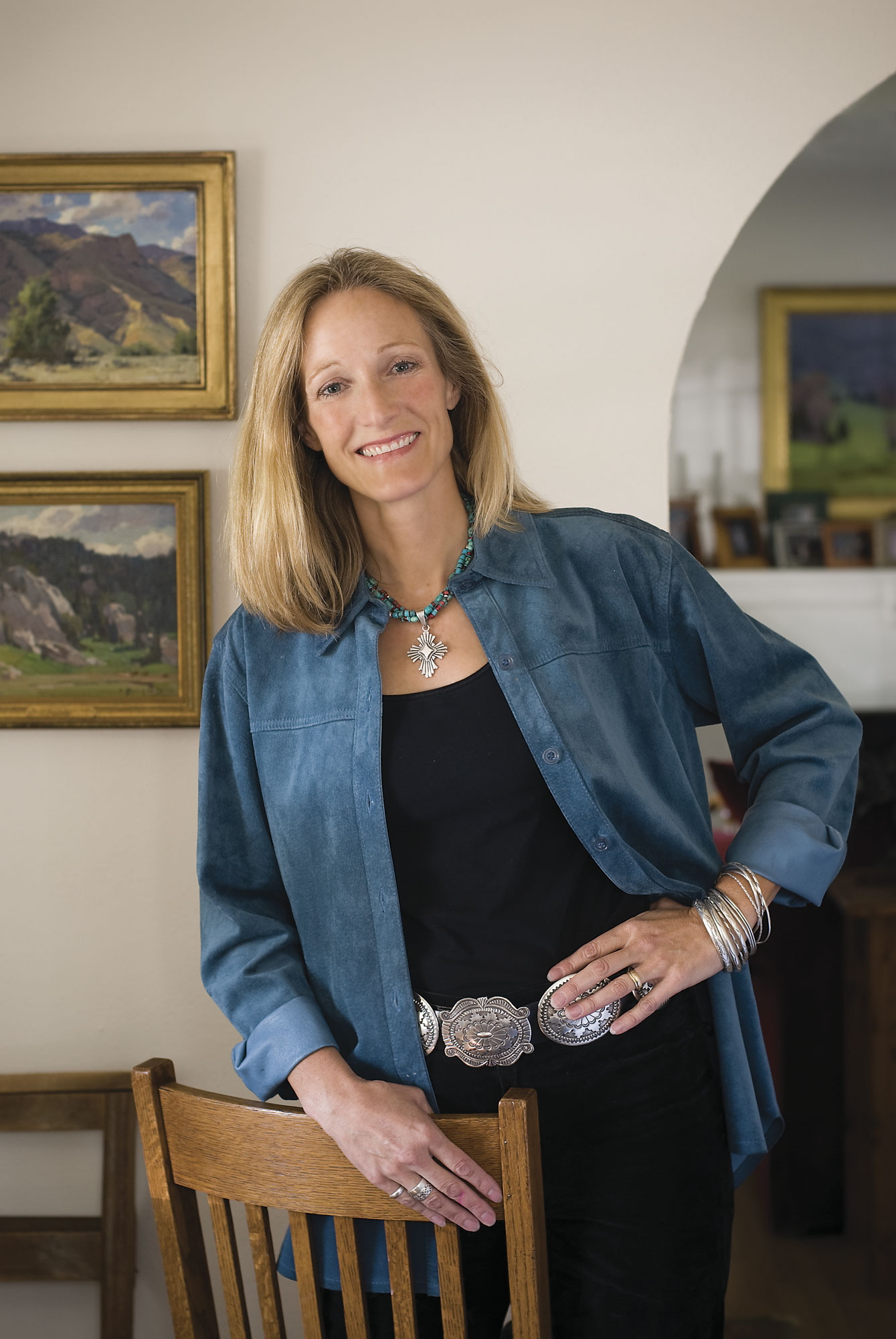 30 May

Collector's Eye: Sue Simpson Gallagher
---
Sue Simpson Gallagher has been surrounded by and dedicated to art for as long as she can remember. She grew up amongst artists and in the shadow of Cody, Wyoming's Buffalo Bill Historical Center, with its spectacular Whitney Gallery of Western Art. When she was 16 years old, her parents moved to Washington, D.C., for the start of her father's long and illustrious career as a U.S. Senator. There, she recalls, "We spent part of every weekend at the Smithsonian."
Educated at Colorado College and Columbia University, where she studied 19th century American landscape toward a master's in art history, Simpson Gallagher worked in the Western art world in Jackson Hole, first in an art gallery, and later as curator of the National Museum of Wildlife Art. After marrying, and a multiyear stint in New York City, Simpson Gallagher and her husband decided to move back to Cody. There, she opened an art gallery specializing in representational artworks of the Northern Rockies by such artists as William Matthews, T. Allen Lawson, Walter Matia and Clyde Aspevig.
As a child, Simpson Gallagher recalls, she visited her hometown museum almost every week. "I would sit in front of a Beirstadt painting called Indian Camp in the Rocky Mountains — it was discovered to be a fake — and I would escape to that place. I saw that art could enrich your life by helping you escape into a different world. I loved that experience."
Western Art & Architecture: What inspires you to collect art?
Simpson Gallagher: I come from a legacy of patronage. My dad's maternal grandfather was one of Bill Golling's patrons in the teens and '20s. My mother's paternal grandfather was a painter. My father's mother was a painter. My parents always had artist friends. We lived in an art community among artists who were well recognized. We are all genetically predisposed to collect stuff. For me, I have an affinity for paintings. I grew up with beautiful things. I was raised by aesthetes, and we were raised to appreciate beautiful things. Creativity — the ability to create something beautiful from your heart, from your soul — has always been honored in my family. It has always been spiritual for me.
WA&A: What was the first work that you purchased and what made you choose it?
Simpson Gallagher: I always collected images, like old posters. I bought small prints in Europe. When I was 22, I was working at Trailside Gallery in Jackson Hole. I frequented the Powder River Gallery, which showed a lot of young plein air painters. There was so much promise in their work. I fell in love with a Tim Lawson painting of sagebrush in a Wyoming landscape. He hit the color of the sagebrush perfectly in a mountain landscape. The price was $350. I went to a friend at a bank and said I needed a loan. He said, "What do you own?" I said, "A car worth about $1,200." So I put a lien on my car for that Tim Lawson painting. Not only did Tim Lawson and I become friends, but I continued to collect Tim Lawson for the next 22 years!
WA&A: What is your most beloved piece and why?
Simpson Gallagher: The pieces that are my favorites are ones that I've been given, such as a painting by Carl Rungius of the Wind River Mountains which was given to my husband and me as a wedding gift. It's a little field study. Rungius was my focus during my time at the Wildlife Art Museum. Another one of my favorites is an Edward Grigware watercolor of a woman in front of her dressing table that my grandparents had bought from the artist.
WA&A: At what point did you realize you were a collector?
Simpson Gallagher: I don't think there was an epiphany for me because I always collected. I collected dolls, I collected glass pieces, I collect books. For me it was a natural progression. The impact of it hit me when we were doing the insurance on our house and I realized the artwork in it was worth more than the house. I'm not just a collector. I'm an addict. Every closet is filled with paintings and sculptures and etchings. Even though I don't see them every day, it brings me joy to know that they're mine.
.
WA&A: With which living artist would you most like to have to dinner?
Simpson Gallagher: I would love to have dinner with Andrew Wyeth. Although N.C. would be my first choice.
WA&A: What was the one that got away?
Simpson Gallagher: There are too many to count. But when I was 22 years old working at Trailside Gallery in Jackson I called my mom and dad and said there's an E.I. Couse from when he lived in France. It was a portrait of his wife looking at their firstborn son in his cradle. It was a studio piece, so tender and fresh and beautiful. It was something like $3,500. I said, "Please won't you buy this, or lend me the money so I can buy it?" They said no, and it's the painting I wish I had.
WA&A: If you could be any artist in history, who would you be?
Simpson Gallagher: Malvina Hoffman, because of the time and the place, and because of what she got to do and who she surrounded herself with. She was an artist's daughter who grew up in privilege. She traveled all over the world at the turn of the century. She studied sculpture in Paris with Rodin, and did sculptures of tribes all over the world. She documented every race in bronze. Her pieces are so moving and so beautiful.
WA&A: Where do you imagine your collection will be in 100 years?
Simpson Gallagher: Definitely not in a museum; they would stay in my family. So much of my collection is small paintings. I am the recipient of so many gifts from artists and I would never sell a gift. Also, I have a hard time parting with anything in my collection. I've told my husband, "If I die and you sell my collection I will haunt you!"