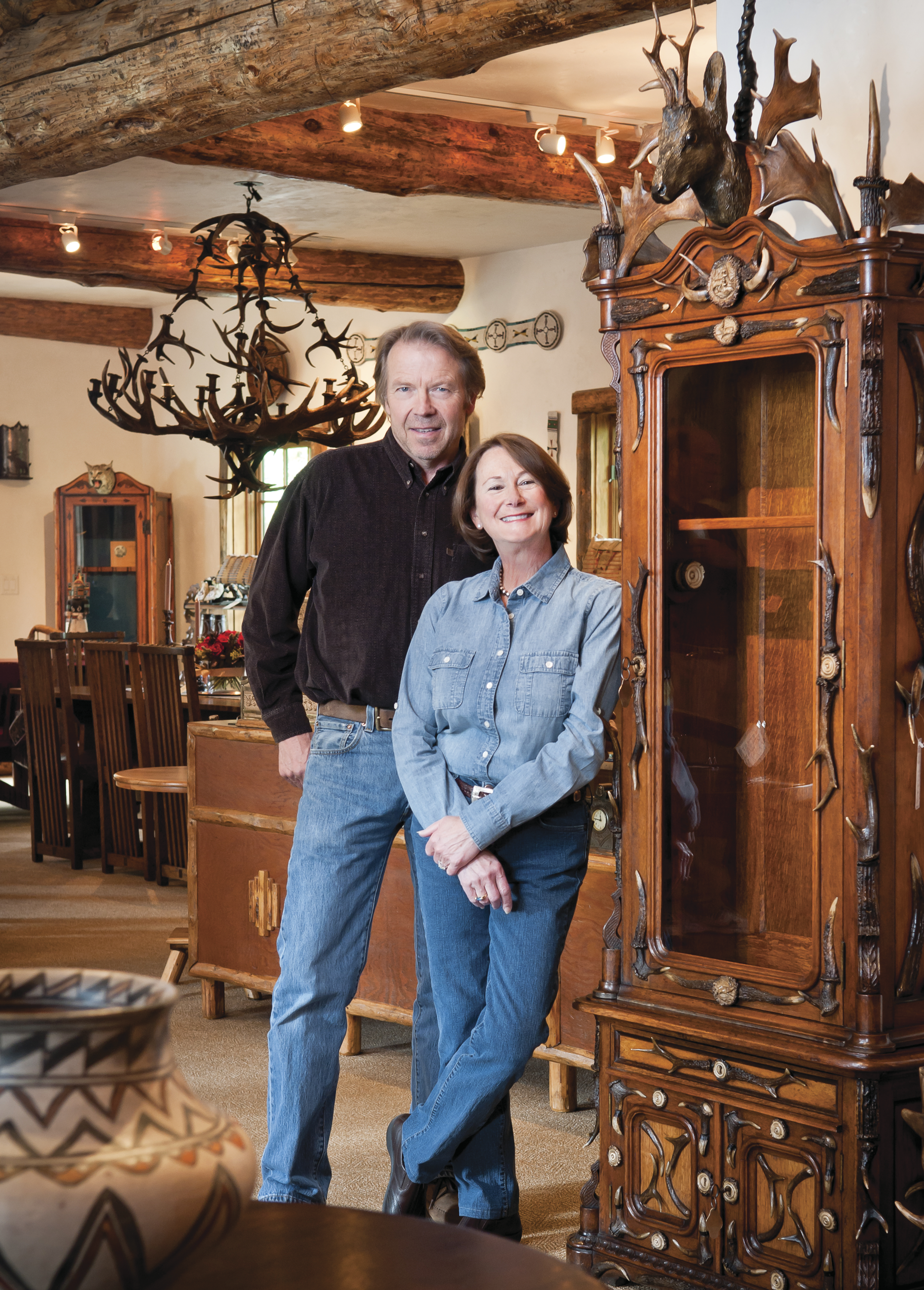 Terry and his wife, Claudia, collect both personally and for their Jackson Hole, Wyoming, business, Fighting Bear Antiques.
30 May

Collector's Eye: Terry Winchell

Terry Winchell's passion for collecting is so intense that he has built a tremendously successful business around it, becoming an authority on each of the genres he accrues. Growing up in rural Nebraska, Winchell was inspired to collect by memories of his youth. "I've been enthralled, since I was a kid, with cowboys and Indians — it was all around me. The love has always been there since I was little."

One set of Winchell's grandparents had a farm. The other, a ranch, so Terry and his twin brother spent their early years immersed in Western life. The boys often traveled with their grandfather to Agate Springs Ranch, a working cattle ranch in the Sand Hills of Nebraska owned by Captain James Cook. There, Captain Cook and their grandfather would go bird hunting and let the twins explore the ranch house, which was full of Plains Indian artifacts, including a war shirt from the famous Lakota Sioux warrior, Red Cloud.

Those memories lingered until Winchell saw a picture in a book of the great room where he and his brother once played. Winchell discovered that all the unique and mysterious artifacts were now locked away in a museum, since the property had become Agate Fossil Beds National Monument. The monument's museum collection contains more than 500 relics from the Cook Collection of Plains Indian artifacts. The realization inspired a lifelong pursuit of both Western collectibles and the fascinating history behind each object.

These days, Terry and his wife, Claudia, collect both personally and for their Jackson Hole, Wyoming, business, Fighting Bear Antiques. The couple focuses on American Indian art, paintings by deceased Western masters and furniture from the Arts and Crafts era, as well as Thomas Molesworth pieces.
---
WA&A: What inspires you to collect art?
Winchell: Initially it was a profit motive, but then you buy the first piece of art that you really love and you decide to keep it. And it seems like after one, you need two. And three. And four. Being a collector at heart, the more you see, the better you see, and you start looking for higher-quality objects. At first, you might buy anything by an artist, but after a length of time you realize that there are certain years that they might have a better use of color or the subject matter is better. Gollings was especially that way and I've had a lot of his paintings. He had a hard time with color until he spent some time with Joseph Henry Sharp. Sharp taught him how to mix colors, how to get the sky right. So you draw a line with Gollings' paintings after he got better with color. He was always a good painter, but he didn't get color right until later on in his career, and those are the Gollings that I want to collect.
---
WA&A: What was the first work that you purchased and what made you choose it?
Winchell: An Edward Borein painting — a little watercolor which I still have and love. I was at a ranch in southern California where I went to buy some cowboy stuff — they had a few Boreins. There was this wonderful image of a cowboy on a bucking horse. It was just the action in the painting. I could really tell that Borein knew horses and was a cowboy just by looking at the painting and I loved that. It's the reason I kept it.
---
WA&A: What is your most beloved piece and why?
Winchell: A Comanche cradle that dates from about 1875. Through the years I've owned about 15 cradle boards before I found this one, which is the one I'll die with. It's the one I was always looking for.
---
WA&A: At what point did you realize you were a collector?
Winchell: I started collecting long before I was in business, probably at about 14 years old. Early on I collected arrowheads at a point that drove my folks nuts.
---
WA&A: Which living artist would you most like to have to dinner?
Winchell: Clyde Aspevig — because I love his approach to art and he has a lot of love for his subject matter. I love his intensity. Or Howard Terpning. I've always admired the detail that he takes in his costumes and being historically accurate. I love his paintings because he does such a good job on the costumes.
---
WA&A: What was the one that got away?
Winchell: I went and looked at a Charlie Russell oil painting in Billings, Montana. At the very bottom of the painting there was a bit of paint coming loose because the frame had gotten wet from being stored in a basement. I could have bought it that day, but I wanted to see what the impact would be from the damage. By the time I got back to them within three days the painting had sold. If I had the knowledge at that time to know it wasn't a big deal …
---
WA&A: If you could be any artist in history, who would you be?
Winchell: Frederic Remington. He was painting at a time when he was the first person to have a marketplace and because he was on the East Coast, he had a wide following. He was selling paintings to illustrators and he got to use his imagination as well as to historically represent what was going on at the time.
---
WA&A: Where do you imagine your collection will be in 100 years?
Winchell: I would hope that most of it stays in the private art market and not to a museum, other than the papers and books I have on a couple of subjects. I'd like to see those in a library or museum. I would like to see everything we own go right back out to the marketplace because I think there's enough in museums and because I think art should be enjoyed. It should be out in the world — it shouldn't be in a vault.