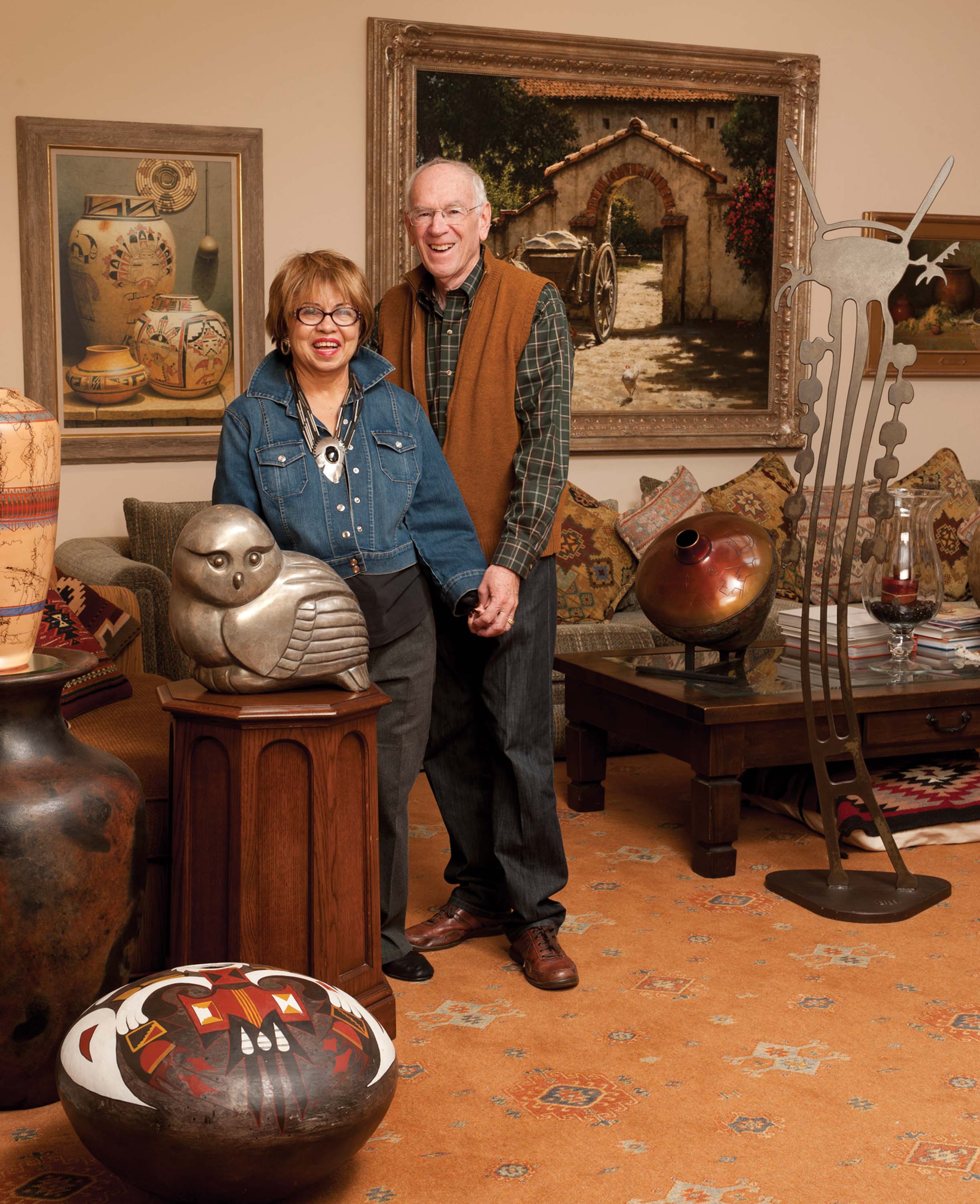 01 Feb

Collector's Eye: Marvin & Simona B. Elkin
---
Marvin and Simona B. Elkin live in a Spanish-style ranch house high in the hills of Bel Air in Los Angeles, surrounded by so much art that they've simply run out of space, in spite of a couple of enlargements in recent years. Every surface is occupied with sculpture or pottery and every bit of wall has a painting. There's no more room to expand, unless they add another story.
The Elkins describe their tastes as somewhat eclectic, but 95 percent of their collection is Western and Native American, including artists like Tammy Garcia, George Hallmark, Kevin Red Star, Tim Shinabarger, Rose Pecos and William Shepherd. Twenty years ago, Simona, who was born in San Antonio, found her way to the Autry National Center of the American West and took the docent course. She went on to found the Friends of the Autry, and for the last 12 years she and Los Angeles-born-and-bred Marvin have been trustees. It's been in those years that they've built their extraordinary collection. About 10 years ago, Simona herself began to paint.
---
WA&A: What inspires you to collect art? Marvin: When we became trustees of the Autry we fell in love with Western and Native American art. Simona's the person with the great pedigree. Her great-great-grandfa- ther fought at the Alamo. Simona: We never had the same likes until we discovered Western art.
---
WA&A: What was the first work that you purchased and why? Marvin: I can't remember. Maybe some pottery. I'm just looking around. I couldn't tell you. Simona: We started small. Pottery and small paintings.
---
WA&A: What is your most beloved piece and why? Simona: My favorite is the one in the living room by George Hallmark. What talent. The light is amazing. It's called Blessings from Above. Marvin: Artists come to the Autry shows every year and they always do similar pieces. And some years it's just like anybody else — if you're into sports, one day somebody strikes out and the next day hits a home run. This is a home run.
---
WA&A: At what point did you realize you were a collector? Marvin: When people started telling us. We just accumulated over the years. Every year we bought a few pieces here and there, and all of a sudden you turn around and it's there. We've slowed down the last few years. We have no more room. Simona: We've had two renovations because the art started growing. We have a new wing and the patio was enclosed, because you couldn't sit outside as much as we use the room now. Marvin: After this wing was built. Then we realized it, yeah. Simona: And our grandkids bring friends over who ask, "Is this a museum?"
---
WA&A: With which living artist would you most like to have dinner? Marvin: Gosh, we've had several over here. George Hallmark. Kevin Red Star. You get to know them. Actually, we've had dinner with most of them, but not here, at the Autry. They always have artists' dinners. I'd like to have dinner with Harley Brown. He's a terrific artist and I've met him several times. He did the Indian in the living room. Yeah, I wouldn't mind having dinner with Harley. He's a character. He plays wonderful piano, too. He's really a lot of fun.
---
WA&A: What was the one that got away? Marvin: It was in Caracas, Venezuela. I wanted a pot. It was a couple of thousand years old or something. I should have bought it. But there isn't a "Gee whiz, I wish I'd bought it." We may talk about something for a day or two, "Oh, we should have bought that," and then it's on to the next thing. But that means maybe you didn't want it all that much, either.
---
WA&A: If you could be any artist in history, who would it be? Marvin: I wouldn't want to be one of the Old Masters, Rembrandt, say — it's just too dark, not my style. I'd rather be a patron than an artist. Simona: I admire Frieda Kahlo. I feel like she painted just what she wanted to paint, with such freedom. But I haven't really followed anyone. In fact, my own aboriginal style of painting, I don't know where that came from. I just sat down and started painting. I let myself go with what was coming naturally.
---
WA&A: Where do you imagine your collection will be in 100 years? Marvin: Housed in a museum. Yeah. I don't think my son and grandkids are into it. But that could change. Maybe as they get older. Simona: But they haven't broken anything. They appreciate it, they do. Marvin: Seventy-eighty percent of it would be in a museum and the rest in their houses.