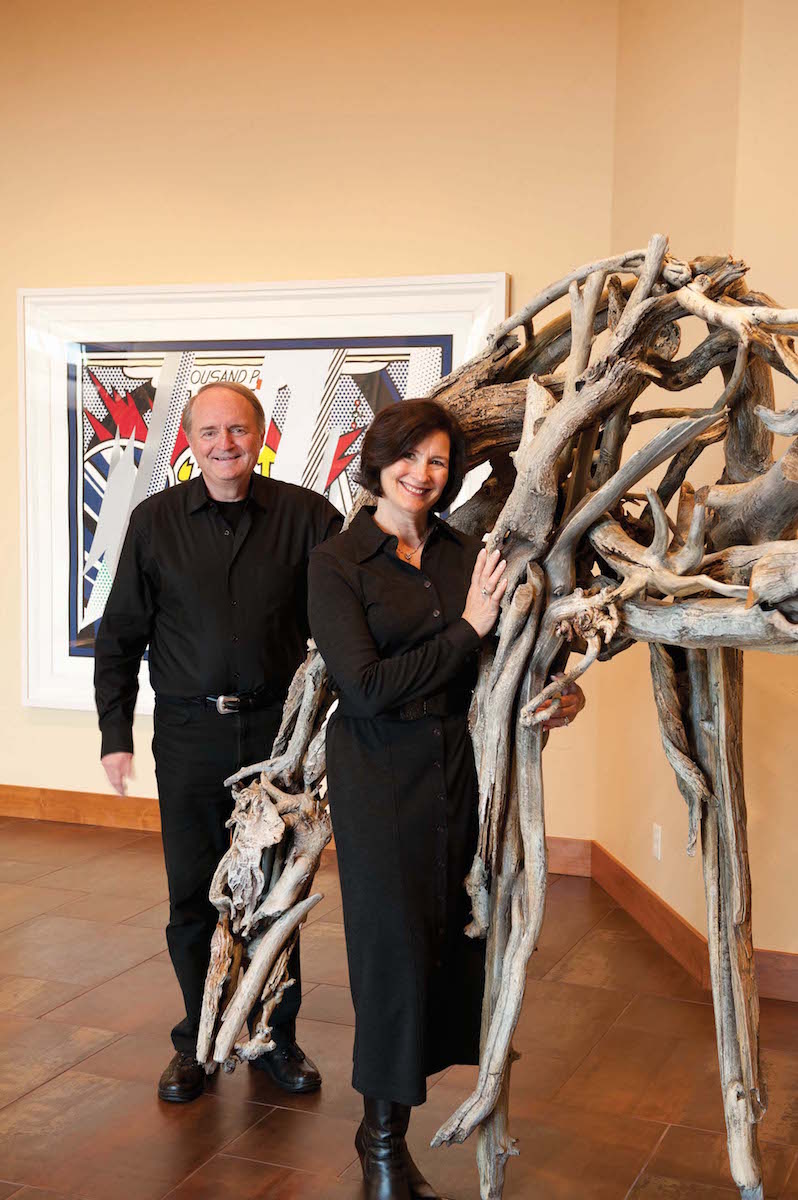 01 Feb

Collector's Eye: Jim & Karen Hensley
---
In the sagebrush and juniper of the high desert of central Oregon, just outside the small hamlet of Tumalo, Jim and Karen Hensley have made their home. "Working harder than ever" in commercial real estate, they also take time to appreciate the finer things in life, over time amassing an impressive collection of fine art. The bulk of the collection, well over 200 hundred pieces, is split between Bay Area artists from California, artists from Salem, Oregon, and international artists. It is without doubt eclectic, comprising black-and-white photography, oil paintings, pottery, glass, rock and bronze sculptures, even a hand-painted Phyllis Yes 1967 Porsche 911S, PorShe.
The main house sits on 10 acres, perched on the edge of a lava flow and looking out on a 100-mile stretch of the Southern Cascade Range. A second residence, "The Casita," a short distance away through a breezeway, is used as an office and sometimes retreat space and workshop for the occasional artists in residence the Hensleys host. It holds dozens more works, many commissioned, and has a separate gallery space. Married for 10 years, the Hensleys happily encourage each other in their collecting "disease."
---
WA&A: What inspires you to collect art?
Karen: I don't think there is any one reason. We're not collectors that are looking for something that's going to be a good investment. Jim (laughing): It's a little bit like a disease … but it's more that we really like a piece and can live with it.
---
WA&A: What was the first piece you purchased and what made you choose it?
Jim: The very first piece was the Lorenzo Ghiglieri, from 1975, a bronze eagle. I came into the Portland airport one day and he had an exhibit there, and I thought, 'Wow these are beautiful.' And so I called him and he invited us over and that was the first piece.
---
WA&A: What is your most beloved piece and why?
Jim: Several, but I think for me the Butterfield horses. I'm just amazed every time I go look at them. How could that be bronze? Another would be the Boaz Vaadia, Yizhaq and Avi, the stone work. Karen: I'd say for me the Butterfield horses, partly because we have an emotional connection with those, we kind of went through the whole process of seeing how they were cast; it wasn't like they were there in a gallery and we bought them. And then for oil paintings, my favorite piece is the Lichtenstein, the big one out there, Reflections on Girl. I love that piece. It's a 'wow' piece for me. I really have a connection to his work.
---
WA&A: At what point did you realize you were collectors?
Jim: I would say it was probably 1988 when I seriously started collecting. I was living in the Bay Area at the time and the company I worked for had an art consultant. And I struck up a relationship with her and she was very helpful in educating me about art. Then along with purchasing art for the company, I started purchasing art for what I call "art for the personal." She introduced us to Deborah Butterfield. Karen and I were married almost 10 years ago and continued collecting probably with more fervor because we support each other in that. Nobody's throwing a wet blanket. It's like 'Oh you like that piece, so do I.' In the last 10 years we've kind of picked the pace up.
---
WA&A: With which living artist would you like to have to dinner?
Jim: I think Wayne Thiebaud, he did the Paint Cans and Candy Apples. I've met him twice, but only at artist receptions and never really got a chance to talk to him. He's a gentle guy, quiet, unassuming, but in the art world, huge, and it would be interesting to just talk with him a little bit to get some history and so on.
---
WA&A: What was the one that got away?
Jim: We've sold a couple of pieces I wish we hadn't. A ceramic artist, Viola Frey, in Oakland, did truly unique massive human figures and we had one called Pink Lady and ended up selling that. About two months later I was kicking myself. We had a Butterfield horse 15 years ago that we sold because we got in a financial bind, but I never forgot about that horse.
---
WA&A: If you could be any artist in history, who would you be?
Karen: I think for me it would have been fun to be Imogene Cunningham, to be in that era, that black-and-white era. She pioneered photography and was a contemporary of Georgia O'Keeffe. Jim: Michelangelo is who I would want to be because when we went to The Accademia in Florence where the David statue is, I mean, honestly, I got emotional. That piece is so dramatic, so famous. It's the most famous piece of artwork ever. I got goose bumps, to be honest.
---
WA&A: Where do you imagine your collection will be in 100 years?
Jim: I think the significant pieces will be in museums. That's kind of what the plan is. Boaz Vaadia is a younger guy but he's going to be huge and any museum would love that piece. With six kids, other pieces will get divided up, but with the Lichtenstein pieces, any museum would love those.