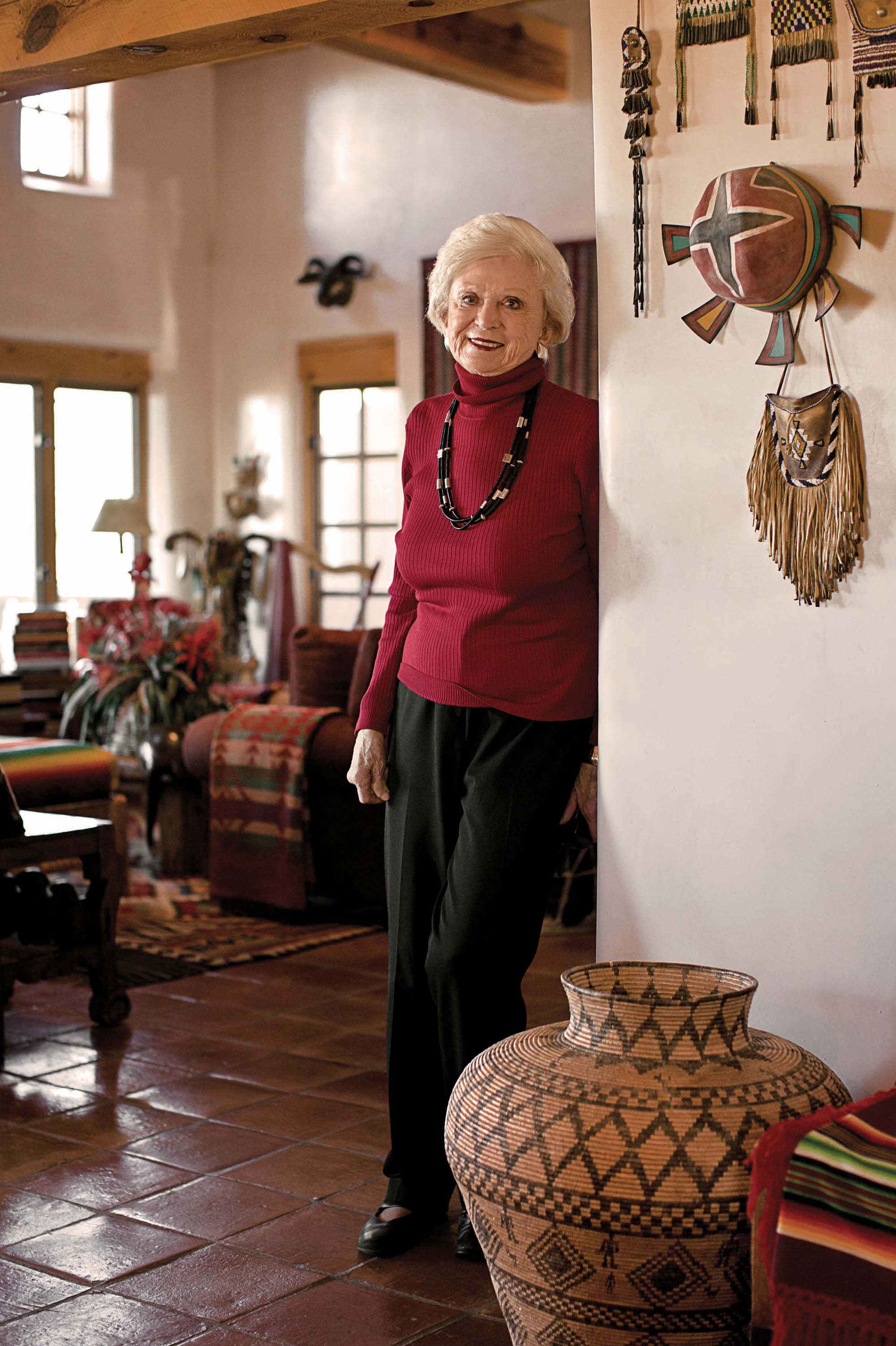 04 Apr

Collector's Eye: Charmay Allred
---
She doesn't really consider herself an art collector, but Santa Fe's patroness of the arts, Charmay Allred, has a collection that infuses itself into every room in her house, every space in her life. In her kitchen, each counter is filled with art. On her kitchen island, picture albums tell many stories of the adventures she's had in pursuit of art.
The term philanthropic doesn't seem large enough to encompass the work Allred has contributed to the arts in the Southwest, including the founding of Santa Fe's International Folk Art Market, which added $15.7 million to the economy in 2010. She's served on the board of many cultural institutions including the Southwest Museum in Los Angeles and the Crow Canyon Archaeological Center in Cortez, Colorado.
Allred credits Forrest Fenn for introducing her to collecting paintings and sculpture, including works by Taos Founder O.E. Berninghaus, Glenna Goodacre and Danny Ostermiller. She recalls walking into the Fenn Gallery in 1973 and seeing a bronze vessel with frogs adorning it. A collector of everything frogs, she wanted to purchase it.
"It's not for sale," Fenn told her, explaining, "I'm going to be buried in it."
It took less than half a second for Allred to reply, "And not soon enough as far as I'm concerned." So began Fenn's policy of introducing Charmay Allred to art she could purchase from the artists themselves.
---
WA&A: What inspires you to collect art?
Charmay Allred: Knowing the artists is what inspires me to collect art. They have such interesting character and after I know them, I always want to have a piece of their work. If I see a piece of art that attracts me, I'll acquire it but then I want to know the artist.
---
WA&A: What was the first work that you purchased and what made you choose it?
C.A.: Oh, that was a million years ago when I traveled to Latin America collecting Guatemalan textiles and Mexican ceramics. One time in Guatemala I ended up with 33 boxes of art. Back then, it was: 'Put it on the plane with no questions.' That'd never happen today!
---
WA&A: What is your most beloved piece, and why?
C.A.: One of my favorites is Glenna Goodacre's Yah-ta-hey. The sculpture of an Apache man with a Navajo title stands outside my door looking into my window. In the original there is a sculpture of a window with a girl inside. I only wanted the sculpture of the man who is positioned to appear that he is looking at me through my bathroom window.
---
WA&A: At what point did you realize you were a collector?
C.A.: Never. I never thought about it. It never entered my mind. It was Forrest Fenn who always got me in trouble. He introduced me to Glenna Goodacre when she was living in one of his guest houses. Since then I've been in real big trouble as Forrest introduced me to Danny Ostermiller, Eric Sloane …
---
WA&A: With which living artists would you like most to have dinner?
C.A.: (Laughing) I have dinner with all of them frequently — Susan Contreras and Elias Rivera, Glenna Goodacre, David Bradley and his family, Doug Hyde. I enjoy all of them or I wouldn't collect all their art.
---
WA&A: If you could be any artist in history who would it be?
C.A.: I think it would be Nicolai Fechin or Leon Gaspard, two Russian artists who lived for a time in Taos, New Mexico. I really like their work and their lives were so interesting.
---
WA&A: What was the one that got away?
C.A.: Frankly I can't remember one that got away. I must have been such a greedy girl that what I wanted, I got. Oh dear, could I have missed one of Danny Ostermiller's cats? Or do you think eight of them are enough?
---
WA&A: Where do you imagine your collection will be in 100 years?
C.A.: I invite the directors of different museums to my home and ask them what they want. I have several lists. The New Mexico Museum of Fine Art in Santa Fe wants paintings and sculptures; the Wheelwright Museum wants textiles and jewelry. Recently Marsha Bol, director of the Museum of International Folk Art came to look at some of the baskets I have collected and I ended up having the museum take 41 of them. They'll get it now or they'll get it later. I live by the motto "Carpe momentum" instead of "Carpe diem."