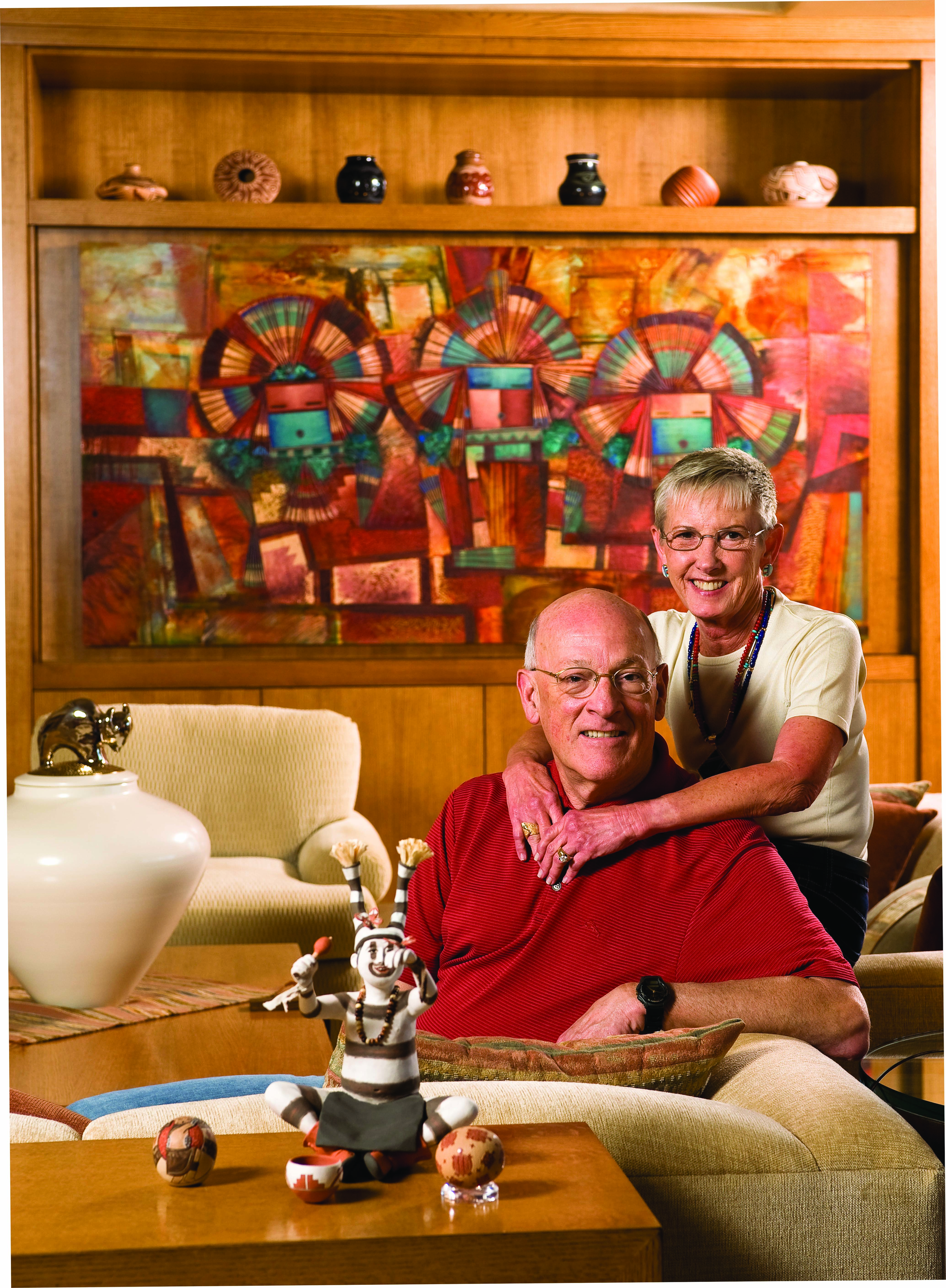 19 Oct

Collector's Eye: Mike & Juanita Eagle
---
An ebony bowl that can fit in the palm of a child's hand is the first thing you notice when you walk into the home of Mike and Juanita Eagle of Rancho Santa Fe, California. Unassuming and petite, this 3-inch-wide artifact launched a huge revolution in the Eagle household many moons ago. The Santa Clara Pueblo black-on-black bowl by Genevieve Suazo represents the first piece of Southwestern art Melodie Eagle carried home from an Arizona school field trip in 1985.
Since then, her parents, Mike and Juanita Eagle, have become consummate collectors of Southwest and Northwest Native American art with more than 400 pieces in their current database.
In 2007, the couple fulfilled one of their many life dreams by building an 8,000-square-foot masterpiece to prominently showcase their beloved vases, Kachina dolls, glassware, paintings, tapestries, and bronze and stone sculptures.
Today, each item in the home has a lived-in feel of its own with proper spacing and lighting and ventilation. Staircase ledges along the stairwell were designed to be deep enough to properly display pottery and statues. Wall niches are lined with wood and uplighting or downlighting, depending on the piece. The hallways are true galleries, constructed to be extra wide so that people can admire artwork on both walls. Mike's two Dale Chihuly glass bowls are perched on a side-board, with the ability to catch the light off the dining room window. The indoor pieces blend in harmony with furnishings while the outdoor sculptures blend in with their natural surroundings. Says Mike, "I tell people, 'Don't buy for investment. But only if you love it and want to live with it.'"
---
WA&A: What inspires you to collect art?
Mike Eagle: We love the beauty of the art, the skill of the artists and decorating our home with lovely things to look at every day. And it's not just because we want to collect Native American art, even though that is 98 percent of our collection. We are interested in the history and culture of Native American tribes in the Southwest. Our first vacation was not to buy art but to see the beautiful landscape, and learn about the culture and history.
---
WA&A: What was the first work you purchased and what made you choose it?
M.E.: Our very first piece was a Kachina doll made by Kerry David (Hopi). We found it in a trading post in the Black Hills in 1980 and loved it as an addition to our daughter's doll collection. The fact that it is an eagle dancer was part of the appeal.
---
WA&A: What is your most beloved piece, and why?
M.E.: That question is impossible to answer. We love many more than others, but have favorites from different tribes, artists, periods and type. I've been asked who is our favorite artist, and we have half a dozen, and it has been fun do that (kind of collecting) over the years. When you go to an Indian market, you will see many who are good in what they do, but 10 years later, they are doing the same old thing. Now, the good artists continue to push the boundaries, and that is what makes it interesting. They are willing to take risks. The very best are always evolving and trying a new medium or style or both.
---
WA&A: At what point did you realize you were a collector?
M.E.: Several things made us realize that. We got more discerning, discussed where to place it in the house and were excited when it was home. Outgrowing display space more than once told everyone we were collectors. It happened around the time of the Santa Fe Indian Market in 1989. We were exposed to over 1,200 artists and some of the best of the best were there. There was so much fine quality art sold by the artists directly to consumers. That experience taught us to be a lot more discerning. We all have purchased pieces in the past and later say, "What were we thinking?" With those, we have sold or given them as gifts because we knew others would love it and want to live with it.
---
WA&A: What was the one that got away?
M.E.: There has been more than one and the heartache felt at the time convinced us to not hesitate when a piece could be heard saying to us "Buy me!" One that we looked at was a ceremonial glass spoon that we both loved. When we walked away, someone else bought it. And even though we had the artist re-create it, it was different than the one that got away. We know now there are certain pieces that cause our heart to flutter, and when that happens, we both should jump (to buy).
---
WA&A: If you could be any artist in history, who would you be?
M.E.: Ansel Adams. I am an amateur photographer and grew up in California, so I know of the many places that he took pictures of, such as Yosemite National Park. I would always find his work extraordinary, and even more extraordinary when you consider the kind of equipment he had at the time. He understood how unique and important outdoor wonders were to the nation and was well ahead of his time.
---
WA&A: Where do you imagine your collection will be in 100 years?
M.E.: Most will be in a museum we love, and some with our family. Our favorite, the Eiteljorg Museum in Indianapolis, would be primary. I was on the board there for 12 years and chairman for four. We would also pass some pieces to our daughter and son-in-law, who collect.