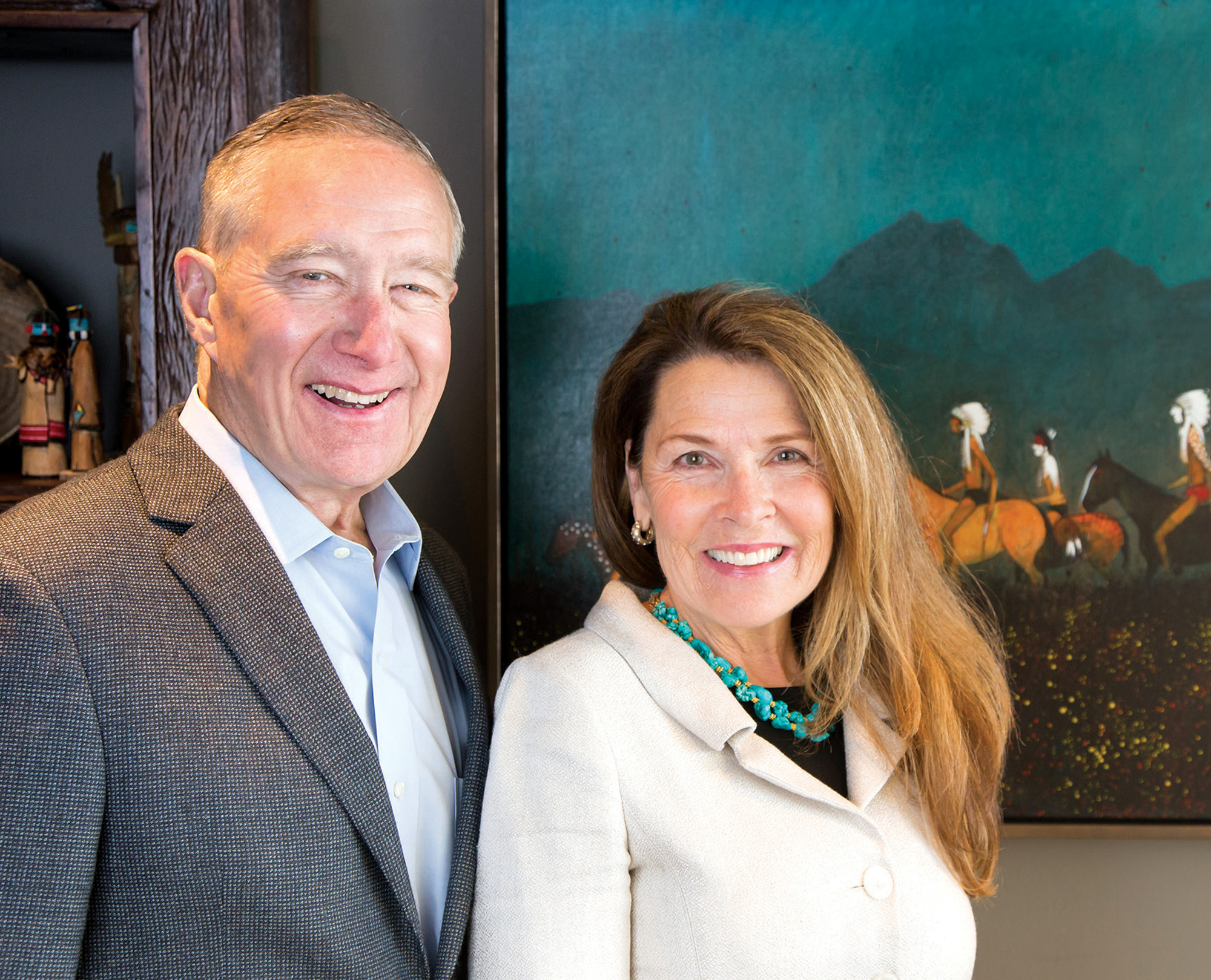 11 Nov

Collector's Eye: Diane & Sam Stewart
---
For Diane and Sam Stewart, a shared passion for art has been a constant in their life together. They began collecting in earnest when they purchased their first Oscar Berninghaus painting at an art fair in Santa Monica, California. For Diane, collecting works by the Taos Society of Artists reminded her of her native Arizona. "There's an old saying that you can never go home again. With art, you can," she says.
Committed philanthropists, their love of art extends far into the world around them. Together they breathe life into the Utah art scene through their Stewart Family Foundation. Created in 2002, the foundation focuses on artists, art education and community action "which improve quality of life for all." They provide generous support to various initiatives around the state. In 2013, Diane was honored with the Central Utah Art Center's Visionary Award for her "out-of-the-box thinking and daring support of a fledgling contemporary art community in Utah."
In 2014, as a natural extension of their passion for art, Diane and Sam opened the Modern West Fine Art Gallery in Salt Lake City. While Sam stays busy with his international investment firm, Diane oversees day-to-day operations at the gallery. For her, it's a welcome labor of love since becoming an empty-nester a few years ago. "I've always been involved in the community and a gallery seemed like a natural metamorphosis," she says.
Modern West is home to a stunning collection that includes a gifted group of painters, and includes several Native American artists who are challenging traditional views of the genre. "I see a new vision of Western art," she says. "I love artists like Billy Schenck, who does something different but also reflects his Western heritage. When I started collecting more contemporary and Western Pop artists, I wanted to push the envelope."
The couple's extensive personal collection hangs in their homes in Salt Lake City, New York City and Paris. "We hung exclusively Modern West art in our Paris home. Our French and German guests love it," laughs Diane.
---
WA&A: What inspires you to collect art?
Diane Stewart: I don't really know why we started down this road. I think Western art resonated especially with me because it was kind of a return to my roots in the Southwest. I love paintings of the desert and of Native Americans. I grew up near Phoenix, right next to the Pima Reservation …
---
WA&A: What was the first work you purchased and what made you choose it?
D.S.: The first painting we purchased together was a landscape by LeConte Stewart. He was a Depression-era painter and a distant relative of my husband. He was a very well-known Utah painter. We now have eight or 10 of his pieces. The first Western art we purchased was a Taos School piece by Oscar Berninghaus titled Gathering for the Rabbit Hunt. It was beyond our price point but we fell in love with it and pulled the trigger.
---
WA&A: What is your most beloved piece and why?
D.S.: It's hard to choose because it changes. They're like children to me. We have a very beautiful Georgia O'Keeffe oil called Resurrection. That has a special place for me. She painted it the year her husband, Alfred Stieglitz, died. The painting hangs in our home in New York City.
---
WA&A: At what point did you realize you were a collector?
D.S.: I knew it when we bought our first Taos School piece because I think then we became motivated and driven to collect. We always bought art that we loved. At one point in our collection of the Taos School, I said to Sam, "We can't always let our heart rule. We need to round out our collection, because we're missing a few important artists." He disagreed completely. He said, "I'm never buying a painting because it's the right thing to do. I'm only buying art because I love it."
---
WA&A: With which living artist would you most like to have dinner?
D.S.: That's an easy question to answer and I do it often — Billy Schenck. Not only is he a fabulous artist, he's a truly interesting human being, extremely well read and very clever. He's a real cowboy and just a lot of fun. He has an arena at his ranch where he holds monthly rodeos. Billy is probably my most popular artist in the gallery. We have dinner together whenever we can, whether at his ranch near Santa Fe, or Jackson Hole, or here in Salt Lake City.
---
WA&A: What was the one that got away?
D.S.: I'll never forget it — Two Boys In A Punt by the great American artist and illustrator N.C. Wyeth. It was at the Coeur d'Alene Art Auction about seven years ago. It is a great painting. We had a price point and someone outbid us. I was very distraught. It's one of the reasons I quit attending auctions so often.
---
WA&A: If you could be any artist in history, who would you be?
D.S.: Georgia O'Keeffe. I love that she blazed a trail for women artists. She was strong and independent and led her own life in New Mexico. She married a very interesting man who had his own kind of brilliance, but they never overshadowed each other. She changed Modernism, painting things that were simple. As soon as she put them on canvas — brilliant, magic!
---
WA&A: Where do you imagine your collection will be in 100 years?
D.S.: We thought we would leave it to a museum, but maybe not. Art is cyclical and styles come and go. A collection is a narrative story of people, which I find extremely intriguing. For us, it's a very personal story of a couple that collects. It would be nice to keep the collection together.