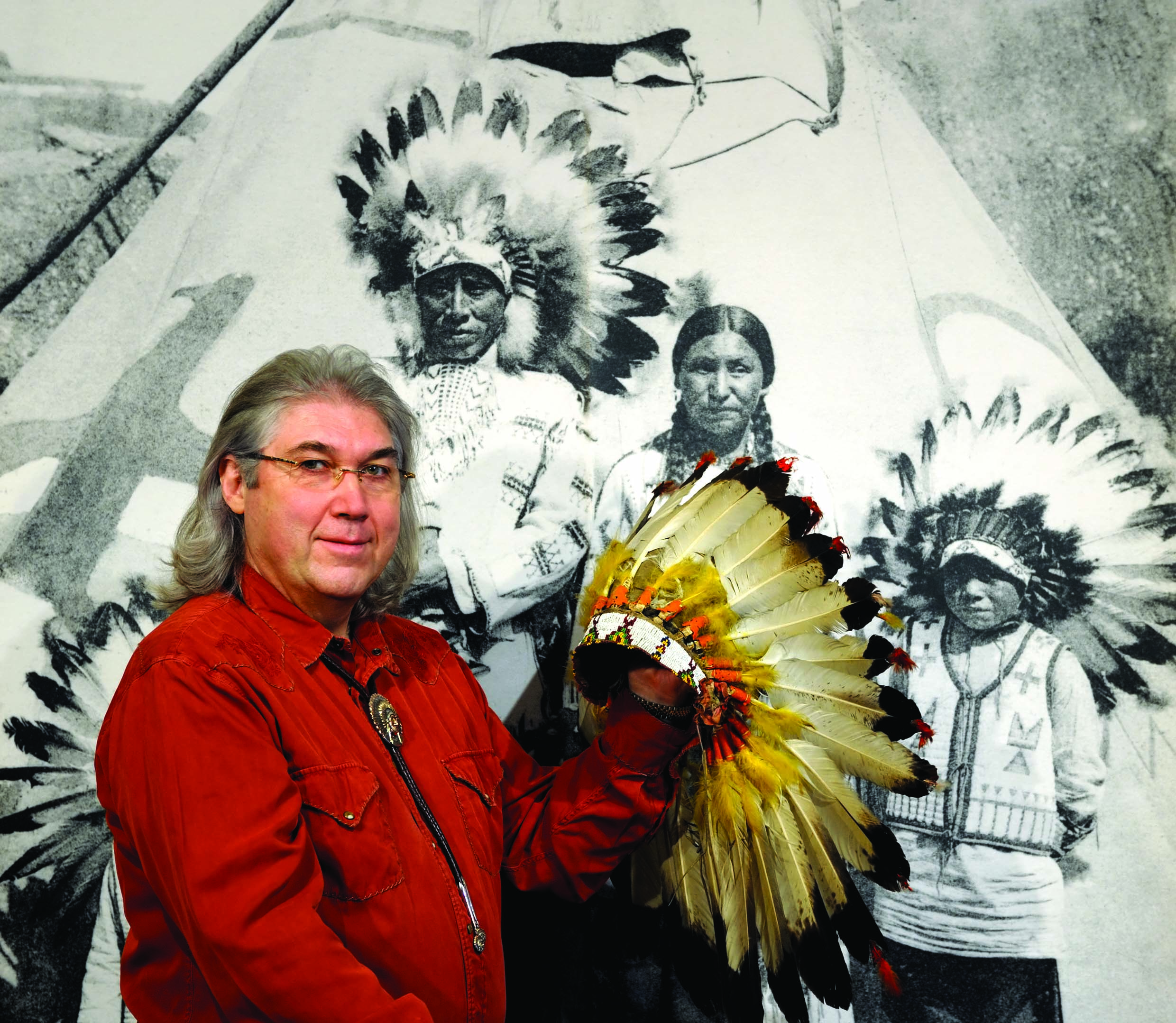 01 Dec

Collector's Eye: François Chladiuk

The intrigue of the American West played like a storybook in young François Chladiuk's mind. The Wild West was enchanting, its people exotic, the lifestyle full of adventure. Little did he know that his childhood fascination would lead him to collect memorabilia and art pieces important to the development of America's distinctive Native cultures.

Chladiuk began in earnest in 1975 with his first purchase, a gun; then continued to add saddles, paintings and Indian artifacts. His most significant acquisition came in 2004 when, through the grapevine, he heard there was a collection of "junk" found in old steel trunks that heirs of a Brussels butcher wished to dispose of. Interested, he purchased it, not realizing its significance or depth. The treasure, he quickly discovered, had been carefully collected by a young man from Brussels and his father who, like Chladiuk, had a passion for the West. The two had bought and traded with the Indian performers in the 1910 and 1935 Brussels World's Fairs. The collection included war bonnets, significant beaded pieces, moccasins and breastplates. Adding to the excitement of the find, Chladiuk learned of a young woman that was also intrigued with the Sioux Indians of the World's Fair in 1935 and went on to become the director of the Royal Museum of Art and History in Brussels. She had taken photographs of the Indian families, many of which showed pieces in Chladiuk's new collection. After much research, Chladiuk traveled to the Pine Ridge Reservation in South Dakota to meet the Little Moon Family. He met Walter Little Moon whose parents and siblings appeared in the photographs wearing pieces he now owned.

The collection in its entirety — artifacts, photographs and documentation of Chladiuk's journey to the American West — has been shown in the Royal Museums of Art and History in Brussels and the Buffalo Bill Museum in Denver, Colorado. Spanning almost a century and two continents, Chladiuk's collection is housed in his Western Shop in Brussels. There he shares his passion with all who are drawn to the American West, and he continues his endless quest for unique pieces.

WA&A: What inspires you to collect? François Chladiuk: I think when you come into this world you are either a collector or you are not. As a young boy my favorite game was playing cowboys and Indians; it was the beginning of my love of the American West. From that love would come my future Wild West Collection.

WA&A: What was the first work that you purchased and what made you choose it? FC: I started with a Winchester carbine 1873 I bought at a Belgian auction of antique guns in the 1970s. I think I needed to start with that famous model, also known as "The Gun that Won the West." It was a very fitting beginning to my collection of items representing the West.

WA&A: What is your most beloved piece and why? FC: In 2004, I bought an entire collection of Indian artifacts stored away in mothballs since 1935. After research, I found out that all those pieces belonged to the Indians who were part of the Wild West Show at the World's Fair in Brussels in 1935. I found some photos and recognized 38 pieces that I had in my collection. I travelled to South Dakota with a Belgian TV crew in search of the Little Moon family. I found a member of the family whose parents performed in the 1935 show. The beaded vests, moccasins, cuffs, armbands in my collection from that family are the pieces I treasure most because of the beautiful story and the very good friendship I have with Walter Little Moon.

WA&A: At what point did you realize you were a collector? FC: I think a real collector always wants the real McCoy and always wants something better or rarer than he has. A collector will not sell a piece for the money but to have a better one.

WA&A: What was the one that got away? FC: I am still looking for "Pawnee Bill's Wholesale Catalog Number 5" out of the late 1920s. I noticed it showed up twice at auctions during the last five years, but always knew too late. One of the Little Moon items in my collection was purchased from Pawnee Bill and is printed in that catalog.

WA&A: If you could be any artist in history, who would you be? FC: A photographer like (Edward) Curtis, so I could have met all those famous people and legends of the West.

WA&A: With which living artist would you most like to have dinner? FC: Lisa Sorrell, the famous bootmaker from Guthrie, Oklahoma. She won "Best Artist: Art to Wear" at the 2007 Western Design Conference in Jackson Hole. The design on the tops of those boots was inspired by the headdress on the cover of the catalog of my collection when it was on display at the Royal Museums of Art and History in Brussels. I met her at the High Noon show and also in her boot shop. I would enjoy talking about the way she is making her pieces of art and the different items in my collection.

WA&A: Where do you imagine your collection will be in 100 years? FC: My collection of Indian artifacts from the 1935 World's Fair Wild West Show in Brussels is so complete and comes with such a beautiful story that I would like those 150 pieces to stay together. At this moment I have a private museum at the third floor of my Western Shop. I would like to donate it to a museum that would leave it on display with the story intact.