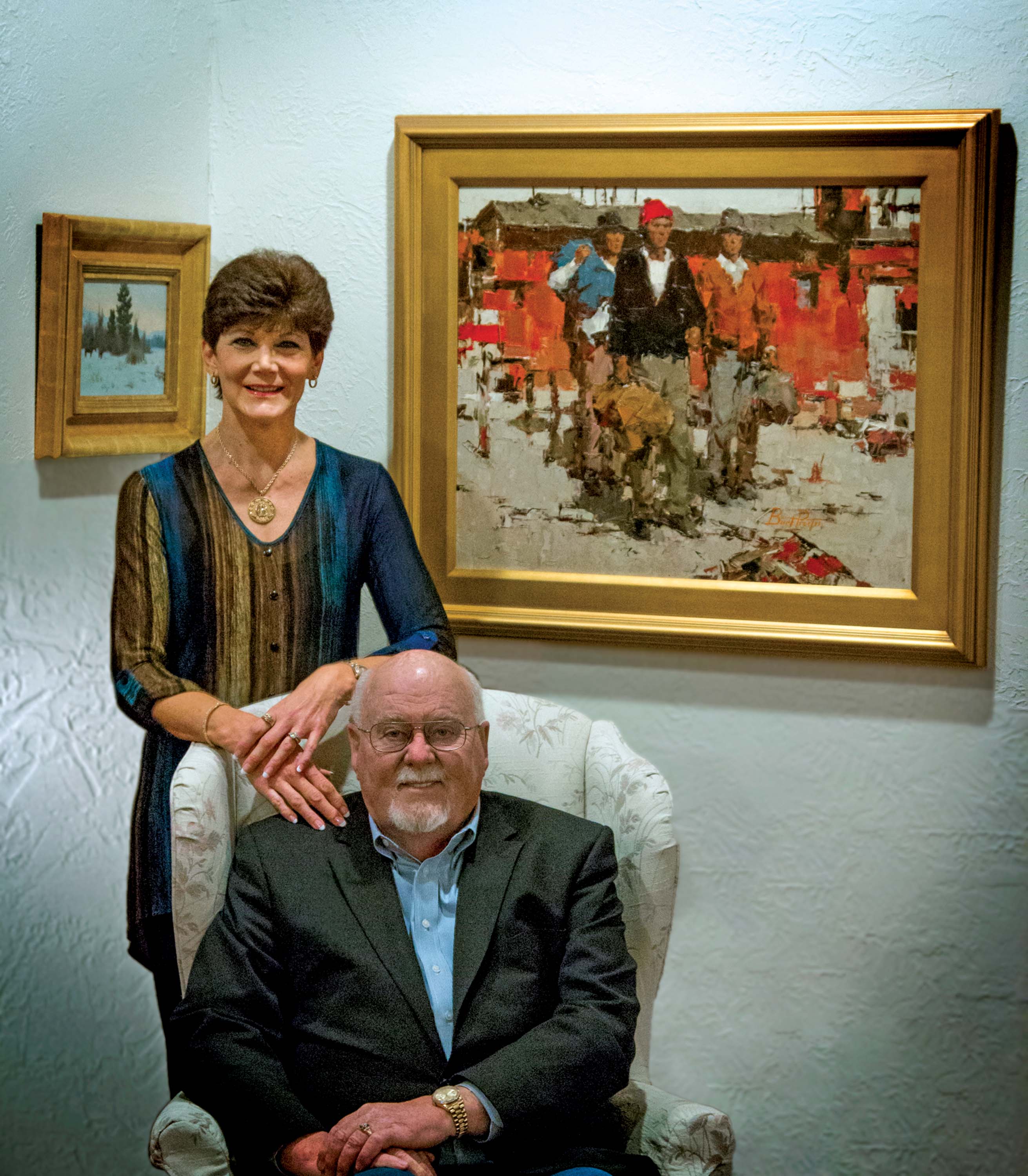 01 Feb

Collector's Eye: Bob and Charla Nelson
---
The bright notes of a mariachi band waft down Palace Avenue, past the New Mexico Museum of Art, its Pueblo Revival style architecture a blend of Spanish and Pueblo influence and the perfect complement to the music. You can hear the guitarrón and the brass horns all the way to the historic downtown plaza, drawing seekers every First Friday to Manitou Gallery. From a second-story portal on the front of the Santa Fe gallery, the musicians bring brightness and joy to those who come for the art.
The marriage of music and art is appropriate in the context of gallery owners Bob and Charla Nelson. Married 15 years ago, the couple combined their love of music and art into a formidable operation of museums, galleries and auctions.
With galleries in Santa Fe and in Cheyenne, Wyoming, these two Wyoming natives recently added their talents as appraisers to "Arizona Collectibles," a locally produced show at Arizona's PBS Channel Eight, the state's answer to "Antiques Roadshow."
As history buffs, their interest in Western artifacts is broad. Bob established Manitou Gallery in Cheyenne while practicing law. As a result of collecting full time since 1994, he founded the Nelson Museum of the West and the Military Memorial Museum. Add to that two galleries in Santa Fe and two annual auctions, March in Montana and Auction in Santa Fe, and the couple manages seven businesses in three states. It's enough to keep the Nelsons busy, they say, but not too busy to spend time with their family; together Bob and Charla have four children and nine grandchildren.
---
WA&A: What inspires you to collect art?
Bob: Personally I think you are born with a desire. I started collecting at a young age: coins, rocks, matchbook covers. During my teen years, I collected antique firearms. After college I began to buy Native American collectibles. When I finished law school … I would buy whole collections so I could pick them first. Of course, then I had a lot of merchandise to liquidate. That's how I got into the gallery business. Charla: Bob inspired me because I am a newcomer to collecting. I now have 15 years experience. I was in music and accounting, and when I met Bob everything meshed together — the beauty of the pieces and the history of them. Bob is my inspiration.
---
WA&A: What was the first piece that you bought, and what made you choose it?
Bob: The first piece that I really had to have was a Birger Sandzén, a 36-by-48-inch oil painting. It took me a year to pay for it in 1970. It is a beauty, a painting of the spires of Utah. Charla: My first piece was a Ron Stewart oil painting I purchased at March in Montana about 14 years ago. It is a little jewel. It's in our living room in Cheyenne.
---
WA&A: What is your most beloved piece, and why?
Bob: I would have to answer that in categories of collectibles, one in each category. I am different than many other collectors because I never sell off a collection. After I collected firearms, then went on to Native American collectibles, I never sold the firearms collection. The fact is, if I had to decide on one piece from all the collections, I would have to say, I love the Birger Sandzén piece. … But still, I like it all! Charla: The one piece that keeps popping to mind is one that Bob gave me. It's a Burt Proctor painting of an adobe church which hangs in our master in Wyoming. It's a 10 on a scale of one to 10.
---
WA&A: At what point did you consider yourself a collector?
Bob: I was born a collector, and as I said I truly believe most people who collect are the same way. It's not an acquired taste. You can be a buyer for monetary gain, but if collecting is in your genes, it's an addiction. It just happens to be a positive one. …
---
WA&A: With which living artists would you most like to have dinner?
Bob: I would like to have a one-on-one dinner with Howard Terpning. He would be pretty interesting. I've talked to him at shows, but I think we would have a lot to talk about. Charla: Morgan Weistling. He's one of my favorite painters because he paints children. We have nine grandchildren, so you can see why I am partial to children. At the Master's show in Los Angeles, Mian Situ was wonderful to have dinner with. I admire him and I admire his work.
---
WA&A: If you could be or meet any artist in history, who would it be?
Bob: It would have to be Charlie Russell. He was the last of the real true cowboy artists who worked the range. And what a character! Of course, then there's Van Gogh and Monet. And currently we are turned on to Sorolla. Man, we got a dose of his work on a recent trip to Spain. Charla: We loved the exhibit Sorolla y los Estados Unidos, showcasing the work he created while in the United States. I would love to have met Monet. He would be my choice for sure. He painted even when his eyesight was going, and he worked in all mediums.
---
WA&A: What was the one that got away?
Bob: The "ones" that got away for me were the things I knew were great and I couldn't buy them! That spurred me on. I had to figure out a way to make money. I missed out on a lot of Charlie Russells.
---
WA&A: Where will your collection be in 100 years?
Bob: In The Nelson Museum of the West in Cheyenne, Wyoming, and in The Military Memorial Museum. Charla: Our children appreciate art and have it in their homes. If there's something they want from our collection, it's family first. Then, of course, everything else remains in the museums.