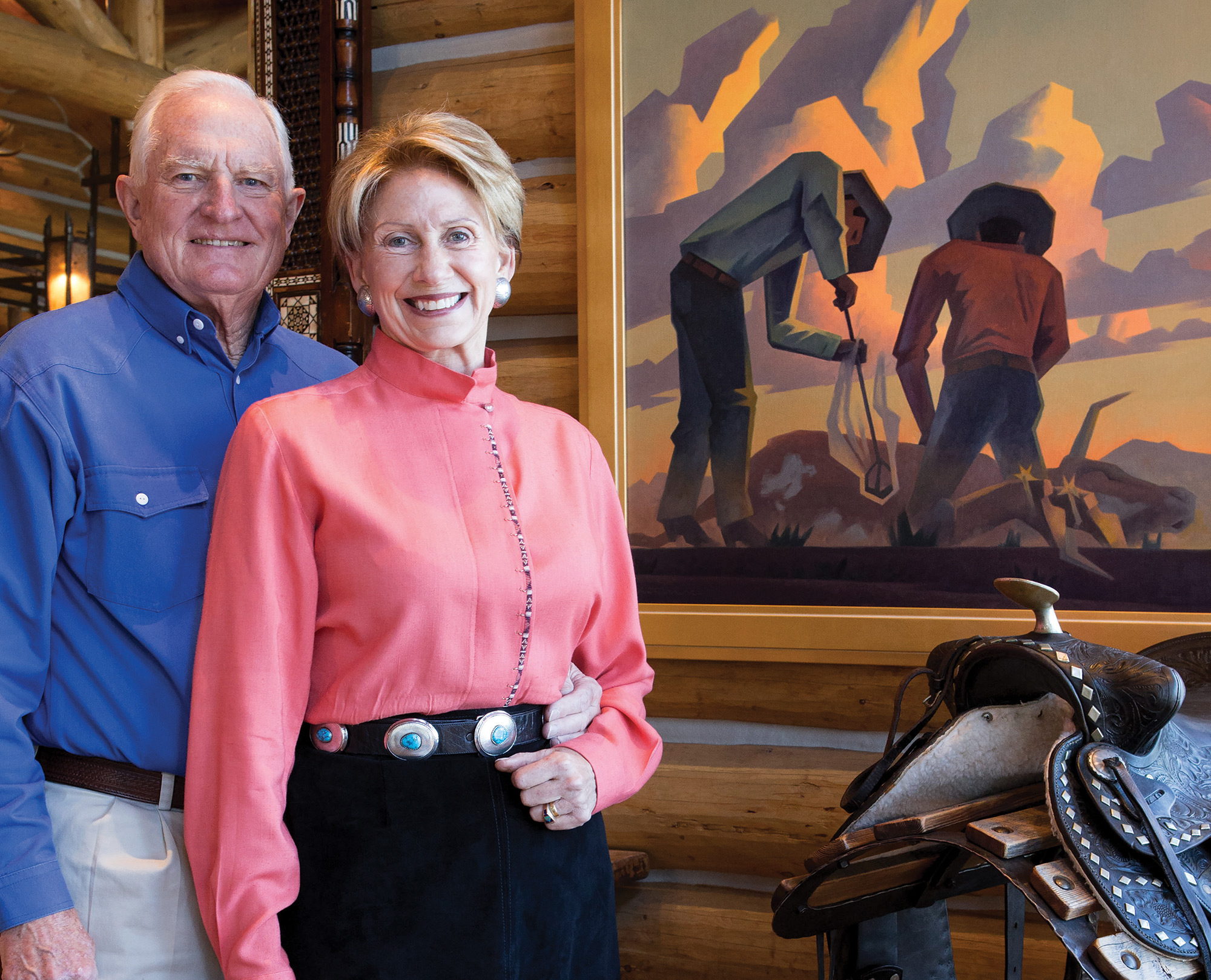 05 Jan

Collector's Eye: Craig & Barbara Barrett
---
In some ways, Craig and Barbara Barrett bought a sprawling Montana ranch for the wall space. They just didn't know it.
Twenty-two years ago, after visiting the Bitterroot Valley's Triple Creek Ranch as guests for five years, the high-powered, Phoenix-based couple bought the place. Today, every inch of this spectacular hideaway — it was voted the "number one hotel in the world" by readers of Travel & Leisure in 2014 — is covered with art that both reflects and elevates the West they love. It's in the kitchen. It's in the bathrooms. Behind the doors. Everywhere.
"We have two collections," says Craig, retired CEO of Intel and a tireless collector of Western art. The collection in Montana that fills the ranch and their personal home is made up of paintings, watercolors and sculpture by such masters as Russell and Remington and by contemporary artists including Oleg Stavrowsky, Ed Mell, William Matthews and Veryl Goodnight. Their annual trips to The Russell weekend in Great Falls usually require a separate van for transporting acquisitions. "I guess that's how you know you are a collector," Craig says.
The Barretts' collection in Arizona — where she is chairman of the Aerospace Corporation — is primarily Indian pottery, some of which dates back 1,000 years. "Both [collections] were founded on a love for the West and an appreciation for artistry," Craig says.
Their love for art is evident not only on the walls of Triple Creek Ranch, but also in the way they run things. In addition to hosting weekly cocktail parties and informal art tours for ranch guests in their private home, twice a year the couple invites their favorite artists — from Andy Thomas and Greg Kelsey to Nancy Dunlop Cawdrey, Carol Hagan and Brent Cotton — to teach and mingle with guests over a long weekend. Even Craig picks up a brush then.
"It helps to have had a drink or two," he laughs.
For this couple, sharing their passion for art comes just as easily and matters just as much — maybe more — as collecting it.
---
WA&A: What inspires you to collect art?
Craig Barrett: That's easy: We love Western art and we have lots of wall space at our ranch.
---
WA&A: What was the first work you purchased and what made you choose it?
C.B.: Our first purchase was two pieces by painter Jason Rich. One is three horses standing in a field. The other is a cowboy leading a horse across a stream. We fell in love with his work at a gallery in Park City in 1998. He's the youngest CA [Cowboy Artists of America] and he is one of the artists that comes here to the ranch every fall. The first work we bought at auction was an oval painting of Blackfoot Indians by Olaf Seltzer at the C.M. Russell auction. It was a spontaneous bid but we liked it and got it in the end, just as the auctioneer was about to pronounce it sold. He had the 'S-O' out but not the 'L-D.'
---
WA&A: What is your most beloved piece, and why?
C.B.: Because our ranch is in a forest fire area we have to worry about what to save first. For me, it would be a Russell watercolor called Antelope Hunt. It's a Plains Indian stalking an antelope. That was our first really significant piece from a dollar standpoint. But, actually, there are a lot of other ones in the same room that I'd grab, too.
---
WA&A: When did you realize you were a collector?
C.B.: Probably going to The Russell art auction every year, coming home with numerous purchases and getting to know many contemporary artists. I guess you know you're a collector when people start bringing you art instead of you going out to look for it.
---
WA&A: With which deceased artist would you most like to have had dinner?
C.B.: This is a close call. Charlie Russell is an easy choice because he was bigger than life. But I also have an infatuation with Edward Borein. He had a lot in common with Russell. Russell, Sharp, Couse, Paxton, Borein … Barbara and I could host those five and their spouses. How about a small dinner party? That'd be fun.
---
WA&A: What was the one that got away?
C.B.: There was a local auction near our ranch about 10 years ago. Larry Pirnie had a piece in the silent auction. I was bidding on it against Jim McNerney, then the CEO of Boeing, and Brent Musburger. I was the only one of the three who knew the street value of the painting. We took turns at the clipboard, each outbidding the one before. The painting was worth $6,000 to $8,000, but bidding was brisk. We got up to $15,000. Musburger opted out then, but Jim and I kept going. It was a charity event, after all. The painting sold for about $32,000. When there was 30 seconds left to bid, I went over once more to the clipboard. Jim and I are friends, but I turned around to the coldest stare. He was convinced that I'd topped him. Instead, I'd written, "Congratulations Jim, I hope you enjoy the painting." But nothing ever gets away totally. Someone from the gallery approached me immediately and said, "If you like that painting, we have another one at the gallery that is better, bigger and half the price." So the bigger painting is now hanging at Triple Creek. We laugh about it.
---
WA&A: Where do you see your collection in 100 years?
C.B.: That's really tough. The Indian pottery will probably be left to a museum, like the Heard Indian Museum or the Smithsonian. For the paintings, I'd like to see much of the work still hanging at Triple Creek Ranch. It's not a private collection as we share it with all our guests. We want people to see what the Indian culture looked like over 200 years ago, and what the cowboy culture looked like over 100 years ago.