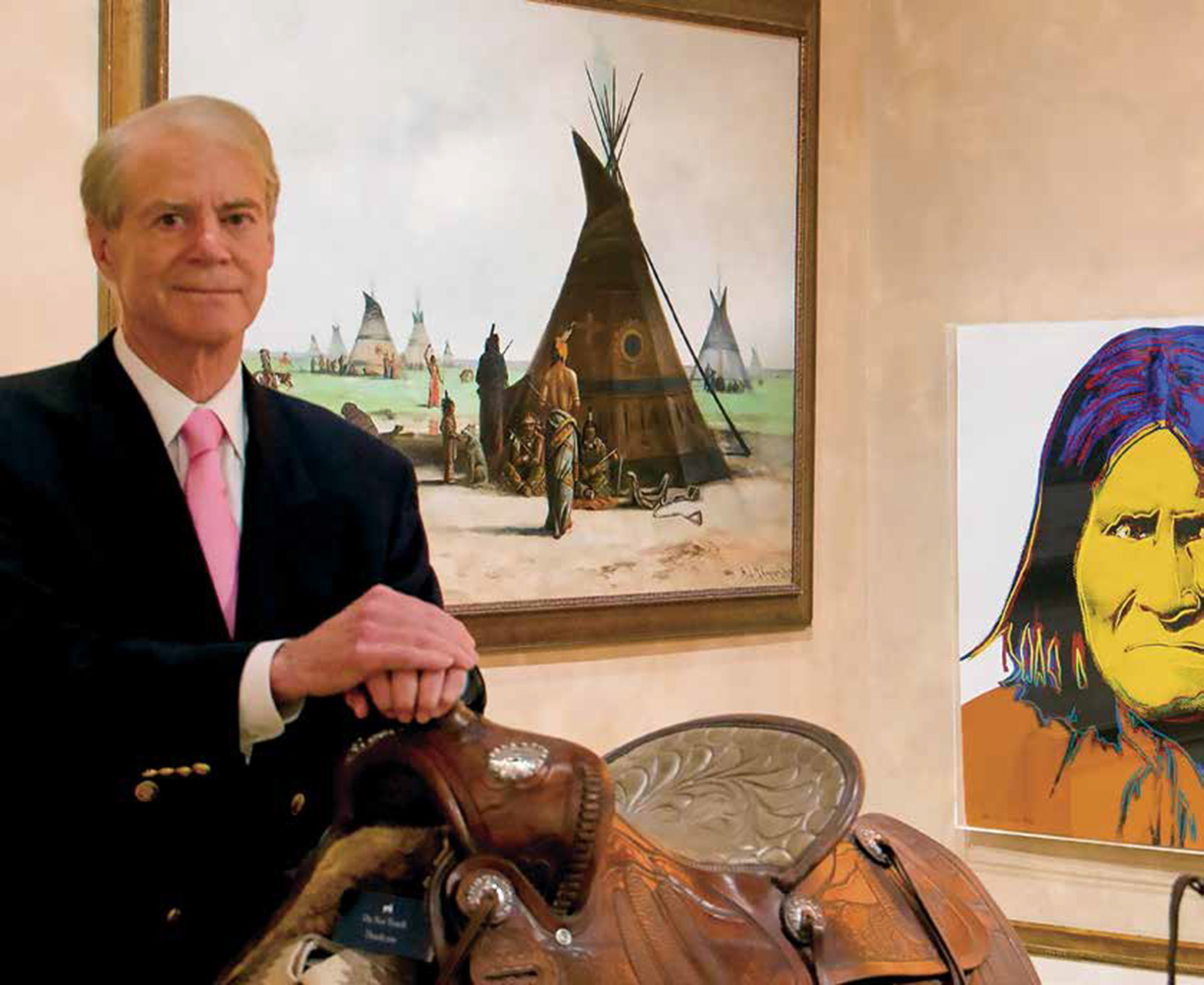 10 Mar

Collector's Eye: J.P. Bryan
---
Assembled over a lifetime, J.P. Bryan's collection includes some 70,000 pieces. There are ancient Native American artifacts, rare documents and books, saddles, antique firearms, fine art and other items that exemplify the history of the Old American West. Take, for example, the wedding ring that Charles M. Russell designed and gave to his wife, or the pistol owned by the only female Texas Ranger. There's an assortment of pre-1900s sombreros, original 1914 Maxfield Parrish murals that once decorated a Vanderbilt estate, and the silver belt buckle presented to rodeo veteran "Reckless" Bill Rodigqo from General Pancho Villa.
"When you boil it all down, one simple object can represent history," Bryan says. "It brings out the dreams in you."
To share this rare collection with the public, Bryan and his wife, Mary Jon, established the Bryan Museum in Galveston, Texas, which opened in June 2015. It houses Texas and Southwest history and art, and is located in the former Galveston Children's Home, a historic orphanage built in 1895. Visitors take a tour of the conquest and progress of the region, from ancient Native American artifacts to the 21st century.
Bryan's vision for the museum is to preserve and display what he believes is a profound and unique aspect of American heritage. "It's better than any 3-D movie or entertainment experience that [visitors] can have because, if they will be a student of what they observe, it will serve as a lifelong source of inspiration," Bryan says.
For the Bryans, sharing these treasures and educating the public about the characters of the West and its settlement proves to be as rewarding as the thrill of the hunt.
"[The museum] may be the most gratifying thing I've ever done," Bryan says. "It is. Unless something unbelievable happens in the final hour of my life, it's been wonderful to hear the expression of pleasure and enjoyment from visitors and the compliments from local people for bringing the collection to Galveston."
---
WA&A: What inspires you to collect art and artifacts?
J.P. Bryan: I started off as a young boy and started collecting guns. I didn't have much money — I spent more time looking than buying — but I was able to amass a small collection of guns at 9 or 10 years old. Later in life, in college, I got into the rare book business, selling rare texts. My father had a fabulous collection of maps and books. In 1969, he sold it and I had always assumed I'd inherit it. So I thought to have a collection you need to buy one yourself, and that's when I started collecting. And I started with things I knew quite a bit about — books and rare documents.
---
WA&A: What was the first work you purchased and what made you choose it?
JB: I still have it. It was a Sharps four-barrel pistol. It was the price that was important, but I just loved that it had four barrels and I thought it was a unique item. I was small — only 9 or 10 years old — and it was something I could comfortably hold in my hands.
---
WA&A: What is your most beloved piece, and why?
JB: I've been asked that question 200 times and my answer is, it would be like you have a large family, let's say 10 children, and someone asks, 'Who is your favorite child?' You would have a very difficult time answering the question. Even though you may actually have one, you won't admit it. You go through the list and find something about each one of them. … If the building caught fire and I had to run in and only get one thing, that would be the hardest choice of my life. I don't know what I would select.
---
WA&A: At what point did you realize you were a collector?
JB: I realized it right after I struggled with the idea that my father sold his collection. While selling rare texts, I met collectors. They were older and much better heeled than I — I could barely pay my rent every month. But I realized I enjoyed their collections and this was a natural segue into putting my own together. … I love history and things that are a part of it. Things that have provenance. It wasn't just a gun. It was a gun that shot somebody. It's a saddle ridden by a former frontier cattle driver. There's some strange form of reciprocity, you can feel captivated in some fashion.
---
WA&A: With which living artists would you most like to have dinner?
JB: Well, there are about five of them. I'd have a dinner party. In our collection, I would give anything to have dinner with Elisabet Ney, a great sculptor, the greatest in Texas. Frank Reaugh, who was very adept at painting with pastel, an incredible artist. José Arpa, from Mexico City, he ended up in San Antonio and taught a lot of students there. Both Robert and Julian Onderdonk, who were real masters in the Texas art scene, and Tom Lea, who lived in El Paso and was gifted across the whole range of artistic expressions.
---
WA&A: If you could be or meet any artist in history, who would it be?
JB: You know, I wouldn't really want to be an artist. … I admire their work and I know the quality of it, but I don't think I'd want to be any of them. There are people in history I would love to be, no doubt. Charles Goodnight, for example, was the greatest cattleman and trail driver of all time, and a really heroic figure, in my judgment. He was the inspiration for the novel Lonesome Dove.
---
WA&A: What was the one that got away?
JB: The Texas Declaration of Independence. I bought a fake I thought was real and had for a number of years. By the time I found out it was a fake the price appreciated significantly to $250,000, if you could even find one. I haven't seen one for sale in 10 years.
---
WA&A: Where do you imagine your collection will be in 100 years?
JB: I hope that it's still right where it is today and that someone associated with my family is still involved in making it an even more inspiring story for the visitors.