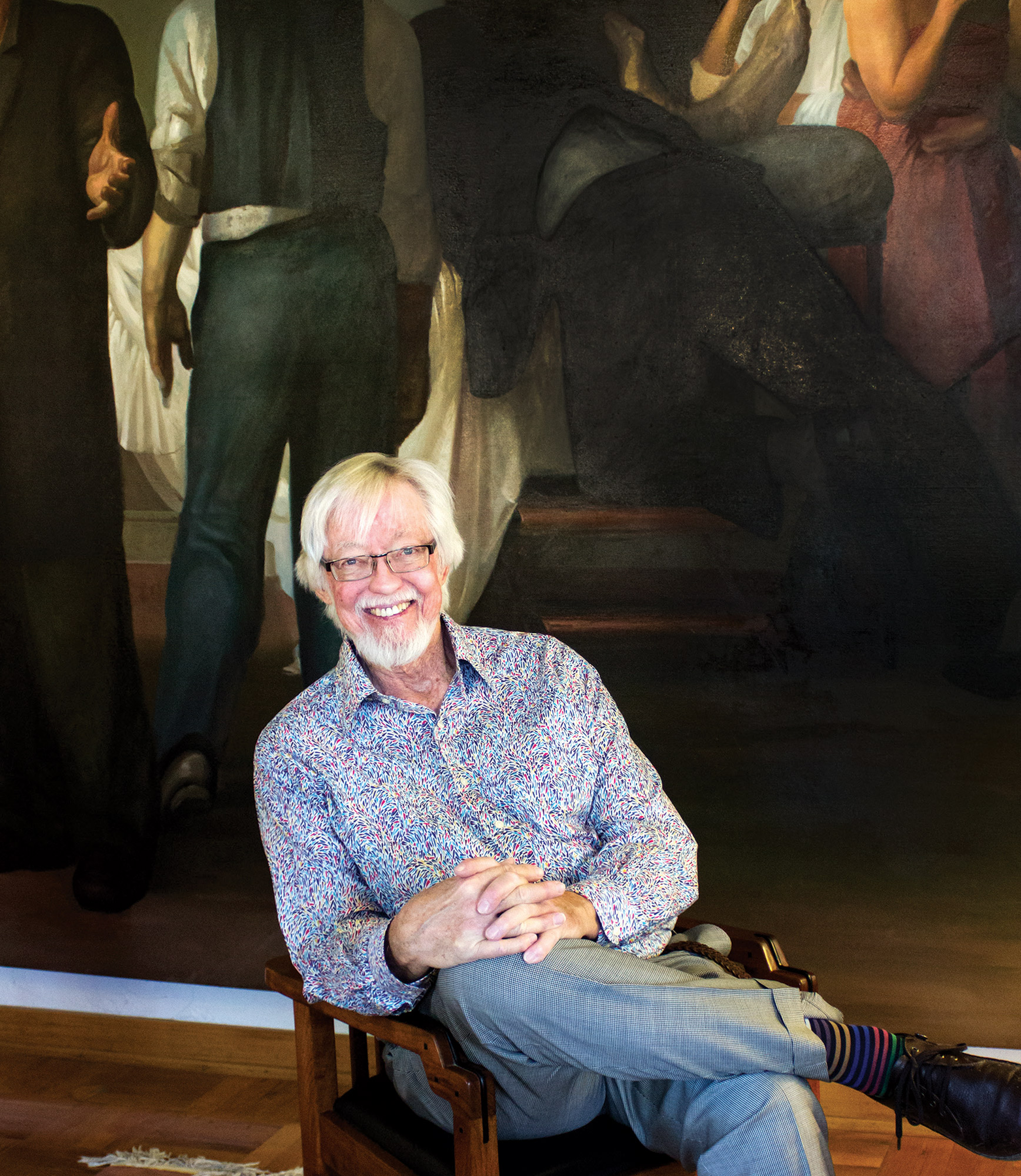 18 May

Collector's Eye: Dan Leach
---
If one were to write a fictional story about a quintessential art collector, Dan Leach's life could be the inspiration. Born in Florida to parents who encouraged his curiosity, his life took twists and turns, as lives do, but the constant was always collecting.
Today, the walls of his Tucson, Arizona, home are filled with paintings, from Realism to Abstract. His coffee table hosts a bronze cantaloupe and patinated tomato and beans, while a nearby niche is filled with Native American pottery. A grand piano welcomes visitors to his sala and acts as the base for a Patrick McGannon sculpture. Artful glassworks are displayed alongside contemporary ceramics, a Germantown weaving graces one wall, and black-and-white photographs are punctuated with painted collages.
When Leach moved to New York City as a young adult, it changed his life. He became friends with artist Joseph Di Giorgio [1931–2000], a Brooklyn-born Italian and great chef who was best known for painting monumental images of Edenic landscapes. Amid frequent studio visits and dinner parties, Leach met other professional artists who gathered at Di Giorgio's home. "I learned everything about art from Joseph by watching him," Leach says. "He opened my eyes. For a small-town boy that was a revelation."
This impromptu education helped Leach build a collection that spans some 1,400 works today. Living nearly 40 years in Tucson, Leach collects work from many local artists, including painters Bailey Doogan, James G. Davis, Jim Waid, James Cook and Nancy Tokar Miller. He also travels extensively and purchases art from places he's visited. In the mid-2000s, Leach shared his collection during an exhibition at the Tucson Museum of Art. Titled An Eclectic Eye: Selections from the Dan Leach Collection, the exhibit showcased 220 works by 183 artists. Over the last 20 years, Leach has donated art to the museum and continues to do so today.
---
WA&A: What inspires you to collect?
Dan Leach: I think art is important. If you look at history, art outlives most other things and identifies culture. When I was a young boy, I collected stamps, seashells, rock and mineral specimens, and fossils. My parents allowed me to have a room in our home where I labeled everything and displayed my collections. When I was around 12, my father purchased 15 prints from Associated American Artists through Collier's magazine. They had regional painters, such as Thomas Hart Benton, who did etchings and lithographs in runs of 250. They were signed and cost from $5 to $25 a print. All of a sudden I was exposed to art.
---
WA&A: What was first piece you bought and why?
DL: The first piece of art that I took ownership of happened as a result of a trip my mother and I made after my father died in an auto accident. Not wanting to spend Christmas at home, we traveled to South Florida where the John and Mable Ringling Museum was having a deaccessioning sale. My mother had wanted to buy me an insurance policy and the premium was going to be $300. One of the things I especially liked at the sale was a Georges Rouault [1871–1958] aquatint The Law is Hard, But it is the Law. I said to my mother, "You're going to spend a lot of money on the insurance and I'd rather have this piece of art." I think I had a pretty good eye then, at 25 years old, because years later I saw the entire series of 65 etchings, titled Miserere, housed at the New York Public Library. I believe them to be one of the major religious works of the 20th century.
---
WA&A: When did you decide you were a collector?
DL: I can't remember when I wasn't collecting, but knowing I was a collector happened over the years. At the dinner parties in Di Giorgio's studio, for birthdays, I was often gifted with art. Once I started buying art through locals, I realized I was a collector.
---
WA&A: What is your most beloved piece and why?
DL: I have a number of favorites, one of which is a painting by a Pennsylvania-born artist who shows at Marlborough in New York City. In the 1980s, I was visiting an artists' open house in the city at PS1, a decommissioned public school turned artists' studios, which eventually became MoMA PS1. Neo-expressionism was big. The Museum of Modern Art (MoMA) had many shows of it, which in turn inspired many imitators to produce a lot of bad art, which I was seeing at this open house until I came upon a painting that was in a hallway leaning against the wall, upside down. It was outside of a studio where lines of people were waiting to get in. Once inside the artist's studio, I fell in love with one of his drawings and bought it. The artist, Vincent Desiderio, had studied at the Accademia d'Arte in Florence, Italy. That's when he changed from abstract to figurative art.
Later, after I had moved to Tucson, I read a review of Desiderio's first show at Lang & O'Hara Gallery in New York City, which was reportedly a sell-out show. I called the gallery immediately and learned they had a very large piece by him in storage. They sent me a slide, and I purchased it. When I received the painting I recognized it as the painting I'd seen leaning upside down against the wall at the open house at PS1 years earlier. It is titled Theatre of Convention.
---
WA&A: What was the one that got away?
DL: There are a number of things that I didn't jump on when I could have: Ansel Adams, Robert Mapplethorpe, Fernando Botero. The one I wanted most was a Yayoi Kusama piece, which I could have purchased for $9,000 in Santa Monica. A bit later, I saw a similar piece in Chicago for $300,000. I have missed buying things I could have afforded — I think I was insane. I say to myself, "Why? Why didn't you do it?"
---
WA&A: Where do you see your collection in 100 years?
DL: My entire collection will go to the Tucson Art Museum. When I "shuffle off to Buffalo," they get it all. They are my art family. I have been on the acquisitions committee for about 20 years and have been giving them work all along. If I live to be 99, like my grandfather, perhaps they will have acquired it all by then.