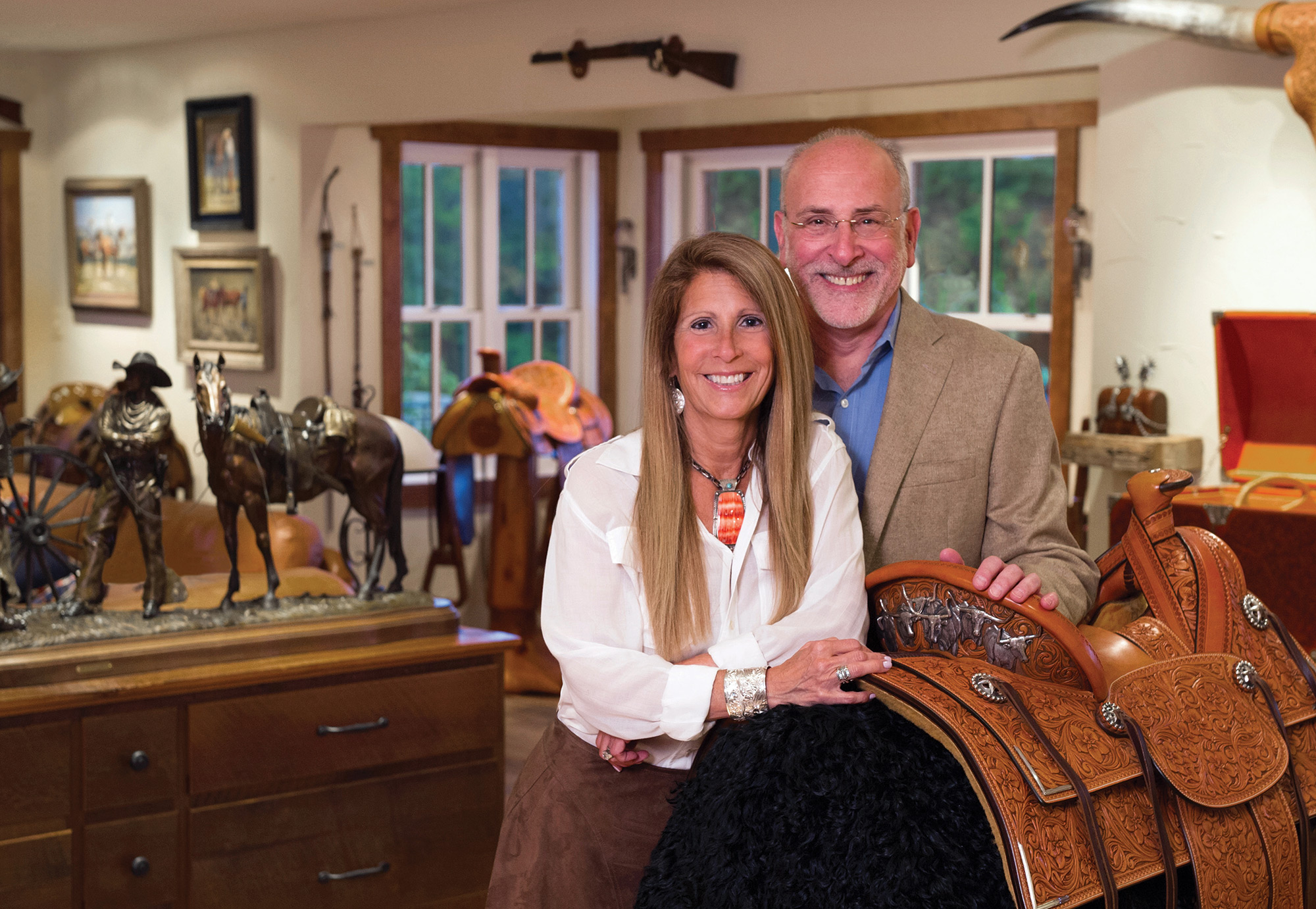 12 Sep

Collector's Eye
---
Alan and Nadine Levin were not looking to join the ranks of Western art collectors when they vacationed in Santa Fe, New Mexico, more than a decade ago. But Alan, who owns a retail music business, fell in love with a life-size cowboy crafted in bronze by Buck McCain. Standing outside an upscale gallery, studying the statue, he was hooked.
"I knew within the first 15 minutes I was going to buy him one way or another; I couldn't get him out of my mind," he says.
The cowboy now resides outside the couple's suburban Maryland home, where walls are hung with Western works by such painters as Tom Browning and deceased artists as Edward Borein. Rooms display collectibles by storied craftsmen such as saddlemaker Edward Bohlin and members of the Traditional Cowboy Arts Association, whose mission is to keep those crafts alive.
It is the rich history of the American West, its sweeping landscapes and cultural norms, that ignited in the Levins an enduring passion for collecting.
"We live in the East, but we have Western values. And we are privileged to be among the caretakers of pieces of history," says Nadine.
It's in the spirit of that undertaking that Nadine has served for the past several years on the board of the National Cowboy and Western Heritage Museum in Oklahoma City, Oklahoma. And the same instinct, in the nature of a calling, has led to her prodigious talent as an artist using infrared photography to capture the objects, animals and outbuildings of rural landscapes. Often from horseback, she has photographed the West for the last 25 years. Those spare images, made more evocative by the absence of human figures, were showcased in a months-long exhibit earlier this year at the National Cowgirl Museum and Hall of Fame.
Western values, including loyalty and honesty, that the Levins hold so dear were in sharp relief when the exhibit opened. Those associated with the National Cowboy Museum and members of its associated Traditional Cowboy Arts Association traveled to the National Cowgirl Museum in Fort Worth, Texas, to attend a reception marking the opening of Nadine's show.
WA&A: What is your most beloved piece and why?
Alan Levin: We can't choose. I walk through the house every day and always look at these pieces, each of which has a different meaning.
We bought a Xiang Zhang, but didn't have a wall large enough for the painting. That's an example. When I look at that painting, I love it — and I remember that we thought so much of it that we built a wall for it.
WA&A: At what point did you realize you were a collector?
AL: When we had to remodel to create a wall for the Zhang!
WA&A: With which living artist would you most like to have dinner?
Nadine Levin: We've had the pleasure of dining with such talents as contemporary Western artist Bill Schenck and husband-and-wife painters John Moyers and Terri Kelly Moyers, known for a traditional realist Western style and skilled use of light and color.
I would also relish the prospect of sharing a meal with James Bama, the illustrator-cum-artist who describes himself as an American realist with stirring portraits of subjects from cowboys to native wildlife, such as bison. If it has to be one person, for me, it would be James Bama, who I would like to meet and spend time with. I really love his work.
WA&A: What was the one that got away?
AL: We swear by the habit of buying what we like and what we wish to live with, but there is the occasional piece whose price soared above what we considered reasonable. We don't want to purchase an overpriced item at auction, for example, and then place it at home where it might become an enduring symbol of buyer's remorse. The item doesn't get away; you let it go.
WA&A: What inspires you to collect art?
AL: I'm inspired to collect art that enables me to escape to places that I'd rather be. And there's craftwork by people, past and present, whose talents are beyond compare. I truly appreciate such master craftsmanship; I never tire of looking at it.
WA&A: What was the first piece you bought and why?
AL: Buck McCain's cowboy. When I saw the cowboy… It's tough to put into words. But when you look at him, he just personifies the West.
WA&A: Where do you see your collection in 100 years?
AL: Since our collection does not focus on any one artist or specific art form, but encompasses a wide variety of Western Americana from antique to contemporary, I'm sure that the pieces we have will not be kept together. All you can ask for is that they find a home where they are appreciated and bring as much joy to the new owners as they have to us.