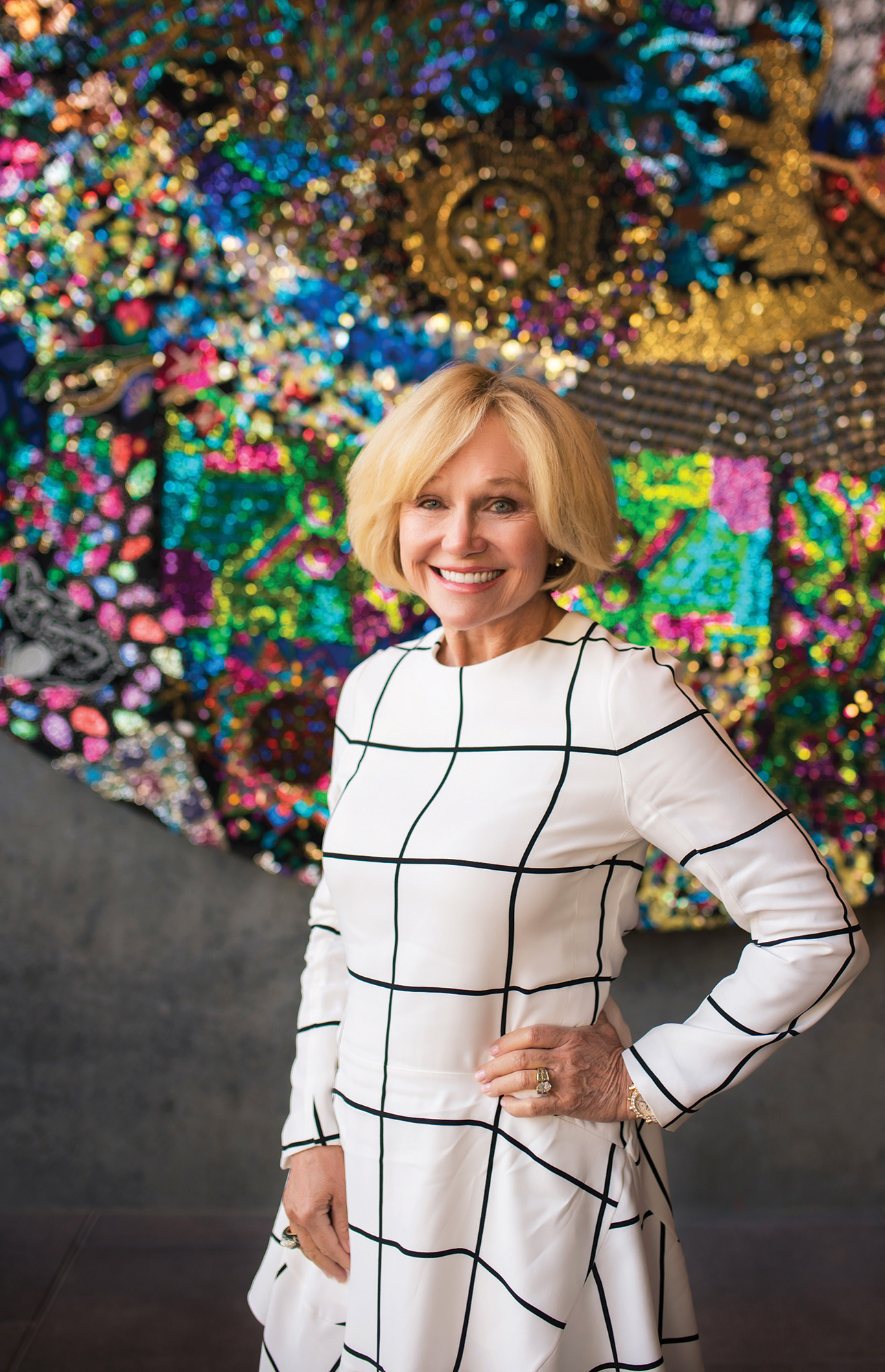 17 Nov

Collector's Eye
---
When her children were young, Kathryn Walt Hall often strolled with them through her parent's vineyard singing the ditty, "Little Bunny Foo Foo." It is one of the fondest memories for the founder and vintner of HALL Wines in Napa Valley, California. With that story in mind, she convinced renowned artist Lawrence Argent to recreate those cherished moments in a whimsical, stainless-steel bunny sculpture. Today, Bunny Foo Foo isn't little at all. He stands 35 feet tall, greeting visitors at the winery driveway and leaping as an icon along Highway 29. He keeps company with an albino camel, a flock of cement sheep and more than 20 other distinguished pieces of art on the premises.
As art collectors for at least 25 years, Kathryn and her husband, Craig, believe being surrounded by art is absolutely essential. "I cannot imagine life without it," Kathryn says. "It is in our offices, our homes and we love having it all around us. Art does something to you on an intimate level. Turn a corner and look at something — it affects you."
It certainly does. In fact, art has had such a profound impact on the lives of the Halls that the subject is prominently featured in their new book, A Perfect Score. In it they write, "Art is a huge part of the Napa Valley experience and a huge part of our lives. It's particularly central to the way we've envisioned our winery. Since a memorable wine-drinking experience is always about more than just what is in the glass, we've put a lot of effort into assembling an art collection that would enhance the experience of our guests."
Art has also facilitated many wonderful friendships over the years. Kathryn especially enjoys the camaraderie formed between collector and artist. "We try to buy directly from the artists and want to get to know them. We find it important to really care about the person and find artwork that touches us. And," she stresses, "we do not buy depressing art."
That is understandable. Kathryn's career has involved hard issues. Once the United States Ambassador to Austria and a former attorney, she is a powerhouse. She speaks up for the needy and marginalized, having co-founded the North Texas Food Bank and participated on the U.S. House of Representatives Hunger Advisory Committee. She led as director of the Texas Mental Health Association and worked on the National Advisory Council for Violence Against Women.
Clearly, Kathryn is not a woman who dabbles. She speaks French and German… fluently. She heeds her calling to social justice, and she knows her wine and art. On the grounds of her LEED Gold-certified sustainable winery, visitors wander past a giant marble sculpture of a child's head by artist Jaume Plensa and past a grove of willow saplings shaped into huts by artist Patrick Dougherty. The Halls also exhibit works by Jesse Morales, Doug Aitken, Alyson Shotz, John Baldessari, Jim Campbell and Nick Cave.
Today, the unofficial art ambassador places masterpieces in the public sphere to be enjoyed by millions. Some works are so popular they are loaned to museums around the world and are exhibited in lauded institutions such as the Louvre in Paris, France. Here at home, folks can visit the Hall's collection at HALL Wines in Napa and Rutherford, California; at HALL Arts in Dallas, Texas; and at their new Napa luxury hotel, Senza. For the Halls, sharing art is just as rewarding as owning it. "We hope it inspires people and makes them think about many things just like it does for us," Kathryn says.
---
WA&A: What inspires you to collect art?
Kathryn Hall: We are buying art all the time. We love it. Meeting the artist and looking at a good piece of art is fun, stimulating and piques your senses. We met an old man and his wife who collected some of the greatest sculptures in the world. He told us that art made him see. I know that it has the same effect for me. You find yourself really seeing something. It is not just the canvas, you are engaged in the process of enjoying art. No matter where you are, you can see everything more clearly.
WA&A: What was the first work you purchased and what made you choose it?
KH: When Craig and I were first together, we could not afford much. We were in Mexico, and there was a sculpture that looked like a stylized and modern version of The Thinker by a woman we liked. It was a personal connection. She didn't speak English, and we didn't speak Spanish. There was a way about her that seemed so kind. We were so proud of that stone piece, and now it has a prominent place in our office in Texas.
WA&A: What is your most beloved piece and why?
KH: We love all of our art. Some pieces have gone up in value and people have asked us to sell, but we just cannot part with them. It is part of our space. Five years ago, we saw a piece of work, Garden Plot, by Chicago artist Nick Cave. It was a textile that is so happy and sparkly, and we love it. It was eye candy, and we bought it. It was huge! We didn't have a wall to put it on, and it was in the cellar for five years. And now we have a winery, so it is right in the entry by the door. It is a humongous sphere textile that shines. It is gorgeous.
WA&A: What was the one that got away?
KH: A piece by Anish Kapoor long ago, long before he was famous. We waited, and now he is too expensive. It was a mistake. I wish we had just done it. It was a sculpture — it was a round ball of some sort. It was fabulous and so large; we would have sat it outside on the lawn. But I don't mourn at all. So many pieces have gone away, but there is so much art out there.
WA&A: If you could meet any artist in history, who would you meet?
KH: I would love to have known Leonardo da Vinci because he was the quintessential Renaissance man. I would have loved to go to his workshop. He would have been so interesting. I also would have loved to meet Agnes Martin. She was a painter in New Mexico, and over the course of her life she gained an amazing serenity. I would like to know how she came to that peace. It was clearly in her life and so reflected in her artwork.
WA&A: Where do you imagine your collection will be in 100 years?
KH: I hope it is gracing the grounds of our wineries, office buildings and the homes of our children.