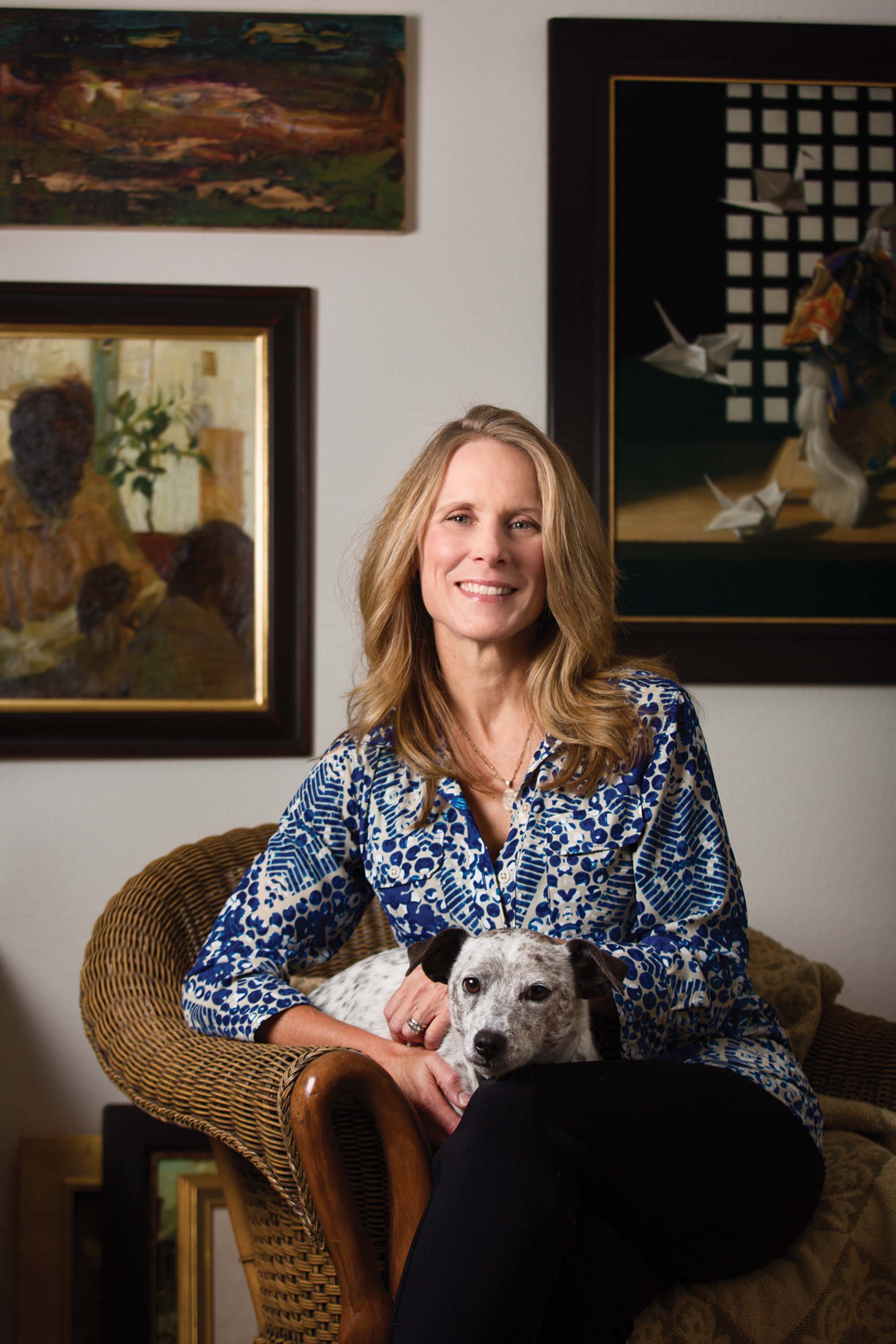 Curator and art advisor Rose Fredrick
01 Dec

Collector's Eye: Rose Fredrick
---
"Creating art was just what we always did in our family," says curator and art advisor Rose Fredrick. "My mother taught us how to paint, and when we weren't painting we were writing. It never occurred to me that I wouldn't somehow end up in the art world."
Although she continued to paint, Fredrick put herself through California Polytechnic State University and earned a business degree. After moving to Denver, she landed a job at Carol Siple's eponymous art gallery. "I credit Carol with really giving me a foundation for what I do today," Fredrick says. "She taught me about running a gallery and working with artists, and it's certainly where I first developed my understanding of artistic temperaments."
"I had an epiphany when I realized that my passion wasn't in painting, but in curating art exhibits and working with artists," she says. "The blank walls of an exhibition space are my blank canvas, and it's always a thrill to open the crates and pull the art out."
In 1998 when Denver's National Western Stock Show needed a curator for its popular Coors Western Art Exhibit and Sale, Siple recommended Fredrick. "I felt at home the minute I walked in the door of the complex," says Fredrick. "The building smelled like my childhood memories of raising horses and participating in 4 – H."
Today the annual exhibit attracts more than 40,000 people over 20 days, featuring Fredrick's hand – picked artists in many mediums including oil, clay, bronze and photography. The 2014 event raised more than $250,000 for the National Western Scholarship Trust. It's a big endeavor, Fredrick says, but one that is ultimately very satisfying. "It takes an understanding of the market, knowledge about how to hang the show, and insight into the mindset of collectors," she says.
In the off season, Fredrick draws on her business background to consult with artists in the delicate art of selling and promoting. "I help them get their work out to the broader art community and present it in the most spectacular way," she says. One such vehicle that fuels her creativity is publishing fine – art books. "I love helping artists tell their stories, and book publishing combines my love of writing and editing with my curator's eye."
The walls of her own home are covered with works from numerous artists and Fredrick admits to having "closets full of paintings." Still, it's the creators themselves who give her the greatest delight. "I can't think of a single artist I don't truly enjoy," she says. "Some of my best memories are of sharing a meal and drinking wine with artists, listening to what they're working on and why."
---
WA&A: What inspires you to collect art?
Rose Fredrick: I've always collected and invested in art, often scraping together whatever I could because I had to have something. I'm privileged to know all the artists who created the pieces in my collection, and surrounding myself with their works is like being with each one of them.
---
WA&A: What is your most beloved piece?
RF: Quang Ho gave me a watercolor he'd done of a dog he rescued after its elderly owner passed away. I ended up adopting the dog, Duke — who has since died — and the painting means so much because it reminds me of him. The Guardian hangs in the hallway outside my sons' rooms.
---
WA&A: Which is the one that got away?
RF: There is one painting, a portrait that Quang Ho did of me. I can't remember why I agreed to sit for him, but I was wearing an orangey kimono and it was rather hot in his studio. I leaned forward, pulled my hair back and started wrapping it up when Quang said, "Stop! That's it." So I sat for him like that, and he painted. When I saw the finished piece, I wanted to cry because I felt like he really saw me. I later returned to his studio to inquire about the painting, but a couple had already bought it and it was gone.
---
WA&A: Tell us about an artist whose talent you recognized early.
RF: I love discovering incredible artists when they're just starting out. Ron Hicks was such a talent whose work I first saw at the Art Students League of Denver. Ron sees emotion and he paints it, and I was blown away. He wasn't painting people as he wanted them to look; he was painting them as they looked. He worked for the cable company by day and painted at night, and I ended up having a one – man show for Ron when I owned my gallery. Someone bought a number of his pieces which allowed him to quit the cable company, and his career was launched. Having his art in my house means a lot to me, because it's amazing both technically and emotionally.
---
WA&A: Who's an up – and – coming artist you like right now?
RF: David Grossmann brought some of his works to my office, and as he carefully unwrapped his paintings it seemed that each was better than the last. He's an artist who does this lovely, meditative, delicate work, but at the same time he's not afraid and he doesn't hold back. David puts himself in his work, and his paintings reflect him. I had to buy one.
---
WA&A: If you could have a dinner party with any artists in history, who would you invite?
RF: Willem de Kooning and his wife, Elaine, immediately come to mind; I still remember being floored by the impact of standing in front of his paintings at the Whitney Museum. De Kooning changed the way that I looked at art, and made me realize what art can do. In 2009 I had the amazing good fortune to meet artist Wayne Thiebaud, who had been good friends with the De Koonings, so I'd like to catch up with him. The late Richard Diebenkorn would be an interesting artist to round out the group; whenever he felt his art was starting to fall into a pattern, he would change things up. I'd mix cocktails and serve food just so I could listen to them talk, and it would be fun to hear from their spouses, too.