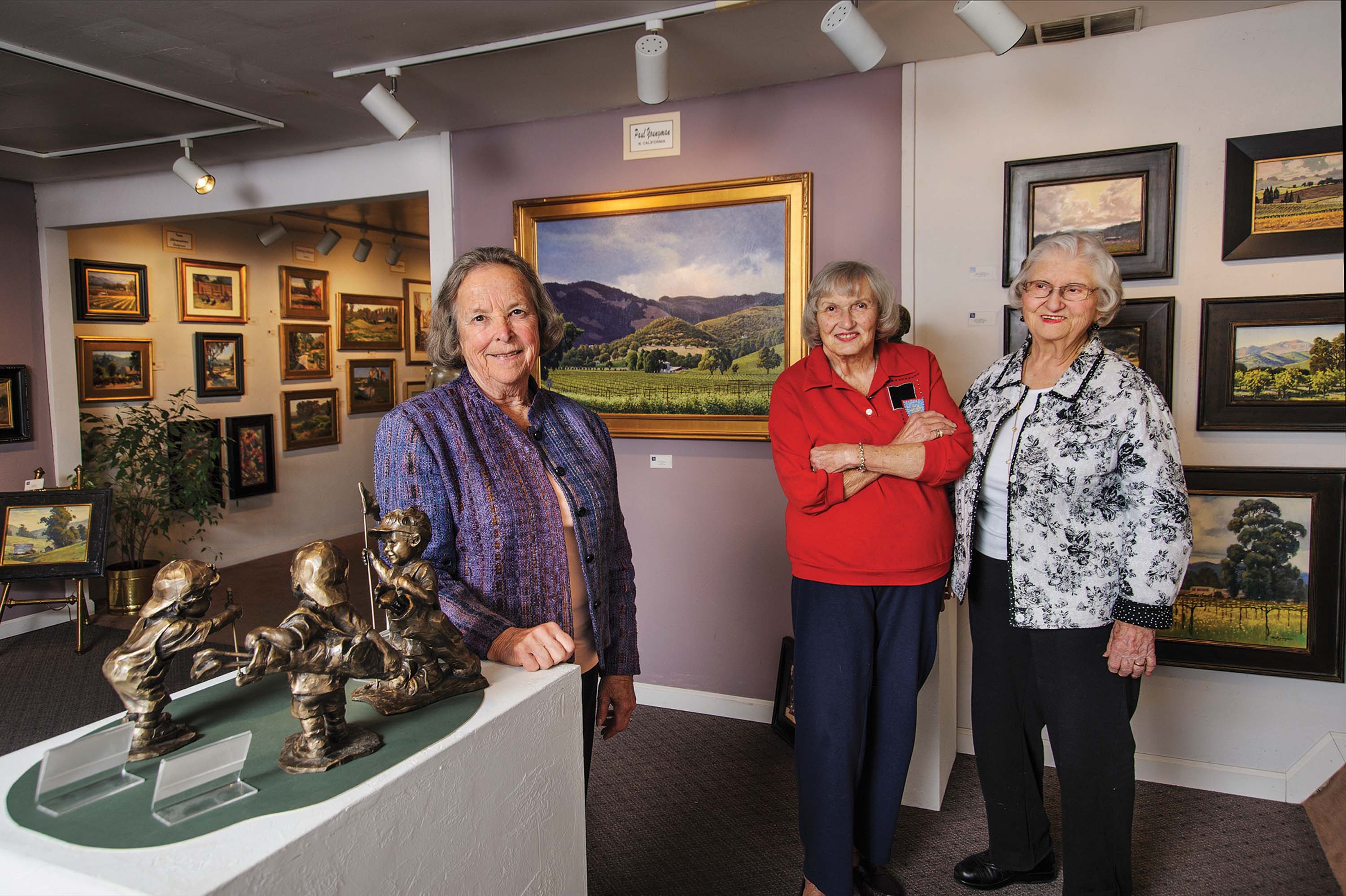 From left to right, Barbara LaFranchi, Jane Campbell and Betty Ballentine reunite to talk art at the Lee Youngman Galleries in Calistoga.
19 Oct

Collector's Eye: Barbara LaFranchi, Jane Campbell and Betty Ballentine
---
"I lived in San Francisco, and she lived in Calistoga," recalls Jane Campbell of her first meeting with lifelong friend, Betty Ballentine. "Every summer I went to a lodge to visit my cousin who was a Camp Fire Girl, and that's where I met Betty. We were just 14. Today, we are like sisters."
Savoring cookies on a pink-mauve couch at Lee Youngman Galleries in Calistoga, California, the two women are reminiscing about their lives and passion for art. When asked about their ages, they pause to think.
Jane: I'm 86. Betty: No, you're not. You're 87! Jane: Not yet! Betty: Then I'm 86, too? Jane: Of course! We are only three months apart. Betty: I thought I was going to be 88. Now I feel better. Jane: What year is this? Minutes later, a third member of the "art" musketeers arrives. Barbara LaFranchi lives in Calistoga, on a ranch a mile from Jane. Now 78, she calls herself the kindergartener of the three. Ranch wives Jane and Barbara met in the 1970s when mutual friends hosted weekend parties. Now widowed, they participate in the CattleWomen service organization and enjoy their art jaunts.
Meanwhile, Betty Ballentine, now married 61 years, works seven days a week as a bookkeeper at family-owned Ballentine Vineyards. Betty connected with Barbara through Jane in the late 1990s. Over the past two decades, this trio has met often to admire and purchase works at Lee Youngman Galleries and attend art shows and auctions.
---
WA&A: What inspires you to collect art?
Barbara: It started with my mother having gone to a college of arts and crafts. She had paintings. We had oils of relatives. Today, if I see something I like, I buy it. These days, it is watercolors I enjoy. Betty: I like pictures in my house, and I happen to have a house with a lot of walls. I just like pictures. Jane: I'm the same way. I built my new house with lots of blank walls so I could fill them with paintings. They fill me with peace. I open the doors of my guestroom to just look at them.
---
WA&A: What was first work you purchased, and what made you choose it?
Jane: Around the mid-1970s, it was during an art show at Clos Pegase Winery and the painting was by Beverly Carrick, of blue sky, blue sea with a house against the hill, and a guy was on a horse. My husband was a cowboy rancher. I pictured that guy as my husband coming home to me every night. Barbara: It was 1999, and I went to Bennett Lane Winery and artists got together and painted something during the day and had an auction at the end. I went with Jane. The painting was of a fall sunset. I bought it because of the colors more than anything else. Heinie Hartwig is the artist. Betty: Mine was from the Calistoga Fair from Ruth King, and it was a floral. Floral is my favorite. Since then, I have purchased three oils from her.
---
WA&A: What is your most beloved piece?
Barbara: I have two pieces that have been in my family. They are from 1885, Aunt Bessie and the other is of Aunt Blanche; both are children's portraits. They were done in New York and passed down to me. People have offered to buy them. I told them my relatives are not for sale. You've seen Bessie, right Jane? Jane: Oh yes. Betty: Right now for me it's Rainbow Garden Melody, by Gail Salituri, and it is in my family room. It is a meadow with a pond and flowers, and it is just gorgeous. I sit there and look at it. It is just so peaceful. Jane: I have five most-beloved pieces. The first is the one I talked about earlier where I see my husband in it. Then I have one [by] Charles White with a pond and gazebo and beautiful flowers. Paul Youngman painted a mission, how many is that? One is Beverly Carrick of an Indian gal. The last one is of my stallion, and I got it for a wedding present. It was special because he died short of his 30th birthday. They all make me feel good. Barbara: The vineyard and road scene by Paul Youngman. I have always been a country person, and a scene in San Francisco doesn't appeal at all. I am still living in the country. When it's gloomy outside, I can look at my cheery-looking artwork.
---
WA&A: Which is the one that got away?
Betty: The Golden Gate painting by Paul Youngman. It was unbelievable. We all went wild over it! I just could not afford it. Jane: I would say the same thing. That Golden Gate Bridge was the most fabulous painting I ever saw. I had no room for it in my house. The workmanship was incredible. Barbara: There was one that Paul [Youngman] did, and it was a vineyard scene and trees, and it was very large and similar to what I already had. I did not have enough wall space for it. I have to be very careful.
---
WA&A: Where do you imagine your collection 100 years from now?
Jane: My friends want my paintings. One is going to Mexico, one to Colorado and one to Vancouver. My nephews have already picked out a bunch of them. Most will go to my niece and nephews, and they will sell what they don't want. Betty: I hope my paintings will go to my grandchildren who are 21, 17, 16 and 14. But I don't think they are into that kind of thing right now. I would hope their parents appreciate them. Barbara: I hope the two women [Aunt Bessie and Aunt Blanche] will stay together and go to my grandchildren. And 100 years from now, I won't be here, but I want to keep the art in the family.