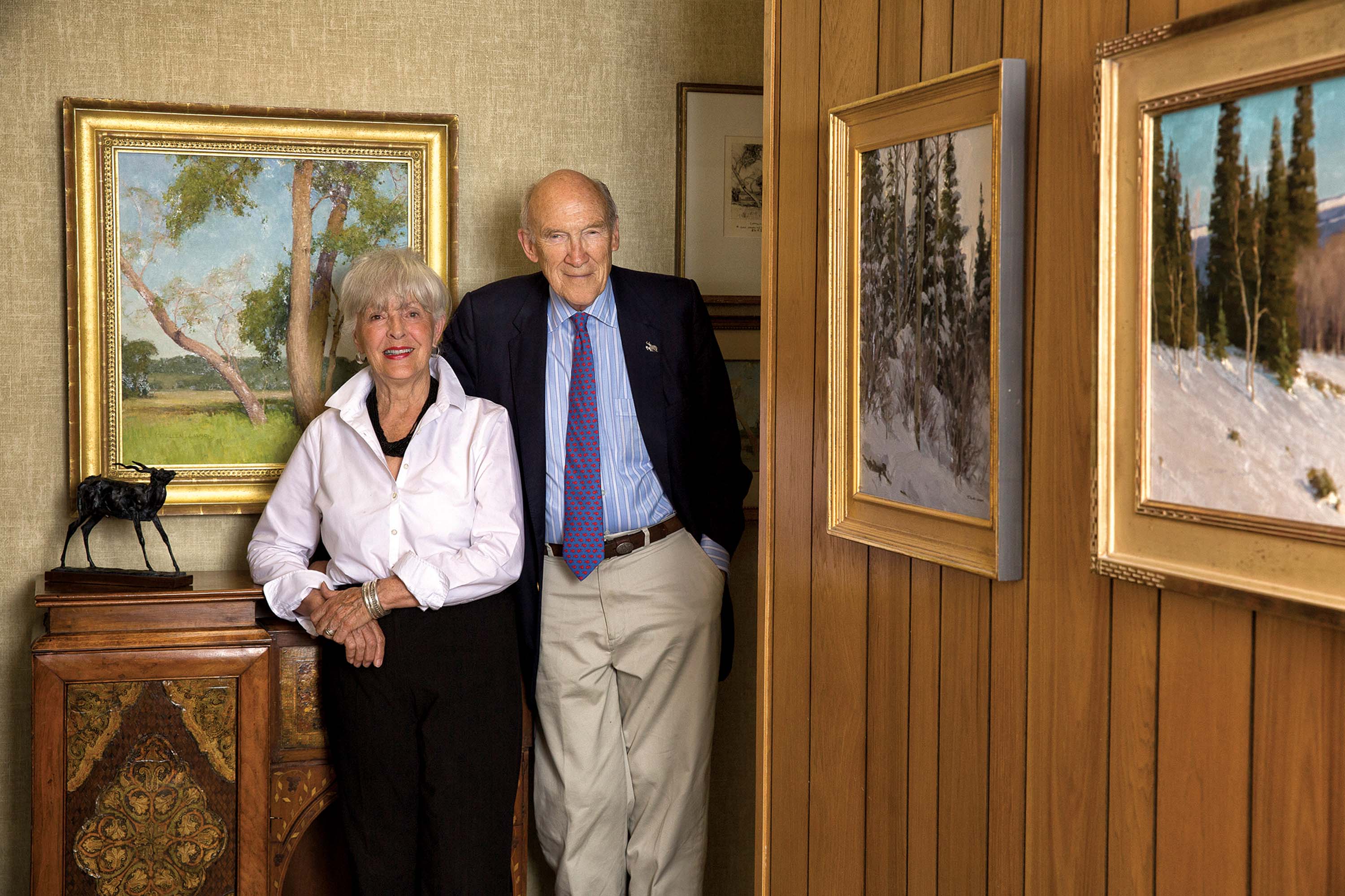 04 Aug

Collector's Eye: Ann & Alan K. Simpson
---
Ann Schroll Simpson and her husband, Alan Kooi Simpson — the former U.S. senator from Wyoming — say they cannot imagine life without art. Stories about paintings and sculpture are woven into the tapestry of their rich family histories in Wyoming. They color the memories of public service in Washington, D.C., and function as touchstones to a long parade of people and places they've known across generations. And art, too, grounds the Simpsons in their identity as Westerners.
The Simpsons have long been champions of the Whitney Museum of Western Art in Cody, and down the street is the Simpson Gallagher Gallery, founded by their daughter, Susan. If it isn't obvious by now, art is never far away from the heart of this clan.
Mr. Simpson is a well-known figure in American politics, having served 18 years on Capitol Hill (1979 to 1997), much of it as Republican whip under U.S. Senator Bob Dole. All along, Simpson was a devoted supporter of the National Endowments for the Arts and Humanities. The character of a free and vibrant society, he says, is mirrored in the artistic expression of its people.
The belief that art can serve as a powerful glue for bringing people from all walks of life together was passed down by Alan's father, Milward L. Simpson, who was both a U.S. senator and governor of Wyoming.
"For me, politics is barbaric and if all you're after is politics, then you are leading a hollow and barbaric life," he says. "To get through it you have to have the softening agents of life that you find in the arts — books, theater, film, the performing and visual arts. That's what Ann and I have turned to over the years, both here in Cody and wherever we go."
---
WA&A: What inspires you to collect art?
Ann Simpson: We love art and we love having it on our walls, always have. My granddad was an amateur artist. We have some of his paintings — watercolors — downstairs. Whenever I smell turpentine, I think of my granddad. Alan Simpson: We, too, had art around us growing up. While my dad was an attorney and involved in politics, my mother had an artistic mind. She made sketches and played the piano, organ, mandolin and violin. My mom long ago told people that one day we in Cody were going to have a little art colony out on the edge of town near the Buffalo Bill statue. Some didn't believe it could happen. Well, by God, she and others worked toward that goal and eventually it became the Whitney Museum at the Buffalo Bill Center of the West.
---
WA&A: What was the first work that you purchased and what made you choose it?
Ann: We bought a painting titled Winter Evening in the Three Peaks by an unknown German artist while we were newlyweds. We paid a total of $325 for it during the 1950s. We bought it because it reminded us of Wyoming and we were feeling homesick. Alan: There is a difference between major-league collecting and enjoying. We don't collect big-time stuff — never had the money. That's why we love going to museums. We do have a couple of little works by [Edward] Borein and [William] Gollings that we inherited from our folks, but nothing major.
---
WA&A: What is your most beloved piece, and why?
Alan: For me, it's the Gollings. It belonged to my grandparents Peter and Mary Kooi. After my granddad died in 1932, it came into my folks' hands and hung in their home. When they died, my older brother, Pete, and I were going through their things and I told him that he had first pick. He said, 'Yeah, okay, I really like that Gollings, but I know you enjoy it more than I do, so you take it.' That artwork has great meaning to me not only because it was passed down through my family but my brother letting me have it was a gesture of pure love."
---
WA&A: At what point did you realize you were collectors?
Ann: When we ran out of wall space! We've come to know all of the artists who are represented in Sue's gallery and it's been fun to acquire their work when we can.
---
WA&A: With which living artists would you most like to have dinner?
Ann: I would start with Tim Lawson because I'd like to chat with him about the new works that'll be in his show at my daughter's gallery. Then I'd add painter Jamie Wyeth, whom we met through our friendship with [the late U.S. Senator] Ted Kennedy. And I'd include Geoff Parker and sculptor Walter Matia.
---
WA&A: If you could be or meet any artist in history, who would it be?
Alan: Maxfield Parrish is one who comes to mind. Besides being a great painter, he was one of the great American illustrators. Ann: I would like to have been or met John Singer Sargent. He was the most admired artist of his day and influenced so many others.
---
WA&A: What was the one that got away?
Alan: It was a work, a tipi scene, by Joseph Henry Sharp. We were in Oklahoma and could have picked it up for around $11,000 but we didn't have the money.
---
WA&A: Where do you imagine your collection will be in 100 years?
Ann: Hopefully scattered among the great-grandkids and their families. Alan: It's easy to get emotional about art. Just like I got a little teary just now talking about the Gollings. Art connects you to people and places that have been important in your life.