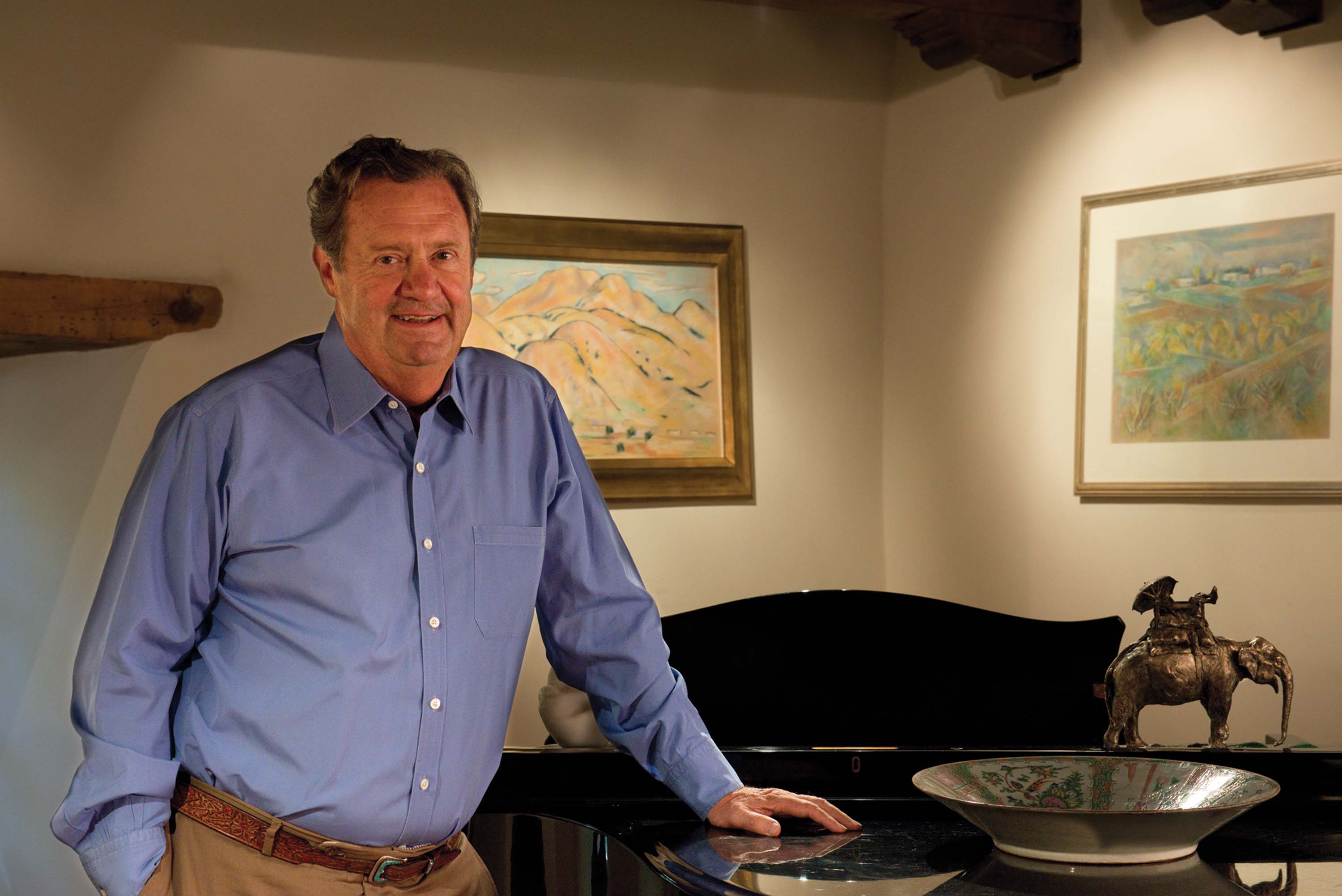 19 Oct

Collector's Eye: Gerald Peters
---
Known for his 8,000-square-foot, museumike gallery in Santa Fe, New Mexico, his elegant exhibition space in New York and his monumental presence in the Western art world, collector and gallery owner Gerald Peters not only surrounds himself with art, he ensconces himself in beautiful surroundings.
Throughout summer, Peters can be found at his home in the lush valley around Jackson Hole, Wyoming. In the shadow of the Tetons and surrounded by meadows, Peters' home is built alongside a stream that provides drink to the occasional moose that wanders through or any of the six packs of wolves that live nearby. "It's the wolves that drive moose into town from the parks," he explains. Wherever Peters goes, he immerses himself in the life and beauty that surround him.
In 1972, the Gerald Peters Gallery was established in Santa Fe. Since then, Peters has become known internationally as a leader in American art of the 19th and 20th centuries specializing in Western art, paintings of the Taos Society of Artists and the Santa Fe Art Colony. Peters' Santa Fe Art Auction, held each November, offers a selection of sought-after Western art. He also partners with Trailside Galleries for the Jackson Hole Art Auction held each September during the Jackson Hole Fall Arts Festival.
In their Wyoming home, Peters and wife, Katie, have chosen some of the heavyweights of Western art to grace the walls: W.R. Leigh, Karl Bodmer, Charles Schreyvogel and Charles Russell are among the painters. An impressive and large collection of Western bronzes fills the space as well. A few contemporary artists hold forth with their predecessors, including Tucker Smith and Robert Bateman.
In their Santa Fe home, the Peters' hang artists from the Taos School including Joseph Henry Sharp and Eanger I. Couse, as well as early Santa Fe Modernists Marsden Hartley, John Marin, Stuart Davis and one of the most famous, Georgia O'Keeffe.
For Peters, his love of art has been a natural pathway to collecting fine art. Equally, Peters enjoys helping others build a collection of their favorite artists. His gallery includes works by American Modernists, American and European Impressionists, the Ash Can School, the New York School, contemporary art, traditional and Modern sculpture, and vintage and contemporary photography.
---
WA&A: What inspires you to collect art?
Gerald Peters: My grandfather inspired me; he collected art. He bought directly from the Russian artist, Leon Gaspard [1882–1964], who came to America and lived in Taos. He garnered a modest collection of Gaspard's, which I still have today. He was buying during the time that Jane Hyatt had the Village Gallery. She dealt in many early New Mexico artists in the 1960s and 1970s. She was a great friend of mine and even called me two weeks before she died to say goodbye.
---
WA&A: What was the first work that you purchased and what made you choose it?
GP: An Edgar Payne; I fell in love with his work. I like art and feel I am a natural collector. It feels normal for me to collect art and it feels normal for me to deal in art, so I do both.
---
WA&A: What is your most beloved piece, and why?
GP: One great Georgia O'Keeffe painting that came directly from her. I worked with her for 10 years, from 1976 to 1986, never taking a commission. It all accrued and I earned from her a beautiful New Mexico painting. Actually, I was buying her works earlier; around 1973 and 1974. I was a collector then.
---
WA&A: At what point did you realize you were a collector?
GP: I was a collector when I was a child — I liked to collect coins. I came by collecting naturally … marbles, whatever I took an interest in.
---
WA&A: With which living artists would you most like to have dinner?
GP: I've had many fabulous dinners with Wayne Thiebaud and with Georgia O'Keeffe, and many others. Opportunities are ripe to be with artists and enjoy their company.
---
WA&A: If you could be any artist in history who would it be?
GP: I would be Picasso or Cézanne or Matisse, because they created the greatest languages. I believe that every great artist creates a new language, that's why he or she is great. They are not a great artist if they don't create a new language.
---
WA&A: What was the one that got away?
GP: There was a Cézanne, a Degas and a Picasso, and many more. Unfortunately, more than one got away.
---
WA&A: Where do you imagine your collection will be in 100 years?
GP: Greatly dispersed. It takes new collectors to continue the appreciation of art. At the end of the day, it's those who love the art that will keep it going.