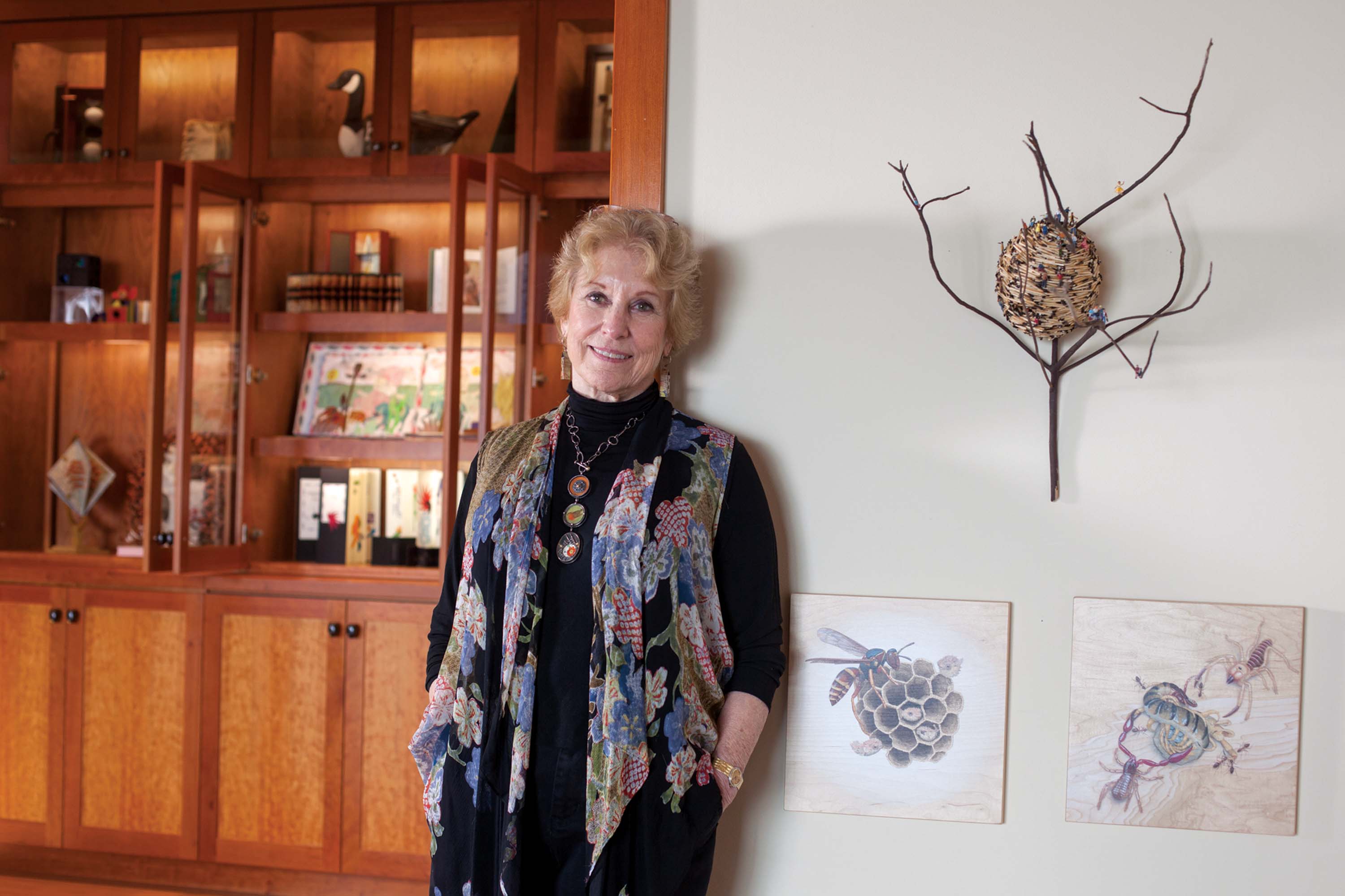 04 Aug

Collector's Eye: Cynthia Sears
---
When Cynthia Sears moved from California to Bainbridge Island, Washington, in the 1980s, she quickly became enamored with the art of the Pacific Northwest. "I couldn't believe the art that was being made here," says Sears, founder of the newly opened Bainbridge Island Museum of Art. "People would tell me about artists and I'd ask 'Where can I find them?' And they'd answer 'Umm … I think there might be a show next year.' I became very frustrated that I couldn't see the works of these local artists."
After many years of dreaming, planning, fundraising and building, the new $12.9-million art museum opened its doors in June. Located just steps away from the Bainbridge Island Ferry Terminal, with service to downtown Seattle, the museum's mission is to highlight local and regional artists.
"When a painting is finished, you put a frame around it," Sears says. "To me the work of our region deserves a frame. And that's the museum."
While she enjoys collecting all different types of art, Sears has a particular passion for 'artist's books' — pieces of art that deliver information progressively, like a book. And while she discovered art "later in life," she can't imagine life without it.
"It's not as important as breathing, but it comes pretty close," she says.
WA&A: What inspires you to collect art?
Cynthia Sears: Seeing something that is so beautiful or provocative or interesting or funny that the thought of not being able to see it again makes me ache inside. It's simply falling in love with pieces and not being able to do without them. I prefer narrative pieces with a story involved and often the art allows me to see something that I don't see in my ordinary life.
WA&A: What was the first work that you purchased and what made you choose it?
CS: A piece by Liza vonRosenstiel, and it's called The Navigator. She used a yellow rain slicker as the canvas and painted a sea scene on it. One sleeve depicts a boat at rest, the other sleeve is a boat in a storm. It never occurred to me that I was going to buy art, but I walked into the Davidson Galleries in Pioneer Square [in Seattle] and saw the piece and couldn't believe it. It was over $500 and that seemed like a lot to me, so it took me awhile to decide to get it. I kept going back and visiting the piece and each time I'd see it, I'd fall in love with it all over again. Finally, by the end of the month, I bought it.
WA&A: What is your most beloved piece and why?
CS: In my teens I bought a book in England at a used bookstore. It's a friendship book from the early 1800s and it belonged to a young woman named Emily. Back during that time period, whenever friends would come over, they didn't just drop by for an afternoon, they stayed awhile. It was expected for guests to write a poem or do a drawing or make up a riddle on their page of the friendship book. In the mid-1970s, I decided to have the book repaired because the pages were falling out. It was recommended that I go to a bookbinder in Los Angeles named Frank Buxton. We began dating and for the first six months I thought all he did in life was bookbinding. I didn't know that he had a secret life as a writer and director of television comedies. He did a beautiful job repairing the book and gave me a very good price. (Among other projects, Buxton worked on "The Odd Couple." Sears and Buxton have been married for more than 30 years.)
WA&A: At what point did you realize you were a collector?
CS: I think that if you discover you've bought three of something in a relatively short amount of time, you are a collector.
WA&A: What was the one that got away?
CS: There are too many to count. I can safely say that I've never regretted any purchase I have made, but I've had infinite regrets for the ones I didn't buy. I always hope that I will find out who purchased the piece and that they will live somewhere around here and I can become friends with them and see the art again. I joke that I joined my book club because so many of the members have Gayle Bard paintings and I can visit her art. But it's not really a joke.
WA&A: If you could be any artist in history, who would you be?
CS: I would rather be the person who discovered the artist than be the artist. I think artists lead very difficult lives. Lots of times the realization of their talent is painful. I don't think I have the internal stamina to be an artist. They see things too clearly and too intensely. I'm too much of a coward.
WA&A: Where do you imagine your collection will be in 100 years?
CS: My children have chosen one or two paintings they would like and everything else will be left to the Bainbridge Island Museum of Art. The museum can decide to display the art, or sell the art and purchase other pieces with the money.