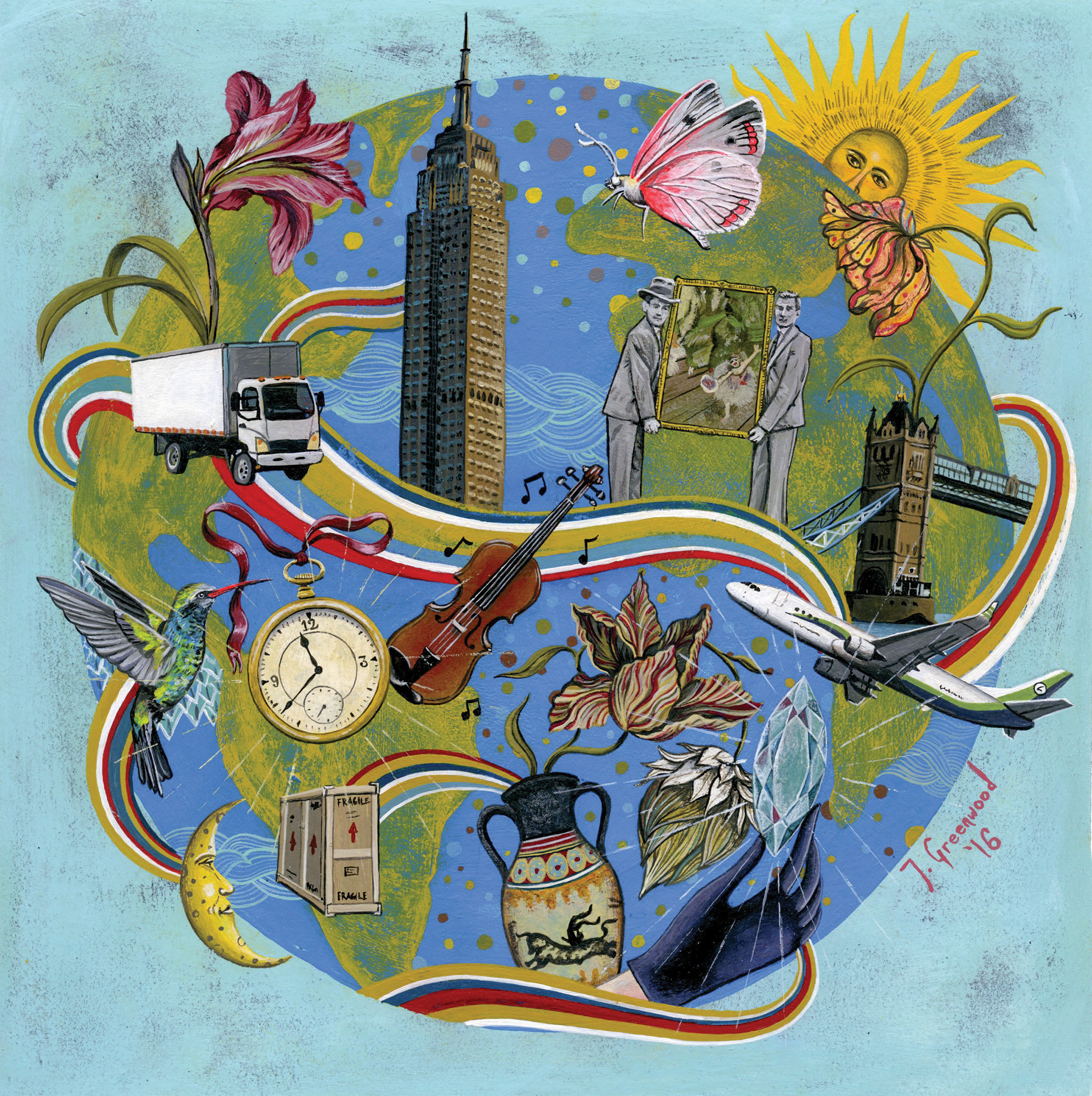 11 Jan

Collector's Notebook: Art on the Move
---
When a San Francisco Bay Area art collector stumbled upon, fell in love with and ultimately purchased a valuable sculpture while traveling through London, the first thing he did was call Greg Gahagan. As the vice president of Ship Art International, Gahagan immediately set the wheels in motion to safely get the piece to the client's home.
After looking at images of the artwork and studying the fragility, value and the client's timeline, Gahagan reached out to a trusted London-based agent to coordinate proper packaging — an oversized wooden crate in this case — and arranged to have it freighted in a temperature- and humidity-controlled airplane. Upon landing, it was picked up, cleared through customs and delivered to Ship Art headquarters. "It was a high-value sculpture; the piece deserved to be handled in the best way possible," says Gahagan, whose company is based in San Francisco, California, and Denver, Colorado. "When it left my agent's hands and got into mine, it was a matter of hours."
In addition to galleries and collectors, safely transporting artwork is also important for museums, which often rely on traveling exhibits to supplement their programs. Take the Women of Abstract Expressionism exhibit at the Denver Art Museum (DAM), which features a collection of 50 major paintings from the 1940s and 1950s by female artists such as Mary Abbott and Elaine de Kooning. It closed at DAM in September 2016, was displayed at the Mint Museum in Charlotte, North Carolina, through January 2017, and then traveled to the Palm Springs Art Museum where it will be exhibited from February 18 through May 29, 2017.
Traveling exhibits are a win-win, as museums are able to share meaningful cultural collections with a wide audience and viewers who might not otherwise see them are let in on the valuable experience. But did you ever think about how the art gets from one place to another? Whether it's a complete exhibit or a solo piece being shipped to a collector, there's a lot of work involved in the transportation of art.
But not all artwork needs the same level of care, Gahagan explains, and art shippers range from those handling basic shipping needs to those like Ship Art that offer greater levels of security and handling, including courier and shipping services, packaging, storage and installation, depending on the client's needs.
"There is a place for all of those levels, but you have to know them and be comfortable with what you're giving them," Gahagan says. "Maybe the stuff you've been dealing with is art from a craft fair with prices from $250 to $2,000, and now you've found a Pre-Columbian ceramic. The shippers you've been working with might not realize that this piece needs a different level of love."
Many museums will only work with highly trained companies such as Ship Art. Brenda Kornick, collections and exhibitions director for the C.M. Russell Museum in Great Falls, Montana, oversees shipments for exhibits, such as the those that occur during Western Art Week, a weeklong celebration of Western art that attracts thousands to Great Falls every March for auctions, exhibits, quick draws and more. "A fine art shipper is trained in fine art handling and packing," she says. "Their vehicles have special shock absorbers and are temperature and humidity controlled; they're made to handle art. And there's higher security with two drivers. That's how we transport all borrowed art."
Collectors and galleries, on the other hand, might use a variety of shippers, depending on their specific needs. Spencer Rank, owner of Teton Art Services based in Jackson Hole, Wyoming, serves as an agent for large fine art shipping companies such as Ship Art, and also handles art on a local level throughout Jackson Hole, as well as Big Sky, Montana, and Sun Valley, Idaho. With a building boom in these mountain towns, much of his work comes from interior designers. Rank will receive shipments, store art and handle installations when the time comes. "Proper handling is crucial; there are certain ways to hold paintings or other works." Rank explains. "We also have tried every sort of drywall anchor, can locate studs in no time, and if, say, art has to be hung in a stairwell, we know exactly what to bring."
When it comes to shipping art, there are a number of factors, and depending on the value and nature of the artwork, sometimes it's best left to the experts. "In some cases, we're dealing with the most expensive works for the biggest museums and collectors," Gahagan says. "They want to know it's going to end up at the museum or house with no problems."
---
Tips for Art Transportation
---
Packaging
Pack to Survive
Greg Gahagan explains that once a package hits a service like FedEx, it's thrown in with millions of others, tossed around and stored under heavy loads. "There's nothing wrong with that system, you just have to pack it to survive that system," he says.
Cardboard vs. Crate
Spencer Rank typically quotes packaging for clients in two ways. "One is for double-walled cardboard to be shipped with a fine art shipper who will handle it properly, and the other is to build a wood crate and send it with FedEx. If you have a 6-by-8-foot painting, it's probably cheaper to use the cardboard and the fine art shipper because building a wood crate for that size can be very expensive," Rank says.
Insurance
Company Insurance
Gahagan explains that insurance can be covered through the fine art shipping company or through the collector's personal insurance policy. "If it's insured through us, it's taken care of from door to door, wall to wall," he says, explaining that some clients don't have time to add a piece onto their personal policy, so they opt to pay extra for insurance through the company.
Private Insurance
Some clients opt to keep the traveling pieces under their own insurance policies, declining the art shipping company insurance. "If they decline our insurance, our limit of liability is low," Gahagan says. "Some clients have a policy that covers their collection, and if lending, they have a rider that covers it not only in the home but in transit as well."
Choosing an Art Shipper
Do Your Research
Gahagan recommends doing some research. "Call local museums and galleries and ask who they use," he says. "Based on that information, call those companies and quiz them, find out the level they are working at."
Pay a Visit
If you are doing this on a regular basis, go visit them, Gahagan suggests. "They might have a great website, but they're working out of their garage. Make sure the level they are working at matches your expectations."
---