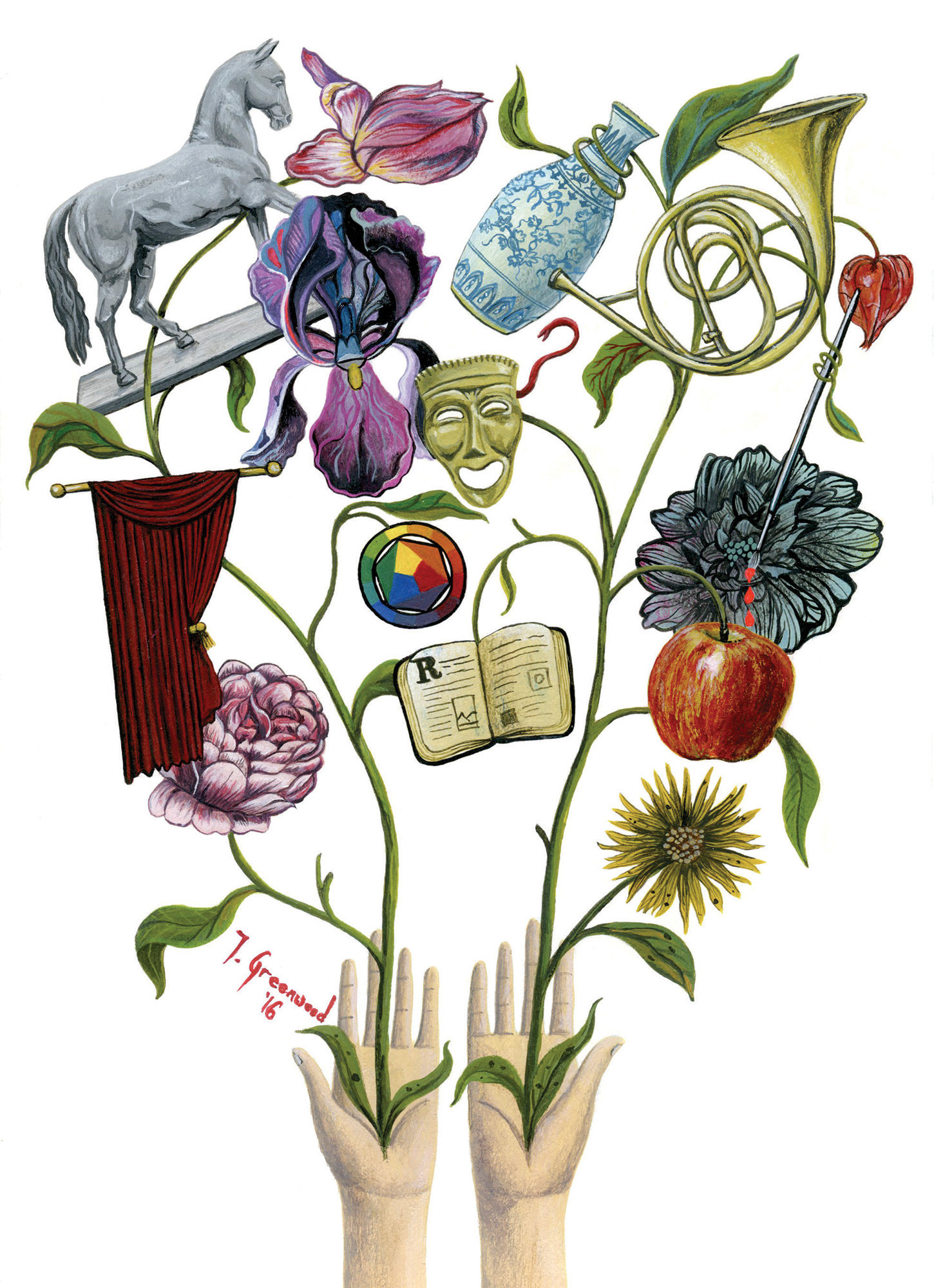 17 Nov

Collector's Notebook: Art's Impact Through Philanthropy
---
Due to the generosity of others, the art world has prospered in a variety of ways. Patronage in the arts can be found as far back as medieval times, when religious or royal figures financially supported artists, sculptors and musicians.
Today, fine artists continue to find support in the organizations that champion them. And, in a reciprocal manner, there are art events that raise money for philanthropic causes. In these cases, collectors can acquire works by well-known artists while giving to a charity that resonates with them as much as the art does.
Kyra Coates, of Boulder, Colorado, opened the online Infuse Gallery this past spring with a business model driven by her passion for creating global change. The gallery represents a number of accomplished artists, including Marika Popovits, Robin Ross and Anne Fieke Tweekunst. For each piece of art sold, a percentage goes toward a partnering nonprofit organization. The gallery splits the sale price with the artist, and the artist determines what percentage to give to the nonprofit. Whatever the artist decides, the gallery will match, and many artists choose to donate 20 percent, Coates says.
Partnering organizations are the Central Asia Institute, which has a mission to educate women in Central Asia; Creativity Explored, which provides art to those with developmental disabilities; and Reach Studio, which offers studio space and art lessons to the homeless. Along with career artists, she also represents artists who have excelled within these organizations.
"We live in a society where people as consumers are demanding more social responsibility and green and sustainable living, but so far it's not happened in the art world," Coates says. "The idea of the gallery was born by asking myself how we could make fine art into a tool for global change."
After working as a successful career artist for a number of years, Coates became disenchanted, feeling like she wasn't making a difference. She went back to school, traveled and did humanitarian work for a decade before returning to art. And this time, she decided she would take a different approach. "I took what I learned from the nonprofit world and from working on my own art. I had this idea for a gallery where the artist is still creating for the sake of art, while having the opportunity to give back," Coates says. "People served through the nonprofits are empowered, and the artists are empowered." And, at the same time, the art buyers are empowered knowing they are contributing to a greater good while purchasing art.
Many of Coates' artists are well known, and they chose Infuse because of her forward-thinking business model. "All our artists are here because we're impassioned," she says.
The Coors Western Art Exhibit and Sale is another example of charity in the arts. Celebrating its 23rd year this January in Denver, Colorado, it is affiliated with the longstanding National Western Stock Show. Conceived by the executives of Coors Brewing — a large sponsor of the stock show — the idea was to infuse the annual event with Western art and culture.
"They hired a curator and a public relations person, and put together a board of people who really know about art," explains Rose Fredrick, the show's curator for the past 20 years.
Around the same time, the National Western Scholarship Trust was developed to provide college scholarships to rural kids in agricultural communities. The stipulation of the scholarship was that they needed to return to these communities to work after graduation, whether in agriculture, rural medicine or veterinary science. The show raises approximately $350,000 for the trust each year.
With a selection of established Western artists, such as Tony Angell, Duke Beardsley, Jill Carver, Barbara Van Cleve and Melanie Yazzie, along with more than 60 others, the Coors show is a collector's favorite.
"It's a really different niche in that it's more contemporary," Fredrick says. "We don't have historic Western art, but the art has to be saying something honest and truthful about the West and issues that surround the West today. We're able to attract collectors who, in my opinion, are looking at art from a different perspective."
And for many of the artists who participate and collectors who attend, the scholarship is part of the allure. "We are literally keeping the West alive with our show; these kids wouldn't have money to go to school without us," Fredrick says.
Fredrick also curates the relatively new Art for Horses show, which just celebrated its fourth year in mid-September and its first year at Parker Arts Center (PACE) in Parker, Colorado. With a focus on equine art in all mediums and styles and featuring many well-known artists, the goal is to raise money for Drifter's Hearts of Hope, which uses rescue horses to empower children with special needs, and The Horse Protection League, a horse rescue nonprofit.
Fredrick lured the event to PACE because she thought it would thrive there. "Parker is in horse country where people are committed to the cause, so they see this as a way to support that cause further," Fredrick says. "Then they can also acquire a great piece of art that speaks to them."
Fredrick thinks they will be able to donate a few thousand dollars this year, with the goal of raising more each year. "A wonderful crowd showed up, and it's really something we can build on," she says. "It's another thing too, when raising funds, at the end of the day it feels good."
---
Art for Charity Events
---
December 2016
Art for Animals at Fusion Art Gallery
Palm Springs, California | 760.832.7568 | fusionartps.com
All proceeds from this juried art exhibition support local Coachella Valley animal welfare organizations, such as SNIP, the Palm Springs Animal Shelter, The Living Desert, Animal Samaritans and the Humane Society of the Desert.
---
January 3
Coors Western Art Exhibit & Sale
Denver, Colorado | 303.291.2567 | coorswesternart.com
During this celebration of contemporary Western art, proceeds benefit the National Western Scholarship Trust, which provides college financial support to the next generation of agribusiness and rural medical leaders.
---
March 16 – 20
Western Heritage Artists: Footprints on the Trail
Great Falls, Montana | westernheritageartshow.com
On March 16, a quick draw and auction will be held to benefit K-9 Care of Montana. On March 18, during Art Competing for Causes, a silent and live auction will raise funds for cancer awareness, Grizz Biz Kids and Hobson BPA. Held during Western Art Week.
---
April 1
Art from the Heart
Phoenix, Arizona | 602.258.8100 | freeartsaz.org/events/art-from-the-heart
Free Arts for Abused Children hosts its annual Art from the Heart auction at Saks Fifth Avenue at the Biltmore Fashion Park. The auction features locally and internationally known artists, specialty cocktails and appetizers with proceeds funding programs that use the creative arts to help heal homeless, abused and foster care children.
---
April 8
Charity Art Show
Houston, Texas | 832.452.2391 | artbenefitsinc.org
Last year, this event exhibited work by four of Houston's up-and-coming artists for a sale that supports the Snowdrop Foundation, a charity that provides college scholarships to college-bound pediatric cancer patients and childhood cancer survivors. It also raises awareness and funding for childhood cancer research. Check the website for details on the 2017 event.
---
June (Date TBD)
Stampede Western Art Exhibit & Sale
Greeley, Colorado | 970.356.7787 | stampedewestern.com
Artists from around the U.S. showcase more than 200 works, raising upwards of $1 million in sales. Revenue from purchases of artwork funds scholarships for high school seniors.
---
Fall (Date TBD)
Art for Horses
Parker, Colorado | 303.805.6800 | parkerarts.org
Featuring equine art by nationally recognized artists working in a variety of mediums and styles, this show raises funds to benefit two Colorado horse rescues: Drifter's Hearts of Hope and The Horse Protection League.