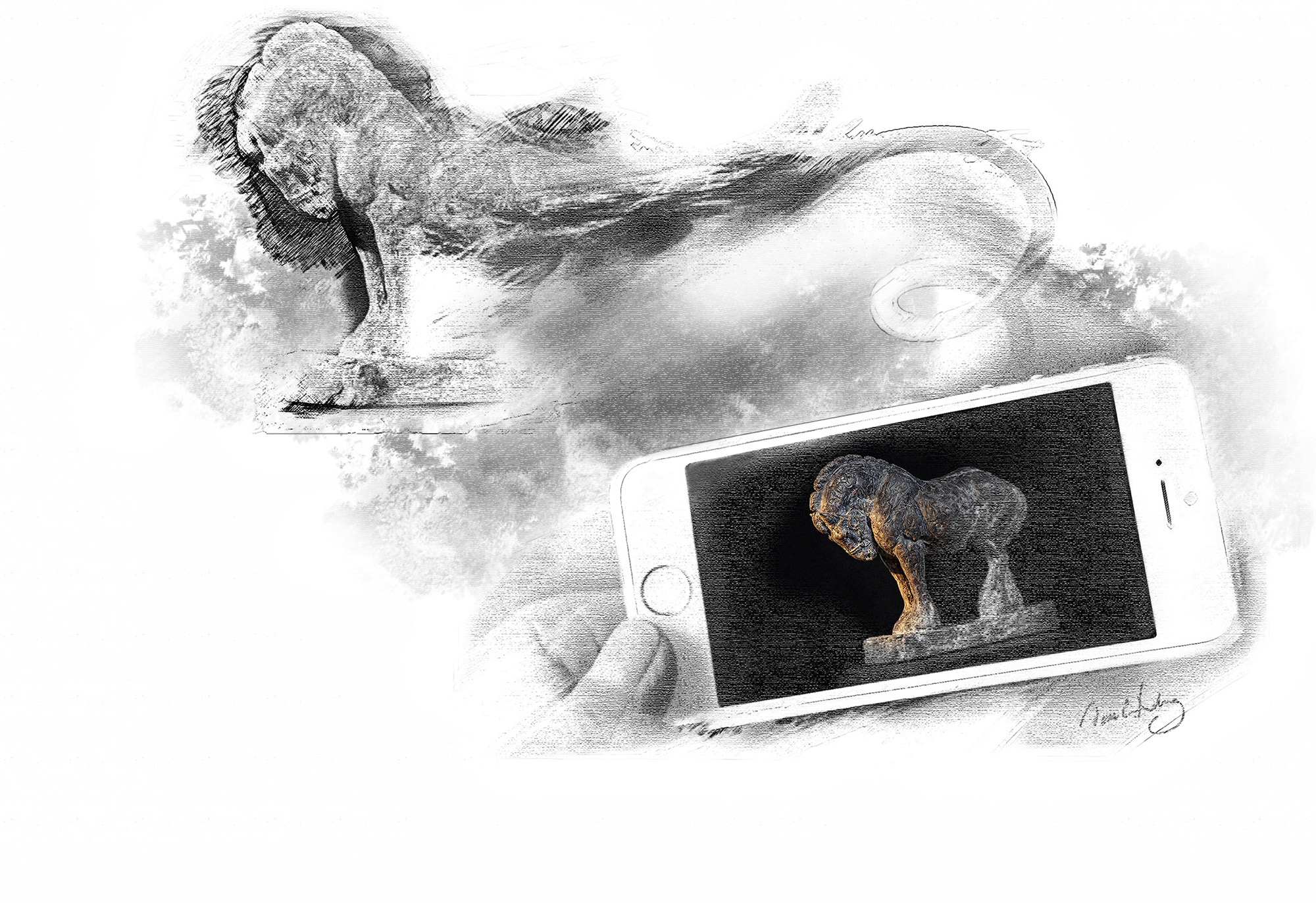 Illustration: Dana Aaberg | Sculpture: Rod Zullo
17 May

Collector's Notebook: Bidding from Afar

For collectors, there's nothing quite like the exhilaration of a live art auction. After the auctioneer's gavel booms, closing a sale, the room grows silent for the introduction and display of the next lot. The auctioneer launches into the bidding process with the rhythmic repetition of his voice, numbered paddles rise, people look around to see who's bidding on what. There's a palpable feeling of nervous anticipation until the gavel closes the sale once again. Then, there's a hum of chatter — a buzz in the room — and the auctioneer moves on to the next lot.

"It's real high energy," says Mike Overby, partner with the Coeur d'Alene Art Auction, which sold more than $22 million in artwork in 2015. "A painting might sell for double the high estimate and everyone stands up and claps. Auctions are fun; people like the action."

But with new online platforms built for absentee bidding, collectors worldwide can exchange the paddle for a mouse click and bid on artwork from the comfort of their homes. Phone bidding, which has been around for years, also remains highly popular, and the old-school method of mailing in a bid sheet is used today, too. Absentee bidding at art auctions dates to the turn of the century, Overby explains. The trend is partially driven by the globalization of art and collectibles markets, but it also reflects a preference for anonymity and convenience among bidders.

"We still have a monster crowd at our event — about 800 people fly in, whereas many auctions have 100 to 150 people in the room. But our clientele is based worldwide, and a lot of people can't get out to the sale," Overby says, noting that the next auction will take place July 23 in Reno, Nevada.

It's safe to say that art collectors tend to be, ahem, more mature, and perhaps not as comfortable with today's online world. "Demographics would prove that fine art in general is something that people collect later in life, so it seems that we're getting more and more online bidding as people are getting more comfortable with adopting technology," Overby says.

Brad Richardson, a partner with the Scottsdale Art Auction, which took place in April and realized roughly $8.8 million in sales, explains that art collectors are on average 55 years of age and older, and most have kids out of college. "I doubt that we have an 80-year-old collector using the Internet to bid, but you never know," he says. "Each year we're seeing more Internet activity."

No matter the age, most seasoned collectors understand the process of absentee bidding. Many auction catalogues include a form — usually available on auction websites as well — that bidders fill out and mail, fax or email back. Bidders list their maximum bid per lot, and designated auction representatives present these bids during the live auction. "Some people like this method," Richardson explains. "They feel like they've drawn their line, set their bid and can walk away with no temptation to bid up if they don't get the piece."

Reputable auctions also have a phone bank of sorts, a corner of the room where representatives take phone bids during the live event. In this case, bidders fill out auction forms found in the catalog or online, noting the lots they want to bid on. Instead of filling in a maximum amount, a representative will call them before their lot comes up, let them listen in and hear the pace of the sale, talk them through the happenings and bid for them.

"Phone bidding is very popular, and it seems like the slightly older demographic is still interested in this," says Jill Callahan, coordinator with the Jackson Hole Art Auction set to take place on September 16 and 17. The auction realized $6.5 million in sales in 2015. "We have a really skilled team of phone bidders, which is important because they need to know how to communicate very clearly with the bidder."

According to Overby, even with new technology, phone bidding is here to stay. "Some of our clients have been bidding by phone for 20 years," he says. "They like having someone on the other end telling them things like who's bidding against them in the crowd. I don't think it's going away; some might use the Internet for convenience, but phone bidding will always play a part."

And then there are emerging online platforms, which continue to rapidly improve since they were implemented in the early 2000s. For some auction houses, such as Jackson Hole and Coeur d'Alene, the bidder is able to see a picture of the artwork on their screen along with real-time bids. When they are ready to place a bid, they hit a "bid" button and a representative on the other end raises the paddle. Other auction houses, such as the Scottsdale Art Auction, live-stream the event, allowing users to watch the action, get a feel for the room and their competition, and hit the "bid" button when they are ready to make a move.

"I like to sit and watch an auction on the Internet and bid when I want, and they might get more out of me that way," Richardson says. "Say I'm watching and a piece is struggling, not reaching the numbers it should, I might jump in with a bid even though it's not something I was planning to bid on."

Overby wants to feature live-streaming of the Coeur d'Alene Art Auction in the near future. He believes that most auction houses will provide this service eventually. The online platform is a convenient way for hobby collectors to pop in on an auction and see what lots are going for. "It allows people to interface with the live auction," Callahan explains. "It's nice for collectors, and sellers are eager to see how consignments are performing, so they often follow along."

Aside from missing out on the action, a potential drawback of absentee bidding is that the bidder cannot see the artwork in person. But there are ways around that. The Scottsdale auction, for instance, has a facility where work is displayed for four weeks prior to the auction. The Jackson Hole auction also has a showroom at the downtown Trailside Gallery, so people can view much of the artwork throughout the summer."We have folks who work Jackson Hole into their travel, and they can stop in and take a look and then bid online during the live event," Callahan says.

Although absentee bidding is getting more convenient for art collectors, as they don't have to hop a plane to attend every auction, many would agree that it just doesn't have the same allure as being there in person, paddle in hand.

"The new apps and platforms are so easy to use that it's really caught on," Overby says. "But nothing can take the place of being at the sale live."
---
Tips and Tricks of the Absentee Bid
Depending on the medium, there are specific things that absentee bidders can do to ensure the process runs smoothly. Consider these tips from art auction professionals …
Bid Sheets
Fill out forms clearly, Callahan recommends. Although many auction houses will call to verify information, readable forms will ensure that representatives have all of the necessary information.
Consider authorizing a "plus-one increment," Richardson says. This means that you are allowing the representative to go one increment over your bid so you don't miss out by a hair.
Phone Bids
Be certain you have a good phone connection, especially if you are using a cell phone, and make sure you are in a quiet spot so you can hear the representative well, says Callahan. Perhaps provide two numbers in case one doesn't work well.
Internet Bids
You must have a good connection and high-speed Internet, Callahan says. You don't want to experience lag time when in a bidding war.
Most auctions charge a 3-percent fee for online bidding (Scottsdale Art Auction is an exception). Overby explains that the fee pays for the use of a third-party platform that executes Internet bids and runs live in the salesroom.