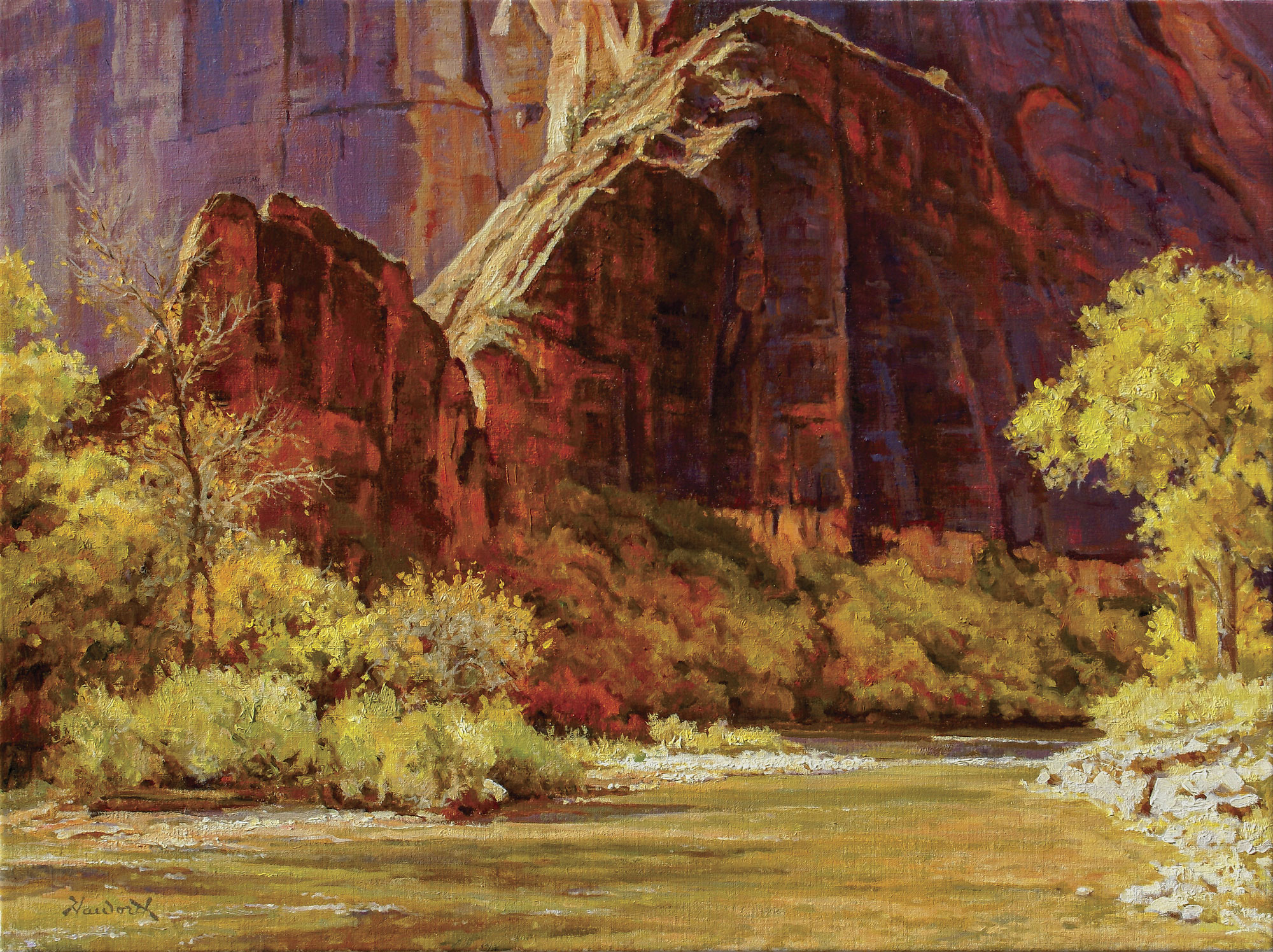 Mark Haworth | "Canyon Light" | Oil | 18 x 24 inches
19 Oct

Collector's Notebook: Building a Collection with Identity
---
You're on vacation and something in the gallery window magically beckons you in. Before you know it, you've fallen in love with that Gib Singleton bronze of a bedraggled sheriff. It reminds you of your late father who labored until the day he died. You seize the treasure, ship it home and realize you are hooked on Western sculptures.
For many collectors, the obsession starts with a piece that makes a connection to the soul. A Yosemite-at-twilight landscape or an oil painting of silent buffaloes on a snowy plain. Truly, the trick is understanding how to expand from one work to a beloved collection with an identity that reflects your taste and style.
Beth Lauterbach, owner of Scottsdale Fine Art, suggests collectors look to acquire "pieces that hit an emotional string." The rule in collecting art is a forever principle: Buy what you love, not what is deemed valuable at the time. If you buy a piece you are ambivalent about, then you will be saddled with something that may fall out of popularity or never increase in worth. It may even become an eyesore to you. However, if you completely adore the work now, chances are you will adore it for a lifetime. Instead of relying on the art market, you are determining the piece's value.
According to experts, research is imperative. When amassing a collection, educate yourself on artists, genres and current art values. "I always tell aspiring collectors to start by buying books before they purchase their first painting," says Mike Overby, Coeur d'Alene Art Auction partner in Hayden, Idaho. "For $50 bucks or so, it is the best way to get a basic understanding of an artist's work, both good and bad. This is much better than diving right in with limited knowledge and starting a collection in the wrong direction." That said, if you are a fan of a particular genre such as early California landscapes, peruse websites such as Artnet.com or AskArt.com, both legitimate sources for art purchases, auction information, artists' bios and more.
Art clubs can be excellent resources for both information and inspiration. The California Art Club of Pasadena, for example, was established in 1909 with a mission to educate and uphold the values of contemporary and traditional fine art. Its plethora of art activities and exhibitions give newbies a strong start. In June, for instance, the organization held a juried exhibition for the public with beautiful works from notable landscape painters including Charles Muench and Gil Dellinger.
Need another way to get up to speed? Engage with galleries. Lauterbach stresses that gallery experts represent a wealth of information just waiting to be tapped. "We love to talk about art," she stresses, "and we can find out for you what is going on. We have access to more artists than what we show in our galleries," she says.
In addition, go to museums and rub shoulders with docents and curators. Overby notes that visiting as many museums as possible helps a person get a feel for the type of artwork that moves them. Big-name institutions such as the Autry National Center in Los Angeles host art seminars and programs throughout the year. One recent talk, "The Urban Landscape," featured an evening of tapas and cocktails while exploring Latino arts and culture.
When getting started, consider where to house your collection and have a plan for how it can expand. Perhaps that antique saddle will drape well over the stair railing by the Clydesdale painting already in the landing. Lauterbach says that clients usually consider how newer pieces will blend into their surroundings and current collections. "People do pay attention to a color palette," she says. "Consider colors, patterns and even framing. You may have one large piece and later decide to add smaller pieces in the grouping with a story."
Be prepared during shopping excursions by carrying phone photos of your existing display areas or collections. Experienced gallerists are usually willing to bring a piece to display in your home if you live nearby. Meredith Plesko, owner of InSight Gallery of Fredericksburg, Texas, says it is common for her and other galleries to perform this service for customers and would-be customers. Plesko often emails her customers when a favorite artist has delivered a new piece to her gallery. For new collectors, she helps people to narrow down what they like and asks clients questions they may not have thought of themselves.
There are many ways to develop a thematic collection. You can collect with an eye for a time period such as the Old West, typically characterized by the second half of the 19th century. These collectors often saturate their homes with an assortment of items including guns, Indian headdresses, rugs, baskets and paintings. Perhaps you can narrow your focus to Native American women of the West and acquire related jewelry, purses and clothing. Define your focus even more and you can consider collecting items from a particular tribe.
A popular method of collection is to focus on geographical locations. If you like California landscapes and oceanscapes, look for galleries in tourist towns such as Carmel and Mendocino that carry those paintings. Likewise, if you prefer Hawaiian woodworking, head to galleries in Hawaii and get to know the artists there during art festivals or gallery open houses. "I have one client who will only collect pieces from Texan artists," says Plesko of InSight Gallery.
Single-object groupings can make for compelling collections. For artist Christine Brennan, of Ojai, California, antique telephones have been a source of joy as she has built special mounts for them on her dining room wall. Building a collection around a specific item can be fun because you are constantly on the hunt wherever you go. It also gives the collector a narrow focus.
Another way to build a collection with identity is to focus on a single painter or sculptor. If you can afford to buy an original, then follow that artist and track his other works down the line. "We have collectors who are particularly interested in specific artists," says Plesko. "We find that they are very knowledgeable on the artist's work and able to discern which pieces are right for them." At Plesko's gallery, several clients are enthralled with the works of Daniel Gerhartz, who paints landscapes, people and still lifes. "These collectors have anywhere from eight to 20 paintings by Mr. Gerhartz. They have seen so many of Dan's paintings in person that they know when the one that they need to add to their collection comes along; they do not hesitate."
Those in the art world encourage collectors to purchase originals. "With one-of-a-kind art, there is a quality about it that creates dimension. Original art always stands out next to the best lithograph or giclée," stresses Lauterbach. The more you saturate yourself in original art at museums and galleries, the more you can gain an appreciation for the aesthetics and develop a palate and sensitivity for what you like and what grabs you. There is no such thing as art that "you should buy," says Plesko. But your decisions should be well-informed.
"The most important thing is to buy the best examples of an artist's work that you can afford," says Overby of the Coeur d'Alene Art Auction. "If you have $30,000 to spend, you're better off buying a great Edgar Paxson watercolor than a very mediocre work by Frederic Remington of the same price." Those on a stricter budget should consider purchasing a lesser expensive piece of art from an up-and-comer, says Lauterbach. Talk to gallery owners to see who is turning heads in particular genres, such as still life or Native American. Collectors who want to build a significant collection with monetary value as well as being aesthetically pleasing can look to museums to see what artists are taken seriously by the art world. Museum representation lends significant credibility to any artist. Not everyone has to have had work at the Smithsonian, but to be in a museum gives you legitimacy, agree art consultants.
When you want to make a serious financial commitment after you decide you love the piece, know how much people are paying and which artists hold their value. In the historical Western realm, artists including Charles M. Russell, Frederic Remington, Frank Tenney Johnson and Thomas Moran are still in popular demand, says Overby. Often, but not always, work by deceased artists will continue to increase value. Overby notes that a Norman Rockwell painting titled A Scout is Loyal sold for $4.2 million to a private collector in July and a Frederic Remington painting titled Cutting Out Pony Herds fetched $5.6 million.
When you've got your heart set on a theme, experts warn that collectors must show self control and discernment. Don't buy the first thing you see out the door, they say. Develop your tastes and hone them well. "When creating a collection, be patient and knowledgeable and believe in your own vision," says Plesko. "Most great collections are not built in a few years but over time with each painting or sculpture being unique and special to the collector."
Overby agrees that patience has its rewards. "The finest collections I've seen around are usually the ones that were built up slower over the course of many years. Even if you have an unlimited budget, buying large numbers of works in a short amount of time usually isn't the best strategy."
Collector Mike Boyce of Reno, Nevada, can attest to buyer's remorse. "I did what every art collector does at the beginning. I was so anxious to broaden my collection. Instead of being calm about it, I was buying things that were not the best."
Today, Boyce has become more discerning. His current tastes veer toward Soviet Impressionists, Taos School art and contemporary art. And one of his joys is rotating his artwork around his home and workplace. "I love how you can move around paintings into another space and see how they change in appearance. It is a constant evolution." His advice to collectors? It is better to have 10 great paintings than 100 mediocre ones. "Be patient," he stresses. "Remember, good things will come."
As with any collection, know when to say when. "I have one client who has so much now he must fill in the small spaces between the pictures on the wall," says Lauterbach. "He tells me he can only buy paintings 8 by 10 inches or smaller."
When you run out of wall space, you may feel it is time to quit or buy a bigger home. Some collectors may tire of a particular theme and find that they are ready to move on. Whatever the reason, follow your intuition. And gallery owners stress that people should not lock themselves so much into a genre that they feel they cannot buy outside of it. "You may be eclectic in taste," says Lauterbach, "and that is fine."
As long as you enjoy your art, you don't have to compare your works with anyone else's. Have confidence that your unique collection is the perfect one because it carries with it memories and joys that only you will know.
---
Kathy Chin Leong is a freelance writer in San Francisco.