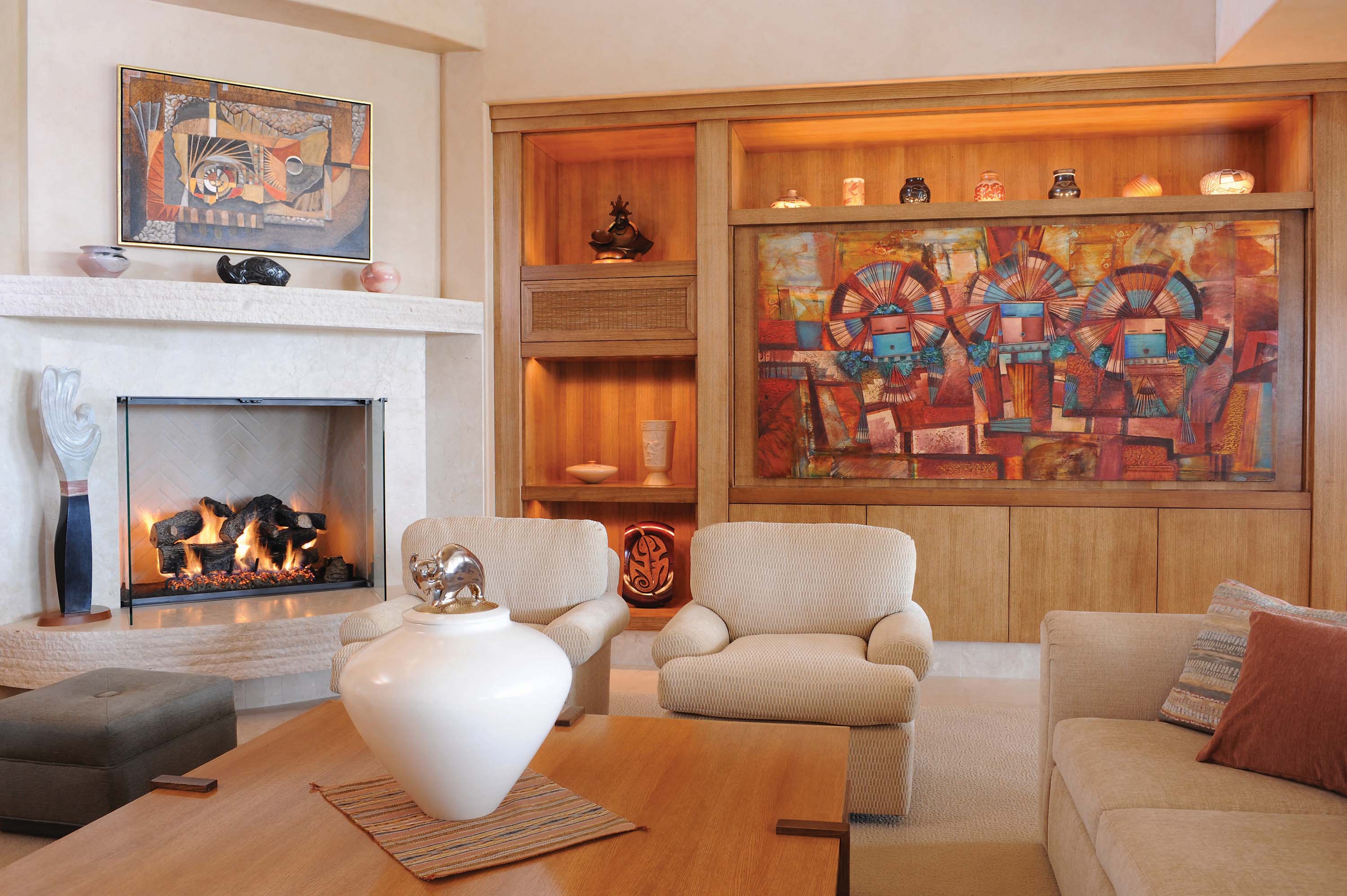 Proper lighting is vital to enhance a collection as shown in the custom shelving at the eagle home.
04 Apr

Collector's Notebook: Displaying Collectibles
---
When little Melodie Eagle returned from a field trip to the Hopi and Navajo reservations in Arizona, she was so excited that the fourth grader convinced her parents to go there on a family vacation. The following year, that trip to the Southwest would forever change life for Michael and Juanita Eagle. That was when the San Diego couple fell in love with Native American art and collectibles.
Since 1985, the Eagles have amassed more than 400 pieces of art, from bronze and stone sculptures, to Kachina dolls, rugs and tapestries, glasswork, paintings and pottery. Their daughter, now grown and married, has established her own collection of Native American art. According to Michael, his new 8,000-square-foot home was designed to highlight the couple's beloved treasures. Craftsmen carved niches in the dry wall and built custom shelves for the great hallway gallery. Electricians wired the house to support lighting fixtures with varying angles and intensities to enhance the assets of the different pieces.
Every room, except for the garage and laundry room, features a grouping of artifacts, a sculpture or painting. One gathering place, called the Kachina Room, is filled with dolls from Michael's Kachina doll collection — which totaled 115, at last count. Outside, stationed on the edge of an infinity pool, Turtle Mountain Chippewa, a 250-pound bronze sculpture crafted by Chippewa artist Bruce LaFountain, stands as the focal point of the patio.
"Sometimes it can take as long as two hours to give a house tour," says Eagle. "Some people are very interested in the art and others like it for the beauty."
When serious about collecting Kachina dolls, ruby-studded saddles or Native American mirror bags, private collectors like Michael Eagle are equally serious about displaying their treasures with the treatment they deserve.
Where and how the items will be mounted, and how to preserve the pieces to prevent fading or decay is essential to maintaining a prized collection. Every investment can look priceless when hung or set properly. According to Mary Schmitt, gallery owner of Cayuse Western Americana, in Jackson, Wyoming, to correctly hang an antique Navajo blanket or a ceremonial war shirt, for instance, the owner can suspend it on a wall with nothing else, so that there is no distraction.
Displaying three-dimensional items such as saddles or sculptures to see the piece from all sides can be tricky. To remedy that, collectors can purchase or custom order a stand or a glass cabinet. As a general rule, says Schmitt, you want the stand and cabinet to be simple and unobtrusive so the eye falls on the treasure.
An array of smaller items, including coins, arrowheads or belt buckles, can be housed in Plexiglas cases. And coffee tables with a clear glass tabletop are attractive options and increasingly popular. Make your collection appear luxurious by draping silk fabric in the background or use a contrasting background color to catch the viewer's eye.
When you own a consistent theme of artifacts, mix and match items, agree experts. In an historic stone home in Lampasas, Texas, artist Pablo Solomon has accrued Western and Native American artifacts for much of his life. He displays a framed circle of arrowheads above a pair of mound-builder pots along one wall. In another section of the house, he groups more pots, arrowheads and a 1940s painting atop a chest. "I have learned to rotate my artifacts from storage to display," he says. "Cluttering and covering walls with artifacts is fun at roadside museums, but in homes it is better to be uncluttered and have tasteful, balanced displays."
Other homeowners have customized their architecture to premiere their passions. Dallas, Texas, homeowners Duffy and Tina Oyster commissioned a stacked flagstone wall to cover a curved hallway. Random ledges of the flagstone intentionally protrude so they can display their collection of miniature paintings created by Taos Society artists. The subjects include New Mexico landscapes and Pueblo Indians, all of which feature vibrant colors. "Viewing the pieces from the context of a hallway is a personal experience because you can get up close as opposed to viewing the pieces across a great room where they would get lost in the architecture," says Kirsty Buchanan, associate director of Western art for Heritage Auctions in Dallas. She considers the display in the Oyster home "the perfect incorporation of art and design."
Buchanan adds that "savvy collectors pursue works that they like and that complement their personal taste. When exhibited in their home, which also reflects their taste, the result is a natural cohesiveness. Everything looks like it belongs."
According to Charla Nelson, co-owner of Manitou Galleries, in Santa Fe and Cheyenne, mirrors are an excellent way to show off items that feature a variety of decorative facings. In exhibiting a pair of beaded moccasins, for example, the owner can use a mirrored base and place one of the shoes upright and the other upside down to show what is underneath.
Gallery owners and interior designers recommend looking to uncommon locations for display. "In many houses in the West, people have lofty ceilings and open beams," Mary Schmitt explains. "Take advantage and hang that antique blanket on a rafter. In a two-story house, hang it across the railing."
Home railings are ideal spots to drape collectibles such as blankets, tapestries and saddles, if you know they will not be mishandled.
Private collectors often hire interior designers to assist in creating an ambiance to focus on their collections. A client of interior designer Pamela Pennington, in Palo Alto, California, asked her for custom gun racks and a glass case to brandish his rifles, handguns and antique dueling pistols. The guns are sequestered downstairs inside a steel vault, which also opens up to a small room with aged wooden doors and laid with terracotta tiles from an old church floor. The low ceiling, soft lighting and custom workbench used for cleaning artillery and casting his own bullets completed the look for this intimate gun room.
Pennington emphasizes that using the right type of lighting can make most any piece of artwork look fabulous. Low voltage lighting, with the MR 16 bulb, she says, is a gallery standard. And using framing projectors, a special type of lighting system, helps art owners cast the perfect beam width on their pieces.
When it comes to displaying collectibles, Buchanan of Heritage Auctions explains that owners shouldn't feel they have to turn their home into a museum. "Public institutions have an agenda to make the art an experience for people coming through, but for home collectors, the goal is not to impress the art historian," she says. "It is usually casual, not as calculated, [but still] very earnest."