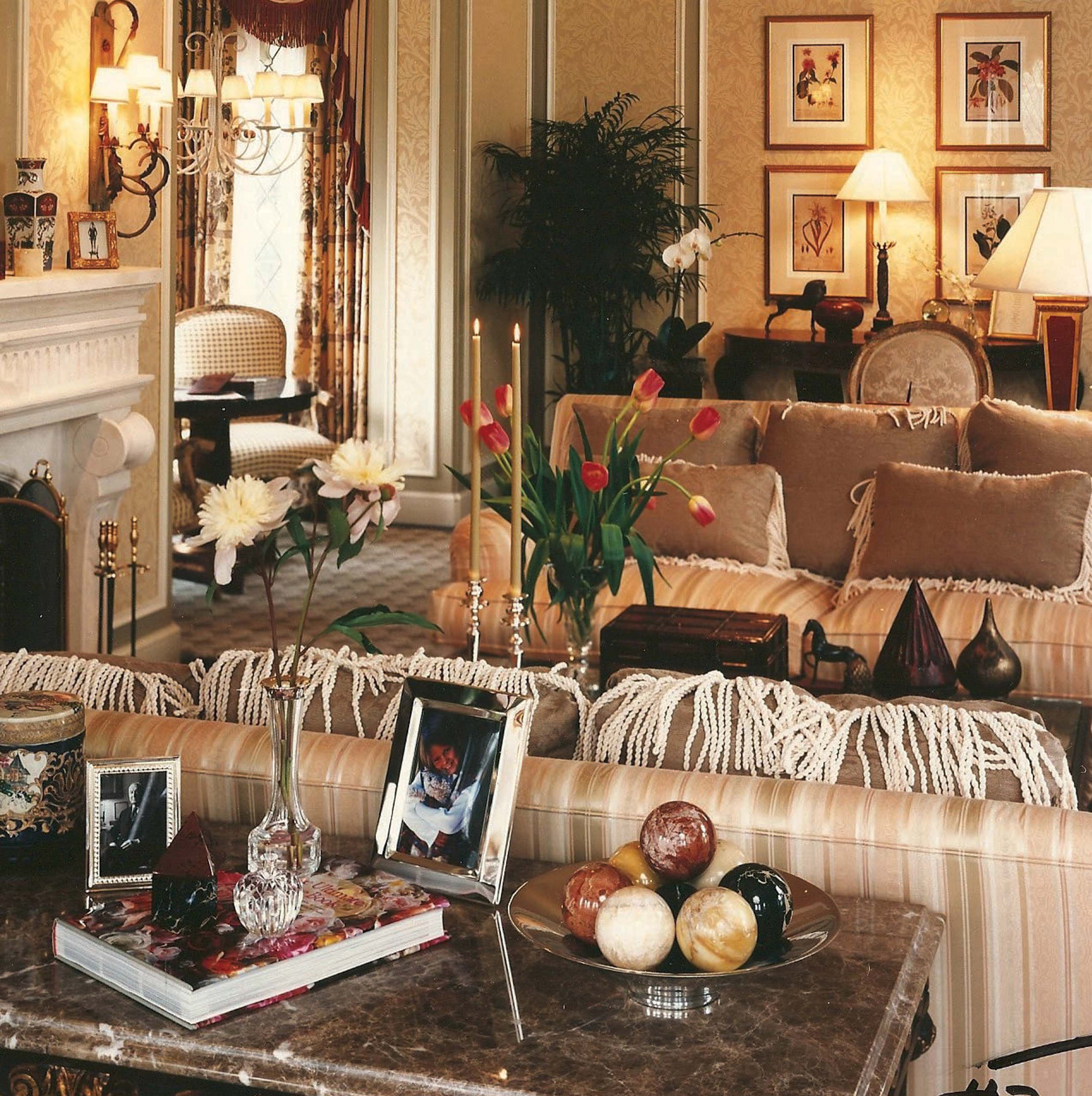 Warren Sheets Design of Woodside, California, creates a cozy master sitting room at the Buck Estate.
19 Oct

Collector's Notebook: Finding Inspiration
---
More than 15,000 ticket holders streamed through the doors of the recent San Francisco Decorator Showcase home, awestruck at the sumptuous sanctuaries nestled within the four-level, 11,500-square-foot historic structure. Among the most popular was a media room customized by Amy Weaver, principal of Weaver Design Group. The space featured a flat-screen television with a silver antiqued frame which, when not activated, served as a mirror. Situated directly across, a tailored natural beige sofa seemed to hold court with its immense presence. It was so wide it stretched across the width of the room.
As Weaver stood by her works of art, visitors engaged her with questions and accolades. For the designer, the opportunity to hear what was on the minds of potential clients was important. And for visitors, the event provided an entertaining way to spend an afternoon, whisking from one dreamy room to another, admiring the eye candy in each. The serious attendees, however, were armed with notebooks and cameras, gathering ideas for their next projects.
Today, showcase homes are excellent venues for the consumer to meet a plethora of top designers all in one location and to get questions answered in an informal setting. When attendees come prepared, they will get more than their $30 entrance ticket's worth in advice and assistance.
According to Warren Sheets, president of San Francisco-based Warren Sheets Design, visitors should definitely take photos during their visit. His advice can be condensed into three words: "iPhone, iPhone, iPhone." "Building a library of various styles and looks that captivate your interest is an excellent way to derive inspiration and get a jumpstart on a new project."
And if officials at the event forbid picture taking, attendees should take note of their favorite rooms, snatch up business cards and go online to the designers' Web sites. These images of prestigious showcase projects are presented with pride and are always posted.
"Don't go in blindly," advises Sheets. Since the homes show off the talents of the region's top designers and craftspeople, people should approach their visit with a solid idea of a preferred design style or design need, or else the experience can be overwhelming, he adds. "Don't fly through the home, rather take in the fine details and discover how the designers adapted to their spaces and tackled challenges."
Compared to watching a home-design television show or surfing the Internet, meandering through a professionally decorated home provides a matchless tactile experience. Is the room comfortable? Is it dramatic? Or as Scottsdale, Arizona, designer Jenessa St. John puts it, "Does the room give you a hug?" Moving about the space and lingering for awhile is important, agrees the interior designer at La Maison. Visitors should ask themselves what they like specifically about the room. The paint color? The accessories? The theme? "It's different for everybody," she explains.
Designers who have accepted the invitation to participate incorporate the industry's newest trends. Thus, visitors are treated to leading-edge furnishings, materials, paint colors and more. "Usually in showcase houses, you will see things not done anywhere else," says Julie Allodi, owner and general contractor of ACH Design in Sammamish, Washington. Allodi's company has often played key roles in the Street of Dreams projects in Washington, where an entire street features new custom homes outfitted by different designers and vendors. Says Allodi, "The trend we see now is in reclaimed and recycled things. You will see items in a showcase house you won't find at a Home Depot. You have no idea what you are missing if you don't go to one of these. You get great ideas to open your eyes."
Anyone interested in what is new in design must attend a showcase home, adds Christopher Grubb, president of Arch-Interiors Design Group, Beverly Hills. He adds that photos in magazines are usually printed one or two years after the photo shoot takes place. Hence, visiting a showcase home gives people the chance to be the first to see the cream-of-the-crop products on the market and see them applied in a home setting immediately.
If possible, attend the showcase house with a professional designer or a friend who has a designer's eye. "You don't just walk past all those ideas. Someone can point things out," says Allodi. "You can see how the molding and trims and combinations of those things can redefine the architecture."
For the designers involved, a showcase is a costly investment. Not only do they pay for their own labor and materials, they must plan and schedule the workload so that deadlines are met in time. Still, the creativity presented is astounding.
At a particular showcase, notes Grubb, the designer for singer Tina Turner noticed the draperies in one of Grubb's rooms. She ordered yardage of the same fabric for the celebrity's vacation home. "That was pretty cool," says Grubb.
"The best way to approach a showcase home is to go in with an open mind," he says. And the additional bonus is this: Every home comes with its own printed catalog with resources for everything — plumbers, painters, furniture vendors and more. "You learn about new resources and can later go to a showroom you never heard of."
A showcase house is a good way to break the ice with designers, especially for novices. Grubb notes that people may feel intimidated, but when ready with questions, they can feel more confident in discussing budgets and personal styles. "Many people are shy, and they need to know we offer different types of services," he explains. "I am always excited to see what people's needs are and to see how I can solve their problems."
Florida-based Marc Thee, interior designer and owner of AltogetherHome.com, an e-commerce interior design site, says that people should look at the things that attract them in the house or a room, and know that they can always get the similar look that would fit their budgets. Homeowners can visit a showcase home and pare it down visually by looking at the wall color, the lighting and the furniture, or art placement, for example, and consider what they may want to splurge on.
"Choose your moment in that space and look at your limited budget. What is your splurge moment going to be?" he asks. "You may not be able to afford all the expensive cabinetry in the kitchen or the high-end appliances, but perhaps you can splurge on a small backsplash with expensive tile."
He advises taking a paint deck of colors to the event and using that to match exact hues. Matching paint color or colors of a rug or furniture is a good place to start in getting inspiration.
"Designers come to the table at showcase homes with confidence," says Thee. "And they are there to deliver something unique. When I present at a showcase house, it is completely my signature and my best work. I love it when people take a piece of what I have done for their inspiration. That's what makes the world go 'round."