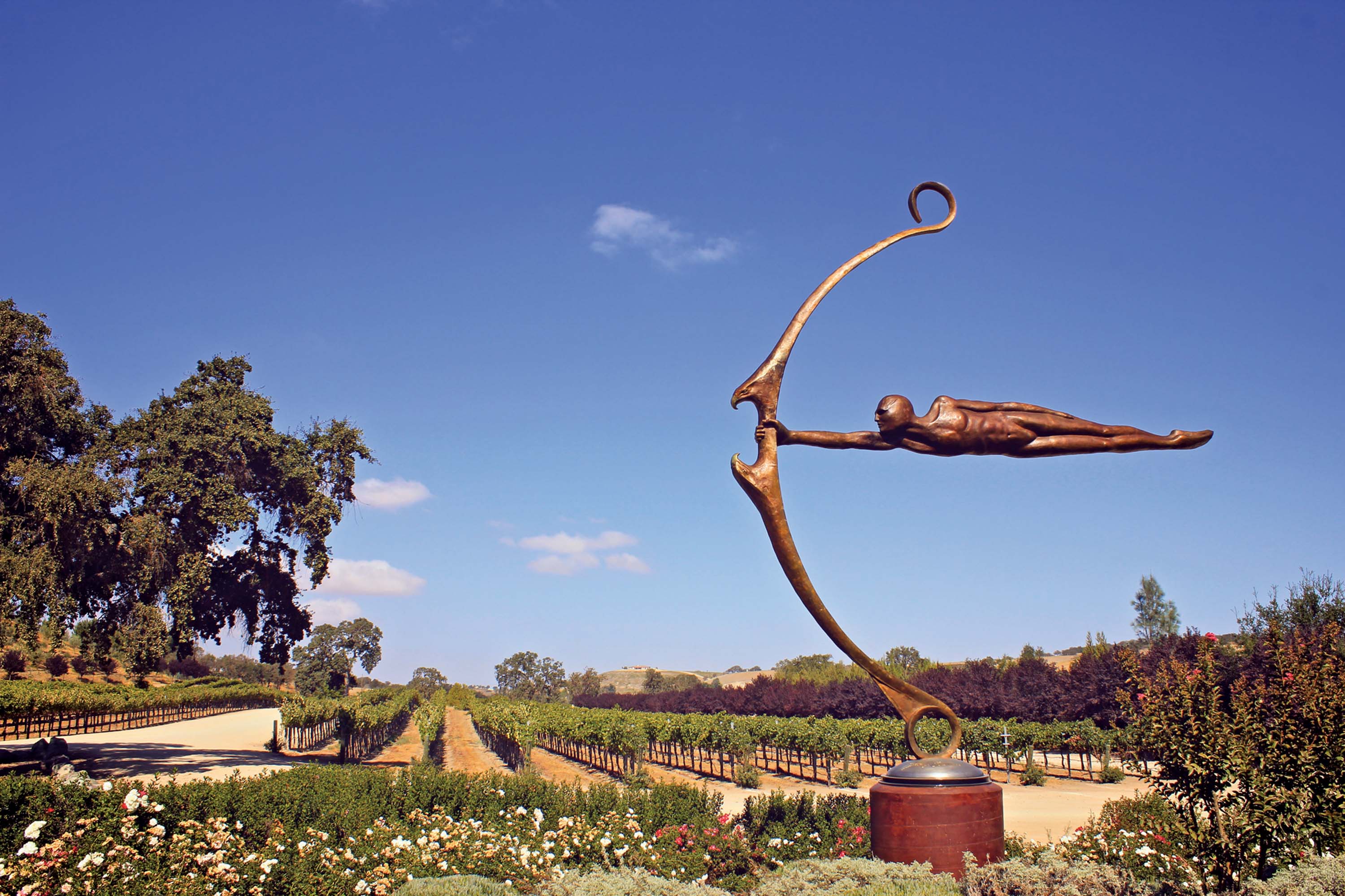 At 25 feet in height, the imposing "MEGA Focus" by Dale Evers and other works of art draw wine lovers to Sculpterra Winery in Paso Robles, California.
01 Feb

Collector's Notebook: Hail to the Toastmasters
---
Gordon Huether makes big things. Things like 22-foot-high aluminum yucca plants. Then there's the unforgettable wall of Corten steel spanning more than 200 feet in length. It's no wonder that hospitals, banks and other commercial entities are his main customers. However, collectors in search of pieces that would be scalable in their homes can buy a piece at Artesa Winery in Napa, California, where he is the coveted artist-in-residence.
What's happening at Artesa is happening around the country. More and more wineries are offering original works for sale beyond traditional winery landscape paintings. Sculptures, mixed media, wearable art — you name it, it's there. According to Olivia Everett, president and CEO of the Arts Council Napa Valley, this is not just occurring at a few wineries; it's a burgeoning trend. Museum-quality art where folks imbibe chardonnays and pinots? You bet!
"Wineries are developing hybrid business models, and we are seeing these partnerships occur between winemakers and artists," says Everett. "Just as the collection experience for fine wine has emerged with serious collectors, the same holds true for people who collect art. It is an appreciation for craftsmanship, the experience of seeing something come together from the ground up." Such partnerships offer opportunities for art mavens to see what's brewing among established, local and up-and-coming talent.
In addition, collectors can snatch up treasures they would not normally see at traditional galleries. At Sculpterra Winery in Paso Robles, California, bronze artist Dale Evers works as the artist-in-residence. While his pieces are also sold at fine art galleries, he says that being able to showcase wares at Sculpterra gives him more visibility. Plus, he makes items specifically for Sculpterra so there is no conflict with his existing vendors.
This artist has sold more than 24,000 items to collectors including the late Robin Williams, heiress Patty Hearst and actor William Shatner. At Sculpterra, Shatner recently emceed the unveiling of Evers' newest sculpture at an art reception dedicated to Evers.
Wineries are becoming sophisticated destinations for the art savvy, and many are building galleries on the property. Some even employ their own curators. Consider Imagery Estate Winery of Glen Ellen, California, which has named Abstract and landscape painter Bob Nugent as its program curator. The winery commissions art for its wine labels from popular artists. It operates a small gallery of some 200 commissioned pieces.
Meanwhile, Jessup Cellars tapped artist Cynthia Carey, who has managed the Yountville, California, gallery as curator from the outset. Her job involves creating a collection of mixed media, paintings and sculpture from well-known and emerging artists. As people come to drink, they are encouraged to walk through the "tasting gallery," wine glass in hand, to savor the art.
Clients couldn't be happier. Wineries are discovering that their tasting rooms are birthing hubs where visitors can emerge as collectors. Jessup Cellars guest Jennifer Elowsky purchased her first painting here. "For as long as I've admired art, I never had the desire to purchase," she recalls. "A trip to Jessup changed this for me. It was immediate upon walking in the door. I fell in love with painter Daniel Ochoa's work." As the group she was with started tasting wine, she excused herself to spend time with the artwork. Since then she has purchased six pieces by Ochoa and two from curator Cynthia Carey. "The combination of amazing wines, incredible art and the great staff is something that makes visiting fun and unique. It feels like home when I go there."
Finding fresh art offers visitors a delightful element of surprise. Some lucky collectors stumble across pieces created by the vintners themselves. Portteus Winery of Zillah, Washington, features the pottery of winery owner Steve Portteus. The ceramic pots sell for $1,500 to $2,550. In Los Olivos, California, Christina Larner, who co-owns Larner Vineyard, paints landscapes using wine.
Just as collectors meet artists at traditional gallery receptions, receptions held at sponsoring wineries afford collectors new opportunities. Robert Mondavi Winery in Napa, California, is legendary. The Vice President of Cultural Affairs, Margrit Mondavi, wife of the late Robert Mondavi, hosts an artist's reception every few months. At these festive events, the artist's collectors and friends can come to view works amid wine and food. As many as 40 pieces are hung by the artist and remain on the walls for about two months.
Margrit is credited as the visionary who started showcasing original works in her winery back in 1972. Robert Mondavi Winery presented its first exhibit and sold drawings created by American painter Richard Diebenkorn. "I have shows for major artists and also young artists who need help getting started," says Margrit proudly. "I have a drawer full of people who want to come here. I interview each one personally. When I take on an artist, and I like his or her work, and there is an attraction between us, then this is a basis for us to work together," she explains.
Confident that folks will want to learn more about the wine and art, a few wineries are providing walking tours. Artesa Winery offers a wine and art tour every Friday where docents describe Gordon Huether's works using wine terminology. Also in Napa Valley, the new Hall Winery in St. Helena provides a combined art-and-wine tour every hour, followed by a private tasting.
New on the scene is a hybrid gallery where art and wine are equal attractions. California enterprises Ma(i)sonry in Yountville, and Bacchus & Venus in Sausalito, and Red Path Gallery and Tasting Room in Seward, Nebraska, are blending industries and achieving success. At Ma(i)sonry, an in-house wine expert curates vintages from local winemakers. Visitors can sip as they browse outdoor sculptures and two levels of art space in an historic stone building.
You enjoy wine. You enjoy art. Today's wineries are betting on people just like you to thrive where both worlds collide. Says Everett of the Arts Council Napa Valley, "… Wineries are becoming tastemaker centers, salons for cultural discussions on wine, art, architecture and interiors. They are great places to celebrate the arts."
Salud!