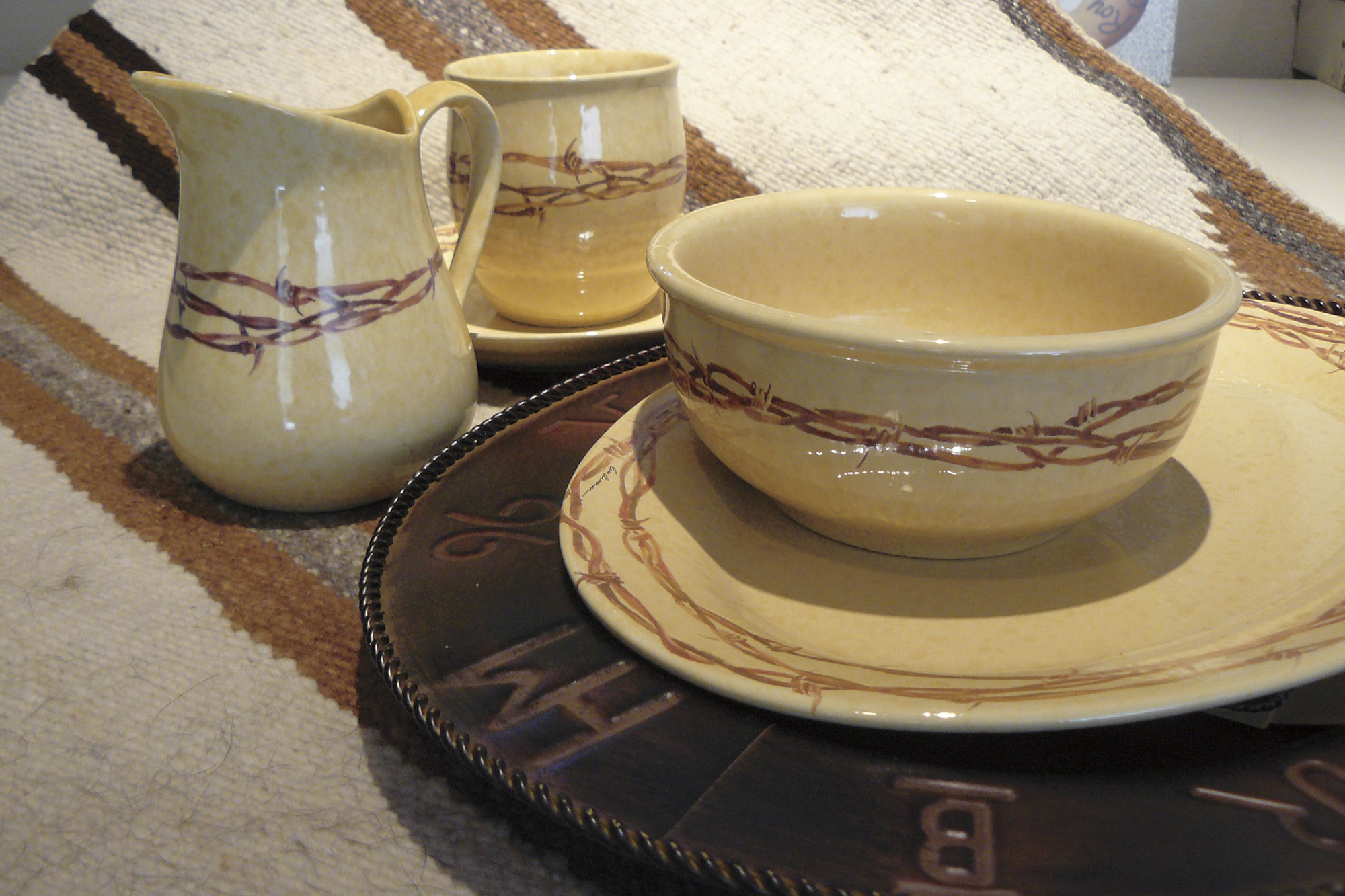 From Cowboy Living: The Barbwire pattern, Classic West collection. Durable, porcelain dinnerware in a timeless design created by artist Eve Armeson. Steak platter sits on iron ranch brands charger.
30 May

Collector's Notebook: Imagining the West One Dinner Plate at a Time
---
Western-themed china and tableware have existed since the early 1940s, an artistic and industrial response to America's love affair with the cowboy. First designed to supply restaurants and dude ranches with durable tableware, the charm of these endearing dishes helped them find their way onto family dinner tables. Nationwide, manufacturers responded with imaginative choices for the consumer.
Early themes focused on the Old West with chuck wagons or cookout scenes, as well as richly detailed images of pioneer life. Covered wagons, Native Americans, stagecoach scenes, even the Pony Express all found their way on to a dinner plate. The Wallace China Company of California created memorable patterns, especially those designed by artist Tillman Goodan, which were manufactured through 1964. Goodan's collections, like the popular Westward Ho, have become family heirlooms. Under new ownership today, the revived designs of Wallace China, now known as True West Home and located in Texas, are in full production again.
Pat Turner, current director of True West Home, remembers when collector Tyler Beard first revived the Westward Ho pattern in 1991, which by then was in the public domain. "Interest was high and availability low," said Turner. "In addition, porcelain manufacturers still existed that carried the old molds and the very same vitreous porcelain material as the original. That first revival was not only doable, but a direct response to consumer interest."
Suburban backyard cooking in the 1950s took chefs out of the kitchen in favor of the barbecue grill. Dinnerware patterns followed, reflecting the joy of grilling around an open fire. Over time, a deep regard for the heritage, mythology of the West and colorful aspects of cowboy life inspired various companies to create new designs for home and restaurant use. Manufacturers such as Frankoma of Oklahoma and Tepco of California both created dinnerware rich with surface pattern and evocative imagery.
A variety of decorative techniques evolved including airbrush stencil designs and hand painting under the glaze. Many producers sold their wares through popular catalogues such as Sears and Montgomery Ward, as well as through mainstream retailers. The Winchester series, commissioned by Vernon Kilns of California, was created to promote a Hollywood film by the same name starring Jimmy Stewart. Due to copyright issues, the film was never released, but after changing the title of the tableware to Frontier Days, the china was.
Following World War II, much of the industry moved to Japan. New manufacturing methods at lower costs lured the market offshore. Post-war designs of Western-themed china made in Japan had their special charm, especially those products made for the Fred Rogers Company of San Francisco. Other legendary potteries like Red Wing in Minnesota or Syracuse in New York made valuable contributions, too, in style and content.
The popularity of dinnerware featuring Western television celebrities like Hopalong Cassidy and Roy Rogers were some of the earliest successes at franchising. Changing renditions of cowboys, longhorns, boots, hats, pistols and saddles all reflected shifts in decorative styles and new ways of telling our Western story. Today, a revival in both interest and production gives the consumer new choices and the collector fresh inventory from which to choose. The variety of product still chronicles life in the West, both real and imagined, and is accessible and affordable.
Will Garcia, co-owner of Hooked on Glass in Denver, Colorado, has seen tremendous interest in collecting Western china over the last decade. "A lot of the popularity is pure nostalgia," said Garcia. "The Western dinnerware takes our Boomer generation buyers back to the 50s and 60s and the whole cowboy television era. Or, a buyer might have a second home in a rural or ranch setting and it's a way to return to more rustic roots."
When assembled in chronological and thematic order, Western dinnerware emerges as an important addition to understanding just how much the West permeated material culture. With all the exciting new patterns gracing our tables again, the fun of collecting awaits future generations.
Vintage coffee pot, warming stand and cups from McCoy Pottery's popular El Rancho collection, circa 1950.
Wallace China ( True West Home) Vintage and licensed reproductions of Westward Ho/Rodeo dinnerware made by Wallace China. Top: dinner plate (new); bottom: dessert plate (original); Creamer "Boots and Saddle" and cup, Christmas Pattern, both new.