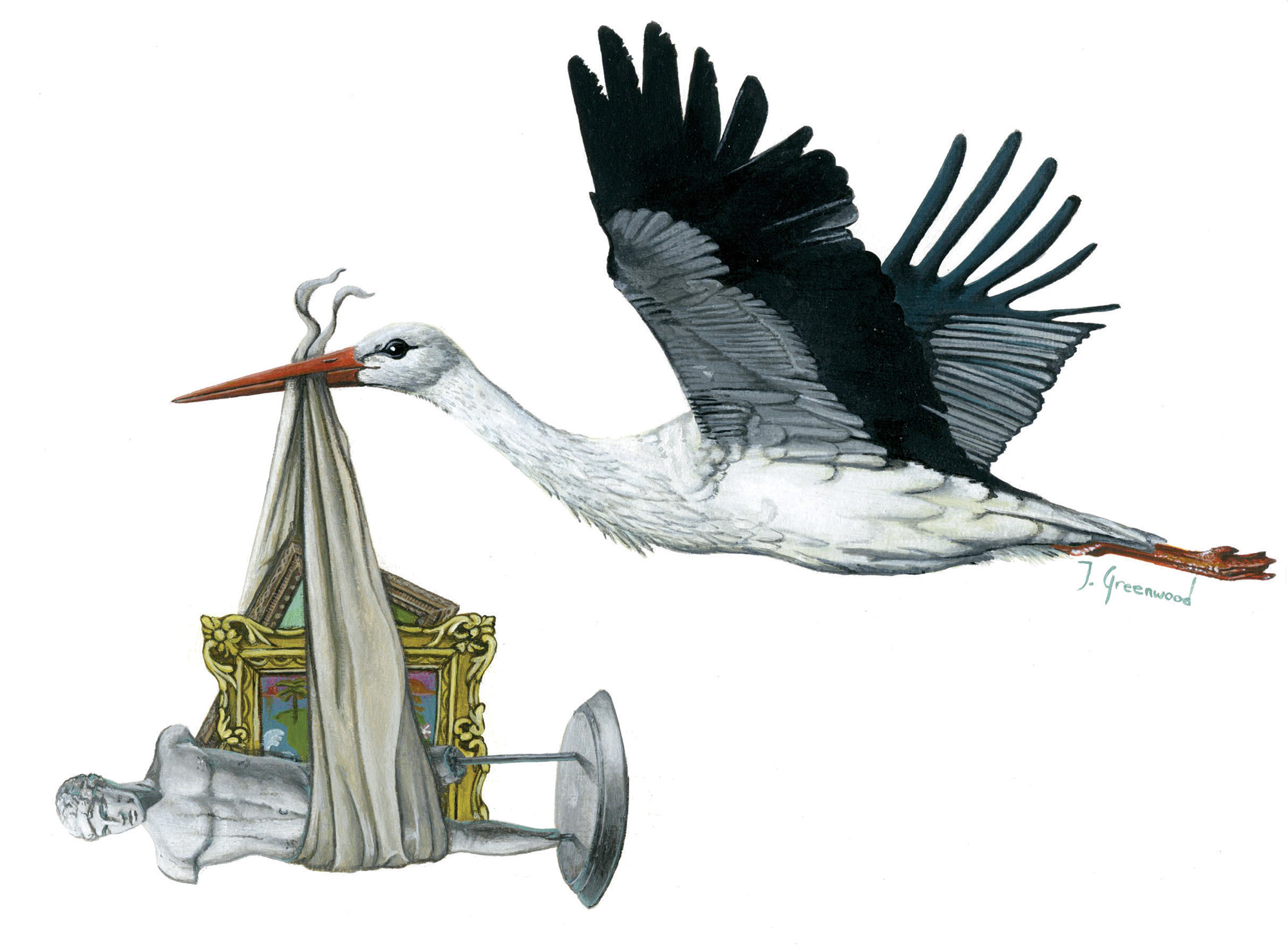 Illustration by Jesse Greenwood
10 Mar

Collector's Notebook: Leaving a Legacy
---
Our story unfolds at the New York Metropolitan Museum of Art, where a woman of humble means bolts through its doors with five children in tow. As she slips a dollar bill into the donation box, one son is flush with a child's embarrassment, knowing other patrons are giving much more. He stares in awe at the donor names mounted on the walls, wondering what it would be like to live on "the other side of the world."
Years later, the boy becomes a real estate investor and accrues the resources to move into that "other world." Today, Dan Solomon and his wife, Mary, of Dana Point, California, collect historic and contemporary photographs and have gifted works to museums throughout the country. Memories of going to the Met with his mother fueled Solomon's passion for art. "What she did for us was remarkable and helped expose us to art and culture," he reflects fondly.
From Native American images by Edward Curtis to 19th-century photos from Eadweard Muybridge, the Solomon treasures grace the wings of the Getty Museum, National Gallery of Art, New York Museum of Modern Art and others.
How does the couple select which museum gets what? "It is whichever curator loves it the most," replies Solomon. "That is where I leave it, and where it has the greatest chance of being exhibited, protected and written about. They most likely will be the best custodians for preservation of the work." He emphasizes that his donations must be placed where they will have the greatest impact.
Such gifts are a win-win for everyone. Museums fill in chronological or thematic gaps. Art lovers have an institution to steward and appreciate their possessions. Museum visitors are inspired to become artists and collectors.
Expert collectors, including James Parks, of Los Angeles, are leaving a legacy representing irreplaceable slices of history. Over the years, he has collected significant Native American objects and historical Western art. Parks has handed over and promised major paintings and artifacts to the Autry Museum of the American West. As Rick West, president and CEO of the Autry, sees it, "Jim is a collector's collector. He is a scholar and does not collect out of impulse. He collects both quality and quantity. Gifts from Jim are transformational."
"Donations of art to museums are critical," stresses John Vanausdall, president and CEO of the Eiteljorg Museum. The Indianapolis institution that started with 2,000 works now owns 9,000. This is largely a result of donations from major private collectors.
Museum officials also agree that benefactors can have tremendous influence on others. "When a major collector makes a donation, that act becomes a call to their peers and causes others to think generously as well. Gifts can beget more gifts," says Margaret Conrads, Crystal Bridges Museum's director of curatorial affairs in Bentonville, Arkansas.
Once someone has acquired an important piece, museums can court that owner literally for decades with the hopes of becoming a recipient one day. Curators often joke that events in the museum circles move in "glacial time." Andrew Walker, executive director of the Amon Carter Museum in Fort Worth, Texas, says that "ultimately, donations of art are the results of relationships built over time, and not zero to 60 overnight."
There comes a defining moment when every aficionado must take stock. What do you do with a lifetime of hunts as you age? Former opera singer Helen Cox Kersting, of Sun City West, Arizona, and her husband originally purchased Native American art for personal enjoyment. "Early on, you never think of your mortality," she says. "We would buy things and then realize that these were pieces of someone's collection that was sold off. We thought this could happen to our things, and that was when we wanted to look for a permanent home where our art would be used to educate the public."
She bestowed more than 1,000 treasures to the Eiteljorg as it was promoting a strong youth education program to motivate the next generation of art lovers. The collection is so notable that the museum published a 460-page, hardcover book, Generations: The Helen Cox Kersting Collection of Southwestern Cultural Arts.
Benefits of such philanthropy are multifold. With every addition, the prestige and value of a museum is elevated. In the case of the High Desert Museum, a whopping gift of 6,000 Native American artifacts from Doris Swayze Bounds put the Bend, Oregon, institution on the map. According to her son, Roger Bounds, this ardent collector was revered in the art community. Prior to her decision, several curators came wooing, including those from the Smithsonian, but in the end she wanted to help the fledging museum in her community.
When considering whether to give, donors must do so with no strings attached. Museums encourage "unrestricted gifts" so they can decide what to exhibit, store or even resell. (The process, called "deaccession," means that a museum permanently removes an object from its collection by reselling, transferring to another venue or another means.) Many curators state up front that they don't acquire art they are not going to show, but at the same time neither can they promise when it will be exhibited.
Though museums cannot guarantee when works will debut, they have more display opportunities to a greater audience than in a living room, says Solomon, whose generosity has delivered cultural and societal insight. At the National Gallery, Solomon's images cover the history of photography from the likes of Gustave Le Gray, Eugène Atget, Robert Adams and Idris Khan. "Artwork always seems to look better hung on a museum wall than in a home. It's like a kid who gets dressed up for the prom, and you say, 'My God, is that you?'"
When Alfred Walker of Bar Harbor, Maine, turned over 46 works by New Mexico sculptor Gustavo Victor Goler, he handpicked The Harwood Museum of Art in Taos because it was close to Goler and central to Harwood's mission to exhibit works relevant to northern New Mexico. In the 1970s, Walker slept on the plaza the night before opening day of the Spanish Market to be first in line to purchase Goler's religious Santos art. He got to know the artist intimately and wanted to honor him with the donation.
Like surrendering custody of a child, separation is difficult. And yes, it was hard for Walker to part with the Goler sculptures, but the collector is at peace with the decision. "I am 78 now, and I see it as turning it over to another caretaker. They can have the flexibility to do what they want with it. I have been the caretaker long enough."
---
Choosing the Right Museum for your Collection
In 1992, New Yorkers Herb and Dorothy Vogel became instant celebrities when they donated millions of dollars in contemporary and minimalist works to the National Gallery of Art. At the peak of their obsession, the retired postal worker and librarian had amassed more than 4,782 articles over decades of their marriage, cramming everything in their tiny apartment. While most of us do not possess such vast collections, we can all learn from their generosity.
Here's advice from top curators, collectors and museum directors from around the country:
– Find out which institutions exhibit your genre of artwork or complementary subject matter. Will your contribution make a difference?
– Understand the museum's goals, plans and vision. Make sure they match your philosophy.
– Connect with the curators and have them assess your works. Inquire about storage and preservation methods. Tour the facilities.
– Ask whether you will be able to view the works privately if they are not on display. Some galleries allow collectors to borrow and take the object home for an agreed-upon period.
– Do you plan on visiting your art often? If so, perhaps a local museum is the best fit.
– If the museum is pursuing your collection, find out its plans for exhibition, research or restoration. Some smaller museums may provide more viewing opportunities.
– After donation, the institution, not you, determines if and when it will showcase your works. The museum may sell your collection, unless it is one that keeps everything it acquires, such as the National Gallery of Art. Be sure to get all your answers up front. Do not hurry to decide or succumb to pressure.
– Find out how donors are recognized, if this matters to you. Names are typically listed on the object label next to the work. Some important donations are represented in book form. Other donations are so significant a museum will raise funds for a gallery in honor of the benefactor, such as the Gund Gallery at the Eiteljorg Museum.