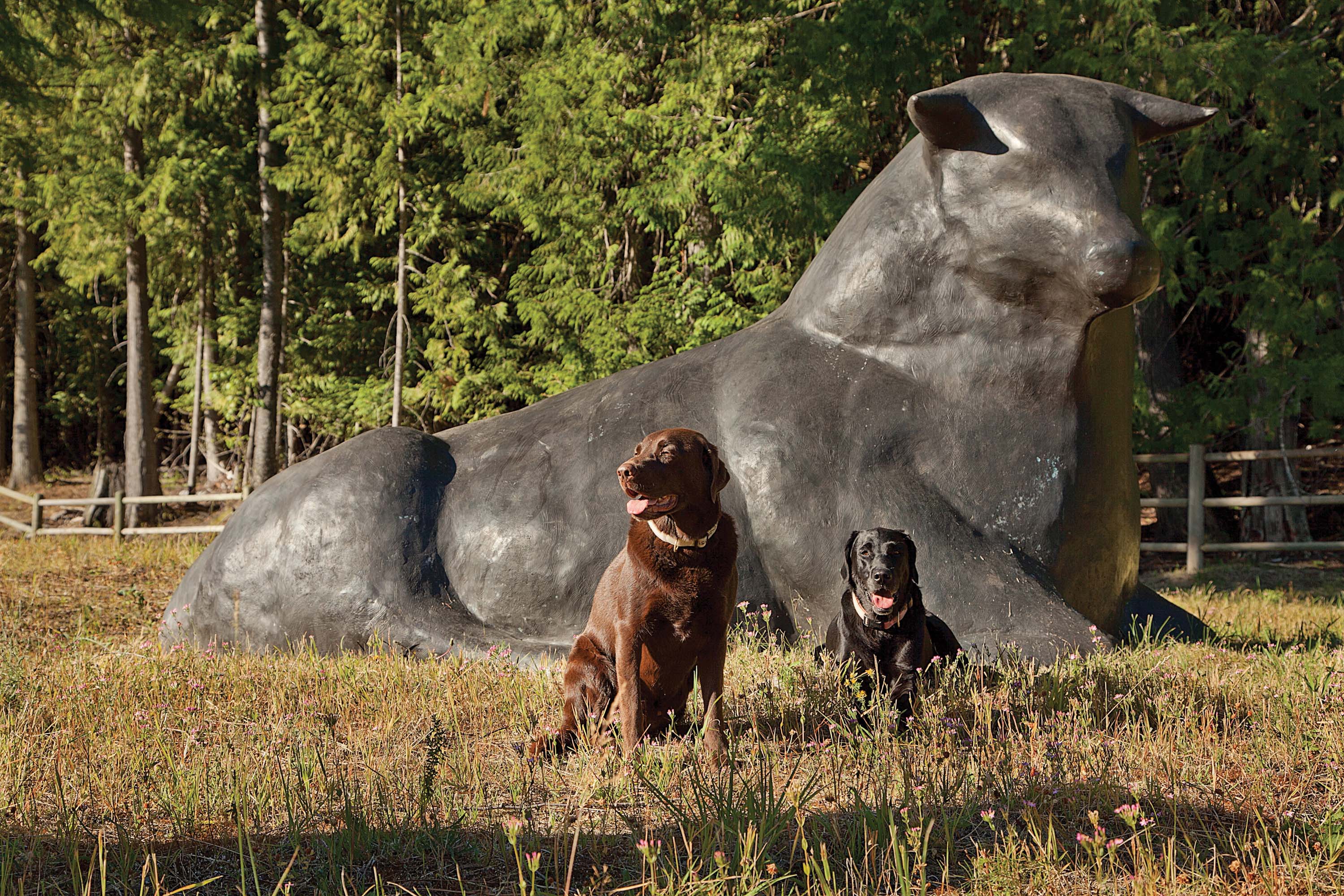 Two hounds guard "Tornado," a massive bull cast in bronze by Thunder Ranch Forge and Foundry, Saratoga, Wyoming.
04 Aug

Collector's Notebook: Outdoor Life
---
There's an elephant wagging its trunk outside of Dan Ostermiller's studio. Not a real one, mind you, but a bronze one named Lost, But Not Forgotten surrounded by a patch of ornamental strawberry. "I like walking by it every day," says the Loveland, Colorado, sculptor. "It reminds me of those things I feel good about and reminds me of my father. It's a sweet piece for me."
Whether it's a carved table, modern mobile or an elephant statue, something about outdoor art elicits a magical experience for the viewer season upon season. A life-size bronze of a mother cradling her newborn echoes tender mercies when tufts of new fallen snow land on the baby's head. And when autumn sets in and leaves tumble to the ground, a barren ceramic birdbath transforms into a basket of golden aspen treasures.
Romantic as these settings appear, these artifacts set amidst bucolic surroundings don't happen by chance. Determining exactly where to place a piece outdoors requires time and preparation. It should enhance the landscape, not detract from it. Further, the materials you choose and how you secure your article must be planned if you want to have items in mint condition. Cleaning and maintenance is necessary for long-term enjoyment.
Artists and gallery owners generally agree that materials such as stone and cement are the easiest to maintain. Next, metals such as bronze, iron, raw steel, Corten steel, stainless steel and powder-coated steel tend to withstand the test of time. Woods such as cedar and redwood will weather, and anything painted will fade.
The conservation staff at the Cantor Arts Center at Stanford University oversee a collection of approximately 150 pieces of outdoor art and know this all too well. According to Susan Roberts-Manganelli, Cantor's manager of collections, exhibitions and conservation, how long a piece endures depends on the material itself, where it is positioned in the landscape and the climate. "So much of how it is protected depends on whether you decide to put it under a tree or under a portico. We try not to put things under trees because of sap or other foreign matter that may contribute to damage."
Materials such as marble and metal and bronze do require some type of surface protection, she says. Collectors should ask the gallery or the artist what kind of maintenance is required. Bronze, for instance, requires waxing at least once and up to several times a year. Large institutions — such as Stanford's Cantor Arts Center, which has one of the world's largest collections of Rodin sculptures outside of Paris — apply both a hot wax (using special torches) and a cold wax on their sculptures with a waxing machine. Meanwhile, artists and gallery owners often tell their clients to care for their bronzes with a wax application using a soft cloth.
Bronze artist Ostermiller notes, "I tell clients to use paste wax after lightly cleaning off their object well. Do the cleaning a couple of times a year. I know people who don't do anything and their artwork becomes dull and even the patina may change. It is not a difficult task," he says. "Plus, you can get a great personal experience with your sculpture, and you can notice the textures up close."
According to Roberts-Manganelli, collectors serious about their investments should consider hiring an art conservator skilled in this arena. In Berkeley, California, art conservator Molly Lambert, owner of Architectural Conservation, Inc., stresses that she and her colleagues are highly qualified to understand the subtle aging processes and maintenance required for various materials. Art conservators are "typically learned in the fine arts, art history and chemistry," she adds. By hiring someone to explain the aging and maintenance process for about $1,000 for a day, a collector can develop a relationship with the conservator and understand how to care for his art for the long term.
These art experts can help collectors decide upon a maintenance schedule for their artwork, where to place the pieces, what to do if the paint fades or something chips and more.
Other experts include art gallery owners who offer their services to clients to help them before, during and after the sale is made. At Sorrel Sky Gallery, Durango, Colorado, owner Shanan Campbell Wells will go to a client's home, take photos of the space and then use design software to construct a digital mockup adding art pieces to show customers how a sculpture or fountain, for example, will look in their yards.
Campbell Wells also will visit customer's homes to see what types of art will be best suited to their environment. When she paid a call to homeowners George and De De Cable, George told her he wanted something life-size and fitting of the cowboy contemporary genre. That said, she found him a bronze wolf that the couple has fallen in love with since its installation two years ago.
Placed strategically on the porch, lying down, as if guarding the front door, the sculpture is startling. "At night, it seems so real that you want to pat it on the head," he says. "It is as if the artist took a mold and cast if off of a real wolf. Those eyes are so piercing. They look right at you."
For George, Campbell Wells nailed it perfectly when she suggested the animal be placed and anchored by the front door, a thought that would have never occurred to him. As far as he is concerned, having an expert advise on the art piece and the placement has helped tremendously.
George admits choosing art on his own is not his forte. One sculpture he purchased on his own seemed out of scale for the surroundings when he got it home, and he had no idea where to place it. George now wants to sell it. "It was not the effect I was hoping for. I learned my lesson," he says. "And sometimes those lessons are expensive." Now he completely trusts Campbell Wells' eye for selection and placement. "Sometimes you have to be honest with yourself to know what you are good and not good at. I am absolutely willing to let others select art for me. She has always been right."
In Santa Fe, New Mexico, Stefan Huber, general manager at the Inn at Loretto, says the collection of indoor and outdoor local art has been a source of great pleasure to his guests and visitors. The outdoor iron eagle, called Eye in the Sky and stationed in the front of the inn with a wingspan of 10 feet, has been an impressive piece that differentiates the hotel from others in the town. He has chosen the works carefully for the outdoors, and many of them are made of bronze, copper, iron or stone. "Since these are made for the outside, we wipe it down whenever there is dirt or grime," he says.
Experts in the know suggest that clients sustain a relationship with their art galleries, artists or conservators to understand how to place and care for their treasures as well as expand their collections. And there's no getting out of a routine cleaning plan for your artifacts.
Karen Johnston is gallery director at Ma(i)sonry, a popular art gallery with two sites in Yountville and St. Helena in Napa Valley, California. She also consults for the three sculpture gardens showcasing Ma(i)sonry's artwork in the area's most prestigious resorts. "As I tell our collectors, it's like anything: You need to maintain it," explains Johnston. "If you have a car and you keep it parked in the driveway and never wash or wax it, over time it will lose its luster. Like anything on the planet, returning back to the origins that it came from is just part of the natural process. It may take many lifetimes for it to occur with these materials, but it can be retarded with ongoing upkeep."