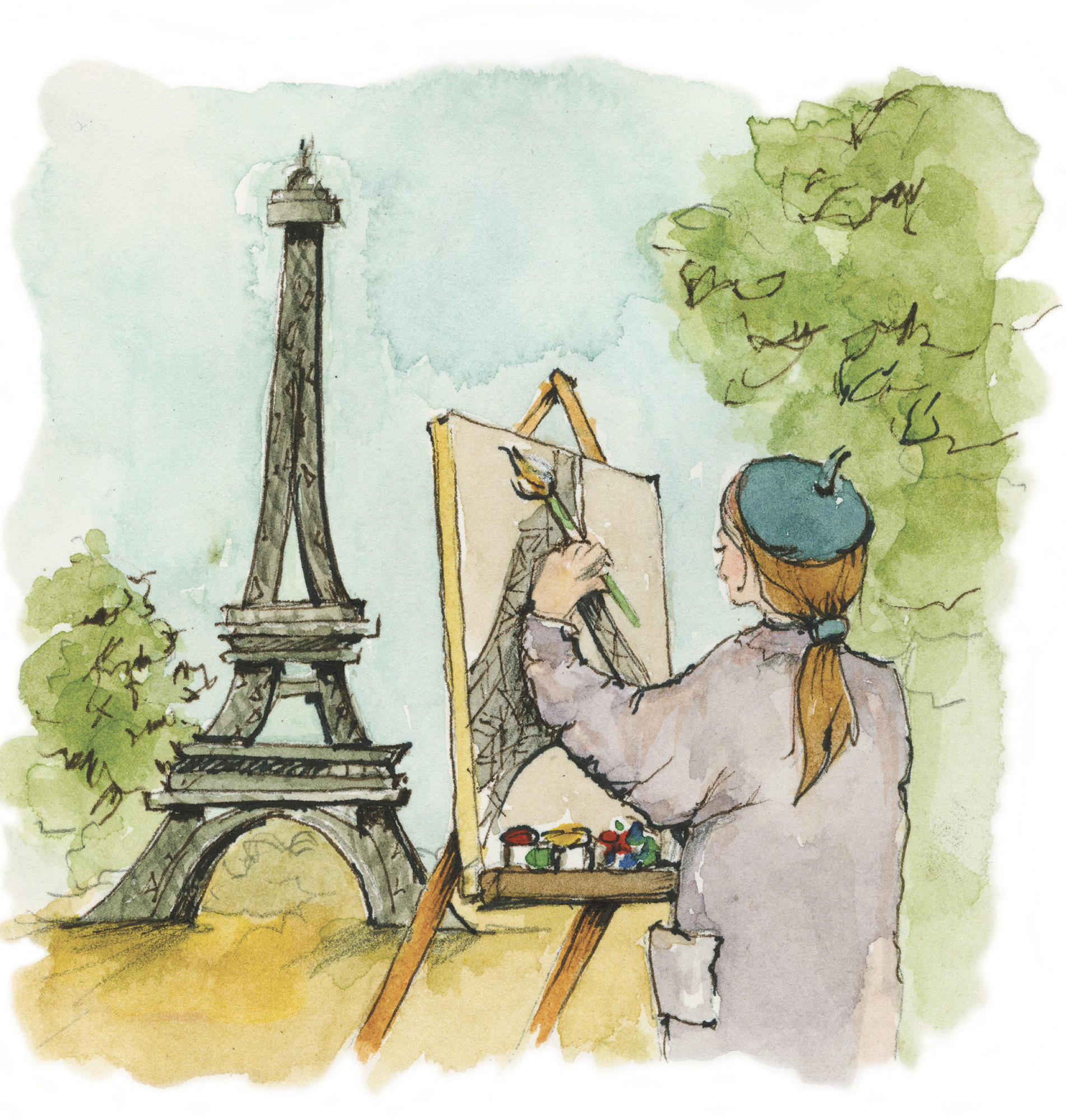 12 Sep

Collector's Notebook: Painting the World
---
Like fingerprints on fresh clay, travel leaves its touch, its memory, on each of us. Throughout art history, exposure to new cultures and landscapes have been providential influences for artists. Today, with modern transportation, workshops and art history tours, anyone can experience travel's impact on creativity.
Long before photography, cell phones and video cameras, the world was shared through storytelling and art. Paintings were our first records of unchartered territories. Consider American artist George Catlin [1796–1872], who specialized in traditional portraiture before he traveled west of the Mississippi. His trip led him to create portraits of Native Americans, forever altering his subject matter and providing historians with an important record of the New World. Or consider artists Albert Bierstadt [1830–1902] and Thomas Moran [1837–1926], famous for documenting the magnificent landscapes of the frontier. Frederic Remington [1861–1909] also traveled extensively throughout the West, incorporating scenes of pioneer life in his artwork.
Beyond the importance of documentation, travel also awakens the imagination. The year Catlin died, French artist Edgar Degas [1834–1917] traveled to New Orleans for a five-month visit. The trip to the United States "not only gave him subjects for some wonderful portraits but helped to send his work in a new direction," writes art critic Christopher Benfey, in Degas in New Orleans: Encounters in the Creole World of Kate Chopin and George Washington Cable. Degas was still searching for artistic direction — the dancers, bathers and racehorses for which he is best known were still ahead of him. Benfey suggests there was something about the war-torn city struggling through Reconstruction that sparked some of the artist's finest works, such as the 1872–1873 portrait Madame René de Gas, which hangs in the National Gallery of Art in Washington, D.C.
In 1848, a 16-year-old Édouard Manet [1832–1883] traveled by ship to Brazil. Describing the voyage to another artist, he extolled the journey's impact: "I learned a lot … I spent countless nights watching the play of light and shadow in the ship's wake. During the day, I stood on the upper deck gazing at the horizon. That's how I learned to construct a sky."
One of the most powerful series of paintings inspired by travel is that of Post-Impressionist Paul Gauguin [1848 –1903]. Originally a lesser-known member of the 19th-century French Impressionists, the influence of his travels to Panama and Martinique and the increasing awareness in Europe of Japanese and African art began to nudge him toward bolder execution and a more vivid palette. In 1891, Gauguin moved to Tahiti and lived among indigenous people. It was then that his audacious execution and ability to capture the sensual, heat-soaked images of the South Pacific came into being. These works, for which he is now most famous, would later influence the likes of Pablo Picasso and Henri Matisse.
Unsurprisingly, traveling to experience and record new landscapes, architecture and cultures continues to be an instrument of inspiration for artists today. Susan Blackwood, Howard Friedland and Aaron Schuerr are award-winning artists in the Western United States who exemplify how travel may influence artists' work and shape their perspectives.
"Travel gives me new eyes," says Blackwood. And those eyes have seen a lot. In 1975, she taught in Pakistan for three years with the Lahore American School, maintained an active studio and had three successful solo exhibitions. Immersed in surroundings and cultures so different from her own, Blackwood took on the unfamiliar subject matter with enthusiasm, digging deep and experimenting with how to interpret it all through her art.
Blackwood and her husband, painter Howard Friedland, have offered a continuous stream of workshops in foreign countries for more than 20 years. In the earliest years, Blackwood organized, arranged, drove the van, guided and taught. As time went on, she and Friedland joined forces with companies who could handle the details while they focused on teaching. The couple has made 11 trips to France, two to Croatia, three to Italy, six to England, one to the Bahamas and have painted twice in China. In 2017, they are taking students to Spain.
Rose and Craig Tedmon, longtime collectors, love attending art shows and auctions. When Rose, an artist of many years, wanted to study with Blackwood in France, it was a journey that would enrich the couple's art life in unanticipated ways. They expected Rose to participate in the instruction while Craig spent his time sightseeing. Soon, however, Blackwood drew Craig into the daily lessons, first through drawing and then as he tried his hand at painting.
"I was hooked," he exclaims. "Being away from home in a scenic location with good artists and a wonderful teacher had a great deal to do with me becoming an artist. I was amazed that at the age of 66 I could discover a new passion." To date, the couple has traveled abroad with Blackwood to four workshops in France.
Aaron Schuerr, well known for his superb landscapes, says that during his trips to Morocco he was challenged to switch from his usual subject matter — painting in wild places with no one else around — to compositions that included constantly changing elements. On two trips to remote villages in the Zawiya Ahansal region of the central Atlas Mountains, while giving painting and art lessons to Berber children, Schuerr learned to paint the "teeming labyrinth of Marrakech, the unique regional architecture of the cities and mountains, and figures — lots of figures."
"I saw the human connection to the land in a way that I never had before," he says. "Every location is different, with its own personality, its own story, and I try to listen attentively, to tune into it. The easel is an amazing tool of democracy."
Artists who hit the road, whether to teach or take a workshop or simply to experience new territory, encounter opportunities to expand their subject matter. Suddenly, they are painting ancient architecture; layers of civilization found in villages with narrow cobblestone streets; a fresh new geography. They are challenged to explore new ways of interpreting light, shape, water and landscape. Art is a subtle form of international diplomacy, creating greater understanding between cultures and the people who share our planet.