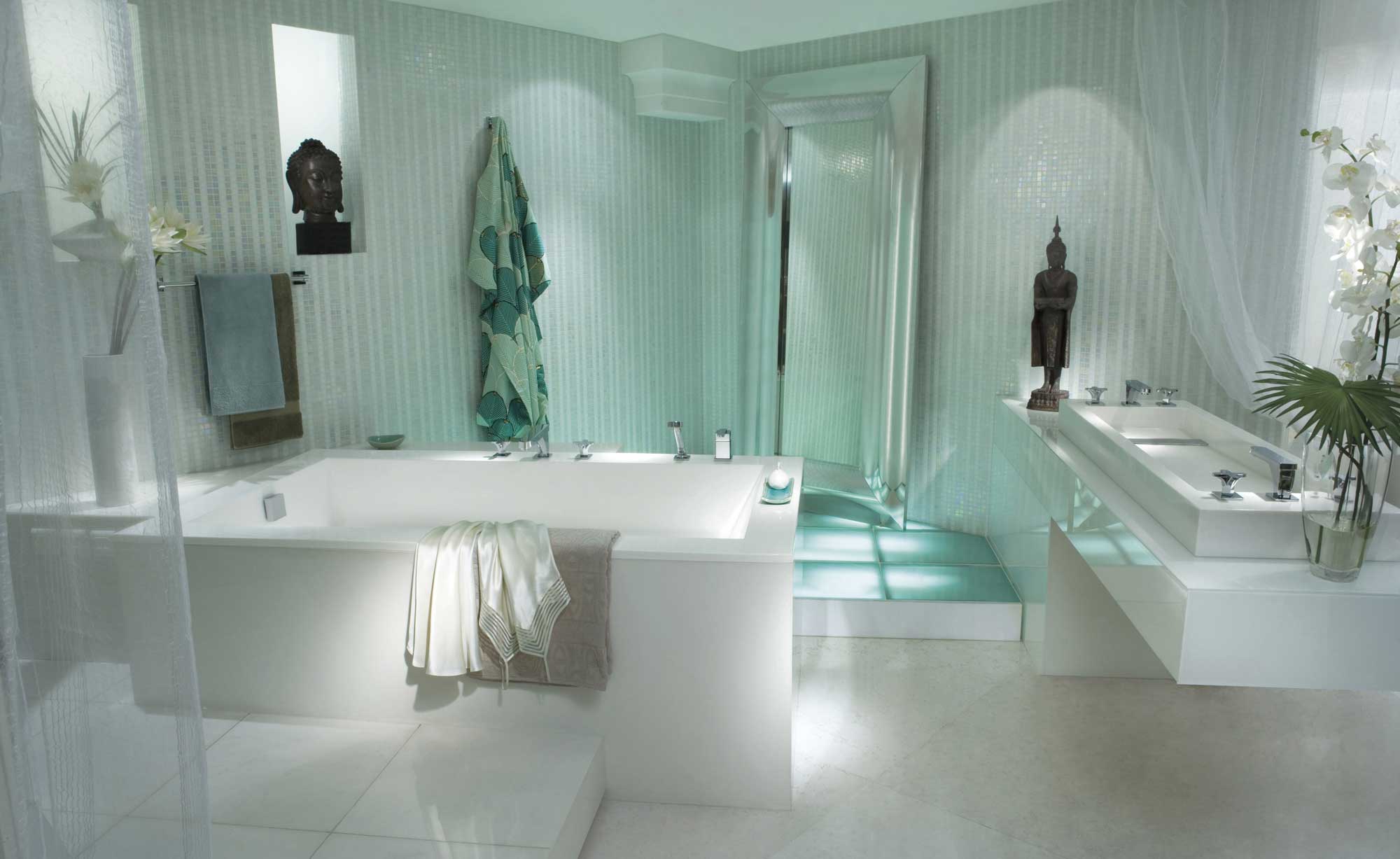 The white Astelle bathtub comes from the Jamie Drake Collection, with the sculptural faucet from the Profil line.
30 May

Collector's Notebook: Sanctuary
---
The late King Fahd of Saudi Arabia possessed a secret passion: He loved bathing. In fact, he loved bathing so much he commissioned the world's leading architects and designers to create the ultimate bath suite, a 2,000-square-foot temple to splendor. The pamper palace featured an authentic Turkish bathhouse from Tangiers that was disassembled and reassembled upon arrival. A 24-carat gold tiled, 25,000-gallon swimming pool served as the king's bathtub and was drained each time he used it, according to Kenneth Bordewick, the lead interior designer and president of Beverly Hills Luxury Interiors. "The entire palace was so unbelievably big you had to drive a golf cart to get from room to room," he says.
We can't all scrub our bods in swimming pools, but the trend in creating bath havens is a burgeoning global phenomenon, and virtually anything is possible. High-end clients will spare no expense to obtain the bathing suite of their dreams.
When Paul McCartney flew into southern California for the Academy Awards, the former Beatle dropped $400,000 to reconstruct a bath in three days in a rental house he would be using for a week, notes Bordewick. McCartney wanted floors and walls using five kinds of marble and granite, handmade faucets, and a multi-jetted shower "big enough to comfortably kiss in," quotes Bordewick. The designer is in the throes of working with a celebrity vocalist who will be investing at least $1.2 million on her grand master bath.
Today's bathing suite has evolved from being a roomy bathing and dressing area in the 1970s to a class-act spa lounge. These edifices of indulgence must offer three things: luxury, privacy and beauty, emphasizes interior designer Risë Krag of Menlo Park, California. "When it comes to the bath suite, compared to the other rooms of the house, money is never an issue," she says. Her clientele, who consist of Silicon Valley's hurried elite, crave havens where they can decompress from a day of intense activity. The bathroom is arguably the only place one can be assured of total privacy and solitude.
Designers agree that tasteful and well-placed art can transform a bath from sterile to sumptuous. Roric Tobin, interior designer at Geoffrey Bradfield, Inc., New York, recently completed a villa in St. Marten that featured a wall resembling rattan and bamboo. Artists came to mix the materials and cast the ceramic surface, creating a one-of-a-kind wall of texture and sensuality.
Another one of Tobin's clients wanted a clear piece of crystal carved into a sink and illuminated from beneath. Working with stone experts at Advent Design International, the team located the single slab of rock crystal, had it carved in Italy and had the intricate detail work completed in France.
People will pay the $30,000 minimum for a stone-carved bathtub that is an original work of art, reports David Luster, founder of Advent Design International in Ridgewood, New Jersey. His company of 30 years creates dream bathrooms, and also takes on commissioned projects for stone tubs and showers, inlaid stone art murals for residences, hotels and public buildings. Advent Design also has access to more than 320 different kinds of stone sourced globally and artisans with generations of experience.
"We go to the same quarry that Michelangelo used in Italy," he says. "We offer something that is out-of-the-box compared to what is being done today, and we take it to the next level."
For the uber-creative Luster, the plethora of bathroom suite projects has run the gamut. He commissioned and installed a 5-by-7-foot entry floor crafted meticulously with 2,000 pieces of stone. Another was a sculpted wall made of onyx, inlaid semi-precious stones and bronze, depicting Arabian horses crossing the desert "reflecting time immortal and God's creation of this magnificent world," describes Luster.
By the time Luster's company is done with consulting and implementation, "You have a place that gives you peace of mind. It is a special place in your home; it is not just a pretty master bath. It's your sanctuary to get away from it all. The walls are illuminated, and the whole place is to your liking," he says.
Another trend in these opulent settings is the need for personal space. For that reason, experts are creating his-and-hers bath suites. Even in small New York apartments, people are asking for separate baths, says Tobin. "It makes it easier for the couples to get ready. Many have social functions, and they feel more sane if they are not on top of one another."
Exquisite outdoor showers are creating buzz among homeowners with spacious surroundings. This is already commonplace in Hawaiian or Caribbean luxury homes and resorts. On the Big Island of Hawaii, the Kaawaloa Plantation bed and breakfast has an outdoor lava rock shower, a popular feature for guests.
Jerry Winges, president of Winges Architects in Burlingame, California, says one of the loveliest things people can do is create an outdoor garden bath suite connected to their master bath. "You can go in and out with complete privacy."
Exterior baths are hitting their stride. According to architect John Stewart of John Stewart Associates in San Carlos, California, clients have requested massage rooms as well as outdoor showers for a refreshing, natural experience.
State-of-the art electronic gadgetry is popular, especially for male homeowners. In high demand are TVs that appear behind mirrors and TVs in showers so clients can keep up-to-the-minute on the financial news in the morning.
LCD touch panels to control lighting, TV, music and window shades are an absolute delight for customers who don't want to fumble with different switches. It is possible to program the bath so that the water automatically stops after it reaches a certain level. Combining audio, visual, lighting and temperature, Bordewick notes that customers can program environmental presets for romantic moods, morning routines and pre-party preening.
Clients are asking for large shower rooms that can accommodate two or more bodies, as well as several rain shower heads with spa body jets. Explains Stewart, "The fancy shower with so many multiple heads is like a car wash."
A shower combined with a steam experience is also in vogue. To accomplish this, the shower walls must merge with the ceiling to form an enclosed room. "We found clients like lots of time in the sauna," says Winges. "People want to feel really clean, so it is a luxury health feeling; you want to feel great."
Even flooring is a tactile, healthy experience. According to Winges, some customers like the feel of rocks beneath their feet. Winges has installed pebble floors with just the right pebbly feeling to make you feel like you are walking on river stones.
The actual bathtub is where vendors like Luster shine. Everything in his portfolio is a custom build. He is currently working on a tub made of Calacatta Oro marble which will be carved into the shape of half of a voluminous shell. The matching top half will be carved on the adjacent marble wall with flowing water to fill the tub, describes Luster.
And for the high-end residences, customers all want a view from the tub for maximum relaxation. When home-owners possess coveted views of the oceans or vineyards, they are apt to think about how a tub can be positioned just so. One Luster customer has a tub view overlooking Central Park in New York. Clients, he says, love to tell him about their views, views of the gorgeous rivers or spots where they can see the sunset and sit in a soaking bath. And if they cannot sit in front of a view, they want lovely things in the bathroom they can look at from their tub, he adds.
Even toilets are going high tech, notes Mark Welch, architect for the Richard Landry Design Group in Los Angeles. Japanese toilets do virtually everything for you, he says. Seats are heated, lids open automatically with built-in motion detectors and the same toilet offers rinse and drying functions.
Other bath niceties include fogless mirrors, and handmade tiles for vanities and showers. "People like comfort when doing the routine," observes Tobin.
When you gather all of these elements — privacy, beauty and luxury — you've got the recipe for a heavenly abode. Surely, bath cathedrals enhance homeowners' lives and livability within their homes, says Krag. "They are more comfortable and they are happy."
These spaces are not bathrooms anymore, adds Winges, "Today's bath suites are like personal spas without the attendant."

---
Instant Gratification
Want to upgrade your bath without knocking down walls?
Interior designers Kenneth Bordewick and Risë Krag offer ideas on what you can do here and now:
Replace shower doors with frameless, glass ones, or use glass panels with an opening and no doors at all.
Add new hardware and fixtures for plumbing, lighting and cabinet doors.
Replace towel/toilet paper racks and tired-looking toilet seats/covers.
Add new towels with coordinating bath mat.
Paint the walls. One trick is to start painting in one corner and darken the paint a little at a time until it is five shades darker in the center for a receding effect. Same for the ceiling.
Swap your sink for an under-mount sink so you have a clean, smooth surface on the countertop.
Bring in natural light such as a skylight for a more flattering look in the mirror.
Add plants, flowers or artwork that can withstand moisture.
Add a dimmer to the main lightswitch for drama.
Make a small bathroom look larger by putting tiles at a diagonal with a border around the floor.
Stow personal items in cabinets for a clutter-free look.
Roll towels and place them on vanity or shelf instead of hanging on walls which makes the bathroom feel too enclosed.
Install multiple shower heads or add a handheld shower or rainhead.
Purchase matching accessories: soap holder/dispenser, tissue box, waste basket.
Repaint or restain the vanity cabinet.

---
When not on the road scouring for the ultimate travel story, journalist Kathy Chin Leong delights in soaking in her spa tub surrounded by shimmering tea lights with a glass of merlot in hand. Her latest adventures can be found at www.bayareafamilytravel.com.