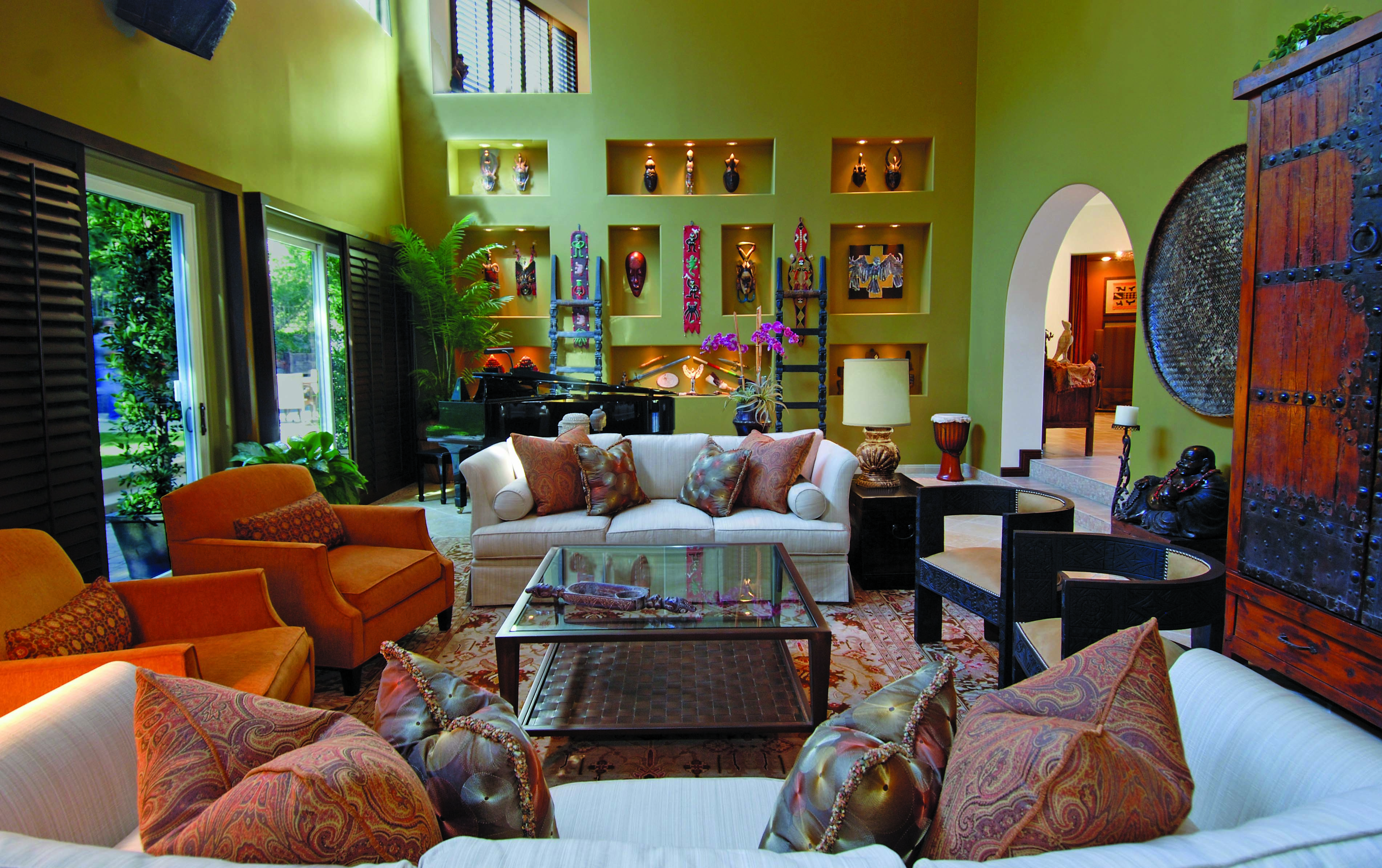 This collector commissioned custom niches for his artifacts and masks collected from around the world. Photo courtesy of Christopher Grubb of Arch-Interiors
01 Dec

Collector's Notebook: Travel Treasures

Byblos is an ancient port city, anchored by medieval ruins, caressed by the Mediterranean Sea. With bent grandmothers draped in head scarves and their men puffing smoke rings in the souk, the Lebanese town seems frozen in time. Also frozen in time are million-year-old fish and crustacean fossils, which make Byblos an archeological Disneyland. And when writer and photographer David Lansing encountered this magical enclave, he couldn't resist purchasing several fish fossil artifacts, actual imprints of extinct sea creatures encased in limestone.

"To hold a piece of stone in your hand that has recorded the image of what was a living organism some 100 million years ago is astonishing," he says. "The fish fossils made the history of Byblos and the Middle East more real to me than any story could."

Upon taking his treasure home to Palm Springs, he was pleased to find that the artist had mounted the fossil with sturdy clasps so all he needed to do was pound a couple of nails into the bedroom wall. Today, it holds court near a cluster of cacti blossom photographic prints. "You wouldn't think fish fossils would be a natural match for desert decor, but actually, they go quite well there, particularly if you recall that most of the deserts in the American West were once part of the ocean floor."

Lansing was fortunate. He found the perfect landing spot and coordinated it with his color and design scheme, so he can remember his journey daily. Other sojourners, however, may not be so lucky and struggle with how to display their wares. When the romance of the purchase wears off, the item either remains in the package or sits on a random shelf lonesome for companionship.

What to do? Interior designers including Amy Weaver of Weaver Design Group, San Francisco, agree that travelers should first research their destination and find out what the region is known for in terms of art before deciding what to buy. "In Turkey, rugs are the big, hot items. Measure spaces in your home to see if you have the room. Take photos and swatches of what you already own."

In fact, when Los Angeles visual artist Daniel Foster traveled to Istanbul for his second time, he was already thinking about rugs. He purchased a brilliant 6-by-4-foot, hand-dyed wool area rug and instinctively knew it would fit squarely in his living room. "I was drawn to the colors, burgundy and some celadon," he says. "They really picked up the colors of Peruvian throws I had bought in the Andes. I was concerned it would be too busy, but it was perfect. It was one of most perfect purchases in my traveling life."

Before heading out the door, would-be buyers should consider color scheme, the locations that would be good to place newfound items and the dimensions of future objects that would be appropriate to complete the room, notes Jeff Schlarb, principal designer of Green Couch, San Francisco.

If you want to ensure your purchase won't be a dud, Warren Sheets, president of Warren Sheets Design, San Francisco, recommends that people bring file folders with those room photos and swatches, and all the necessary measurements required to make an intelligent purchase so your potential collectible is the right proportion and hue. If thinking about a painting to purchase, know the size of your walls.

"Bring a to-scale furniture floor plan along with meassurements of furniture pieces. Always bring extras copies of the file folders should you lose them or leave them at a shop along the way. Write your name and phone number on each folder in case you leave it behind. You'll find these folders invaluable," he says.

Other designers recommend bringing a small journal with similar information and using that to jot details of colors and interesting souvenir items during your travels. You can use this data for reference for your next trip abroad.

To be safe, make a point of purchasing small items that are light and portable. "Photo prints and linens for the home are easy to pack and usually always work out," says Weaver.

Avid traveler Julie Gangler of Seattle, purchases minute memorabilia such as boxes or baskets that tuck into a shoe or corner of her carry-on suitcase. Over the years she has collected about 75 items. How does she display them? Instead of hiding in drawers, only to be forgotten, the trinkets are viewed in a display case her father built. Several are also displayed on the steps of her Japanese tansu. "I always seem to find room to add yet one more," she says.

And here's another reason to buy small: If you already have a dominant design interior such as a Southwest theme, don't try to bring back a large Asian piece of furniture that would clash, unless you intentionally want an eclectic flair. Schlarb cautions, "In my judgment, we would suggest leaving the large Southwest furniture remaining if it is already part of the room, and then integrate accent accessories." He advises that people should select pieces that would be non-anchoring elements of the room, or "at least have some neutrality" so a piece does not overtake a space.

Smaller purchases will give you the flexibility to move them about from living room to guest room to media room in the future, adds Schlarb. Simply by reassigning a piece to another location with different lighting or in a different grouping can make an artifact look as though it were a new purchase.

Buy according to an established theme to make a collection seem more unified rather than a hodgepodge of assorted things others would deem as junk. "Pick one idea and buy all one kind of genre," says Cecilie Starin, a Tiburon, California-based interior designer. "Examples of this would be landscapes or still lifes, maps, black-and-white drawings or black-and-white photography."

She created a gallery wall of pressed botanicals for one client. In a grouping of 12 identical frames, the impact is bold and instantly appealing. "Multiples of anything can make a grand statement," she explains.

Jeff Schlarb and his wife, Tray, have a collection of hearts from around the world. They display the collection on their coffee table in their formal living room. "I love it because there is a story to the items, and they have meaning to us, and they are able to move with us when we go from home to home," he says.

If you purchased too many items, give yourself permission to rotate them in your display cabinet or wall grouping. You don't have to display all your treasures from India all at once. "This freshens up your space and inspires memories as you rotate the collection around," says Christopher Grubb, president of Arch-Interiors in Beverly Hills. "Over-accessorizing a room is one of the biggest mistakes one can make. It's better to have a few, and let them 'breathe' a bit."

A creative interior designer can help you think of new uses for your artifacts if you are unsure of where to place them. Palo Alto, California, interior designer Pam Pennington had one client who loved to travel to China and collect baskets. From Pennington's own travels and experiences, she had already seen artifacts from Indonesia made into lamps, so she took her client's basket and transformed it into a hanging lamp over the dining room table.

Love the piece, but too large? Repurpose it in new ways. According to Grubb, one client purchased a rug that was too large, so Grubb had the rug cut and sewn into throw pillows. This is not unusual, he maintains, and the piece retains the colors and patterns of the rug. "It is a great accent instead of having a rug that is out of scale and wrong."

Standalone pieces can be grouped together on a wall tastefully, assert designers. Homeowners can look to design magazines and decor Web sites to see how it is done. "I think the trick to making objects integrate into a room is arrangement," says Pennington. "There is a real trick to positioning various pieces into a combination that makes them look better than they might individually. It just takes practice."

The design-impaired can hire the decor masters by the hour until they get the look they want. "We had a client who went to Morocco often, and we designed his spaces leaving room open for him. After doing all the furniture plans and elevations, we provided all the dimensions in metric so they knew the sizing they needed," says Grubb.

If you have purchased something and it doesn't seem to fit, all is not lost. Consider the opportunity to place it outside. Grubb of Arch-Interiors says that even a piece of furniture that was not the right color or finish for the inside can serve as a good option for a covered porch area. A homeowner can use a protective finish to protect it from the elements. "It is better to be using it where you enjoy versus in storage taking up space," he contends.

And in the end, if you realize you have made an egregious error, sell it on eBay or put it in your will. No one needs to know.