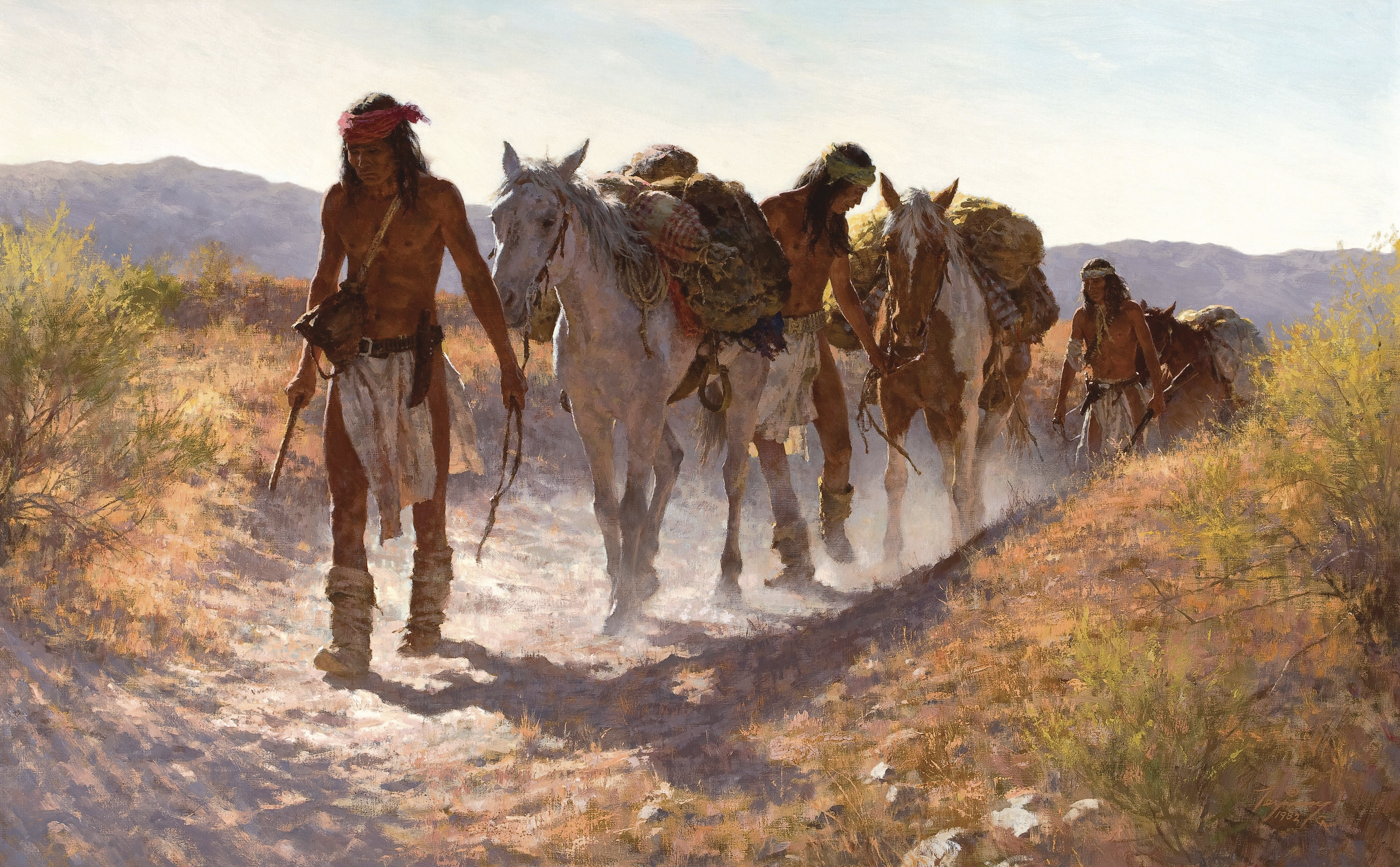 Howard A. Terpning, "Plunder from Sonora" | Oil on Canvas | 1982 | 30 x 48 inches | Courtesty of Heritage Auctions
01 Dec

Collector's Notebook: Wired
---
In 1995 when Steven Stern was 20 years old, he decided to do something bold. The son of well-known gallerist George Stern, owner of Stern Fine Art in Los Angeles, wanted to sell art online. Steven's plan was to locate high-quality paintings and post listings and images on the Internet to see who would bite. "My dad said it would never work," he recalls.
Today, Steven's website, CaliforniaPaintings.com, receives more than 3,000 visitors a day. Specializing in California and American artwork, he routinely transacts more than $5 million a year in sales. "I grew up in an art family, and my first job was driving paintings to framers, helping catalog inventory. I saw firsthand how it worked."
There's an online art frenzy out in the Internet ether with millions of dollars zinging over the electronic airwaves. "The art world is moving towards the Internet," says the Deloitte and ArtTactic 2013 Art and Finance Report. More than 300 online art venues have sprung up in recent years, according to ArtTactic's data.
Western art is more popular than ever, and the amount people are spending is going up, say experts. According to Jim Halperin, cofounder of Heritage Auctions, Dallas, compared to 2009 many art lovers are "feeling more enthusiastic and feeling wealthy again. It is a great thing to be able to make a rational investment and enjoy seeing it hung on your wall every day in your home. It is hard to find things that give you a good return anymore," he says.
As consumers are accustomed to bidding on eBay, art buffs and investors are bidding online at auction houses such as Dallas-based Heritage Auctions (HA.com). Ten years ago, the company started carrying fine art in its inventory. Prior to that, it focused on rare coins and collectibles. According to Halperin, of the hundreds of auctions it conducts annually, the company hosts about a dozen physical art auctions devoted to Western, California, Texas, illustration and historical American art. As the brick-and-mortar auctions take place, bidders can view the televised auction and bid on the spot from the comfort of their homes.
How successful is the online art scene? "We're very happy with the way things are going," says Halperin. "Our fine art business is growing very, very fast." Heritage Auctions' site serves at least 800,000 online bidder members. Its email list has topped 1 million collectors. Last year, via the Internet, Heritage auctioned a painting by Howard A. Terpning, titled Plunder from Sonora, for more than $962,500. The painting, Home, Sweet Home, by William Robinson Leigh, was auctioned online for $1.195 million in 2011.
When collectors bid for a piece of art online, Heritage will ship it or the clients will have their own means of transporting the item. As is common for all auctions, what you get is what you get, so you better do your homework. Returns are a no-no. According to Halperin, HA.com posts excellent photos online and detailed history on each piece, so the research on authenticity, which is guaranteed through HA.com, is done upfront.
As more galleries pop up online, consumers should exercise discretion and seek galleries that meet their needs and cater to the type of art they are pursuing. For online gallerists, understanding their clients' tastes is paramount. At CaliforniaPaintings.com, Stern focuses on those customer relationships in both buying and selling works. Over time, Stern has developed an inventory of impressive California treasures, many of which are paintings from the 1890s to 1960s and range in price from $10,000 to $1 million. Customers also depend on him to find paintings for them. If a client wants to see a landscape, for example, Stern will locate a few examples and send attachments within minutes.
"We will fly out to show a painting worth $10,000," says Stern. "We will use whatever avenue it takes to make our customers comfortable. No two deals are ever the same."
Stern, whose parents, grandfather and two uncles have worked in the fine art world collectively for 80 years, sells paintings to other galleries, dealers and collectors. The key in this business, he says, is purchasing high-quality paintings and knowing what is real. He often acquires pieces from families who have inherited paintings not consistent with their lives. "People tell me 'I would like to pay for my daughter's college with this money.' They help us, and we help them," says Stern.
Many of his customers are collectors who begin at age 40 and keep going until their 80s. "When they are older, sometimes they want to sell it back for their estate planning," he says. "You see the painting come back and go full circle."
Based in Beverly Hills, Stern has also established a Facebook page as a way to share photos and develop a forum for those who love this genre of artwork. It is also an opportunity to reach out to more art lovers. "New collectors are coming into the market all the time," he says.
While Stern opened his gallery online from the start, Curtis Tierney believed it was time to switch shingles and move from a physical presence in downtown Bozeman, Montana, to a purely online one, located at TierneyFineArt.com. He carries American, Western and sporting art from the 1800s to mid-20th century. Prices for works from Tierney Fine Art start at $3,000 and climb to $400,000.
In the art business for 13 years, with a retail storefront for seven years, Tierney made the leap this past June and sees the online transition as an evolution. For Tierney, the relationship with his loyal customers, many of whom he got to know when they walked into his gallery, has been the foundation for building up an online clientele. Tierney says other gallery owners are making this transition when they have enough clients who will work directly with them.
"I provide a superior level of connoisseurship," says Tierney. "I educate them on every facet of the historical work of art. We talk about the desirability of the painting based on the subject and composition. We spend a great deal of time walking through every aspect of the purchase," he says. Tierney admits that sometimes the customer needs to see the painting in person, and he is willing to get in the car and travel several states away to make that happen.
Visibility in the flesh, indeed, helps to solidify that connection and often online gallerists will have a physical presence at art events. Tierney, for example, will exhibit his collected wares at shows such as High Noon in Phoenix, March in Montana in Great Falls, Denver's Old West Show and the very important Fine Art Dealer's Association Show in Los Angeles.
What the online trend means for consumers is that quality art can be purchased legitimately online. An added bonus is that prices for original art can be reasonable. This was the thinking behind UGallery.com, an online gallery that represents emerging artists. Headquartered in San Francisco, the business was cofounded by Alex Farkas and two partners in 2006. At the time, he was a business major at the University of Arizona and lamented with his friend, an art major, how difficult it was for new art talent to get known and represented. Putting together a business plan for the online concept, the two competed in a student entrepreneur competition, and won. The cash prize provided seed money for UGallery, and the rest is history.
Today, UGallery represents emerging and mid-career artists. "Some people have achieved a modest level of success, but not stardom," he says. The artwork is personally curated by Farkas and sells at a minimum of $100 for limited-edition prints and photos to large-scale paintings up to $15,000.
"In 2006, people asked us, 'Can you really buy art online?'" recalls Farkas. "Then in 2009, the question stopped being asked." With 500 artists in his database and 6,000 pieces, Farkas represents artists from across the country. He has sold work to clients in 35 countries and almost every state in the nation.
UGallery acts as a middleman between artist and buyer, posting images and prices online. Once a buyer wants to make a purchase, UGallery contacts the artist and the deal is on. New to the website is a section developed for interior designers who are able to create project boards on the site and track their budgets. Wholesale vendors can obtain discounts.
Now that a customer base is established, Farkas scopes out new artists to include in his portfolio. Social media is also a big part of his Web strategy, and so far he has cultivated 2 million followers on Pinterest. "People like to find new places for art," he says. "It is a convenience for them."
"We feel we bring something unique to the art world," he says. "Our artists are new and talented and not household names." In terms of his guarantee to customers, Farkas gives buyers a full seven days to see how they feel about the artwork. "It is up to you to determine if you feel a connection to the artwork or not. Most of the time they find a piece online, and it becomes even more special to them once they get it in person."
Is online art purchasing for everyone? While nothing can beat the joy of an art gallery experience in person, many online purchases are successful and easy as long as collectors do their homework. Be it a live auction or a gallery representing new artists, purchasing quality art over the Internet can be simple, convenient and fun. After all, when is the last time you transacted a deal, valued at hundreds of thousands of dollars, in your pajamas?