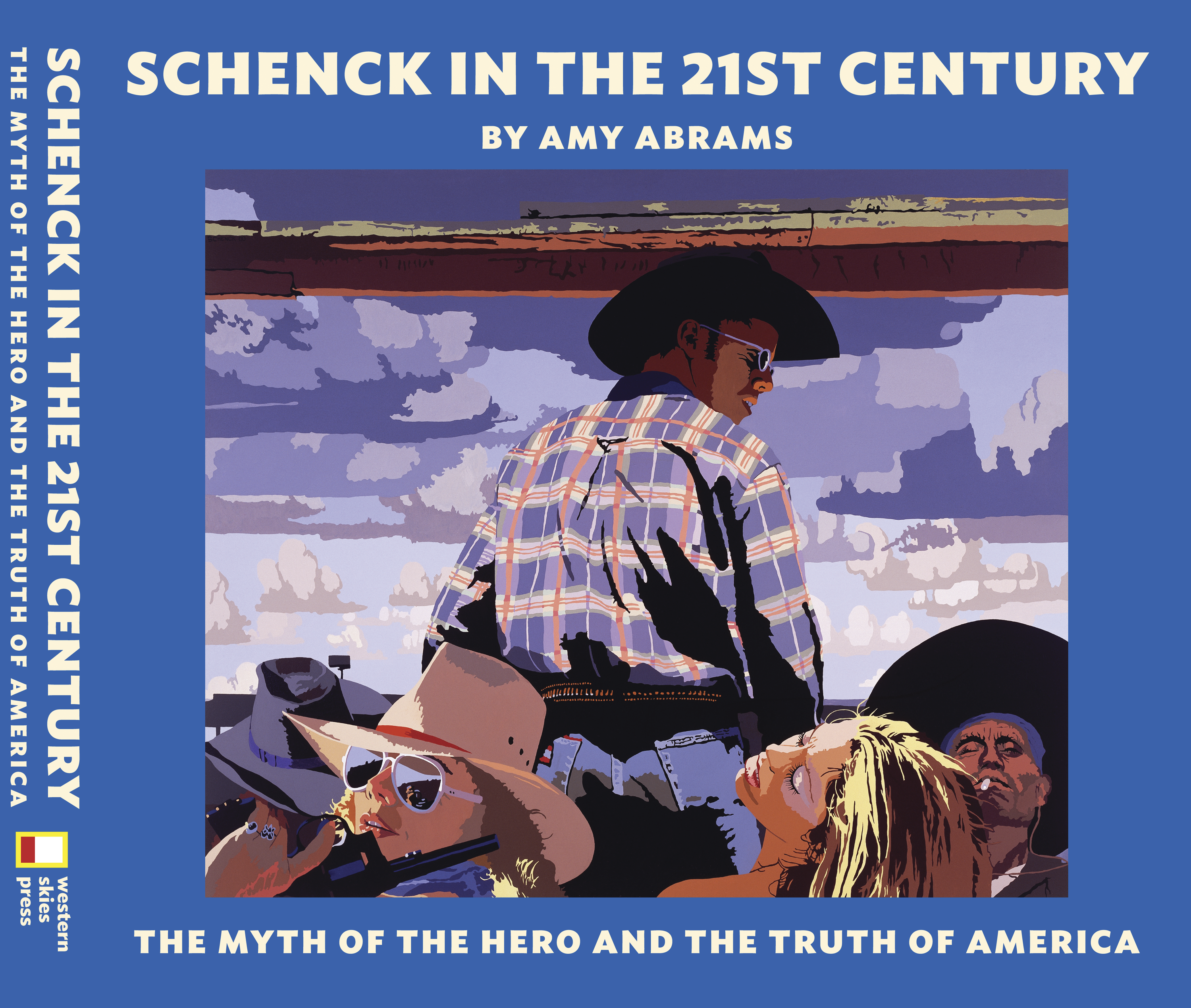 "Schenck in the 21st Century" by Amy Abrams
01 Dec

Details: Things We Love

Schenck in the 21st Century by Amy Abrams

As a 24-year-old artist, Billy Schenck worked in New York City amid Andy Warhol's entourage and the Pop art scene. During that time, a series of paintings inspired by Western movie stills catapulted the artist into fame and helped him establish an entire genre of contemporary Western art. Since then, Schenck's "Pop Western" artwork has been showcased in more than 100 solo shows and included in 43 museum collections worldwide. Schenck in the 21st Century: The Myth of the Hero and the Truth of America, written by noted art historian Amy Abrams, features biographical information and 190 vivid images of Schenck's paintings, photographs and serigraphs from 2000 to 2012. According to Schenck, it's "the most authoritative source on my current work and philosophy of life, art and the way it ought to be."

$60 | Hardcover, 214 pages | 505.438.8350 | www.schencksouthwest.com
---
Manganese Tint with Lapis Spiral Wrap by Benjamin Moore
With three decades of experience as an artist, glass sculptor Benjamin Moore seeks to achieve "simplicity, balance and clarity of form" in his work. Based in Seattle, Washington, Moore uses simple geometric shapes — such as the sphere and the cylinder — to create pieces with a timeless essence. "I focus on the way the light interacts with the work, as well as the proportions of the vessels by themselves or in relation to one other," he said. From his Interior Fold series, these manganese-tinted pieces incorporate a technique where the blown glass is folded onto itself, resulting in a horizontal plane that creates a breaking point in the form. His work stands as a testament to the beauty of clean design.
Set: $22,000 | Vase: 7.75 x 13.25 inches | Platter: 5 x 22 inches | 206.329.8607 | www.benjaminmooreglass.com
---
Dining Chair by Hughes Woodworks
Shane Hughes' passion for woodworking began in high school and led him to work with established craftsmen building high-end cabinetry and furniture. In 2010, after 14 years of woodworking, Hughes built his own woodshop studio in the beautiful Six Mile Valley west of Missoula, Montana, giving each piece of furniture he creates — from cabinets to doors to dining-room tables — the time and attention to detail it deserves. Inspired by the beauty of the mountains surrounding him, he designed and built this cherry and walnut dining chair with a hand-carved backrest for an award-winning combination of craftsmanship and creativity.
$4,400 | 24 x 26 x 38 inches | 406.529.5245 | www.hugheswoodworks.com
---
The Secret Garden Necklace by Liaung-Chung Yen
Originally from Taiwan, Liaung-Chung Yen's artistic aesthetic is influenced by Chinese culture and art. By using metaphor in his designs, he thinks of his jewelry as small expressions of art, desire, wit or sensuality. "The work is not meant to isolate specific meanings, rather suggest a moment of thought where stillness, beauty and illumination can peacefully coexist," he said. Take, for example, the Secret Garden Necklace, made of 18k yellow gold, black tourmaline stones and diamonds. Yen thought of the geometric shapes and rough-surface tourmaline as a stone pathway in a secret garden dotted with diamond treasure to be discovered along the way.
$32,000 | 7.25 x 6.5 x 0.5 inches | 585.334.4513 | www.liaungchungyen.com
---
Cyclone Bureau by Doug Ricketts
Craftsman Doug Ricketts has lived and worked on the rolling plains of the northeast Texas Panhandle since 1977 and he watched as the old homesteads surrounding him were abandoned to the elements. By designing and building furniture that uses parts of these forgotten structures, he seeks to preserve their stories while delighting in the colors and textures of found materials. The Cyclone Bureau is aptly named after a tornado that destroyed an old granary. Its galvanized tin roof now makes up the front and side panels of the bureau. The tin was straightened out and framed with oxidized maple and the unique door and drawer handles are broken sections of tines once used in a horse-drawn hay rake.
$10,500 | 71.75 x 39.5 x 19 inches | 806.862.2205 | www.dougricketts.com
---
Hand-Painted Room Divider by Brenda Kaye
Since 2004, Brenda Kaye has painted professionally, choosing to focus on her favorite subjects: Western landscapes and horses. She began to paint room dividers two years ago after visiting Florence, Italy, and rediscovering Renaissance art. "Upon learning that the artists had sometimes [taken] decades to complete a piece, I was inspired to try larger pieces, to work slower and resist the American urge to hurry. I now take time to capture the essence of a scene. Looking at this room divider, if my work inspires viewers to believe they can feel the crisp, clean mountain air of the Tetons, then I have succeeded," she said. The frame of this beautiful Hand-Painted Room Divider is constructed from recycled barn wood and painted on its panels is a detailed scene of Schwabacher's Landing in the Tetons. On the backside of the divider are four solid-copper panels that were chemically treated. The result is mosaic of gleaming copper, browns, golds and blues for a functional, one-of-a-kind fine art piece that will steal the spotlight in any room.
$16,000 | 5 x 7 feet | 208.859.5136 | www.thebrendakaye.com
---
The Hoback and Virginian Clutch by Emily Rosendahl Leather Goods
At age 6, Emily Rosendahl learned to sew and was encouraged by her mother and grandmother to "let creativity run wild and free." In July 2007, while visiting a saddle shop in her hometown of Jackson Hole, Wyoming, she was inspired by the old tools and the earthy smell of leather. She purchased some and began to hand-stitch her first clutch. Today her collection of eye-catching handbags is influenced by the timeless style of the Old West, Native American culture, her youth in Jackson Hole and her current seaside lifestyle in Santa Barbara, California. Each unique bag is made by Rosendahl, typically stitched together while sitting on her porch in the Summerland foothills.
The Hoback: $475 | 12 x 14 inches
The Virginian Clutch: $150 | 10.5 x 5.5 inches
805.565.1948 | www.erleathergoods.com
---
Raku Pottery by Larry Pennington
Larry Pennington owns and operates Claytime, a pottery studio in the historic district of North Little Rock in Arkansas. His pastime for the last 30 years has been throwing pots on the wheel and perfecting his technique for raku. He is known for his teapots and enjoys the challenge of giving each one an individual identity. After a pot is bisque fired, he reheats it in a kiln until it's "red hot." He then places this pot in a bed of combustible material, typically a mix of straw and newspaper, which ignites once it touches the hot clay. Immediately, he puts a lid on that container to starve the fire from oxygen and capture the resulting dense smoke. Once this process is finished, he pulls the piece from the container and watches it change color, immediately dipping it in water when the color suits his aesthetic. "It's really unpredictable, and you never get the same thing twice," he said, noting that this adds to both the joy and challenge of the art form.
Covered jar: $130 | 9 inches
Vase: $80 | 10.5 inches
501.374.3515 | www.claytimepottery.com